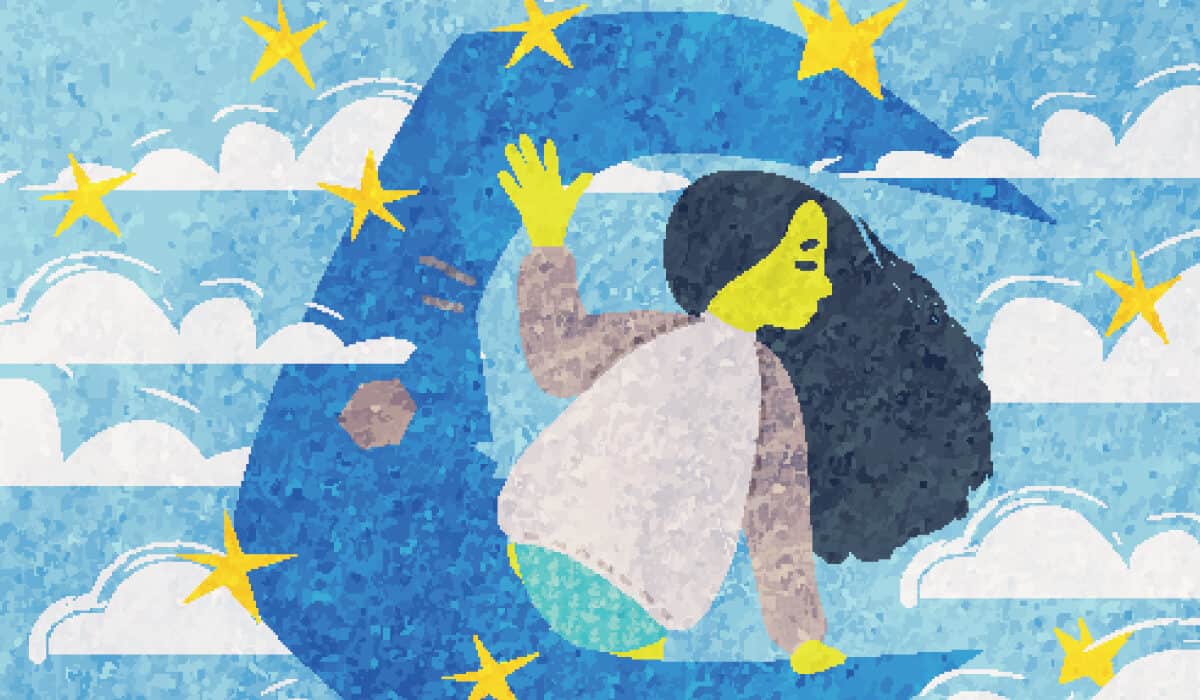 Come one, come all! Friday, January 27 brings the Aquarius new moon, the sign of groups, humanitarian causes and technology. Whether you're connecting virtually or in real-time, a powerful portal is opening for finding your tribe.
You don't need candles or a crystal ball to make a wish this week. Aquarius is the star sign of hopes and dreams—equipping us all with visionary powers par excellence. We've already made our resolutions, but do they have enough heart and soul to give them wings?
As the sign of the Water Bearer, Aquarius represents community and idealism. Connect your personal goals into something greater and you won't have to struggle to find your willpower. Embrace the Aquarian community spirit and form a support or mastermind group with people who are working to achieve the same goals and hold each other accountable. You could wind up with friends for life!
The Aquarius new moon is also the day that marks the Chinese New Year annually. On Friday, we'll bid adieu to the trickster Monkey energy of 2016, and welcome the Year of the Fire Rooster. Given the patriarchal uprising that is afoot, some might not love hearing news that the Cock will reign supreme in 2017. However, though the Rooster may strut his stuff, he's pretty darn protective of the hens in his coop, too.
Here are nine innovative ways to tap into the creative and team-spirited energy of the Aquarius new moon:
1. Gather your tribe.
Aquarius rules the zodiac's eleventh house of group activity. At the Aquarius new moon, we're encouraged to find like-minded people who can take our ideas, beliefs and dreams to the next level. Where in your life could you collaborate or just have more fun in the company of others? Push yourself past your comfort zone and attend that mixer, workshop or book signing. Sure, you might have that awkward "first day at school" feeling for a while, but some of these strangers could become your favorite people, as well as helpful contacts, or inspiring members of a mastermind group.
2. Feast around the communal table.
No person is an island, and the Aquarius new moon reminds us of our need to share our energy with others in healthy ways—beyond the cubicle or the local coffee shop. Innovative Aquarius can inspire us to seek out new ways of sharing our days with like-minded people, in atmospheres that nurture our creativity and individuality. This New York Times article on "Why We Hate Work" sheds light on the creativity-killing perils of the modern workplace. Luckily, some companies are slowly starting to make changes—and we're seeing these shifts reflected in rising numbers of awesome co-working spaces. If you're feeling isolated after hours, get inspired by these stories of families and friends who bought real estate together—hello, shared childcare and built-in pet sitting!
3. Give to get back.
Social justice is the sweet post for freedom-fighter Aquarius. Is there a cause you care about like Planned Parenthood, PBS or NPR that you'd like to donate to—even if it's just a few dollars? Could you add some volunteer work to your week (or month)? Valentine's Day is coming up, and for so many people, it's a painful or annoying reminder of the conventional "love" that nobody can really live up to anymore. Instead of cowering from Cupid, why not plan a feel-good benefit organized around the love of humanity? Make use of Aquarius' inner-circle vibes and put the word out to friends. In no time, you could have a DJ, mixologist and event space—plus a bunch of kindred spirits gathering for a bigger cause than roses and chocolates.
4. Surprise someone…maybe yourself!
Aquarius is ruled by rebel-rouser Uranus, the planet of sudden events, breakthroughs and radical change. Yeah, we've all heard sayings like "one step at a time" or "progress, not perfection." But sometimes, cold turkey is the way to go. A little shock therapy can be good for us—especially now more than ever. At the Aquarius new moon, a swift channel change could be in order. Sick of politics? Take a social media detox for a day (or a week!) to recharge your reserves. Make a clean break and see what you discover in that space of charged-up molecules. That doesn't mean you can't return to this person or situation later—but you'll do so in a revolutionized way.
5. Get digital and geek out.
Let's not forget the importance of online communities either. Being skilled in the digital arts is becoming more of a necessity than an option in today's workplace. The Aquarius new moon encourages us to geek-ify and sharpen our knowledge of software, social media and the superpowers that a web-based business can provide. Perhaps it's time to crack open that tutorial and learn the finer points of WordPress or the basics of blogging (we love Lynda.com's affordable e-courses). And how DO you increase your Snapchat followers and gain Facebook fans in the name of abundance? Is an e-commerce site, Etsy or eBay store a viable way to increase your income? These are areas worth exploring now.
6. Get involved in a team sport.
There's nothing more seductive than someone who is fully present, in the moment and comfortable in her own skin, right? But with our increasingly computer-based society, we can wind up feeling like giant brains, totally detached from those appendages below our necks—except our hands, needed for furiously typing, of course. How do we regain our connection to our "soul's address here on Earth?" Interestingly enough, Aquarius is the sign that rules technology, but it's also a highly active and athletic sign. Team sports and group exercise fall into the Water Bearer's domain, another prompt to join forces with friends to achieve a goal. If you're the athletic type, you might join an indoor soccer or volleyball league to pass the cold days; or find out about group rates at the local kickboxing gym and meet friends for tri-weekly workouts. How about starting a walking group, gathering a group together for a brisk evening walk on a regular basis? It's a great excuse to socialize and commune (Aquarius loves this) while getting the energy flowing from "tip to tail." The humanitarian energy of Aquarius adores a good cause. How about rallying coworkers for a charity 5K and raising money to make a difference en masse? Don't forget those go-go-gadgets either. This new moon encourages us to use technology to forward our fitness goals. Download an app, program your Apple Watch or Fitbit, treat yourself to a pair of high-tech cross-trainers to up your performance level and speed.
7. Get up to speed on all things tech.
The Consumer Electronics Show (CES) was a couple weeks ago, when the latest technology is trotted out on full display, right before Aquarius time. The Aquarius new moon is a good time to check out the smart-everything that's coming out in 2017 and look at where the future of our wired and connected world is heading. For some feel-good digital inspiration, check out Karlie Kloss' empowering initiative, Kode With Klossy, a camp that teaches girls age 13-18 how to code.
8. Activate your inner activist.
Picket lines and picket signs? Can't be in two marches at the same time? At the Aquarius new moon, ponder your role in society, where you fit into a group, or what difference you'd like to make this year. For many of us, the next four years will be spent rallying the troops around an issue you're fired up about using social media. You can also plan an event to raise awareness around your identity politics. Tip: Don't overload yourself! Pick one or two issues to focus your attention on instead. Aquarius is associated with politics and humanitarian leadership. At this new moon, get in touch with what matters most to you. With all the chaos in the world, we need people to speak out for peace, human rights and the future of our planet more than ever. And, we need to speak to EACH OTHER, too. Here's hoping, for example, that citizens and politicians find an effective way to communicate and work together at the Aquarius new moon. Some of your visions may sound "unrealistic", but as Nelson Mandela once said, "It always seems impossible until it's done." And since Aquarius is the sign of the future, this new moon is a great time to stretch our imaginations far beyond the familiar.
9. Keep your cool.
All this excitable energy can leave you nervous and scattered, so don't forget to root down. Keep your feet planted on terra firma, even as you stretch into new dimensions. To help with that, here's a healing Aquarius season meditation from our new astrological guided meditation series with Terri Cole. It's all too easy to get lost in your head (or your dreams) now, so stabilize the launchpad before blasting off in your Aquarian rocket ship. You can also check out our suggestions for new moon rituals here.
Image via Creative Market
2017 is upon us, and we have guidance for every sign—life, love, money, career, health & more! Our 2017 Planetary Planner has the complete 2017 astrology forecast for your Sun sign. Order yours now!
Image from Creative Market