Everyone has a purpose on this planet. Are you living yours? Introducing

Marie Forleo's B-School

, a program that can turn your soul's calling into a profitable reality.

Every day, we speak to clients and readers who ask us:

"What am I meant to do with my life?"

"Am I on the right path?"

As we guide them through their charts and astrological signs, it becomes clear:
Everyone has a gift. But very few of us ever give ourselves permission to share it.
We're scared we can't make a living doing it. Nobody will buy it or want what we're selling. Blah blah blah.
Having successfully built a business around astrology (who would have thought?), we are living proof that an accidental talent can turn into a thriving company that supports you financially AND fulfills you emotionally.
If you're an entrepreneur, or dream of turning your gifts into a full-time gig, we want to share about a program that radically changed our business and our lives.
Marie Forleo's B-School: Make a Living AND Change the World
Marie Forleo's B-School is an 8-week online course we took in 2011 that taught us how to "market" (a word we once thought of as vile) in a way that's honest, heartfelt and from a place of service. It's designed for any entrepreneur—budding or existing—to master the practical basics of launching a successful business using online marketing.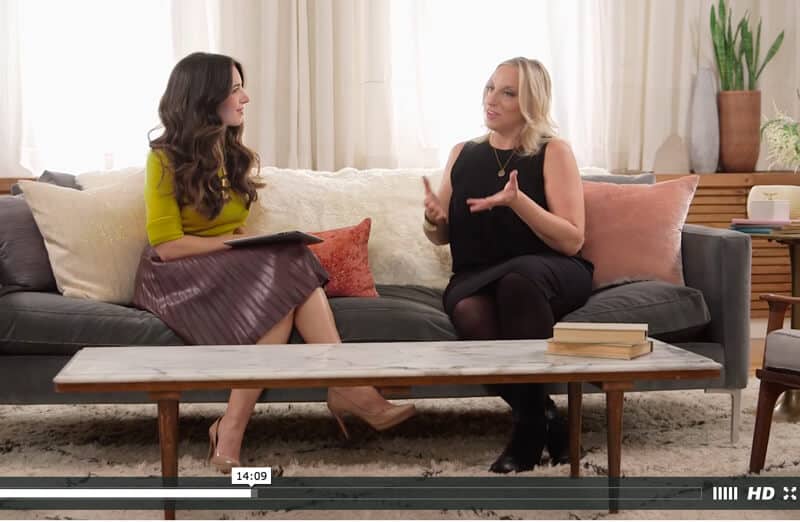 This month, watch Marie's free training videos (links below!)—the third one, No Excuses, features Marie interviewing Ophi about our business!

You CAN make a living while healing the world.
Chances are, if you're reading this, you're a person who came here to make a difference. You might call yourself a lightworker, a healer, an earth angel—or else you just KNOW you want to leave the world better than you came into it.
After talking to thousands of readers and clients, we believe this: There is a divine spark in all of us that wants to make a difference. Human beings want to feel productive, like their natural gifts can be applied in a meaningful way. That's why we've been official partners/affiliates for B-School for five years—to share a great resource that can help get your gifts out into the world.
Marie herself is extremely spiritual, and also one of our astrology reading clients. In fact, she even interviewed Ophi in this MarieTV clip about the post-2012 era and how to use astrology to find your life purpose. Oprah featured Marie on Super Soul Sunday, naming her a "thought leader for the next generation." She's also been recognized by Richard Branson and Tony Robbins. Pretty impressive! But it's because she legitimately has the passion, knowledge and devotion for empowering entrepreneurs.
Tools, resources and education: why being a lifelong learner is essential.
B-School really took our astrology business to a new level. We applied Marie's practical advice, and within a few months, our mailing list signups doubled and our profits increased by 650 percent(!). This was all while we did business with integrity and stayed true to our message.
You don't have to be tech-savvy or even have an existing business set up to take this class. Marie teaches how to identify your audience, write copy that speaks to them, and to create offerings that they actually want. In fact, our best-selling ebook How To Get Along With Anyone (Yes, Even THAT Person) was born out of B-School.
Learn more about B-School from these links:
The B-School model: generosity & tons of value.
Chances are, if you're reading this, you're a person who came here to make a difference. You might call yourself a lightworker, a healer, an earth angel—or else you just KNOW you want to leave the world better than you came into it.
Best of all, Marie gives everyone a lifetime membership to B-School, meaning once you take the course, you can do it for free every single year after that. We regularly dip in to refresh our skills, since she's always updating the course to keep it cutting-edge—and there's so much material to chew on.
If you feel that this is YOUR year to go for it, we encourage you to explore B-School! Whether you launch part-time, full-time or one step at a time, don't let anything hold you back from living your dreams.
B-School begins March 5, 2018. Registration is now open until March 1.

Join through our unique link and you'll get our amazing Cosmic Success Bundle! Details below…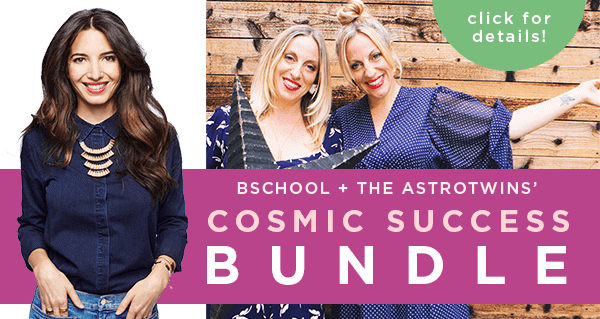 Creating your own business is extremely brave. And we want to make sure you succeed at it!
Marie Forleo's B-School is THE best foundation for your heart-centered, conscious business. We know, because we followed the program ourselves! Our 2018 B-School Bonus Bundle is your cosmic launch companion: business advice that's perfectly aligned with YOUR one-of-a-kind astrological blueprint.
When you register for B-School through our unique partner link, you'll unlock six weeks of exclusive access to us and our astrology expertise—along with tools and teachings you can use forever. You'll also get a 1-on-1 astrology chart reading with The AstroTwins!
Register for B-School and our Cosmic Success Bundle — let's give your dreams some star power!