December is an active month in the stars, with the Sun soaring through expansive Sagittarius. Mercury turns retrograde in the outspoken Archer's court for three weeks, and stalwart Saturn makes a big shift, leaving global Sagittarius and entering his home sign of structured, goal-oriented Capricorn for a three-year cycle.  
It ain't over 'til it's over! Although there's plenty about 2017 we'd like to leave in the rearview, the planets will spend the last month of this year with a bustling run-of-show. There's a lot of activity, including one MAJOR planetary sign change in the second half of December (hint: it's got a ring on it…and we're not talking about a holiday wedding proposal).
The first weekend is packed to the galactic gills. On Saturday, December 2 (our birthday, woot!), there's a stunningly rare alignment between generous Jupiter and compassionate Neptune that hasn't happened in these signs for over a century to come. Linking up in sensitive water signs, hedonist Jupiter in Scorpio will form a golden trine (120-degree angle of harmony) to ethereal Neptune in Pisces.
This is the first of three heart-opening and emotionally expansive Jupiter-Neptune trines that will flow between now and August 2018. At a time when the world is desperately in need of Jupiter's cross-cultural connectivity and Neptune's healing salve, we're hoping this trine will increase the peace—in any small way it can.
Sunday, December 3 serves up a double header of cosmic commotion. The year's only Gemini full moon arrives, which gets us all talking, brainstorming and syncing up with synergistic souls. It's also a supermoon, so kindred-spirit chemistry could be extra potent.
But before you start pairing and sharing up a storm, think twice: That same day, mental Mercury—the ruler of chatty Gemini—launches into one final retrograde backspin in 2017, which will last from December 3 to 22. Take all the Mercury retrograde precautions: from backing up data and devices, to triple-confirming reservations, to booking a quick Airbnb instead of staying in your S.O.'s childhood bedroom with the creaky floors and passive-aggressive parents down the hall.
The next powerhouse week begins on December 18, when a Sagittarius new moon kicks off an inspiring day for envisioning big dreams. Jot down what comes to you instead of waiting for the calendar to turn to draft resolutions. New moons are all about fresh starts, so we're often at our most inspired states regarding new ideas and ventures.
And here's a little more incentive: the first "hit" of results from any new moon manifesting often arrives two weeks later, at the full moon. January 1 will feature a full moon—which is once again a supermoon—in heartfelt Cancer. We'll all be ready to charge into the new year and make things happen.
But not so fast! A structured plan will be essential because on December 19, stalwart Saturn—that cosmic Lord of the Rings—will make a HUGE ripple when it ends a three-year visit to Sagittarius and voyages into his home sign of ambitious Capricorn until December 17, 2020.
Saturn's last visit to native soil was from 1988 to 1991—quite a while ago. And this is a homecoming, since Saturn rules Capricorn, which will put the spotlight on changes to the economy, government, work, business and structure. (Our 2018 Planetary Planner goes into great depth on Saturn's next big move!)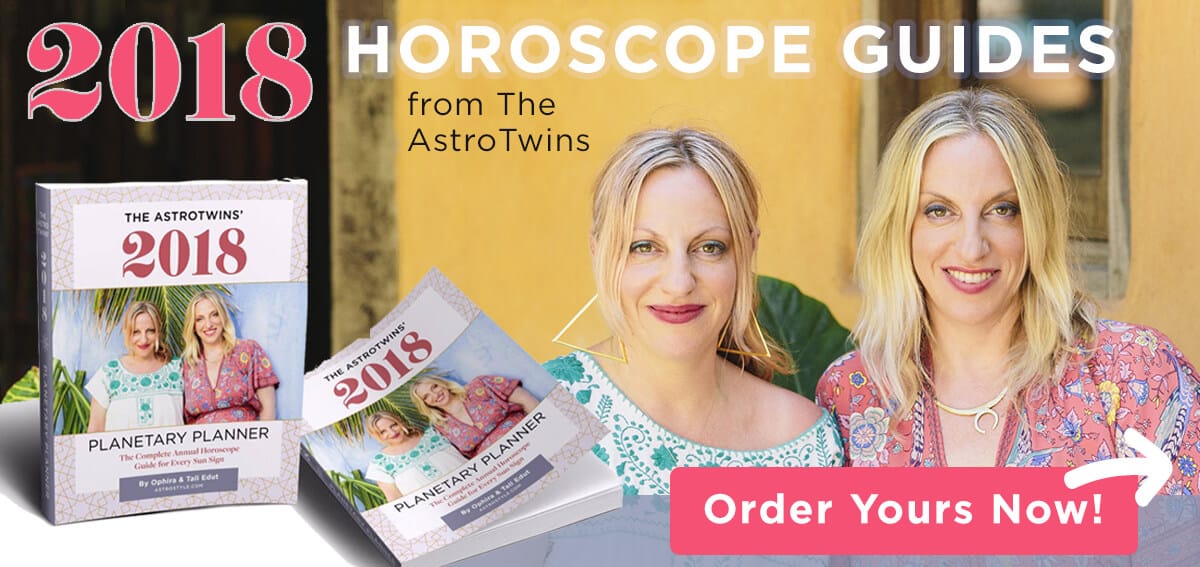 Accountability, integrity, doing the right thing: Saturn in Capricorn is here to bust up any outmoded and corrupt systems. Since both Saturn and Capricorn rule the patriarchy, we've been getting a sneak preview with the shocking wave of prominent men being fired for sexual assault and harassment. (We attribute this to a combo of Saturn's impending shift and Jupiter's entry into Scorpio on October 10.) Already Charlie Rose and Matt Lauer, both Capricorns, have been fired from prestigious posts—and this is just a warning shot.
Here's hoping that Saturn, the cosmic builder, will also help us create NEW structures, laws and workable systems to help prevent this, so that the victims of these power abuses no longer have to suffer in silence. Saturn will join powermonger Pluto, the ruler of deep transformation and the "shadow" side of humanity, in Capricorn—pushing us to go beyond a mere slap on the wrist for misconduct.
By New Year's Eve, the Sun, Saturn, social Venus and Pluto will all be in Capricorn, making us think more seriously about the coming year. Luckily, some of this weightiness will be offset, thanks to the moon in vivacious Gemini that day. Talk, mingle, write down intentions and bring some levity to your celebrations. We all made it through this surreal 12-month cycle. Onward to 2018!
Photo Credit: Stocksy