2018 brings the 11/2 Universal Year, a master number in numerology, the study of the energetics of numbers. Discover how your Personal Year number for 2018 will play out for you in January in our monthly series.
Our resident number-guru Felicia Bender, The Practical Numerologist, joins us on AstroStyle every month to give you a different kind of forecast, one that will complement your Monthly Horoscope.
Welcome to 2018! You're starting with a clean slate in January with a new Personal Year Cycle, and therefore, your Personal Month will also start fresh. To find your new monthly Numerology prediction, you'll have to do a wee bit o' math to calculate your Personal Year Number—see instructions below—which influences your whole year (from January 1 until December 31, 2018). Tap into the energy to plan for the month ahead!
Your Personal Month forecast has CHANGED in 2018 for the 11/2 Universal Year.
READY, SET, CALCULATE:
Find your Personal Year Number for 2018
• Take your birth date (for example): 3/24/1984
• Now replace the year you were born with the current year: 3/24/2018
• Now add those numbers together like a long addition math problem:
3 + 2 + 4 + 2 + 0 + 1 + 8 = 20
• Digit down to a single-digit number, so keep adding: 2+0= 2
• If this were your birthday, you're experiencing an "2" Personal Year in 2018.
YOUR JANUARY 2018 NUMEROLOGY FORECAST
In numerology, 2017 marked the beginning of a new numerological cycle with the 1 Universal Year. In 2018, we've made a major, spiritual shift to the Master Number 11/2 Universal Year.
If you're having a 1 Personal Year
January is a 2 Month
You might channel Dorothy from the Wizard of Oz this month. It can feel as though you're in the chamber of the great Oz where Toto finally pulls back the curtain to expose the little man behind the big facade. The fog of your 9 Personal Year is beginning to clear and—like the great Oz—you can begin to see the power you gave to certain situations and experiences. You can now look at these experiences differently, and know you can truly let them go as you open up to a new direction and chapter in your life. It's time to take stock of where you are, where you'd like to be and where you're going. And for you, there's no better time than right now to begin fresh. This is liftoff, so begin the year with the full intention for choosing wisely and well all year long. Be mindful of where you focus your energy and attention, because you're setting up the growth process for your next nine-year cycle. It's a year of new beginnings! With that said, understand that January is a slower month for you. Step back and enjoy the delays. January is a time to focus your energy and attention on the joys of loving relationships, partnerships and serving some sort of group effort or dynamic. Spread your focus away from "me" and instead spend some concerted effort on "us," whatever that might mean to you. It's a month where you might actually be feeling a bit of a 9 Personal Year "hangover" from last year. There may be some leftover issues or unresolved "stuff" that needs to be wrapped up and put to bed for good. If so, January is the perfect time to finish it up and begin to move into the "what's next?" in a very real and tangible way.
If you're having a 2 Personal Year
January is a 3 Month
After your somewhat exhausting 1 Personal Year, you might find yourself waking up on January 1 with a sudden itch to explore artistic realms that you haven't previously investigated. Go with your creative flow. It's a year devoted to the development of patience with a capital "P." Prepare yourself for a slow down. It'll be two steps forward, three steps back throughout the year. While it may not be an opportune year for expanding your business enterprise exponentially or conquering life fast-and-furiously, it's a great year for focusing on love and your loving relationships. Also understand that during the entire year you'll be feeling a higher octave of emotional sensitivity. This is the time to learn how to discipline your emotions—to engage them, investigate them, and move through them lovingly with strong yet supple boundaries. You'll be challenged to step into your sense of self, and approach things with diplomacy without being a doormat. Yet you won't feel the full impact this month—at first, January gives you opportunities to develop some of your creative ideas and abilities that may usually lay dormant. This month is earmarked for anything in the self-improvement realm, and can support you in enjoying life from all angles. Enjoy a little fun and light socializing. Anything where you can infuse your creativity is favored now—whether it's artistic in the traditional sense, or creative in terms of problem solving or just engaging with anything that allows you to step outside of your box.
If you're having a 3 Personal Year
January is a 4 Month
Ahhhhh. You're leaving patience-building 2 Personal Year and heading into the more buoyant energies of the 3. The entire year ahead is potentially much lighter, social, fun-filled, and supports any kind of heightened communication and creative self-expression. When you set your sights on spiffing up your personal image, fine tuning your communication skills, and delving into healthy emotional expression, you'll be right on target for the entire year. This is the time for all things self-improvement. Yet January throws a little speed bump in your path. The energy of the number 4 month is all about getting your ducks in a row, setting some attainable goals, and making the effort to get organized and ready to roll! Take care of the additional work coming your way, and the year will get off to a positive start. Make sure to complete the required—and the not so exciting—details. January is your month to put the proverbial nose to the grindstone and get that work done—even if you don't necessarily feel like it. You'll feel conflicted—should I go out to that party or should I stay late and finish this project? For best results: Finish the project and then (if possible) arrive late (and with a flourish!) to the party.
If you're having a 4 Personal Year
January is a 5 Month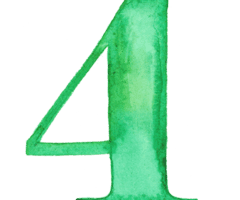 Are you feeling the burn already? After your lighter 3 Personal Year, get ready for a slow and steady wins the race kind of year devoted to getting your "house" in order. This is the time to set up some systems that will serve to make your life easier and more productive for the next four years, if not for a longer duration of time. This can be work-related systems, and it can be systems that you use in your home and personal life. This is the "cement pouring" year where you're setting up the foundations for the building blocks you see coming in the near and distant future. Yet be prepared to feel as though you've been shot out of a canon in January. There's a lot of activity and excitement heading your way this month and it might feel as though you can't decide which fabulous opportunity to run with first. Also, expect lots of opportunities for social activity and even some romance. The number 5 is rather frenetic, and entices you with opportunities for travel and will bring up issues related to freedom. As you start your year devoted to structure, hard work and goal setting, this is a time to ask yourself how to infuse more freedom into your life. As counterintuitive as it may sound, the energy of the month supports you in making some deep decisions about how to structure your life in order to gain more levels of freedom—whether that's with more financial freedom, in relationships, with your health—in whatever realm you feel you need a sense of expansiveness. Spend time with friends and yet understand if you need to choose between getting a project done for a deadline and going out for happy hour, you need to skip it and get the work done.
If you're having a 5 Personal Year
January is a 6 Month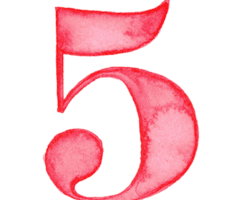 "Freedom" is your siren call, and anything related to cultivating and acting upon your idea of freedom is the theme for you this year. The warning label reads like this: Make sure you harness all the opportunities coming your way and use some focus and self-discipline or the year will fly by without much to show for it. It's the perfect time for extra travel, especially if the excursions challenge your sense of fearless abandon. This is a year earmarked for substantial change, and with luck you'll have a whole lot of fun getting there! The joy is in the journey, after all. Soak it in! Yet as the New Year begins, much of your activity revolves around your family and home life. It's a little bit antithetical—the mantra of your 5 Personal Year is "Don't fence me in!" while the mantra of your 6 Personal Month is "I'm building a white picket fence!" So there may be a bit of push-pull in terms of your desires and responsibilities. Be sure to say yes to parties and get-togethers. Use your social life to enhance your business efforts—this is an optimal time to network and promote your products or services. January holds some more pressing responsibilities on the home front, too. Make sure to take care of the task at hand. You'll have plenty of time to get out and about throughout the year. Step up and lend a helping hand to friends and family this month.
If you're having a 6 Personal Year
January is a 7 Month
It's a year where relationships are at the forefront. It's a "marriage and divorce" year for you and you can't escape reevaluating all of your relationships—first with yourself and then with everyone in your life, from your intimate relationship to your family and friends to your co-workers. Understand when I say "marriage and divorce," I mean both literally and metaphorically. This term simply suggests that you'll be faced with intense decisions around elevating and strengthening your relationships or choosing to let go of some of them. In any event, relationships are under scrutiny all year long. It's all up for review. January offers opportunity for some deep soul searching in regard to all things relationship-oriented. It's going to be a contemplative month with a focus on spiritual pursuits, deep learning and meeting up face-to-face with experiences that challenge you to dig deep into who you really are on a core level. You might feel like retreating into a little cave and contemplating your own navel. Be that as it may, you'll need to honor your commitments and show up for whatever home and family issues are thrown your way. This is a great way to begin the year where you'll be more focused on those in your intimate circle. January offers a free pass to go inward, and begin to truly "know thyself" on a newer and deeper level.
If you're having a 7 Personal Year
January is an 8 Month
You're entering into your 7 Personal Year—a time where a retreat is more in alignment with your over-all energies than, say, getting that promotion. You're beginning a year of planning rather than action. Just to complicate matters, the 8 energy supporting you in January is the overpowering step-sibling to the overall 7 energy of your year. The 7 is all about planning rather than doing—its focus is on the spiritual and the intellectual. Yet the month is infused with the 8 where business and financial affairs are front and center. Thinking business and in business-like terms will be greatly beneficial this month, as you ready yourself for action and achievement. Action is the theme for January! Understand that you'll be required to step into your sense of self-confidence and personal power. Yet much of it has to do with phasing out some of your less-important obligations in order to give yourself time for personal and private matters. Understand that during the month you'll feel financial pressures, and will most likely be presented with some people and situations that test your sense of personal power. It's the month to stand up for yourself and draw a line in the sand. Although this may sound well and good, the push-me-pull-you effect will come on quite strong. This is a great way to launch your soul-searching 7 Year by allowing you to come face-to-face with some of the deeper triggers and issues surrounding your sense of self and your power in the world.
If you're having an 8 Personal Year
January is a 9 Month
It's a year where personal power and finances take the front seat. Don't let it overwhelm you; easy come, easy go. Just know that you must focus on being abundance-minded rather than scarcity-minded. This is an optimal year to train your thoughts to think about money in a new and dynamic way. As you sow, so shall you reap. Is it safe to say that you've been waiting to get your various ventures on the move? Are you feeling it already? As though you're Sleeping Beauty, awakening and rubbing the sleep out of your eyes? Even though January is already underway, you can feel that that there are still some matters to take care of before you begin the big push forward. Take the time to complete projects related to last year's study or contemplative activities. This month, you can devote yourself only to the necessary business-related work already in play, with the idea that you can go full-steam ahead on new ventures in the months to come. The energy of the 9 will bring you experiences that demand a choice: do you hang on for dear life or do you let go? It may be a little corny to say it, yet that quote really is true, "If you love something, let it go. If it returns, it's yours; if it doesn't, it wasn't. If you love someone, set them free. If they come back they're yours; if they don't they never were."
If you're having a 9 Personal Year
January is a 1 Month
Get ready to hit the ground running. It's the month to take charge. Emphasize your independence and individuality as the year gets underway. You won't be able to avoid this transition period requiring the completion and closing out of many things in your life. The issue is this: The month holds the energy of action, taking the lead, and independence. Yet the energy that you're moving into for the entire year is very different. It's about conclusions, letting go and surrendering. The 1 energy for the month is all about beginnings and the 9 energy for your Personal Year is all about endings. So expect a bit of confusion as you move through it and make your best choices and decisions. Last year was an action-packed time that's challenged you in pretty much every way possible. Do you feel strong? Do you feel like you've risen to the challenge? Have you gotten your financial trajectory in order and your sense of personal power polished and shined? This is the end of a cycle for you, so here's the plan. Visualize yourself diving gracefully into a stream with a lively current. Get yourself situated on a sturdy inner tube and get ready to ride the current for the next twelve months. January is a time where you'll put in motion some of the things you'll be working on for the year in terms of "does it stay…or does it go away?"
Photo Credit: Stocksy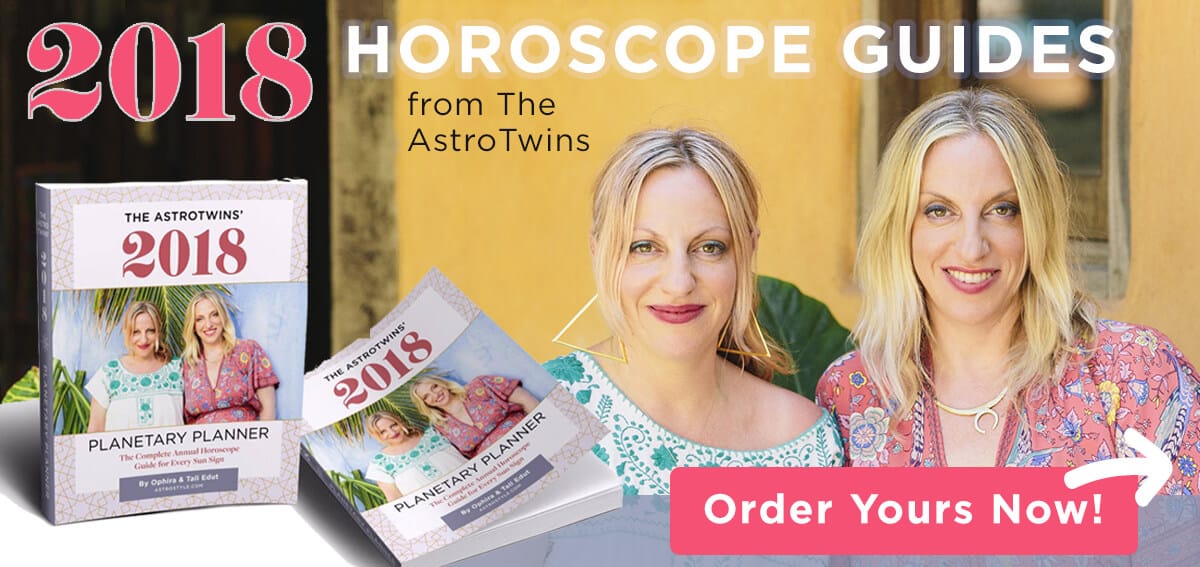 How will 2018's Numerology impact you?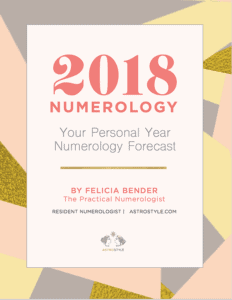 Learn all about your Personal Year number for 2018 and how it will impact you throughout the year. Download our 2018 Personal Year Numerology Guide created by Felicia Bender in conjunction with The AstroTwins.

Felicia Bender, Ph.D is "The Practical Numerologist" and the author of Redesign Your Life: Using Numerology To Create The Wildly Optimal You. To learn more numerology from Felicia, order custom reports and book a reading, visit www.FeliciaBender.com
ORDER CHARTS & SESSIONS WITH FELICIA:
For information on scheduling a private numerology session, click here.
To order a personalized numerology chart, click here.
MORE POSTS BY FELICIA ON ASTROSTYLE:
2018 Numerology: The 11/2 Universal Year
Your December 2017 Numerology Forecast
Your November 2017 Numerology Forecast
Your October 2017 Numerology Forecast
Your September 2017 Numerology Forecast
Your August 2017 Numerology Forecast
Your July 2017 Numerology Forecast
Your June 2017 Numerology Forecast

Your May 2017 Numerology Forecast
Your April 2017 Numerology Forecast
Your March 2017 Numerology Forecast
Your February 2017 Numerology Forecast
Your January 2017 Numerology Forecast
Your December 2016 Numerology Forecast
Your November 2016 Numerology Forecast
Your October 2016 Numerology Forecast
Your September 2016 Numerology Forecast
Your August 2016 Numerology Forecast
Your July 2016 Numerology Forecast
Your June 2016 Numerology Forecast
Your May 2016 Numerology Forecast
Your April 2016 Numerology Forecast
Your March 2016 Numerology Forecast
Your February 2016 Numerology Forecast
Your January 2016 Numerology Forecast
Your December 2015 Numerology Forecast
Your November 2015 Numerology Forecast