June gets off to a vibrant start, with the Sun in chatty Gemini and Mars buzzing through social Aquarius. But the action simmers down during the second half of the month, when Mars and Neptune make a U-turn, and join Jupiter, Saturn and Pluto in a FIVE planet retrograde brigade that could slow our summer roll. 
It's June and Gemini season has arrived, getting us all in the mood to mingle, exchange ideas and try new things. While the Sun visits the sign of the Twins until June 21, connect with kindred spirits and let the synergy flow. This is a time for dialogue, not just DIY-ing. Sure, it might take a little longer to finish things if you're opinion-polling more people. But the end result could be sweeter when a few savvy minds contribute to the equation.
The Gemini new moon arrives June 13, marking an especially good day for #twinning. Partner up with likeminded souls who can helps take your grand ideas to the next level. With quicksilver Mercury also in partnership-driven Gemini (its home sign) until June 12, meetings, brainstorm sessions and coffee dates can spark creative projects that will keep you busy all summer long.
Father's Day is on June 17, and will feature the moon in effusive Leo. There could be some grand declarations of love for dads everywhere, but also a bit of drama, as affectionate Venus in Leo will be in a close opposition to combative Mars in freedom-fighter Aquarius, the sign of group activity. Something as simple as arriving at a consensus for how to celebrate may come with bickering and far too many cooks. Wasn't this "special day" supposed to be about a certain father figure, not everyone else? Le sigh. Try to settle the plans early in the month—and lock them in so nobody can bring a last-minute change that could rock the boat.
In the second half of the month, retrograde high season begins, as soothsayer Neptune and aggressive Mars pivot backward, joining expansive Jupiter, stalwart Saturn and karmic Pluto in this powered-down position. With all these celestial bodies taking summer snoozes, it's a better time to reflect and regroup rather than push any agendas.
Nebulous Neptune will be retrograde in its home sign of ethereal Pisces from June 18 to November 24—roughly the same dates the it turns retrograde each year. This can actually be a productive cycle, once Neptune's fog thins and confusion clears. If you've been avoiding something or burying your head in the sand, cut the denial. Take inventory: Where are you operating out of guilt or with unclear boundaries? Use this time to set things on a more even keel.
Then on June 26, energizer Mars will turn retrograde until August 27, retreating through Aquarius until August 12 before backing into structured Capricorn. Our bigger-picture goals and plans might slow down or hit a pothole during this phase. Hit pause on something that's been moving way too fast—a relationship, a contract, a major life change. What's the rush?
Warrior Mars turns retrograde every two years, which can stir up arguments and make people extra combative. Watch your stress levels and be careful not to take on too much. The lusty red planet is one of the two "love planets" (the other, sensual Venus, will turn retrograde mid-October for six weeks), and during this cycle, a tempting ex could return. With Mars spiking tension, couples may fight more, especially about an issue you've avoided for some time. Be honest and direct—but with kindness, please!
Emo alert: The bold Sun will make its annual opposition to sobering Saturn on June 27, which can be one of the year's most pessimistic and melodramatic days. Moods can be heavy, and you could see the glass as half-empty. Do your best to avoid getting caught up in negative energy—it WILL eventually pass! But do give yourself a reality check. If you're wasting time, money or energy on something, set up some new terms…or move on.
The next day, June 28, brings the year's only Capricorn full moon, which puts our ambitions front and center. Check back to January 16 and anything you started then, at the Capricorn new moon—and the first new moon of 2018. Time for a midyear check-in on those New Year's resolutions, and a course correction if necessary. With structured Saturn making close contact to the moon, it's a good time to reach out to a mentor or established person. They could lend guidance or a helpful introduction that opens doors. Just make sure you're prepared with facts and figures—sometimes, you only get one shot!

MIDYEAR SALE: 50% off all 2018 Horoscope Guides!

Make the most of your 2018 with The AstroTwins' 2018 Planetary Planners to guide you through the whole year—your must-have map for love, money, health and more.
Get yours now >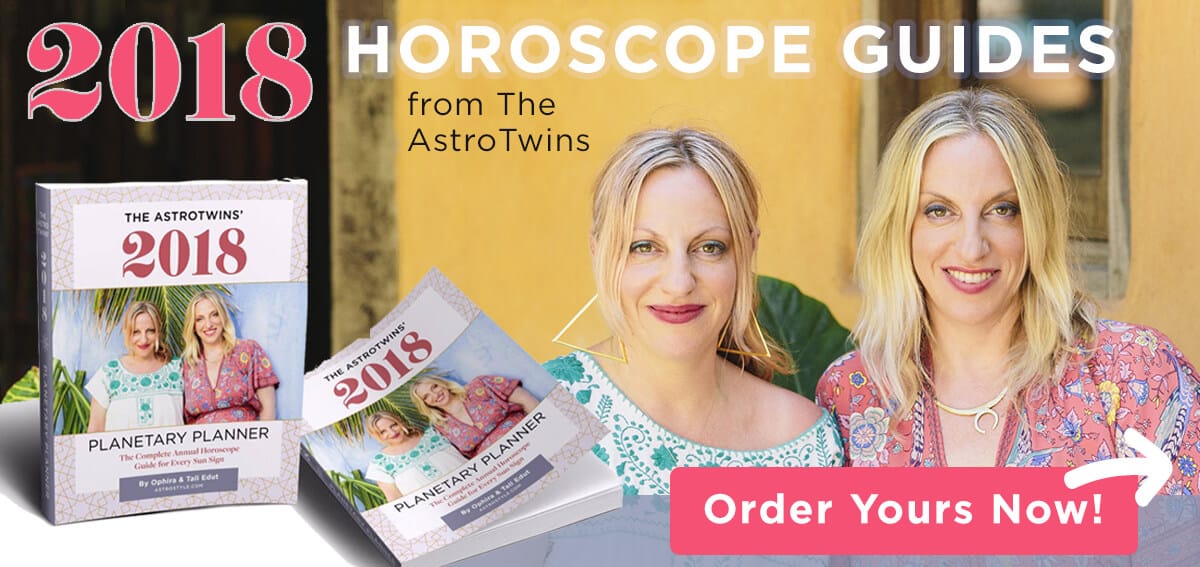 Photo Credit: Stocksy