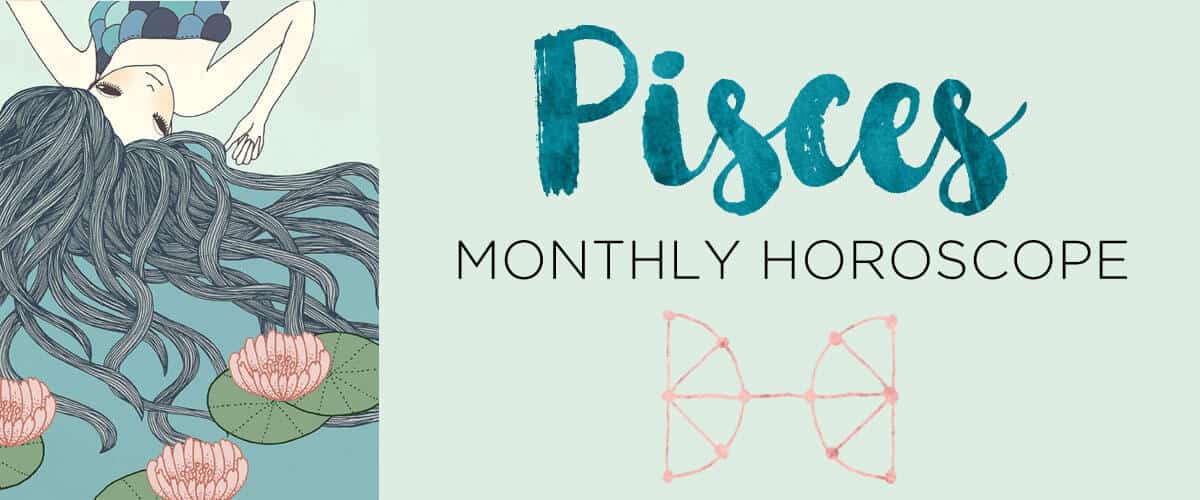 March 2019
Happy birthday season to YOU, Pisces! The Sun is in your sign for its annual visit until March 20, giving you an early spring awakening. It's been a fairly productive winter for you, one that (for once) has passed pretty quickly. Still, you're ready to come out of hibernation and make things happen. With expansive Jupiter spending the year in your ambitious tenth house, your mind is on some lofty #goals. You're eager for the buzz of spring to wake everyone else up to join the Pisces party!

It could happen sooner than you think: On March 6, your "personal new year" arrives, as the Pisces new moon catalyzes your most cherished projects and plans. Carve out time to write down your intentions. New moons set off six-month cycles that culminate at the corresponding full moon. Where would you like to be by the September 14 Pisces full moon? Whether it's a solo project, a dream vacation or a bucket-list achievement, these magical moonbeams will catapult you in that direction.
But be careful not to misfire or aim at the wrong target. From March 5 to 28, you'll have to work around Mercury, the planet of communication and technology, which is retrograde in YOUR sign. (Womp wommmmmp.) Your inspired diatribes could come across as tone-deaf, or you could feel wildly misunderstood at every turn. While you're eager to launch, you might be better off tweaking and testing than forcing things out of the gate prematurely. Think twice before making any major changes to your image now, too. With Mercury awry in your first house of appearances, you're liable to regret that pixie cut or nonreturnable couture splurge. Back up your electronic devices, especially your photos, and delete any incriminating texts and emails, 'cause you never know.
Communication is a central theme of this month, and you can expect conversations to be charged with excitement and ideas. With motivator Mars in Taurus and your expressive third house until March 31, you're pumped to socialize and connect with kindred spirits. Careful, though: Mars can make you a tad argumentative, and with Mercury retrograde, playful verbal sparring could turn into an epic blowout. When in doubt, don't go there!
The headline news arrives on March 6—astride the Pisces new moon—when irreverent Uranus starts a seven-year journey through Taurus, electrifying your third house of interpersonal affairs, local action and ideas until April 2026. Does Mayor Pisces have a ring to it? No? Sit tight…because it very well could. Rabble-rouser Uranus was here briefly from May 15 to November 6, 2018, giving you a short preview. Now, as the side-spinning planet settles in, you could become quite the iconoclast through writing, teaching or a media project. You might just make a name for yourself in the community, spreading unorthodox ideas or forming a cutting-edge collaboration with local leaders.
Bored? Not for long. Energizer Mars and unpredictable Uranus could bring a barrage of invitations to live shows, new restaurants or outdoorsy day trips. With athletic Mars transiting Taurus, you might just be the first person to take your bike, skates or running gear out of winter storage. Before you can say "spring equinox," you're convincing your friends it's warm enough for a picnic or a mud-spattered hike. If you're hoping to get a spring fitness plan underway, load up your phone with inspiring playlists and podcasts or grab your friends and combine fitness with socializing.
Either way, you'll be glad to see Uranus leave Aries, where it's been a fluctuating force in your financial sector since March 2011. If you've found it hard to lock down a stable source of income or settle into a career groove, that should get easier now. When Uranus departs Aries, it won't return again in this lifetime (until next century). Now, you can take one of your trailblazing ideas and monetize it—or you might just find it easier to stick with priorities and a clear career path. Budgeting, scheduling and following a routine will be less disrupted by Uranus' sudden curveballs.
Brush away the birthday cake crumbs: On March 20, the Sun leaves your sign and moves into Aries, heating up your practical and productive second house. It's time to take some of those starry-eyed wishes and start building them into tangible form! If you've been partying like a Pisces rock star, you'll get back to business (and basics) as Aries season sounds the call for a thorough spring cleanup.
March 20 also brings the first of two back-to-back full moons in Libra and your insightful eighth house of merging, intimacy and joint ventures. This one, a potent supermoon, could bring an important relationship or financial matter to a turning point. Is it time to make things uber-official or to consummate your smoldering chemistry with someone? A palpable connection could be impossible to resist. This full moon can also bring news of an engagement, pregnancy or financial windfall.
And because it lands in your eighth house of property, a legal or real estate matter could reach a peak. But before you sign contracts or ink your name on anything, try to wait out the Mercury retrograde cycle that ends on March 28. Good news: Since a second Libra full moon arrives on April 19, you have another month to think it all through.
As if that wasn't enough, March 20 also brings a galvanizing trine between assertive Mars and penetrating Pluto in the "people" houses of your chart. This powder-keg combo gives you irresistible magnetism and powers of persuasion. You might add a couple power players to your dream team today or have a conversation that leads to a game-changing collaboration. Look around: Are you spending time with people who are up to big things—or wasting your hours with the riffraff? Fun as the latter crew might be to meet for a beer and blow off steam, this Mars-Pluto mashup reminds you to stock your squad with movers and shakers, stat!
Want some more?
Check out what's going on for…