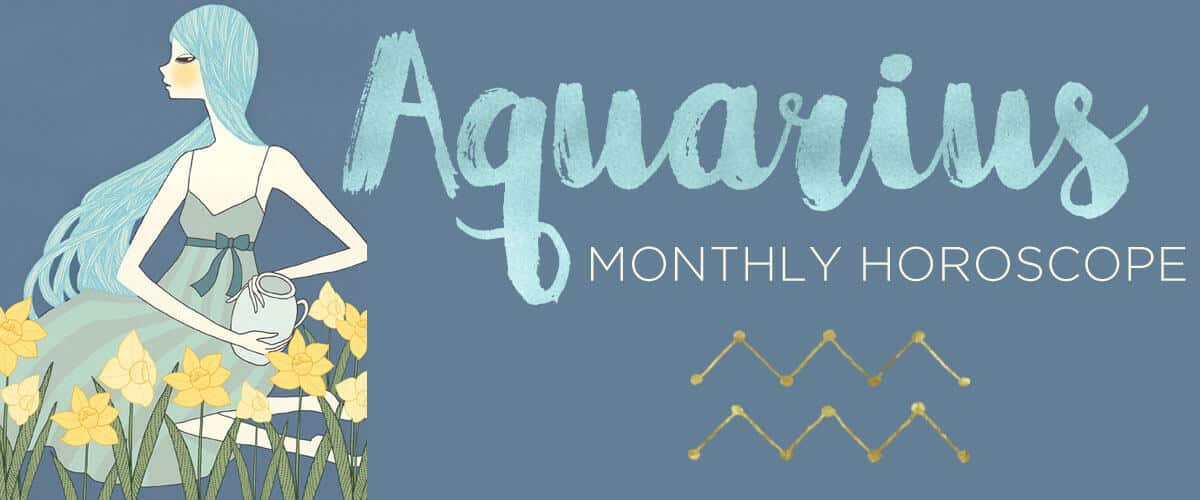 February 2019
Happy birthday season, Aquarius! Your Water Bearer's urn runneth over as the month begins. Not only is the Sun in your sign until February 18 but your "personal new year" arrives on February 4, when the Aquarius new moon kicks off a six-month cycle that's all about YOU. Haven't set any inspired 2019 resolutions yet? Pssshhhhhttt. The first full week of February cosmically aligns you with your personal passions and desires. When you craft your intentions from that headspace, you'll be much more motivated to follow them.

As the zodiac's rebel, you hate rules (at least, ones that other people invent). So why follow an outworn convention of January 1 as the arbitrary date for planning your entire year? You're at most distracted during Capricorn season, when the Sun is in your foggy twelfth house. Here's permission to wait until the annual Aquarius new moon, which will always fall at some point between January 21 and February 18. This year, February 4 is the true start of your calendar year!
Even better? The Aquarius new moon marks the Chinese Lunar New Year's Eve, doubling your reasons to celebrate. On February 5, the official Year of the Earth Pig begins, a 12-month cycle that's devoted to pleasure and play.
You won't be sorry to see the Earth Dog depart, after a year of territory-guarding and hierarchy that are SO not aligned with your communal style. The "more the merrier" Pig is all about shared indulgences. In the sensual Earth element, celebrations could get downright hedonistic. But Earth energy is also grounding and sensible. This will be a work hard/play hard Chinese Year, when your flair for teamwork comes in really handy!
Those diplomatic skills are already in demand because from January 1 to February 14, excitable Mars is in Aries, activating your third house of communication and kindred spirits. Your message feeds are #lit with invitations and fast-paced conversations, and your social calendar is packed. Energizer Mars can tempt us to overdo it, however, so go easy on the multitasking and try not to overbook yourself. The third house rules local events, and your community could become a hub of action—and activism. Scout out ways you can make an impact practically in your own backyard.
Looking for a new neighborhood? Yearning to connect with a like-minded crew? Until March 6, your co-ruler, changemaker Uranus, is also in Aries. Explore and experiment! You might take a road trip to check out new possibilities or rent an Airbnb in a happening 'hood to see if you would really enjoy living there. When Mars and Uranus make a rare conjunction (meetup) on February 13, you could suddenly pick up and move. This is also a powerful day for a no-holds-barred conversation or to pitch an innovative idea. A sibling, colleague or neighbor could be involved in events today. Perhaps one of them will become a key collaborator on an avant-garde idea. After March 6, Uranus will leave Aries and won't return here again in this lifetime. You'll never again experience a Mars-Uranus connection in your communication house. Speak now or forever hold your peace!
Love is in the air on Valentine's Day since the moon will spend the holiday in Gemini and your passionate, playful fifth house. Set aside your cynicism and get decadent, whether you indulge with friends or a romantic plus-one. But watch your budget before you order wine flights to pair with every dish. A tricky T-square to Neptune in your money house and generous Jupiter in your friend zone could leave you with a sticker-shock-inducing tab. If you go out with a crew, agree ahead of time on a budget or how you'll split the bill so you don't end up paying for everyone's drinks and oyster samplers. You could also be pulled between a date night and tempting plans with your squad. Can you squeeze in both without exhausting yourself or hurting anyone's feelings? If yes, give it a try…but remember that you can't please everyone, so prioritize to keep your FOMO in check.
Home becomes a hotspot from February 14 to March 31 as Mars moves into Taurus and your domesticity zone. You could ignite a cottage industry or see a rotating cast of characters under your roof. If you've been hankering to move or redecorate, the red planet will happily play realtor and interior designer with you. (Check out our new Feng Shui section for ideas!
Things move quickly with Mars at the helm, and you'll need to act fast. If you put your house on the market, you could have a stampede of showings, which could get intense. If you're home-hunting, be prepared with your paperwork to beat the competition. Mars can add motivation and stress in equal measures. Try to step away from any family drama, especially with a child or female relative. Get out of the house at the first hint of cabin fever because tension can boil over while Mars is here. Ramping up self-care will help you manage mood swings, which can easily spike now.
On February 18, "wounded healer" Chiron will move into Aries, staying until April 2027. Chiron made a brief pit stop here from April to September 2018, then receded back into Pisces. While Chiron is in Aries, we'll collectively mend old scars around visibility, self-esteem and identity. According to mythology, Chiron was a healer who couldn't heal himself. Under his influence, we evolve by helping others overcome struggles that we've dealt with (and may still be muddling through). It's the ultimate act of service, where the giver ends up receiving an unexpected karmic gift.
Chiron will exit your money and work house and enter your communications zone. From your neighborhood to your social scene to your friendships, Chiron will "act locally" and cause you to rethink the people and conversations you invest energy in. Finding your voice through writing, teaching and other outlets could become a new mission, and you might be inspired to help others do the same. Words have the power to heal or harm, and you'll become acutely aware of the impact of your thoughts and dialogues. You may drift away from certain friendships that don't affirm or uplift you.
These themes won't be entirely new because radical Uranus has been in Aries since 2011, shaking up the status quo in this zone of your chart for years. On March 6, Uranus will permanently exit, passing the transformational baton to Chiron for the next nine years.
Practical matters prevail starting February 18, when the Sun moves into Pisces and your second house of work and money. Sweep up those birthday cake crumbs and get down to business. But don't shut your emotions off just yet. On February 19, the Virgo full supermoon beams into your eighth house of sex, shared finances and merging. A sizzling soulmate attraction might consummate, and longtime couples might make things permanent (or, in some cases, part ways). A joint venture could become official, and you might close an important deal related to real estate or other investments. This spotlight on your long-term finances also gives an unflinching look at where you need to better manage your money.
Strong, unprocessed feelings can surge up at this full moon, especially ones you've been trying to hide. Floodgates: down! From jealousy to resentment to questions about trust, the intrigue ratchets up. In the light of this moon, you might issue a heartfelt confession only to feel excruciatingly exposed right after (a "vulnerability hangover," as Brene Brown calls it). Anger might boil up from feeling so raw, so catch yourself before you're tempted to lash out.
Aquarius is the sign of emotional detachment, and while you've got plenty of feelings, you don't enjoy having them on public display. This full moon could upend your sense of control and composure. Try to embrace it instead of getting embarrassed. Your humanity is not only attractive; it's the only way that other people can truly connect with you. Being perfect is overrated!
Want some more?
Check out what's going on for…