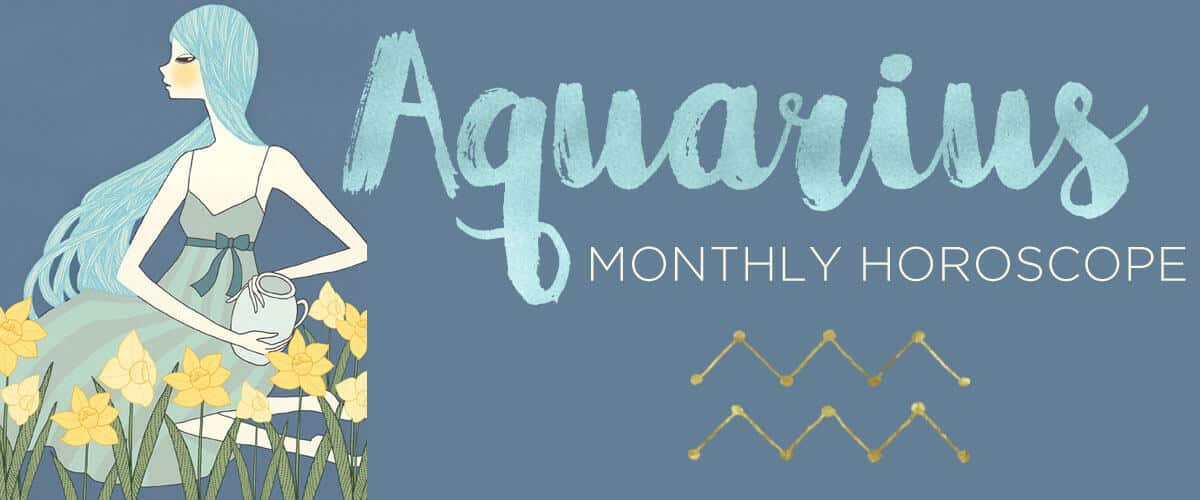 January 2020
Ease into the new decade, Aquarius. January's energy comes with a concentration of planets in Capricorn and your twelfth house of rest, healing and escape. While others are busy making plans and resolutions, you're in a much more receptive space. While your experimental sign can go with the flow, you also have a Type A side. This month—and this year—you may have important lessons about letting things happen.
Aquarius is the sign of the future, and you always have at least ONE eye on what's next. Take a breather from all of that, especially if it's making you nervous or neurotic. Not sure what plans and resolutions you want to make this year? Let it "come to you" instead of forcing an agenda. This is a time of transition, when you need to talk less and listen more.
That also means tuning in to the universe and your own intuitive guidance system. Not so fast with the eye rolls, Aquarius! With FIVE planets in your spiritual twelfth house as January begins, the Law of Attraction is governing 2020 for you. Not only is the Sun making its annual visit here until January 20, but you've got communicator Mercury, risk-taker Jupiter (through December 19), responsible Saturn and transformational Pluto all gathered in this zone as the decade begins. Prepare for a year unlike any you've had in a while—if ever!
Your best bet is to tune in, meditate or just be STILL now. Your intuition's been knocking loudly for the past month, and now's your chance to finally download that divine data. And you'll have a huge chance on January 12, when Saturn and Pluto make
a historic alignment
in Capricorn for the first time since 1518. While these two meet up every 33 to 38 years, they haven't united in THIS sign in over five centuries.
As materializer Saturn brings Pluto's creative, spiritual or unconscious ideas into tangible form, you could have a huge breakthrough emotionally or intuitively. Is it time to let go of something that's been weighing you down? The Saturn-Pluto meetup could come and sweep it away, sounding the call for forgiveness and closure. The inner work you do now will have a reverberating effect for months to come. With the bold Sun and expressive Mercury both pinging Saturn and Pluto, you'll find the courage to express what you're feeling too.
As within, so without—that could be your mid-month mantra thanks to a January 10 lunar eclipse in Cancer and your sixth house of wellbeing and organization. The decade's very first full moon happens to be a potent eclipse, which will sweep away the old and usher in space for the new. This spotlight moment could reveal a health matter that's been plaguing you (and the proper treatment plan, at last!), or it could be THE day when you finally commit to kicking a self-sabotaging habit. Eating well, exercising, working with a coach: These affirming moves could help you feel anchored at a time when you need it most.
Of course, this isn't exactly breaking news. This is almost the final eclipse in a series that's been rippling across the Cancer/Capricorn axis since July 2018, turning your attention the health and healing. You've been learning important lessons about impeccability and mastery in your work as well as other ones about letting go and receiving support. When was it time to lean in…and which moments were best to lean back? In addition to spotlighting your work and wellness, these eclipses have helped you fine-tune that balance.
It's been a lot to take in, and you might feel a bit off-kilter. Good news: On January 20, the Sun shifts into Aquarius and your first house of self for a month, bringing you back to YOU! If you've been making too many sacrifices or feeling overwhelmed for the past four weeks, you'll be thrilled to feel your energy return.
Watch out for family or household drama interrupting your me-first groove on January 23, when the Sun locks into its semiannual square (https://www.astrostyle.com/aspects/square) with disruptive Uranus in Taurus. A volatile or argumentative loved one could demand your attention, interrupting you right as you're getting into a groove. Set firm boundaries and don't take the bait. It will be all too easy to get hooked into the drama and button-pushing games. Don't waste a second of your precious time on this emotional blackmail if you can help it! Beware getting suckered into playing the hero or fixing a needy person's problems today. Try pointing them to resources before you roll up your sleeves.
Besides, your REAL New Year arrives on January 24 with the decade's first new moon—which happens to be in Aquarius! You typically get only one new moon per year in your zodiac sign, and it's the ideal time to power forward on a personal goal. Efforts started now will culminate at the corresponding Aquarius full moon, which will arrive on August 3, 2020. Plot a course for where you'd like to be by then.
You'll have help thinking strategically because this is also Lunar New Year's Eve, a night to bid adieu to the chillaxed Earth Pig and welcome the sharp-minded
Metal Rat
. Pro astro tip: The Chinese New Year always falls at the Aquarius new moon, which is why Aquarians are often split between two of the animal signs. (Those born prior to the new moon will be part of the previous year's sign.) For the next 12 months, you'll have an easier time putting your ideas into action—and doing so with your signature aplomb!
Want some more?
The AstroTwins' 2020 Horoscope—your ultimate guide tot the year that kicks off the new decade—is available now! Get your copy and a special bonus gift at https://www.astrostyle.com/2020-horoscope.
Check out what's going on for…