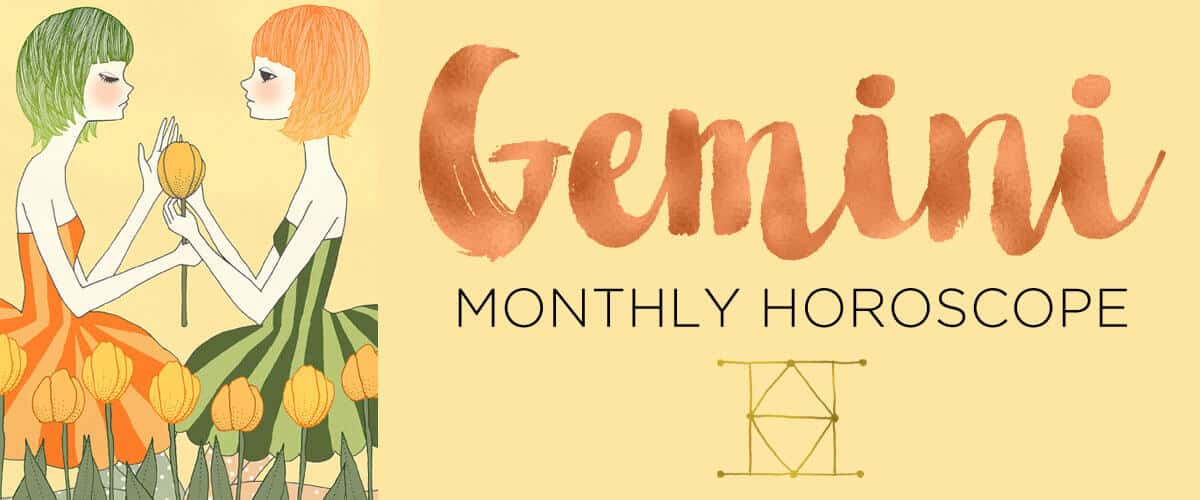 April 2019
Get out and win the public over, Gemini! This month begins on an energized high note thanks to go-getter Mars in your sign from March 31 to May 15. You're hyped up about an idea or initiative, and your cutting-edge concepts could draw viral attention without much effort. And with the Sun surfing through Aries and your eleventh house of popularity until April 20, you'll have no trouble creating a raving fan base or a cutting-edge collective of genius minds to produce and promote your vision. You'll succeed as a solo star AND a team player this month, a rare opportunity.
At the April 5 new moon in Aries, your dream squad could really start to come together. While this new moon could take six months to fully unfold, begin stocking your Gemini crew with some thought leaders and innovative types who can really expand on your vision.
But don't rush into anything TOO binding because this month three planets—Jupiter, Saturn and Pluto—will turn
retrograde
for lengthy stretches. All three will make their backspins through the most committed zones of your chart, which could prompt a reevaluation of your closest ties. Is everything healthy, harmonious and balanced between you? Likely you'll be doing some assessing of that. If you're the kind of Gemini who can't be pinned down easily, Jupiter retrograde could help you sort through any commitment baggage.
Wear your heart on your sleeve on April 19, when the Libra full moon illuminates your fifth house of passion and romance. This is the rare consecutive full moon in Libra, following on the heels of the first (a supermoon) last March 20. A budding romance or creative project could reach full bloom. For some Geminis, a pregnancy could be in the cards, since the fifth house rules fertility. If you've been vacillating on a decision, you could finally get the needed intel to make up your mind.
Power down a bit starting April 20, when the Sun slips into Taurus and your dreamy twelfth house for a month. This is your annual time to process the past year's events before Gemini season begins on May 21. The Sun's made a long journey around the zodiac wheel, and so have you.
Take some space to reflect and rejuvenate—well, as much as you can with go-getter Mars still activating your sign until May 15. You could find that you have bursts of excitement followed by a "crash." But your pillow time could actually become the most productive hours of your day during Taurus season. Make like fellow Gemini John F. Kennedy,
who famously napped
one to two hours a day (must've been nice!), followed by a hot bath and up to three changes of clothing per day. Not that we're suggesting that you do that year-round…but a little #SiestaStyle could have a surprising impact on your productivity.
When the Sun makes its annual conjunction (meetup) with mad-scientist Uranus on April 22, you could have some wild visions and vivid dreams. This day can open a powerful psychic portal. You might also get a jarringly direct download about an important change you need to make in your life. The twelfth house rules hidden agendas and intuition, so if you have a nagging feeling about a certain person, investigate. Someone could show their true colors in a shocking way, or you get a strong urge to cut ties with a situation that's draining your energy.
While you don't want to do anything rash or irreversible, if you're fed up, this Sun-Uranus meetup could give you the guts to say "enough!" Speak your truth, Gemini. Sometimes simply voicing your concern about a toxic situation could be THE thing that helps you create a new opportunity. Don't write a relationship off completely until you have a heart-to-heart. Chances are, there are things neither of you ever realized were an issue. Maybe this is just a fork in the road and not the end of it.
You'll have plenty of time for a deep evaluation of THAT question because on April 24, transformational Pluto will turn retrograde in your eighth house of intimacy, secrets and joint ventures until October 3. Anything you'd been sweeping under the rug could surge up, forcing you to do the painful but necessary core repair work. If you've been ignoring some old wounds, trust issues or unhealed baggage, Pluto retrograde will give you the insight to process it all.
There won't be any cutting corners here, Gemini. From April 29 to September 18, disciplined Saturn will also be retrograde in Capricorn, prompting you to step away from anything that's gotten too enmeshed or complicated. You may need to scale back your spending or pay down some debt. A real estate or legal project could demand attention and possibly the help of an expert to navigate. For couples, Saturn and Pluto's joint retrograde could be a time to work with a coach or therapist to strengthen your bond and address a tough issue. What doesn't kill you makes you stronger.
Your own psychic abilities may become sharper now, especially if you meditate or receive training in a healing modality. But with a retrograde slowdown, don't be too quick to rush to conclusions. "My intuition tells me" should be followed up with diligent fact-checking and research before you take any direct action. This is especially crucial near April 27, when Mars in Gemini locks into a tense
square
with foggy Neptune in Pisces and your career house. You may THINK you know what's best, but before making any decisive moves, especially related to your professional path, be sure all information has been disclosed!
Check out what's going on for…