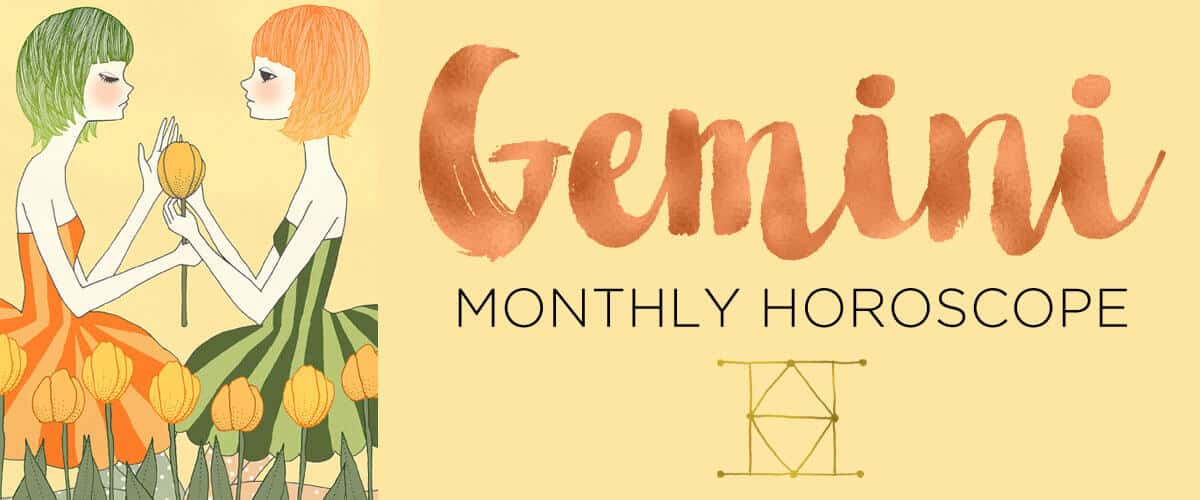 January 2020
Into the depths you go, Gemini. The new decade begins with intensity as planets cluster into Capricorn and your eighth house of merging, joint ventures and intimacy. The Sun is here until January 20, joined by expansive Jupiter (until December 19), accountability hound Saturn and transformational Pluto. It's a veritable Sea Goat soiree, and you won't be able to escape this Capricorn concentration. (None of us will!)
The hitch? Eighth-house energy can be dense and emotionally complex, not exactly the airy vibe your sign prefers. And while you might enjoy playing out a different side of your Gemini nature for a minute, don't expect to get out of these emo waters anytime soon. Your best bet? Put on the metaphorical scuba gear and dive in. There's much to discover in those depths if you can let yourself go there.

With the bold Sun, adventurous Jupiter, curious Mercury (your ruler), serious Saturn AND transformational Pluto all in Capricorn this January, wisdom and breakthroughs await. But you'll have to summon the courage to be vulnerable. It's hard to not know the outcome, especially when you put yourself out there and risk shame, rejection or just plain old looking foolish. On top of that, many Geminis have a secret "control freak" within. You'll need to reckon with all of that in order to get to the gold.
On January 12, a historic alignment of Saturn and Pluto lands in Capricorn. Astrologers have been abuzz about this moment because it can portend a huge shift in global events (politics, economies, society). This Saturn-Pluto conjunction (meetup) happens every 33 to 38 years, but it hasn't occurred in THIS zodiac sign since 1518. Major moment! Both planets will make contact with the energizing Sun and communicator Mercury, creating even more energy around whatever shifts arise.
Since 2008, Pluto has been taking a long, slow crawl through Capricorn, detonating great changes on a profound, unconscious level. Examine how your bonds have grown, or experiences you've had with both births and deaths or other big life passages. If you've become more open to partnering emotionally, sexually or financially in recent years, Pluto's handiwork is evident. Many Geminis can look back and see themselves more deeply entrenched than ever in business deals, investments or relationships.
As the shadowy dwarf planet moves into exact contact with materializing Saturn, all things hidden become visible or tangible. A secret could be revealed or something you've been keeping under wraps might break the surface. An alliance, either business or personal, may cross over into the "reality" realm. Are you ready to get engaged, permanently partnered…or "consciously uncoupled"? This day could send a relationship to either extreme. A major financial or power move could be in the cards. Saturn's presence is like an audit or report card. How ARE your most intimate (or entangled) relationships doing?
That could be grounds for major soul-searching because two days prior—on January 10—the decade's first lunar (full moon) eclipse arrives. In the sign of Cancer, it will awaken your second house of daily income, work and money. The way you make a living could radically change, something you've been building toward since this series of eclipses on the Cancer/Capricorn axis began back in July 2018. Been waiting for a cash infusion? Today could be your lucky celestial lottery ticket, provided you've paid your dues (this is the sector of EARNED finances). Stay open to opportunity! Lunar eclipses can sweep away the old and usher in the new without much warning. A job or source of financial flow that you've outgrown might be "eclipsed" away if it's no longer serving you. Should that happen, trust that something much better is on its way to you, hard as that might be to believe.
Also on January 10, Uranus will end a five-month retrograde in Taurus that began back on August 12. The side-spinning planet is shaking up your twelfth house of healing and spirituality until April 2026, and since last summer, you may have been dealing with an abrupt breakup or strong emotions that surfaced. If you've been healing from a loss or grieving an ending, Uranus' forward turn will help you feel more peaceful and ready to move forward.
Optimism ignites starting January 20, when the Sun moves into Aquarius and your big-picture ninth house for a month. Some of the intensity will lift now, and if you've had a case of tunnel vision, you can see the bigger picture again. But watch for a bout of confusion and delusion on January 23, when the Sun squares erratic Uranus in your foggy twelfth house. Insecurities could flare, or someone could present an idea that sounds too good to be true.
Your best bet? Sleep on all decisions until January 24, when the Aquarius new moon unveils a bigger, better plan. As la luna lands in your ninth house of travel, entrepreneurship and big ideas, one of your Gemini visions could start to turn into a reality. Stay alert for a big opportunity near this date. It also kicks off the Lunar New Year of the
Metal Rat
, an industrious 12-month cycle that helps you put a plan into action. Get busy building your dream machine, Gemini!
Want some more?
The AstroTwins' 2020 Horoscope—your ultimate guide tot the year that kicks off the new decade—is available now! Get your copy and a special bonus gift at https://www.astrostyle.com/2020-horoscope.
Check out what's going on for…