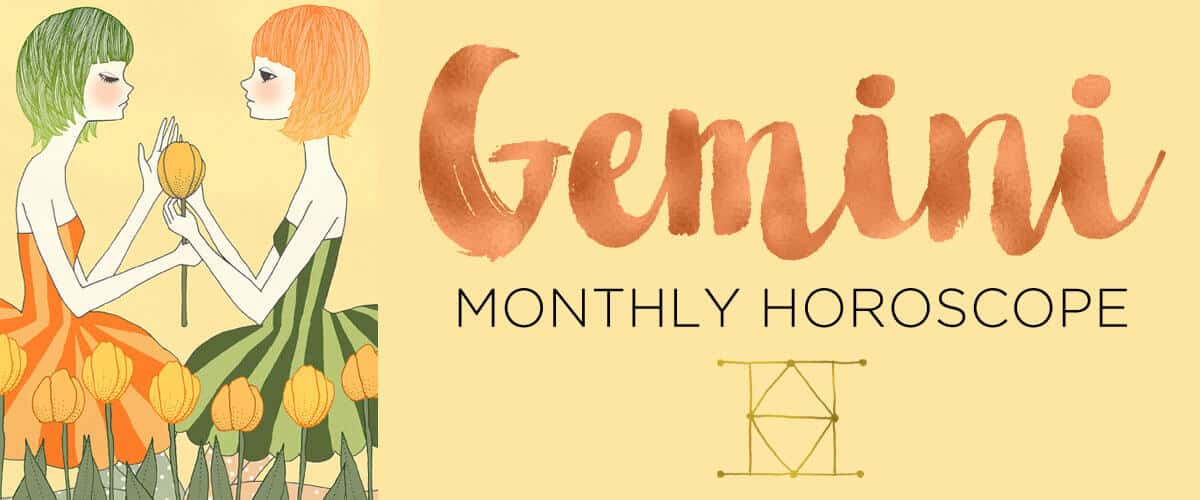 June 2019
Gemini season has arrived at last! The Sun is invigorating your piece of the sky until June 21, inspiring you to reset your priorities and put your passions first. What do you want for your next year of life? Since Geminis are born halfway through the year, you get a special "midyear review" moment, along with a chance to wipe the slate clean and start over. Your speedy sign tends to do everything in half the time as the rest of us anyway, so it only makes sense!
On June 3, the annual Gemini new moon acts as this set point. At the dawn of your "personal new year," you get to make audacious intentions, ones that will unfold between now and the December 12 Gemini full moon. Not sure what to wish for? At the very least, pause and reflect. We evolve a lot in a year's time as the moving planets trigger different cycles and possibilities in our lives.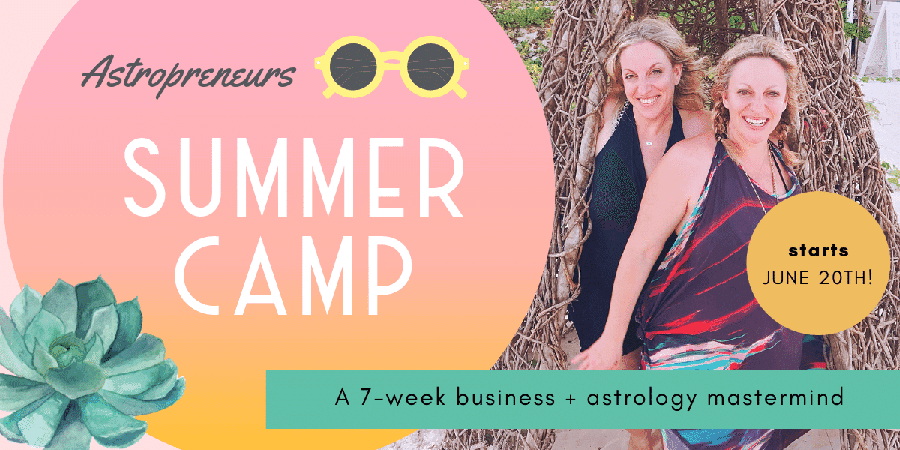 The past 12 months have plunged you into deeper waters around spirituality and partnerships (of all stripes): You're learning to listen more, collaborate effectively and explore the nuances of relationships rather than have a million superficial friends. More of that lies ahead, so if you need a birthday/new moon wish prompt, we suggest making one around mastering the art of intimacy or forging deep, meaningful connections that are tinged with a sense of magic!
Work and money could be a source of excitement (and possible stress) this June, since action planet Mars is spending the whole month in Cancer and your productive second house. Strike while the iron is sizzling when it comes to fast-paced career and client opportunities. But make sure you don't overdo it since fiery Mars can lead you to burn the candle at both ends. Ready to shake off a bad habit for good? The second house rules routines, and energetic Mars could catalyze you to intensify a fitness practice or start eating clean and green.
Mars will make a few noteworthy contacts with other planets this month. On June 14, he swings into a flowing
trine
with magnetic Neptune in your tenth house of career. Thanks to the raw ambition of Mars, combined with Neptune's Law of Attraction prowess, you could make a "big ask"—and if you believe, you'll probably receive! Be proactive about getting that meeting or pitching your idea, then listen and ask sincere questions rather than assuming you already know everything. Working these stars could win you influential support or a major leadership opportunity.
The tougher aspects occur when Mars locks into stressful
oppositions
with structured Saturn (on June 14) and transformational Pluto (June 19), both in Capricorn and your eighth house of intimacy, merging and transformation. Your day-to-day demands could cut into quality time for inner emotional exploration or a search for a soulmate connection. If you've gotten way too absorbed in a relationship or obsessed with an agenda, these face-offs could snap you out of that space. Earth to Gemini! You might actually welcome this so-called reality check, even if it feels jarring.
The whole midmonth is pretty action-packed, Gemini, so buckle up. As if all this Mars momentum wasn't enough, June 16 will serve up the second of this year's
three Jupiter-Neptune squares
, a confusing aspect that can make it hard to find your bearings.
Work-life (and work-love) balance could feel like fruitless mission, where you can't please anyone—no matter how hard you try! The reason? Expansive Jupiter is in Sagittarius and your partnership house until December, while dreamy Neptune is drifting through Pisces, activating your tenth house of career and long-term plans. Do you have the same goals for the future? It could be hard to find a sweet spot where you both align. Juggling your career with your most important relationships could feel overwhelming now. Single Geminis may feel like career demands are making it hard to find time for a love life. A workplace attraction could also lead to blurred lines.
The first Jupiter-Neptune square was on January 13, so look back to the beginning of the year for clues of what could surface now. What have you learned by hashing out this tension in the past six months? The next exact square will be on September 21, but Jupiter and Neptune will be traveling in close proximity until then. You'll feel the simmering tension all summer and into the fall.
During this month's square, Jupiter is retrograde (backward), so you may decide to "lean in" to your career and let your relationships take a bit of a back seat. But not TOO far you're your connections need care and feeding to thrive. Ask for extra support from your circle now and be discerning about where you spend your limited free time. If one particular person wants to monopolize those hours, you may need to have an uncomfortable but honest heart-to-heart.
That could happen on June 17, when the full moon in truth-teller Sagittarius beams into your seventh house of committed relationships. Authenticity is the only option for your closest ties to thrive, so commence clearing the air! This full moon could bring a decisive moment between you and a significant other or close colleague. Is it time to make things official? An opportunity to partner up could come to fruition—but since full moons mark turning points, it could also go bust. At the very least, the details may need some dedicated hammering out.
If you've done your due diligence and now you're just putting off a decision, this lunar light could demand that you stop equivocating and give a firm yes or no. You've been working toward this moment all year, Gemini—and you're as ready as you'll ever be! There's freedom in choosing, so release any FOMO and self-doubt.
O you've made a firm choice, the stars line up to support you! On June 21, the Sun starts its monthlong visit to Cancer and your stabilizing second house, helping you plant your soles on solid ground. For the next four weeks, streamlining and prioritizing are the order of the day. Choose a couple of meaningful projects and chip away at them, bit by bit. If you want to start a new routine or practice, this solar cycle gives you the discipline to stick with it. Just resist the urge to dabble in a million things at once, Gemini, even if you're interested in all of them! Focus on one or two key goals and do them thoroughly, without cutting corners.
Another reason to scale back or slow down? On June 21, hazy Neptune will start its annual retrograde, reversing through Pisces and your career zone until November 27. Biting off too much could leave you exhausted and overwhelmed. Take stock of which projects and professional connections energize you and which ones leave you feeling drained. Ditch or delegate things that zap your mojo.
If you've been engaged in a passive-aggressive power struggle with an authority figure, consider just dropping it—or shifting your attention elsewhere. Rarely does anyone win these kinds of battles. The tenth house rules father figures, so look honestly: Are there some dad or family-of-origin issues being played out here?
During this summer-long transit, soul-searching about your career path could be in order. In some cases, Neptune retrograde actually rolls BACK the fog, helping you see things more clearly. You may glimpse a manipulative person's motives or, on the contrary, find heart-stirring compassion for a person you've been judging or treating harshly. (You know who they are, Gemini.) We're not suggesting you bury your head in the sand; just consider whether someone is doing the best they can with what they've got, as the saying goes. Give up trying to change them and accept them instead. You'll free yourself—and them—in the process.
Check out what's going on for…