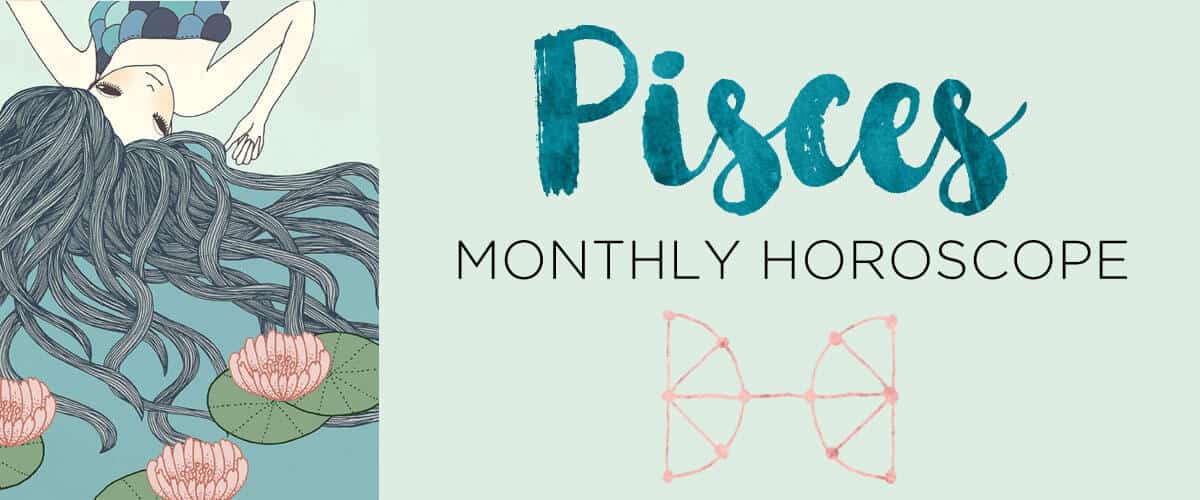 August 2019
Back-to-school season starts early for you this year. As August presses onward, you'll get deeper and deeper into business mode. With the Sun visiting Leo and your sixth house of organization, health and administrative tasks until August 23, you could already be in cleanup mode with everything from your eating to your office space.
Jupiter is making its once-every-12-years visit to this high-powered zone of your chart from November 8, 2018, until December 2, 2019. Some Pisces outgrew their professional paths and took a bold leap into an inspiring new direction. Have you been promoted or risen through the ranks this year? Perhaps you got a new vision of yourself as a leader—but not the kind shackled to a fluorescent-lit office until the wee hours (no matter how many free frose and foosball "perks" are proffered).
In the market for a new gig? Don't limit yourself by location. Globetrotting Jupiter could deliver a position with travel, flexibility or even a relocation. Does your company need someone to go open a satellite office in Raleigh—or Rio—for a couple months? Raise your hand high if that appeals: You've got a great shot at being chosen!
The tenth house rules fathers, sons and men in general. Your relationships with the male-identified ranks has been undergoing a major evolution in 2019. If one of those ties got a little tattered while Jupiter was retrograde—and perhaps in an important, growing-pains kinda way—you can come together on new and more fulfilling terms now. One Pisces we know had to take her aging father in under her roof during the retrograde, a major challenge that forced her to get seriously Zen about certain things (and to boldly indicate her boundaries). Another took an epic three-week family trip with her parents, which is par for the course with travel-loving Jupiter here.
On the local scene, things flip in the other direction and downshifting a bit for the rest of the year—all the more reason to check out options in new, far-flung places! On August 11 (right as Jupiter stations direct), changemaker Uranus will turn retrograde until January 10, backtracking through Taurus and your third house of communication and neighborhoods.
The third house rules multimedia, teaching and writing. Got a trailblazing message to share with the world or an educational product that will blow minds? Maybe you've dreamed up a killer life-hacking app or platform. With tech-savvy Uranus here, there's hardly a better person to spearhead this idea—it's certainly worth exploring! The retrograde makes the rest of this year best suited for research and development (with a launch once Uranus powers forward in January). If you have a business of any kind, work on your marketing and social media profiles. Keep things out of the realm of "controversy" for the time being, as Uranus retrograde could attract trolls and other things you simply don't need now.
Got something to release? You can do it on August 15, when the year's only Aquarius full moon illuminates your twelfth house of closure and transitions. This is a double dose of letting-go energy, so surrender all that inner heaviness to those alchemizing moonbeams, Pisces! Since control is an illusion anyway, rather than trying to corral the chaos, just let the chips fall. On the upside, this could be a richly creative or romantic full moon. Your imagination is at its peak, and artistic Pisces could produce some of your finest work. In love, a heightened fantasy could become reality, so if you're looking for dates to escape off the grid with a sexy companion, this is it!
Have you been in denial about a person's true motives or caught in a codependent trap? This full moon could bring a moment of healing and spiritual clarity—even a big epiphany about where you're headed next. Focus on conclusions, not illusions. Read the writing on the wall and get the support you need. Your subconscious has a LOT to process now, so you might just want to disappear for some solitude, self-care and sleep. Take a much-deserved rest now if you can.
What's next? Partnering up with people who truly have your back. Starting August 23, the Sun moves into Virgo and your seventh house of relationships and mutuality. Give your energy to those who are capable of an equal give-and-take. Work out any kinks that are disrupting your most important bonds—and move the superficial folks to the sidelines.
Energizer Mars is also in Virgo from August 18 to October 3, which could put a certain relationship on the fast track. You may feel pressured to commit or sign on a dotted line with impatient Mars breathing down your neck. While you should never officialize anything under duress, ask yourself: Why am I dragging my feet? It could be good old-fashioned commitment shyness. Of course, YOU might be the one eager to seal a deal now. If so, make sure you're not coming on too strong in your campaigning.
The best day to bring up commitment arrives August 30 with the annual Virgo new moon. This fresh-start lunation helps you broach the topic of a formal alliance. Really listen to where the other party is a "yes" AND a "no." Take the time to consider any hesitations or objections from both sides. Developments today will unfold in the coming six months. Take the time this decision deserves and don't rush it!
Check out what's going on for…