by Felicia Bender, The Practical Numerologist
Your Purpose:
Your purpose is to develop nurturing, balanced responsibility, acceptance, service to others, and visionary pursuits.
Understand that these "themes" will be reoccurring issues throughout your life. Your Life Path number indicates what you're evolving into, developing, aspiring toward, and learning about.
So while you'll display innate gifts and talents in the areas of emphasis, you'll also experience some consistent obstacles as you master your life's purpose.
In Alignment:
Family-oriented, romantic, responsible, artistically creative, supportive, devoted, loving, sensible.
Out Of Alignment:
Perfectionist, critical, idealistic to a fault, self-righteous, meddling OR irresponsible, indulgent, non-committal, self-absorbed.
The Key:
Is there a way for you to key into your visionary capabilities and let go of your need for control?
As a 6, you're a "big picture" kind of person. Ultimately, you're meant to be your own boss (Translation: You don't like be told what to do!). So pay close attention and learn how to build your own business in an effective way. You can be a natural entertainer—creativity is a forte. You're also a natural counselor, lover of beauty, and cultivator of loving service. Anything in the justice field is enticing. Home and family are important for you, so you might lean toward anything that enriches that aspect of your life.
The Message:
You're here to balance your sense of responsibility and to do loving service with and for others. You're the "home and family" person and often thrive when working with justice-related issues, in the creative arts, or anywhere a sense of beauty is required. You're a nurturing presence as long as you manage your perfectionism. Caution: You're a control freak, so lighten up! Accept the perfection of the imperfection of everything.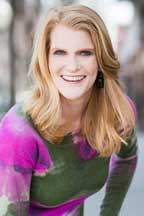 Felicia Bender, Ph.D. is The Practical Numerologist and author of Redesign Your Life: Using Numerology To Create The Wildly Optimal You. You can get your numerological groove on at www.FeliciaBender.com.