The Sun is in stabilizing Taurus, the persistent provider and the zodiac's first earth sign. A Taurus season meditation can help you tap into the spirit of the slow and steady Bull and find comfort in the sensual and security-minded energy that's available to us right now.

Slow and sensual Taurus season is all about slowing down and being content with where you are in the here and now. Ruled by love planet Venus, Taurus is the star sign that rules sensuality and beauty. We can be prone to overindulgences during this solar phase, since Taurus loves life's guilty pleasures. A guided meditation for Taurus season can help us reconsider how to create security within our finances, relationships and other aspects of our lives—without getting stuck. As the star sign ruled by the resistant Bull, Taurus can make us more prone to tenacity and even stubborn behavior.
To help you harness the energy of this stabilizing star sign, we've asked our friend Terri Cole—a psychotherapist, meditation expert and awesome Aries—to give you a guided meditation for Taurus season. Get grounded, set your intentions—and adopt a beginner's mindset. Allow this guided meditation for Taurus season to root you in your body and material reality as you savor your senses.
To get started: Find a quiet, private nook or set up a sacred space in your home (and hey, even style it for Taurus season). Simply press play, and enter the "Zen Den" with Terri, allowing her soothing voice and words of wisdom to ground you in stillness.
Meet Terri Cole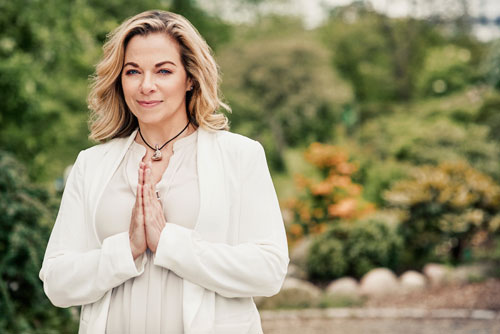 Terri Cole is a licensed psychotherapist, transformation coach, author, speaker and meditation teacher. For almost two decades, Terri has empowered celebrities, professional athletes, and individuals alike through television, radio, her popular TEDx talk (What if FEAR was just a Feeling?), workshops, and a thriving private practice to redesign limiting mental blueprints to create extraordinary lives. Terri's strategies combine practical psychology, Eastern mindfulness practices, and harnessing the power of intention to create sustainable change. Her wicked "tell it like it is" sense of humor and razor sharp insight combined with deep empathy and understanding gives her a unique ability to reach people and inspire transformation. Her Real Love Revolution course will give you all the tools you need to attract & create juicy, healthy, long lasting love in your life. As Terri says, "It all starts with YOU."
Photo Credit: Stocksy
Make the most of your 2018 with the AstroTwins' 2018 Planetary Planner to guide you through the whole year—your must-have map for love, money, health and more. Get yours now!