The Virgo new moon arrives September 9, 2018, at 2:01PM EST, and encourages us to enjoy its earthy energy by spending time in nature. The only rule to follow at this purifying, orderly lunation? We turn to Gaye Hicks who coined the acronym K.I.S.S. and say, "Keep It Simple Sweetheart!"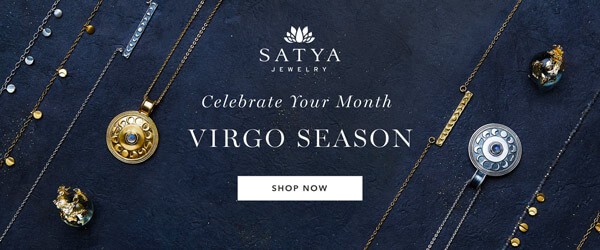 'Tis better to give at this selfless new moon, as Virgo is the most service-oriented sign of the zodiac. Under these altruistic moonbeams, we'll devote the day to practicing random acts of kindness. Translation? We will give without getting props for our actions—and maybe even be anonymous with our generosity. The best part? There are many creative ways to do this!
Ritual: Random Acts of Kindness
Your noble act of selfless service could be as simple as leaving an extra five dollars at the coffee counter to cover the person's latte who is in line behind you. You could also bring a box of cupcakes in the break room at work, with a note that simply says, "Take one!" Or, maybe you drop off clothes at a charity, leave flowers on someone's desk, offer to bring lunch for a friend who is on an insane deadline. Place a recycling bin in the mail room of your apartment complex for neighbors to file their junk mail in.
Just keep your eyes open while you're grooving through your day. When you spot little ways to help out in your community, make your move! This doesn't have to cost a penny. Simple moves count, like helping a mom carry her stroller up the subway steps, sharing a link for a friend's art show on social media, or bringing an elderly neighbor's newspaper delivery from their lawn to their front door so they don't have to trek down the steps to retrieve it.
Heads up for all the people-pleasers and caretakers out there. We know you already give too much on the average day and this exercise should not be used for making sacrifices. For you, the practice will lie in knowing that it's enough to give something small and within your means. It's not generous to drain your own reserves; in fact, this can leave the receiver feeling obligated and uncomfortable. Mind the balance—small actions speak volumes!
Purge and purify: Trash old beauty products, pillow inserts and condiments (bacteria, ew!) and invest in fresh replacements.
Give your space a fall cleanup: pack away summer clothes and organize your closets.
Swap one of your chemical house cleaning products for an environmentally-friendly brand. Green is the new black!
Join or start a book club: this new moon reminds us that geek is chic!
Photo Credit: Stocksy

MIDYEAR SALE: 50% off all 2018 Horoscope Guides!

Make the most of your 2018 with The AstroTwins' 2018 Planetary Planners to guide you through the whole year—your must-have map for love, money, health and more.
Get yours now >