Analysis paralysis? By channeling the collaborative nature of the zodiac's Water Bearer, this Aquarius season meditation can help you channel your innovative ideas into something world-changing.
For the past four weeks, industrious Capricorn season gave you a chance to set ambitious goals and get all the practical details in place. Now, quirky and futuristic Aquarius takes the wheel, daring you to push the envelope and be more innovative with those dreams. As you sit quietly in this meditation, be like the vessel of the Water Bearer (the symbol associated with Aquarius)—ready to be filled with the wildest and most magical ideas.
A daily Aquarius season meditation practice is a good idea to keep yourself grounded. Daily meditation helps you keep on track with your goals, instead of feeling that you're pulled in a lot of directions or "stuck in your head." These well spent 10 minutes a day can keep you moving toward your goals.
If your goals happen to touch on this zodiac sign's humanitarian spirit, all the better! Communal Aquarius reminds us all of the oneness of our collective consciousness—that we are all sharing this planet and its resources. How can we uplift one another and find beauty in each other's unique contributions? Given the communal energy of this zodiac season, you may want to organize a group meditation and do this exercise with your soul squad of friends.
The glyph for Aquarius is waves of electricity, so it's anyone's guess what "grid" you'll plug into when you close your eyes and visualize. Who knows? Maybe you'll slide down a rainbow after taking a wild unicorn ride or come up with a ten-step plan for world peace. No judgments allowed! That's rule number one during Aquarius season.

Relax, Relate, Meditate with this Aquarius season meditation
This Aquarius season meditation is ten minutes in length. It is meant to help you experience a full body relaxation as you tap into your collaborative spirit. To begin:
Find a quiet, private nook or set up a space that feels sacred to you, indoors or out
(Optional) rub a calming essential oil onto your temples or palms, light a candle, plug in an aromatherapy diffuser and put up a "do-not-disturb" sign
You may want to keep a journal close by to record any inspirations that arise during your meditation
Simply hit play, and enter the "Zen Den" with Terri
Allow her soothing voice and words of wisdom to ground you in stillness
(Later: Go take on the world!)
Photo credit: Stocksy
---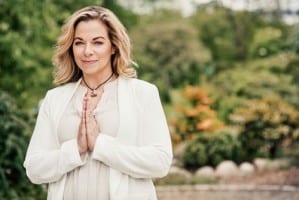 Pin
Terri Cole is a licensed psychotherapist, transformation coach, author, speaker and meditation teacher. For almost two decades, Terri has empowered celebrities, professional athletes, and individuals alike through television, radio, her popular TEDx talk (What if FEAR was just a Feeling?), workshops, and a thriving private practice to redesign limiting mental blueprints to create extraordinary lives. Terri's strategies combine practical psychology, Eastern mindfulness practices, and harnessing the power of intention to create sustainable change. Her wicked "tell it like it is" sense of humor and razor-sharp insight combined with deep empathy and understanding gives her a unique ability to reach people and inspire transformation.