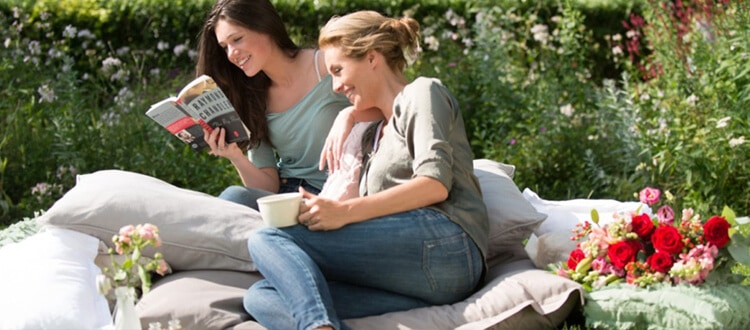 Created in partnership with Frederique's Choice
Solar calendar reset! From March 19-April 20, the Sun is visiting Aries, the zodiac's very first sign. Spring kicks off under the influence of this fire sign, symbolized by the headstrong and driven Ram. No matter what your zodiac sign is, everyone is affected by the overarching Aries themes, which include courage, adventure, determination, independence and a desire to do things YOUR way.
In that spirit, we've joined forces with iconic Dutch model, TV personality/producer and Virgo flower connoisseur Frederique van der Wal, creator of Frederique's Choice and host of the FYI show Homegrown Makeover. Frederique channeled her passions for astrology AND flowers into her monthly Horoscope Bouquets, customized with gorgeous blooms that magnify the unique energy of each zodiac sign.
Pin
How to order a Horoscope Bouquet:
We believe that beauty is an energetic attractor, and we make a conscious effort to surround ourselves with inspiring design. You can order these enchanting Horoscope Bouquets individually (hello, perfect birthday gift) or subscribe and receive one each month, helping you draw in the special energy of the current zodiac sign. Delivery is available in select areas—and expanding to more—so click here to shop or be notified of availability in your area. Enjoy an exclusive 10% discount for with the promo code ASTROSTYLE.
The Aries bouquet showcases the color red highlighting the traits of energy, passion and positivity that those born under this star sign have as characteristics. Aries are adventurous, versatile and positive. Red plays to their passion and energy—so Frederique made this bouquet red with a touch of pink.
Here are some special horoscope-inspired decorating and lifestyle ideas for Aries season:
In the Aries bouquet: Snapdragons, true red roses, bright fire-red spray roses, seeded eucalyptus, pink wax flowers
Colors: Red, orange, pink, lavendar
Shapes: Triangles, arrows, directional shapes
Element: Fire (passionate, ambitious, outspoken)
Materials: Metal, shiny surfaces, modern materials
Objects: Brass sculptures & objets, one-of-a-kind or handmade pieces and vintage finds, stunning lamps/lighting fixtures, cacti
Music: Electronic, hip-hop, anything with a driving rhythm and beat
Aromatherapy/essential oil: Peppermint, marjoram, energizing scents
Wellness focus: Cranial-sacral (Aries rules the head)
Superfoods to enhance: Pomegranates, beets, the "red" foods
Yoga pose: Warrior
Here are 5 ways to maximize the energy of Aries season:
1. Trust in the unknown.
The gift of Aries energy is its positivity—a willingness to trust and have faith even in with zero supporting evidence. Aries people BELIEVE in themselves intrinsically, and during this month, we can tap into that same optimism. Some might call if foolish, but where has cynicism and jadedness ever gotten us? Nowhere too rewarding, that's for sure. Snapdragons in the Aries bouquet symbolize the bountiful and abundant energy of this season. Our inner doubters might say that "seeing is believing," but during Aries season, "believing is seeing."
2. Take initiative.
You ever notice how nobody ever wants to be "first"—at least, when it require the risk of exposure? During Aries season, dare to be the first one to speak in the meeting, raise your hand, ask a "dumb" question (which will probably turn out to be the same one everyone is thinking!). Make the first move with love or work. Invite a colleague or new acquaintance out for lunch. DON'T make small talk. The true red roses in the Aries bouquet were added to fuel your courageous instincts. Dare to be the boldest hue of you.
3. Tap your adventurous spirit.
Fearless Aries is the zodiac's daredevil, and this month we are all encouraged to leap without looking. What's on your bucket list that you could do NOW? Even if you take one step toward it (for example, starting a fund for your dream vacation or home, and putting a small amount in it each week), dare to believe it's possible. The fire-red spray roses in the Aries bouquet were chosen for their brightness, to enhance your adventurous spirit and awaken the energy of courage. Don't let fear stop you from living your life!
4. Let yourself shine.
Fearless Aries is the sign of the solo star, unafraid of being in the spotlight or receiving accolades. Any why shouldn't you be praised for your accomplishments and talents? The seeded eucalyptus and pink wax flowers in the Aries bouquet add that extras Aries spark and sparkle. So pass on that slice of humble pie and flaunt your charisma (we all have it). As Marianne Williamson said, "Our deepest fear is not that we are inadequate…[but] that we are powerful beyond measure. It is our light, not our darkness that most frightens us. We ask ourselves, Who am I to be brilliant, gorgeous, talented, fabulous? Actually, who are you not to be?" Amen to that!
5. Unleash your inner child.
Still dealing with a seasonal slump? Trouble getting motivated? Take control and consciously dial up the energy by doing something childlike, unleashed and silly. Aries is NOT a self-conscious sign, so lose the "what would they think of me?" cares and let your inner kid emerg. Hop on a bike, a scooter or a skateboard. Turn on the music and have a dance party. Find a trampoline to jump on. You can look in the mirror and leap up and down—really! Your brain won't know the difference between fake and real excitement, and will pump out the feel-good chemicals.
Order your Frederique's Choice Aries Horoscope bouquet—exclusive 10% discount for our readers with the code ASTROSTYLE!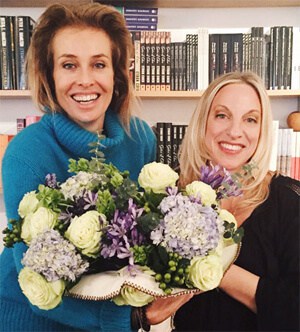 PinOrder your Frederique's Choice horoscope bouquet or the entire zodiac collection as a subscription—or try Mood Bouquets. Use Promo Code: ASTROSTYLE and receive a 10% discount.
Delivery areas:
Frederique's Choice currently delivers flower bouquets in the states of Virginia, District of Columbia, Maryland, Pennsylvania, Delaware, New Jersey, New York, Connecticut, Rhode Island, Massachusetts, New Hampshire, Vermont and Maine. (Virginia-Maine). 
Don't see your state? Click here to get on the list and be notified when your delivery area is added!