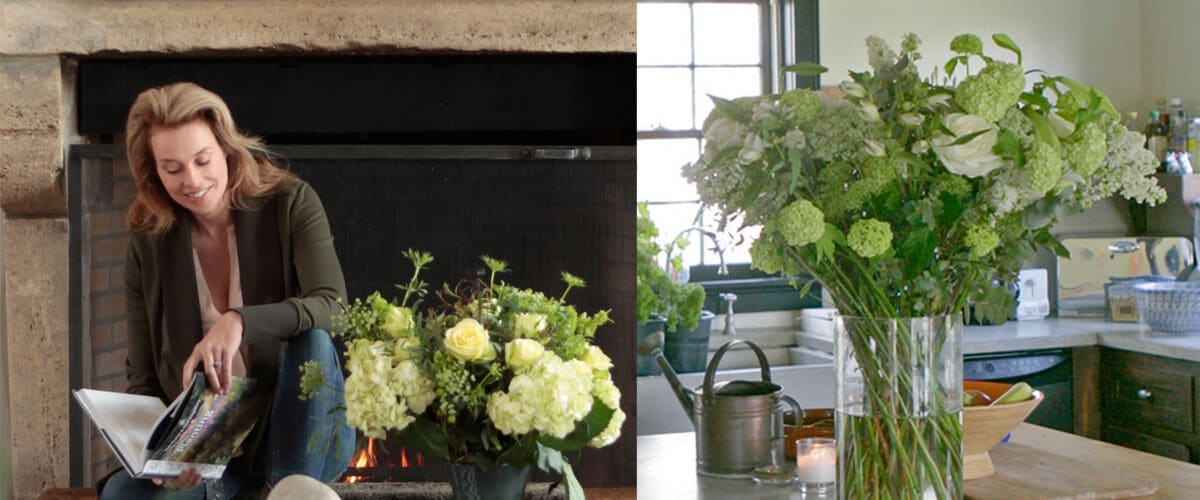 Created in partnership with Frederique's Choice
From February 19-March 20, the Sun will take a sensual swim through watery Pisces, awaking deep wells of creativity and compassion. No matter what your zodiac sign is, everyone is affected by the overarching Pisces themes, which include glamour, artistry, healing sensitivity and romance. This is a time to turn inward to nurture ourselves deeply and explore the depths of our own imaginations.
In that spirit, we've joined forces with iconic Dutch model, TV personality/producer and Virgo flower connoisseur Frederique van der Wal, creator of Frederique's Choice and host of the FYI show Homegrown Makeover. Frederique channeled her passions for astrology AND flowers into her monthly Horoscope Bouquets, customized with gorgeous blooms that magnify the unique energy of each zodiac sign.
We believe that beauty is an energetic attractor, and we make a conscious effort to surround ourselves with inspiring design. You can order these enchanting Horoscope Bouquets individually (hello, perfect birthday gift) or subscribe and receive one each month, helping you draw in the special energy of the current zodiac sign. Delivery is available in select areas—and expanding to more—so click here to shop or be notified of availability in your area. Enjoy an exclusive 10% discount for with the promo code ASTROSTYLE.
Pin
Here are some special horoscope-inspired decorating and lifestyle ideas for Pisces season:
In the Pisces bouquet: Green Roses, Hydrangeas, Bells of Ireland, Hypericum, Green Mist Laceflower, Seeded Eucalpytus, Feather Eucalyptus
Colors: Sea green, lavender, aqua
Shapes: Curves, ellipses
Element: Water (feeling, artistic, bonding)
Materials: Shiny/reflective surfaces, watercolors, satin, sequins
Objects: Scented candles, drape-y fabrics, "luxe bohemian" accessories
Music: New age, sacred chants, underground or unsigned artists
Aromatherapy/essential oil: Lavender, rose
Wellness focus: Flowy exercises like yin/gentle yoga, reflexology
Superfoods to enhance: Echinacea, beet, dates
Yoga pose: Child's pose—for self-nurturing and healing
Here are 5 ways to maximize the energy of Pisces season:
1. Escape.
Pisces is the zodiac's last sign, where the boundaries between reality and fantasy blur. Pisces season is the perfect time for a getaway. If you're really lucky you might take a retreat on a beach, since Pisces rules the ocean. Or, turn your home into a sensual sanctuary: a den of sumptuous floor pillows, essential oils, gorgeous scented candles—and of course, flowers! Incorporating water can be soothing: a fountain, a fish tank or even an app that plays the sound of a gurgling stream.
2. Capture your dreams.
Pisces rules sleep and dreams, and your nocturnal images could be vivid. Try to capture what you remember on paper or in an audio recording, as they could be rich with helpful clues. Blooming roses and ever-reaching Bells of Ireland in this month's bouquet symbolize creative expansion and lifelong personal development—two big Pisces themes.
3. Do something selfless.
Compassionate Pisces rules healing and karma. This monthlong cycle is all about giving without an agenda. You could contribute to a charity or do some volunteer work. But as the saying goes, charity begins in the home. Look around and offer support to a person who's struggling. Remember, though, that your goal is to empower, not enable. Give to the needy, not the greedy!
4. Follow your imagination.
Enter the muse! Pisces rules the subconscious, and this is an excellent time to mine yours for gems. Journaling, dance, art, free-writing, singing—these can all open up some majorly creative channels. The large hydrangeas in the Pisces bouquet were chosen to enhance our natural ability to be open during Pisces season. Their soft petals also represent sensitivity.
5. Don't hate, meditate.
Meditation is another great way to tap your imagination—and no, that doesn't have to mean sitting still in a silent room. Pisces energy is receptive to music and sound, so a guided meditation can clear away your worries. You can also try a "moving meditation" such as walking in nature or gardening, or you could de-stress by trying the adult coloring book craze. Pisces rules manifesting and the Law of Attraction, so shift into an "ask, believe, receive" mindset and watch the abundance flow.
Order your Frederique's Choice Pisces Horoscope bouquet—exclusive 10% discount for our readers with the code ASTROSTYLE!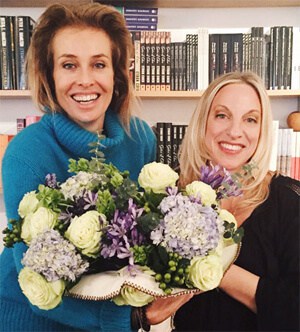 PinOrder your Frederique's Choice horoscope bouquet or the entire zodiac collection as a subscription—or try Mood Bouquets. Use Promo Code: ASTROSTYLE and receive a 10% discount.
Delivery areas:
Frederique's Choice currently delivers flower bouquets in the states of Virginia, District of Columbia, Maryland, Pennsylvania, Delaware, New Jersey, New York, Connecticut, Rhode Island, Massachusetts, New Hampshire, Vermont and Maine. (Virginia-Maine). 
Don't see your state? Click here to get on the list and be notified when your delivery area is added!