Inhale optimism, exhale negativity and dream big 
with a zodiac-inspired Sagittarius season meditation from psychotherapist Terri Cole.
By channeling the energy of the zodiac's courageous Archer, a Sagittarius season meditation can help you cultivate your purest potential. It can help you release any limiting beliefs that may be holding you back. It can also help you to express important messages of hope and optimism, and with clarity, so they don't get lost in translation.
Sagittarius is a highly adventurous sign. A Sag is always chasing after the (seemingly) impossible, with an insatiable appetite for expansion and higher learning. Have you put your dreams on hold? Sagittarius season prompts you ask the tough questions of yourself, to get you and your goals back on track.
The ninth sign of the zodiac, Sagittarius governs global relations. We can hope to see more unity across communities and cultures. You can choose to celebrate diversity of all kinds during this time too. Cross-cultural relationships can thrive and long-distance ones have a real shot at success now.
This guided meditation for Sagittarius season can help you harness the power of this risk-taking star sign. After you meditate, take a bold chance and follow through on your biggest ideas. This meditation can leave you feeling ready to take action, and add value and abundance to your ever-expanding life!
Relax, Relate, Meditate with this Sagittarius season meditation:
This Sagittarius season meditation is a little over 12 minutes in length. It will help you experience a full body relaxation and tap into your optimism.
To begin:
Find a quiet, private nook or set up a space that feels sacred to you, indoors or out
(Optional) rub a calming essential oil onto your temples or palms, light a candle, plug in an aromatherapy diffuser and put up a "do-not-disturb" sign
You may want to keep a journal close by to record inspiring ideas that come to mind
Simply press play, and enter the "Zen Den" with Terri
Allow her soothing voice and words of wisdom to ground you in stillness
(Later: get past any mental blocks from helping you reach your full potential)
Photo credit: Julia Volk via Stocksy
---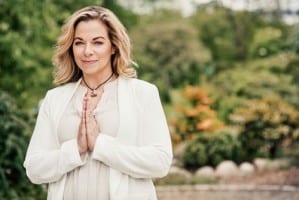 Pin
Terri Cole is a licensed psychotherapist, transformation coach, author, speaker and meditation teacher. For almost two decades, Terri has empowered celebrities, professional athletes, and individuals alike through television, radio, her popular TEDx talk (What if FEAR was just a Feeling?), workshops, and a thriving private practice to redesign limiting mental blueprints to create extraordinary lives. Terri's strategies combine practical psychology, Eastern mindfulness practices, and harnessing the power of intention to create sustainable change. Her wicked "tell it like it is" sense of humor and razor-sharp insight combined with deep empathy and understanding gives her a unique ability to reach people and inspire transformation.