"If you want to accomplish the goals of your life, you have to begin with the spirit."—Oprah Winfrey
We all have dreams to fulfill, desires to unleash and destinies to lead. But where is the road map for this journey? Like Oprah, we believe that it begins with spirit—and the astrological chart is an incredible GPS for finding (and manifesting!) that sense of purpose. That's why we're thrilled to be hosting our sixth annual Become Your Own Astrologer Retreat in Tulum, Mexico from April 28 to May 4, 2018.
As identical twins, we've always shared a special understanding of the power of sisterhood. And this star-powered gathering is one of the brightest spots on our calendar every year. Something magical happens when women gather in sacred circles to explore, connect and empower ourselves. If last year showed us anything, it's that women are stepping into our power and turning the tides of history. We are marching, speaking out and reclaiming our identities.

Pin
Now in 2018, we are being called into greater leadership to help bring in this essential shift to planetary evolution. Spending time in the company of other awakened women is an activation of sorts. What is your place in this interstellar equation? Exploring your cosmic blueprint is a great way to find out!
What You'll Learn
Daily astrology classes will be taught by us, Tali and Ophira, your friendly neighborhood AstroTwins. You'll leave Tulum with a crystal clear grasp on what all the signs, planets and houses mean—and how they come together to create the unique cosmic blueprint that is YOU. Plus, we'll get to hang out together by the beach, sharing meals, stories and loads of laughter.
Pin
You'll learn how to apply astrology to attract prosperity and love. We dedicate a full session to relationship charts and another to predictive astrology so you can learn how to, as we say, "plan it by the planets." Classes are lively and fun with humor, deep reflection and profound revelations. You'll have plenty of free time since we keep afternoons open for shopping, "beach-work," wandering, journaling, and whatever your sweet corazon desires.
Pin
Accommodations
We reserve the entire Shambala Petit Hotel as a private residence for our group. This hotel is one of the original venues in Tulum; is a beautifully-appointed and pristine space that's fit for any goddess. All meals are included in your retreat tuition—and are lovingly prepared by the hotel's incredible staff. The Shambala Petit Hotel is an oasis that has hosted many spiritual leaders, seekers and magical guests. It's also the site of Tali's honeymoon—yup, we love it THAT much.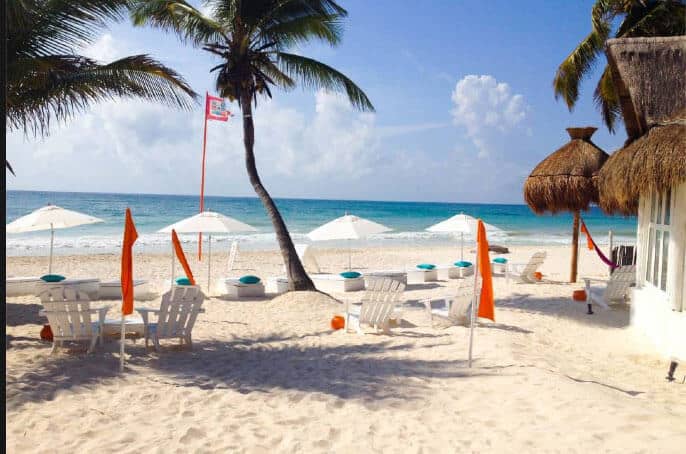 Pin
Pin
If your idea of heaven is:
Kicking off your shoes for a week (who needs' em when your "floor" is a white sand beach?) and having a turquoise beach as your front yard
Tucking away in a chic cabaña with the waves as  your lullaby
Recharging with three clean, green organic meals, beautifully plated and served each day (included in retreat fee)
Exploring ancient Mayan ruins
Snorkeling in the ocean…or a cenote (fresh water cave)
Making lifelong connections with women from all around the world
Well…let us be your travel agents! There are still few spots left in our April 28 to May 4 retreat, so if you're hearing the call, come and join us.
Full Moon Rituals and Other Magic
Since la luna is the feminine force in the chart, we always time our retreats around a new or full moon. We'll be doing a special ritual during the mystical Scorpio full moon on April 29, 2018. And we're teaming up with amazing guest star for this very purpose. Kitty Cavalier will dance us through daily Qoya movement classes and a moonlit Sacred Seduction workshop.
Pin
We'll also be joined by two healing practitioners with whom you can book sessions throughout the retreat: Astrologer and shaman Suzanne Gerber will be offering chart-based energy healings for anyone wishing for some soul restoration. Herbalist, astrologer and Licensed Massage Therapist, Juli Everett, will also be offering bodywork sessions based on your chart!
You'll have plenty of time to talk stars with The AstroTwins too—and the itinerary is wide open for exploring Tulum and chillaxing on the beach!
So, soul sisters, is this retreat for you? There's been an undeniable "meant to be" click for everyone who has joined us in Tulum annually since 2013. Find out everything about the retreat here or contact our retreat coordinator Melissa with any questions you may have about logistics. We hope to meet you there!
Mayan Magic & Aquamarine Love,
Tali & Ophi
PinPin
Pin
Pin
Pin
Pin
PinPin