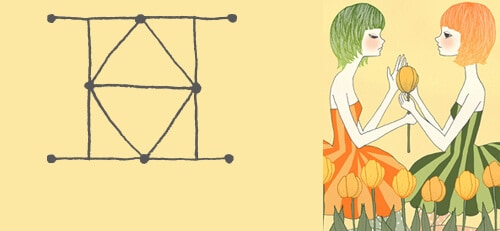 10-20-2014
Your lustful longings could reach a fever pitch today, thanks to a sultry angle between fiery Mars and seductive Venus. Single? Should a sexy someone enter your sphere, don't even think about playing-hard-to-get, Gemini. Be bold, and bravely get this romance rolling in the deep. Even if you don't end up walking off into the sunset together, why deny yourself the fun? Already attached? Don't meander down the path of temptation, or regret is sure to follow.

10-21-2014
Flirt alert! Today's Libra moon in your passionate fifth house brings out your coquettish side in full force. You might need to tone down the eyelash-batting and racy innuendos with more the timid types, lest you scare them away. That said, take the initiative when it comes to romance. Right-swipe to your heart's content, invite that crush out for cocktails, or surprise your sweetie with some sexy playtime tonight. And don't be afraid to go bold with your personal style either. This lunar light gives you cosmic clearance to rock your hottest outfit. Rawr!

10-22-2014
You've got the cosmic green light to add depth and richness to your delivery today, Gemini. A merger of the moon and messenger Mercury draws out your dramatic way with words. There's just one caveat: with Mercury backspinning retrograde, you need to pay close attention to your public. People will tune out if you take too many theatrical twists and turns before getting to your point. Also, express yourself through bold fashion statements, generous acts of kindness, and romantic overtures.

10-23-2014
Ready, set, glow! Today, the life-giving Sun settles into Scorpio and your sixth house of healthy habits until November 22, getting your wellness goals back on track. Sensual Venus joins the Sun in the same position until November 16, making it easier to get back to basics when it comes to nutrition and self-care. Your work life also gets a boost, giving you plenty of opportunities to let your creative talents shine. And there's more. The cosmos also feature a solar (new moon) eclipse in Scorpio, kickstarting a prosperous six-month cycle. You could venture into a brand new field of work, or finally address that nagging ache or pain. Suffering is optional, Gemini.

10-24-2014
No shortcuts allowed! You're closer to the brass ring than you've ever been, but you're still not within reach, Gemini. Part of the victory is experiencing the journey. Don't short-change yourself out of important learning opportunities. Find your center, and follow the rules. That means being conscious of not making your colleagues casualties of your victory. Gaining key allies can help guarantee you a shining success.

10-25-2014
Romance on rocky waters? For the past three weeks, your cosmic ruler Mercury has been backstroking through your passionate fifth house. You may have had to deal with a disruptive ex or an old drama—in addition to plenty of crossed wires. This drain on your energy finally ends this Saturday as the quicksilver planet resumes direct motion. Say buh-bye to life-sucking soap operas and hello to sweet amour. On Sunday, white-hot Mars moves into Capricorn and your intimate eighth house until December 4, bringing your bonds into the permanence zone. In fact, putting a ring on it or a bun in the oven are distinct possibilities during this five-week cycle. Proceed with caution though, Gem: Mars tends to also churn up conflict. As you explore deeper connections with your closest peeps, conversations could uncover suppressed discontent. Keep your snarky side under wraps, and talk it out. It's the only way to bring back the love. As the eighth house also governs big money, Mars' go-getter influence could pave the path for unexpected ways to build your bank balance. Think: inheritances, commissions, dividends.



SEE ANOTHER SIGN'S DAILY HOROSCOPE:

MORE GEMINI FORECASTS: