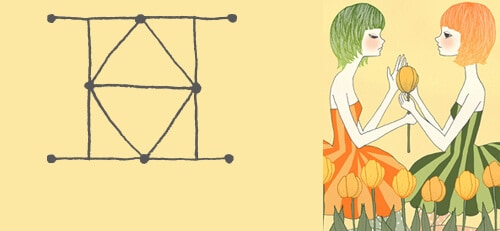 10-27-2014
Beware burnout, Gemini! Today's stars call for some serious R&R. If you can't take a vacation day, carve out chunks of time just for you. Set an alarm every hour on the hour for a one-minute meditation. Treat yourself to lunch at a new bistro instead of brown-bagging it in front of your computer—again. Use your afternoon break to walk around the block, sans smartphone. The little things do add up, and in this case, they'll make a big difference in your productivity over the long haul. Skip the sweets and fuel your body with whole foods. Think: proteins, dark green veggies, and plenty of H2O.
10-28-2014
Sexy is the skin you're in, Gemini. Don't stress if you feel like your get-up-and-go got up and left the building. Today, the moon meets up with sultry Mars in your seductive eight house, topping your mojo tanks once again. Squeeze in a trip to Agent Provocateur over your lunch hour, or jump in on a Burlesque 101 class after work. Red-hot Mars remains in this position until December 4, so harness this scintillating energy and slide into the driver's seat of the Love Bug.
10-29-2014
Channel your inner Nancy Drew, Gemini. Today's merger of the moon and probing Pluto in your mysterious eighth house calls for some detective work. Set aside your assumptions, and don't take anything at face value. Sleuth out that breadcrumb trail, and be strategic with the questions you ask. Just don't put the cart before the horse. It's one thing to be suspicious, and another to be paranoid. Don't label anyone an offender until you've got all the facts, or you could put the blame on an innocent bystander. Stay open and objective, and you'll eventually get to the bottom of things.
10-30-2014
Incorporate diplomacy when delivering your message today. If you want others to jump on the Gemini bandwagon, be thoughtful with your words. A quarter moon in your tell-it-like-it-is ninth house summons your tactful side. It's one thing to recognize a system's shortcomings, and quite another to point them out. Your best bet? Take a proactive approach, and don't focus on what happened. Provide possible solutions so as not to tear down people's pride.
10-31-2014
Pumpkin beer at your go-to hangout? Not this Halloween, Gemini. Today's Aquarius moon ignites your wanderlust, leaving you craving lively adventures out on the town. Going to an outdoor concert (costumes mandatory), or checking out a real-life haunted locale (ghost-tracking kit in tow) is totally up your alley. If it means heading beyond city borders and renting a room for the night, don't let that stop you. It'll actually make the evening that much more enjoyable.
11-01-2014
This Saturday morning, your indie spirit soars high, giving you a hankering for terra nova. But don't be hasty and take the Zipcar out of town. By midday the moon moves into your tenth house of success, putting your ambitions front and center. Turn your attention to those pending to-do's that promise to advance your grander goals. Reserve a few hours to tackle these tasks, and you can make impressive progress. Just don't keep your nose to the grindstone late into the evening. Make sure you treat yourself to some much-deserved playtime. Suss out an event that will have some VIPs present, or at the very least, people whose accomplishments you admire. Hello, inspiration! On Sunday, the path of least resistance calls your name. You can opt to push your agenda and try to force a certain outcome, but this approach is likely to drain your energy reserves. Instead, welcome abundance into your world by going with the natural flow of things. Stop doing, doing, doing, and start listening to wisdom within. When you allow yourself to be silent, you give your inner voice a chance to be heard. Tune in, and the right actions will become apparent. Chances are good that you'll be hit with a major "a-ha!" moment while perusing your Twitter feed or sipping bellinis with your pals.


SEE ANOTHER SIGN'S DAILY HOROSCOPE:

MORE GEMINI FORECASTS: