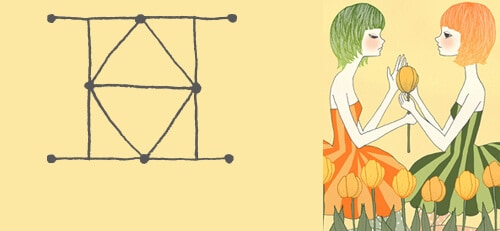 09-22-2014
Let your inner glamazon out to play, Gemini! The Sun blazes through your passionate fifth house of self-expression, prodding you to show the world your most gorgeous self. Get to the salon and shopping district, STAT. Romance also figures front and center over the next month. If you're already in a relationship, you're more than happy to snuggle up to your sweetie as the cooler temps roll in. Single? Open your mind, and dip your Choo into different dating pools. Variety is the spice of life, you know.
09-23-2014
Storm clouds filled with negativity, jealousy, and fears of abandonment have been hovering since mid-April, thanks to shadowy Pluto traveling retrograde through your intense eighth house. The skies begin to clear today as the enigmatic planet resumes forward motion, allowing for a transformational seventh-month period[SH1] . Take what you've learned during this turbulent time to reveal and realize your hidden desires. Becoming more aware of your inner workings will also help nurture your relationships. You don't need to constantly have your game face on, Gemini. Keep it real, and your bonds are bound to deepen.
09-24-2014
Cupid's got a few arrows in his quiver with your name on them, courtesy of today's new moon electrifying your fifth house of romance. Single? Right-swipe to your heart's content, but make sure you also get out and about in the real world. A promising prospect could emerge at a friend of a friend's party, or during Happy Hour while ordering an apple cider martini. Already spoken for? Passion returns with a bang. Help it gain momentum, and suggest a sexy getaway. If you tend to lean towards drama-queen territory, lighten up and take a break from the serious and practical parts of your relationship. Are you camera-ready? Make sure you are, as the spotlight will seek you out, especially when it comes your leadership finesse.
09-25-2014
You've always enjoyed friends from all walks of life, and today, you're keen to welcome in a few more colorful characters. With expansive Jupiter and unpredictable Uranus in the social sectors of your chart, you'll be anything but shy. Strike up a conversation with that generously-pierced barista, or that blue-haired busker near your office. Network like there's no tomorrow, and you could yield some pleasant surprises. It's also a stellar day to bring together your peeps from the different factions of your life. Hello, Superconnector!
09-26-2014
Your body is a temple, Gemini, so treat it that way. You don't need to do a complete overhaul of your self-care routine, but making small changes today can make a big difference to your vitality down the road. Think: skip the elevator and take the stairs, make room on your plate for some dark green veggies, keep almonds and sunflower seeds on hand instead of turning to sugary snacks. Sufficient shuteye is also a must. Tonight, you might hit the hay early in preparation for a fun-filled weekend. But if you plan on donning your dancing shoes, squeeze in a disco nap beforehand!
09-27-2014
Mission: Organization! This Saturday, your cosmic ruler Mercury decamps to Scorpio and your sixth house of efficiency and self-care until October 10. Instead of flying by the seat of your pants, get yourself into a grounded groove by streamlining your schedule. Your work life is about to get a lot busier, so establishing predictable routines over the next three weeks will help you stay on top of things. Also, be sure to keep your body running in top form with balanced meals and regular exercise. Instead of trying to fit in fitness, pen those thrice-weekly yoga classes into your agenda so you don't double-book yourself. Sunday's stars turn your attention to the mind-body connection. You could experience a minor physical ailment that's directly connected to your thoughts and emotions. (Tip: Louise Hay's bestseller "Heal Your Body" can help you pinpoint which beliefs may be contributing to this health hiccup.) If you're in tip-top shape, think preventatively instead of waiting for aches and pains to emerge. Acupuncture sessions, regular massages, or homeopathy remedies are great ways to keep stress and illness at bay. Book an appointment this weekend. Socializing is also good for the Gemini soul, so rally your fun-loving friends for a lingering brunch of mimosas and frittatas.


SEE ANOTHER SIGN'S DAILY HOROSCOPE:

MORE GEMINI FORECASTS: