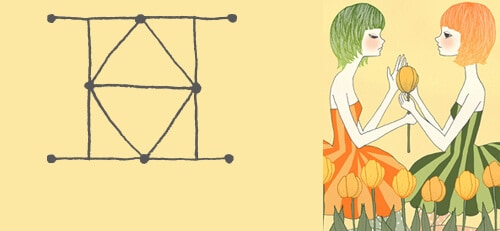 09-01-2014
Al fresco adventures await, Gemini! Today's moon lingers in your sixth house of Mother Nature, beckoning you into the great outdoors. Shelve plans to putter about the house, and break out your bike or rollerblades. Pack a light picnic, and make your way out to a gorgeous stretch of shoreline or a scenic trailhead. Perhaps even jump in on a winery tour, or splurge on a hot-air balloon ride. Slip your journal or e-reader into your backpack for some lazy lounging in the sand or under a majestic maple leaf tree. Single Gems might even experience sparks with another outdoorsy type.

09-02-2014
Next stop: flirtation station! Your cosmic ruler, communicator Mercury camps out in your passionate fifth house until Sept 27. The scene is set for sizzling repartee. Naughty wordplay lights your fire, but think twice before sending that white-hot email or text. If something is meant for only one pair of eyes, save it for face to face. Better safe than sorry, Gemini. This quicksilver cycle also gets your creative juices flowing freely. Capture those flashes of inspiration, and see where they lead. On the style front, don't be afraid to go bold. Bright red body-con dress, anyone?

09-03-2014
Your social butterfly is bursting out its cocoon, Gemini. Follow that urge, and immerse yourself in different scenes. You're a master at small talk, but take it deeper today. Really listen to what people are saying, and don't be afraid to ask more personal questions. The easiest way to be interesting is to be interested. Delving deeper into dialogue could trigger intriguing connections, and maybe even synergy on the love front. Already attached? View your boo through fresh eyes, like you would with someone you've just met. Stripping away assumptions could reveal something new about your sweetie that makes your day.

09-04-2014
Strap yourself in, Gemini. Today's mashup of the moon and intense Pluto could send you on an emotional rollercoaster ride. Fear could play a starring role in your feelings, but recognize they're mostly a product of your imagination. That said, there is a nugget of truth worth exploring. Reach out to a friend you can confide in, or turn to your trusty journal. When you dig deep enough, you'll uncover a powerful desire to revamp an area of your life. The messy meltdowns you may experience today could give you the mojo to finally start making changes. Things will start to level off when you do.

09-05-2014
Move over, Martha. Beautifying Venus settles into Virgo and your domestic fourth house until September 29, summoning the interior designer within. Survey your space, and make adjustments for maximum effect. Switch up the art you display, hang a funky light fixture, purchase some brightly-colored accent pillows. Women also take center stage, so carve out bonding time for the high-pri ladies in your life. On the romance front, talk of babymaking or taking your union to the next level are on the table. While you tend to go weak in the knees for those bad boy/girl types, be receptive to the "nice" ones. You'll be pleasantly surprised.

09-06-2014
You talk a good game this Saturday, Gemini, but careful you don't commit yourself to something that really isn't doable. A moon-Jupiter opposition makes you feel like you can conquer the world, but your feet are far from firmly planted on solid ground. Protect your good name as someone who follows through, and err on the side of caution when making promises. Don't underestimate the amount of time or resources necessary to deliver the goods. Your best bet? Don't commit on the spot. Let others know you'll get back to them with an answer AFTER you've done your homework. On Sunday, practical matters take center stage, thanks to the moon squaring off with responsible Saturn and motivator Mars. Keep your perfectionistic tendencies at bay, or you could lose yourself in the details. If you find yourself hitting a wall or making little to no progress, take a much-needed breather. Head off to a Kundalini yoga class, or meet up with a BFF for brunch. A break can hit your "refresh" button, and put you back on a productive track. Just make sure that you don't let playtime consume your entire day. Don't postpone those pending to-do's, Gem. You want to be fully prepared and organized for the upcoming week.


SEE ANOTHER SIGN'S DAILY HOROSCOPE:

MORE GEMINI FORECASTS: