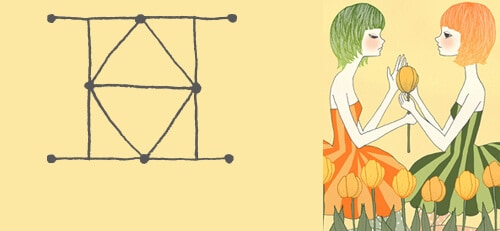 09-29-2014
Swoon! Cupid's in your corner until October 23, thanks to amorous Venus touring your fifth house of romance. If your love life has been lacking this season, don't fret. You could be swept off your feet over the next three weeks. But don't sit around waiting for it, Gemini. The universe rewards positive action. Take more initiative: mix and mingle among the eligible, introduce yourself to an intriguing stranger, ask your crush out for coffee.
09-30-2014
Two heads are better than one today, thanks to the moon lighting up your seventh house of partnerships. You've been quietly plugging away on a plan, but you can only go so far solo. Pull back the veil on your mission, and share it with a few trusted friends or colleagues. Open yourself up to their feedback, and it could pave the way for a breakthrough. You might even be inspired to join forces with one of them in the name of turning your vision into something truly spectacular.
10-01-2014
Is it getting hot in here? Today's quarter moon in your sultry eighth house summons the seductress within—but to a point. This lunar light is about striking a balance, so reflect on where you may need to pull back. If you've been coming on super-strong, rein it in a bit. Reflect on whether you-know-who really understands you. If not, be willing to show more of your vulnerable side, instead of always being "on." At the other end of the spectrum, if you've been keeping your inner siren contained, it's time to let loose! Adding a bit more spice to that stalled connection can get the ball rolling. Make the first move, Gem. Meow!
10-02-2014
Today's stars call for self-restraint, Gemini. While you're ready to dive into action, force yourself to slow down and take the time to get the full story about this situation. Run those background checks, do the research, and wait for the right moment to emerge. The universe will send a crystal-clear sign when you can kick it into gear. Until then, sit tight and keep your plans under wraps.
10-03-2014
Moderation is the name of the game today, Gemini. However, today's stars summon your inner hedonist, making it far too easy to overindulge in your preferred vices. Besides stuffing yourself with comfort food or going overboard at happy hour, people could view you as greedy or needy if you take more than what you're entitled to. Welcome temperance into your world with open arms. Also, make a point of respecting your boundaries—especially with those energy vampires in your midst.
10-04-2014
Drowning in the details? This minutiae overload comes courtesy of Mercury's backspin through your efficient sixth house from Saturday until October 10. (Take note that the fleet-footed messenger planet remains in retrograde mode until October 25.) Staying on top of it all will be easier if you take time to update and streamline your organizational systems—especially on the work front. Be diligent in backing up all of your important electronic files. As the sixth house also rules health, take care not to push yourself too hard at the gym. Your body knows what's best for you, so honor the signals it sends. On Sunday, a mashup of the moon and illusory Neptune in your career house could cause you to leap into a professional venture before really looking. While you can't deny that this proposition holds much promise, you need to see the big picture before forging forward. First do your research on the involved parties, so you know exactly what you're getting yourself into. That way, you won't make the mistake of coming off as overly enthusiastic or short-changing yourself in negotiations.


SEE ANOTHER SIGN'S DAILY HOROSCOPE:

MORE GEMINI FORECASTS: