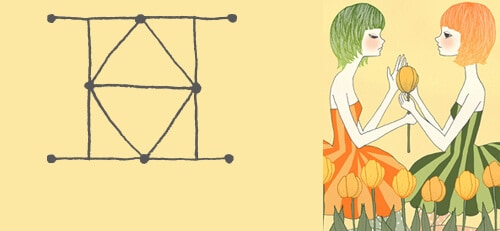 07-21-2014
Over the next five months, expected the unexpected when it comes to your inner circle. Unpredictable Uranus reverses into your eleventh house of group activity until December 21, drawing out the drama queen in a few friends. Keep your feet on terra firma, and steer clear of the crazymakers. As retrogrades rule the past, an old co-worker or collaborator could reappear, setting the scene for an encore performance. A heads-up for those Gems who are app developers and online business owners: review your social media and marketing strategies during this cycle with an eye on streamlining and updating.
07-22-2014
Stretch your social butterfly wings, Gemini. The Sun shifts signs into Leo, illuminating your garrulous third house until August 22. Take off those blinders when it comes to work, and balance out your schedule with some merriment over the next month. Kindred spirits could also come out of the woodwork. A synergistic connection with one or two of them could even lead to a potent partnership. You won't have to go far to find the fun either. The local scene is brimming full of places and faces you still don't know.
07-23-2014
You've got cosmic clearance to release your theatrical side in full force today, Gemini. A supportive angle between the moon and splashy Mars encourages you to be "too much." Share your message with dramatic gestures and colorful analogies—you'll have 'em captivated from the get-go. As the spotlight follows you around today, why not share a bit of the glory with those hardworking friends behind the scenes? Give kudos to those deserving peeps and keep the positive karma flowing.
07-24-2014
You've got the gift in gab in spades today, Gemini. The daring Sun merges with know-no-bounds Jupiter in your communication house, making your silver tongue slicker than ever. Instead of whittling it away with small talk or gossip, put out a message worth hearing. Upload a bold blog post, speak out about a cause you care about, or initiate contact with someone you admire. Kindred spirits surround you today, so take the initiative. Network, network, network!
07-25-2014
Energizer Mars grooves through your sixth house of daily routines until September 13, pumping up your mojo—both at the gym and the office. You're equally excited about your cardio class and crunching numbers, making for a healthy and productive seven-week cycle. But heads up, Gemini—Mars is a stress-inducer, so take care not to go overboard. If you're going to set lofty goals, just make sure you've got the resources to pull it off. Think: nutrient-rich meals and ample cash to finance your plans. Also, be smart about the missions you launch. Only do so if you know you can push yourself to cross the finish line.
07-26-2014
Want a bit of action? Look no farther than your own backyard this Saturday. The new moon lights up your third house of hometown happenings, drawing you deeper into your community. While fantasies of faraway locales and the sexy accents that go with them are appealing, don't let them blind you to the riches right in your own ZIP code. Explore those nooks and crannies of your hood that you've overlooked. If nothing speaks to you, move to Plan B and take a spontaneous mini road trip. A funky scene just beyond city limits could reveal kindred spirits. In fact, some Geminis may feel the need to uproot. Start exploring different barrios or even nearby cities to hone in on the next locale for "home sweet home." On Sunday, don't gloss over the details. By the same token, take care you don't swing to the other extreme and become obnoxiously fastidious. Tend to those finer points; then, put your perfectionistic tendencies on ice. Switch gears, and get to know the people around you. Scratch the surface and discover something you didn't know about them. Your interest will make them interested in YOU.


SEE ANOTHER SIGN'S DAILY HOROSCOPE:

MORE GEMINI FORECASTS: