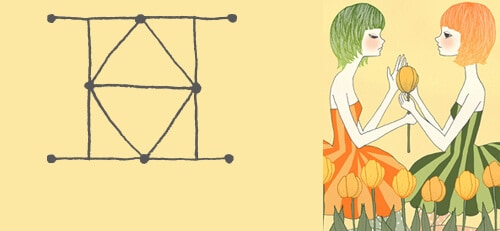 07-28-2014
Practical is overrated. While we don't advise throwing common sense completely out the window, go on and explore that seemingly unrealistic idea. With loveplanet Venus opposing sultry Pluto, things and people that normally don't light your fire could surprisingly hold much appeal today. There's no need to move into dangerous territory, but it wouldn't hurt to let down your hair a bit, Gem. As an air sign, you lean towards overthinking. Get out of your head and let your heart (and hormones) lead the way.

07-29-2014
Relationship-building is good for business, Gemini. Today's stars prod you to pause from achieving concrete results, and focus on nurturing key bonds. Just don't pressure people to commit or provide answers ASAP. With foggy Neptune opposing the sensitive moon, you're not going to get what you're looking for today. Instead, give credit where it's due, and thank someone for her efforts in a recent success. Express your appreciation by picking up the lunch tab. If conversation naturally drifts into developing new ventures, go with the flow. If it doesn't come up, don't go there.

07-30-2014
Hold your fire, Gemini! Today, the sensitive moon sits in your touchy fourth house, making your fuse much shorter than usual. Before you blow like Mount Vesuvius, make sure you've got all the facts. Losing your cool—especially if it's based on tales from the rumor mill—is sure to burn important bridges. Get the real deal from the source before jumping to any conclusions. (Tip: tune into body language to uncover the full story.) If a relationship could use some attention, step out of the spotlight and provide some unconditional support for someone you care for.
07-31-2014
Your trademark silver tongue grows substantially sharper over the next two weeks, Gemini. This extra shot of communication mojo comes courtesy of your cosmic ruler Mercury cruising through your expressive third house until August 15. Use your words wisely, and steer clear of feeding the grapevine. Dust off that half-finished memoir, launch a blog, advocate for a cause you care about. Kindred spirits come out of the woodwork, too. Network, network, network!
08-01-2014
Are there too many people trying to steer this ship, Gemini? Creative Venus forms a tense square to unpredictable Uranus, churning up conflict with your crew. You've received so much conflicting advice and feedback that your head is spinning. Fortunately, the loving planet also merges with stable Saturn, helping you scale back in the name of flying solo. Tune into your own wisdom and make decisions that resonate best with you. The planets infuse you with plenty of extra innovation and inspiration now. You might even take a pass on your Friday night plans to further develop your new and improved plan of action.

08-02-2014
Keep it zipped, Gemini. On Saturday, messenger Mercury aligns with honest-to-a-fault Jupiter in your communication sector, making it easy to move into over-sharing territory. What's more, agitator Mars squares off with both these planets, making it likely your message will reach an unintended (and inappropriate) audience. Your best bet? Steer clear of gossiping and making any negative commentary. If not, you could end up spouting an off-handed critique about someone in the presence of a close friend or colleague. If you must rant, save it for behind closed doors with trusted confidantes. Sunday's quarter moon in your sixth house of self-care helps you hop back on the wellness wagon. With patio cocktail parties, late-night barbecues, and beach bonfires, it's understandable if your healthy living goals have taken a backseat. But it doesn't have to be all or nothing, Gem. Quarter moons are all about finding balance. Don't deny yourself those dirty martinis you love so much, but also work in some cleansing green juices too. When it comes to physical exercise, find an activity you enjoy. Say buh-bye to the dreaded treadmill and hello to al fresco yoga class.


SEE ANOTHER SIGN'S DAILY HOROSCOPE:

MORE GEMINI FORECASTS: