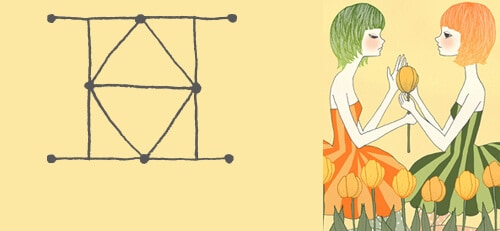 12-15-2014
Hard to breathe? Under today's intense Pluto-Uranus square a certain relationship could suddenly feel way too close for comfort. The funny thing is, you're the one who wanted to amp up the closeness factor in the first place. Alas, Gemini, your dual nature could kick into action today, possibly jeopardizing a commitment you're invested in. Steer clear of any extreme actions. Give yourself a timeout from the other person today. A little breather will likely bring back the love.
12-16-2014
Va-va-voom! With messenger Mercury moving into your seductive eight house until January 6, your sexy allure makes you simply irresistible. You'll have people at hello during this phase, but don't abuse this cosmic gift. Manipulating others to serve your own needs will only come back to bite you. Before you turn on the charm, ensure that people are really interested in your offerings. If not, move along, Gemini.
12-17-2014
Put your inner dictator on ice, Gemini. Today's gentle moon-Neptune trine in the work sectors of your chart draws out your softer side when leading the troops. Forget about barking out orders. Connect with them first before getting down to business. You may also be faced with an opportunity to move into more personal terrain with a colleague or client. Share only small tidbits about your life. Too much too soon could get you into trouble down the line. Take it slow.
12-18-2014
Has your inner Grinch taken the helm, Gemini? Today's intense Scorpio moon puts you in an especially emotional mood. Save the shopping for another day, and beeline it back to home sweet home, STAT. Don't stress—your outgoing self will re-emerge late tomorrow. But first, you need to top your tanks. Reserve this evening for "me, myself, and I." A long, hot bubble bath and watching season four of Homeland again sounds just about right.
12-19-2014
A supersized venture could land in your lap, but don't let its size and scope scare you off. Today, an angle between the moon and disciplined Saturn helps you attack this massive mission one bite-sized chunk at a time. Even though you don't have the slightest idea how to cross the finish line, you can envision the first few steps—the perfect place to start. A plan will become clear as you forge ahead. Faith and perseverance will bring the best results.
12-20-2014
Saturday comes with an extreme heat alert. A mashup between romantic Venus and powerhouse Pluto in your seductive eighth house amps up the temptation factor. It won't be hard to read between the lines, especially when it comes to those bad boy/girl types. While the rush that comes with crossing over into taboo territory is titillating, the terrain could easily transform into a slippery slope. Keep your wits about you, or obsession or jealousy could consume you. Coupled? Get a little more adventurous behind closed doors. See where some erotic exploration takes you, but remember that you both need to be fully on board each and every step of the way. Heads up: spite could rear its ugly head. While your revenge fantasies may give you secret pleasure, don't act on them. Even though someone may have done you wrong, inflicting pain in retaliation will invariably boomerang back onto you. On Sunday, the Sun moves into Capricorn for the next month, pumping up your feisty factor. This solar-powered cycle is all about going the distance—be it in business or romance. Commitment-phobia, begone! With a Capricorn new moon illuminating your eighth house of passive income, focus on attracting abundance without driving yourself into the ground. From properties to day trading, learn more about investing. You might even want to transform one of your genius ideas into a product that could generate royalties down the road. Single? Let the soulmate search commence! Tip: don't expect overnight results. Think in terms of a six-month cycle.
MORE GEMINI FORECASTS:


SEE ANOTHER SIGN'S DAILY HOROSCOPE: