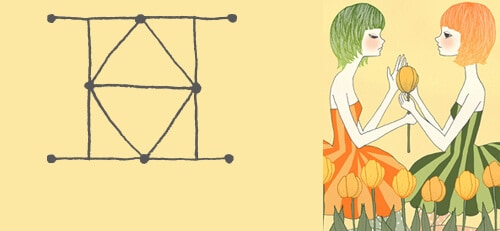 11-24-2014
Sweep yourself off your own feet, Gemini. Don't wait for that simmering attraction to reach a rolling boil, or your sweetie to surprise you with a passionate expression of love. Today's stars nudge you to shower Numero Uno with amor. Think: a dozen long stems, a box of imported bon-bons, a decadent dinner. Spend time with friends whose joie de vivre sparkles when they enter a room. (Tip: Leos and Libras fit the bill nicely.) Their enthusiasm and celebratory attitude to life is contagious.
11-25-2014
Listen to the wisdom of your body, Gemini. Today's Mercury-Saturn alignment in your sixth house of self-care urges you to pay attention to that pesky backache or those on-and-off-again sniffles. Get thyself to your acupuncturist, naturopath, or GP before it morphs into something more serious. Have you piled your plate too high with work? If so, the increased stress isn't doing your health any favors. Sit down with your supervisor to recalibrate your workload, so you can focus on the most important goals. The alternative? Share, delegate, or outsource.
11-26-2014
You're on fire! Today's moon merges with lusty Mars in your erotic eighth house, revving up your desires to white-hot temps. Playing hard-to-get and ensuing a chase has been entertaining, but you're ready to take it to the next steamy level. Forget the game-playing and be direct in what—or rather who—you want. Same logic applies in business, too. Name your price, Gemini!
11-27-2014
Cupid makes an appearance this Thanksgiving, thanks to expressive Mercury touring your seventh house of relationships until December 16. If you're gathering with amigos today, go glam and wear your favorite bling. A friend of a friend could make you go weak in the knees—or the other way around! Already in a LTR? Assume an attitude of gratitude with your amor. Life moves by so fast that it's easy to forget to say thank you. Hold a mutual appreciation session, and watch those temps rise.
11-28-2014
With the moon activating your adventurous ninth house for the first part of the day, you're running on high-octane fuel. Cue up the power yoga DVD, or do a bit of power shopping instead of waiting around for your pokey friends to decide on their purchases. You might even be inspired to head beyond city limits to uncover a gem or two at an antique or artisanal market. Early afternoon, your organizational nature takes the wheel again, perfect for rounding together the peeps you didn't see yesterday. Turkey leftovers, anyone? An important man in your world needs your support—avail yourself to him as he would for you.
11-29-2014
Pause for a progress-check. This Saturday, a balancing quarter moon in your tenth house of career puts your professional trajectory under review. Or perhaps it's more about the image you project, Gemini? Take stock of your wardrobe before rushing off to the boutique district. You might only need a few new accessories to freshen up your look. Do you keep connecting and reconnecting with the same people? Expand your network with an eye on getting in the proximity of the influencers. If you can't nab a ticket to that exclusive event, avail yourself as a volunteer. Not only does it come with a feel-good buzz, but you also get to meet fascinating people in the process. Sunday comes with an authority issue alert. Whether you like it or not, you need to follow this person's lead, so why not take advantage and view it as a chance to grow? That doesn't mean you should be anyone's doormat though. Confidently express your limits without moving into the drama zone. It's possible that this bigwig has no idea as to what your boundaries are. Educate with class, Gemini.
MORE GEMINI FORECASTS:


SEE ANOTHER SIGN'S DAILY HOROSCOPE: