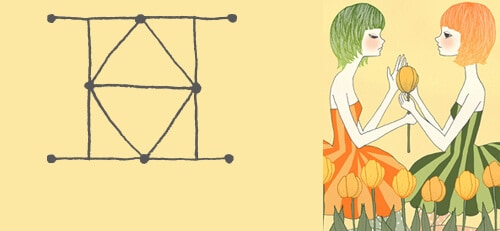 08-25-2014
What does your home say about you, Gem? Today's new moon in your domestic fourth house finds you fantasizing about freshening up (or overhauling) your décor. Infuse your space with accessories or furniture that reflects your current incarnation. And if you're strapped for cash, a couple of bold-colored accent pillows, one special painting, or a collage of your holiday photographs can transform a room. This lunar light also turns to a fresh page with a female friend or relative. Don't resist changing. Scoot over a little closer or take some space. Either way, you'll both value the freedom and respect that your bond brings.


08-26-2014
Pace yourself today, Gemini. With energetic Mars lighting up your sixth house of health, you're ready for back-to-back cardio classes. But with responsible Saturn aligning with Mars, make moderation your mantra. There's no sense in pushing your body to exhaustion or injury. Besides, you want to create a routine that sustainable over the long run, right? Apply the same logic to your work life. Before offering to take on something new, ensure you have ALL the expectations clearly spelled out.


08-27-2014
Antisocial much? Not usually, but with the moon hovering in your private fourth house, you're not in the mood for mixing and mingling. Besides, you've got work to do. Close your office door or slide on the noise-cancelling headphones, so others know you're not available. This uninterrupted solo time sets you up to make some major progress. If you've got a conundrum on your hands, talk it out with a colleague/confidante over lunch (outside the office). Come late afternoon, la luna shifts gears and activates your celebratory fifth house. Make a quick wardrobe change, and slap a coat or two of crimson paint on the town tonight.

08-28-2014
Flirt alert! With today's attention-seeking moon-Jupiter angle, consider "coquette" your middle name. Twirl your hair, bat those lashes, let your hand linger lightly on you-know-who's arm. If these coy gestures are warmly welcomed and conversation is flowing freely, don't be afraid to be more explicit about your interest. Take the bull by the horns, and invite said person out for drinks or dinner. Already attached? There's no harm in a little harmless flirtation, Gem. Instead of crossing a line though, channel all those sexy vibes at home with your sweetie.

08-29-2014
You're oozing optimism and energy today, but what's the best way to channel it? With a foggy faceoff between the Sun and Neptune, it's hard to get a clear reading on your long-term goals. You've done your homework and understand the options, so now explore the emotional side of things. If certain feelings keep cropping up, pay attention. Talk it out with a trusted friend or your go-to sounding board, and then reflect. While you're eager to take action, don't forge ahead if you have any doubts. Don't worry: tomorrow's forecast calls for clearer skies.


08-30-2014
Self-care takes center stage on Saturday, thanks to a soothing angle between the Sun and moon. Make a conscious effort to dip into the slow lane in the name of nurturing Numero Uno. Invest in a raw juicer, stock your fridge with organic produce, try out a new herbal tea. If you're in the mood to entertain, treat a few wellness-minded friends to a healthy yet decadent meal at Chez Gemini. On Sunday, a triple merger of motivated Mars, the moon, and structured Saturn occurs in your sixth house of fitness, making you even more committed to maximizing your vitality. Reflect on what habits you can incorporate to support your physical and emotional health—while also minimizing those patterns that don't. Tip: moderation is the most sustainable approach forward, so don't deny yourself the occasional margarita or double-fudge brownie. The sixth house also rules service, so you could also be inspired to give for the sake of giving. Supporting a cause that resonates with you not only helps others, but also aligns you with your highest self.



SEE ANOTHER SIGN'S DAILY HOROSCOPE:

MORE GEMINI FORECASTS: