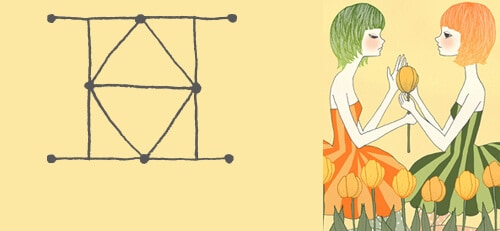 11-17-2014
You won't be in any hurry to kick off your bunny slippers this morning, Gemini. If you can cash in on a few lieu hours or work from home until lunch, do it. But don't plan on a full PJ day, because mid-afternoon, the moon sashays into your flamboyant fifth house. You'll be magnetic and full of mojo, perfect for delivering a presentation or powwowing with the power-players. With your charisma and zeal, you'll have 'em at hello. Don't waste those long lashes of yours tonight—make a date, or mix and mingle among the eligible.
11-18-2014
Today's merger of the life-giving Sun and heavy-hitting Saturn shines a light on your career. Take a step back and look at your skillset as a whole: could you use additional training or guidance from a coach? Do what it takes, and fork out the cash to advance to the next rung on the ladder. It takes money to make money, Gemini. Bandaid solutions or half-hearted attempts are not the way to go today. Roll up your sleeves, and create viable strategies that attack those problems at their root.
11-19-2014
Edgy hipster or badass musician? Either could get your motor revving today, Gemini. But don't become one of their many followers. Instead, honor and celebrate your own awesomeness. You've got cosmic clearance to take the stage, be it belting out ballads at karaoke, or leaving the crowd in stitches with your clever quips and storytelling finesse. When you allow yourself to shine, other people can't help but take notice.
11-20-2014
Just one more push, Gemini! Investing some blood, sweat, and tears today will be well worth your effort. Don't even think about issuing orders and directives. The stars require that you roll up your sleeves and get busy. On a positive note, doing the grunt work yourself ensures that the structure and systems you put in place are functional. Once you've checked that off your to-do list, then pull others into the plan.
11-21-2014
Skip happy hour, Gemini, and head to a hot yoga class instead. Today's Scorpio moon shines its beams in your sixth house of self-care, calling for conscious, healthy living. If you've got plans out on the town tonight, assume the designated driver responsibility—especially if you're overdue for the role. While your pals indulge in sidecars and martinis, keep the H2O flowing while you work up a sweat on the dancefloor.
11-22-2014
It takes two to make a thing go right. On Saturday, the new moon in Sagittarius electrifies your commitment sector, transforming tentative pairings to permanent partnerships. Also putting you squarely in the dynamic duo sector is the life-giving Sun transiting Sagittarius, starting this Saturday until December 21. The cosmos give you the confidence, so now it's up to you to make it happen. Reflect on how you can move from solo to power couple. Take the wheel and kick things into drive: put cohabitation or engagement talks on the table, get a photographer friend to shoot a few snaps of you for your dating profile, let your friends play matchmaker. Already attached? This lunar light helps you turn to a fresh page with your boo. Kiss and make up already. Come Sunday, the cosmos encourage you to keep your existing bonds in balance. Use your heart, not your head. Your sign's proclivity to mental chess may work well in other areas of your life, but it has no place in your closest relationships. Express your true feelings, and work together to come up with a solution.
MORE GEMINI FORECASTS:


SEE ANOTHER SIGN'S DAILY HOROSCOPE: