The sensible meets the sensual when Taurus season kicks off on Thursday, April 20. Taurus is the persistent provider of the zodiac, the sign that helps us seek security, enjoy earthly pleasures and get the job done.
Welcome to Taurus season! After four weeks of Aries' feisty ambition and vigor, it's time to buckle down with the Bull until May 21. The Ram lit your creative fire and shot you out of its realm. Now you can polish a few of your rough-cut visions into sparkling diamonds with the help of practical Taurus. Let the assembly lines and production roll!
Just don't forget to incorporate this decadent earth sign's love of luxury into your plans. Beauty is an essential ingredient for this artsy, Venus-ruled sign, not an optional one. And enjoying it doesn't have to cost a million bucks as far as the pragmatic Bull is concerned. Since Taurus is both sensible AND sensual, Taurus season is as much about ritualizing a process as it is about yielding results. Carefully consider every detail. The little things matter now!
Caution! Taurus season 2023 hosts an entire Mercury retrograde.
Mercury reverse commutes through money-minded Taurus from April 21 to May 14, squarely within Taurus season, April 20 to May 21.
While Mercury retrogrades are known for turning life upside down, the communication planet has actually been in Taurus since April 3 and will stay after the retrograde ends, until June 11.
While Mercury is in reverse, you'll want to deploy extreme project management measures. This 10-week tour of Mercury in Taurus has been helping you map your next big mission. It can make productivity pleasurable and support a worthy (and Taurus-approved!) splurge. Just remember that during the retrograde you'll want to be a stickler for the details, and probably not color TOO far out of the lines. That means sticking to your budget, reading the fine print before entering agreements and double-checking details before signing off.
All new daily planner format!
🛼 Your ultimate guide to 2024
🎁 Give the gift of astrology! Bundle up on 2024 Horoscope books and planners and save 70%!
Back to Taurus season…and what it means for you
What does Taurus season mean for your love life?
Intimate relationships are the sweetest of all for the coming four weeks as the Sun beams in traditional Taurus. It's not only a tender time romantically, it's a chance to reconnect to family and close friends, and introduce new loved ones to old ones.
If you're dating someone new and promising, this is the perfect time to introduce them to your crew and (hopefully!) get their stamp of approval. Not that you need it, of course. Shared values are the glue that keeps people together when the Bull is ruling the skies. What matters is that you and the object of your affection see eye to eye on the important stuff, like personal ethics and lifestyle. Long-term couples should make an effort to sync your schedules—and not just for practicality's sake. Get some date nights on the calendar, and level up a few of them so that they're earthy and decadent.
Your guide to Taurus season 2023
5 ideas for Taurus season that aren't all business (they're pleasure, too!)
1. Slow your roll…but know when to charge like a Bull!
Earthy Taurus energy is grounding, cultivating a sense of ease and contentment. Unless that is, you find yourself getting worked up about something. Then the proverbial steam will start to pour out of your ears! During Taurus season, don't rush or skimp on the practicalities of any plan. With this sensible sign at the helm, carefully consider every detail; this ensures a high-quality and elegant outcome.
Chief among the traits of Taurus is a built-in energy conservation program. This directs you to patiently assess whether something is worth the investment of time and resources. Don the project manager's fedora and add some practical magic to the recipe. Take life at a mindful and more productive pace for the next four weeks, making time to enjoy the little things!
2. Tune in to your sensual desires
Taurus is ruled by sensual Venus, whose yin qualities are expressed through this earth sign by heightening receptivity. Ask yourself: What do I need in order to feel happy, fulfilled and loved? How can I be more open to receiving physical pleasure? Now's the time to luxuriate in self-care rituals that add decadence to the start of each day.
For example, you could use a dry brush on your skin to exfoliate and get the circulation going before you hop into the shower—and before you totally dry off, massage lotion (or a natural oil, like coconut) into your skin to moisturize and give yourself some much-needed touch. Pay attention to your spaces: Do you have beauty in your line of vision? Does the room have a pleasing scent? Is your desk facing a window?
Another rule of Taurus season: Wherever there's adequate light, there's space for a houseplant (check out our article about which houseplant is good for your zodiac sign!) Little changes go a long way to make the mundane feel magical.
3. Treat yourself—mindfully
Tasteful Taurus loves life's finer things but frowns on flashiness and waste. Although Taurus season shifts your focus to security and budgeting, you can also be tempted to spend money and resources recklessly.
Enjoy life's pleasures, but do so mindfully, or with a practical purpose. Taurus season is a time for investing in quality objects that stand the test of time—and all the better if they can help you relax in comfort and style. Think of foundation pieces, like a classic sofa you can sprawl on with a book, a great mattress to improve your sleep, or a crafted dining table for entertaining guests and family for years to come. (If you need some home decor inspo, check out our tips for your Sun sign)
4. Speak your truth (karaoke counts!)
Taurus rules the neck, and our throat chakras could all use a little tune-up during this solar cycle. Try some yoga poses to open yours or even a guided meditation to help you speak your truth. Pay attention to your thyroid health (women especially) and even get it checked if energy has been chronically low.
If words escape you, unleash your pent-up vocal pressure with karaoke or even a primal scream. Put your favorite streaming service on "karaoke mode" (we just learned how to do this!) And remember, there's nothing wrong with belting out your favorite ballads in the shower or car, either!
Always wanted to take singing lessons? Look for video tutorials and online lessons—whether you consider yourself an off-key mess or a proud chanteuse. If you're more of a spoken-word type, groups like Toastmasters offer virtual training to help you hone your public speaking chops.
5. Be tenacious, but don't bulldoze anyone
There's a fine line between loyalty and stubbornness, and it's one that gets easily trampled during Taurus season. The shadow side of rooted Taurus energy can keep you stuck in your comfort zone and habits.
Monitor your resistance. If perfectly calculated plans hit a snag, try trusting the process instead of freaking out. Let go of any attachments to a particular outcome. Clinging to the things that we can't control only leads to self-imposed suffering. Life—and Taurus season—is way too short for that!
What zodiac sign is your relationship?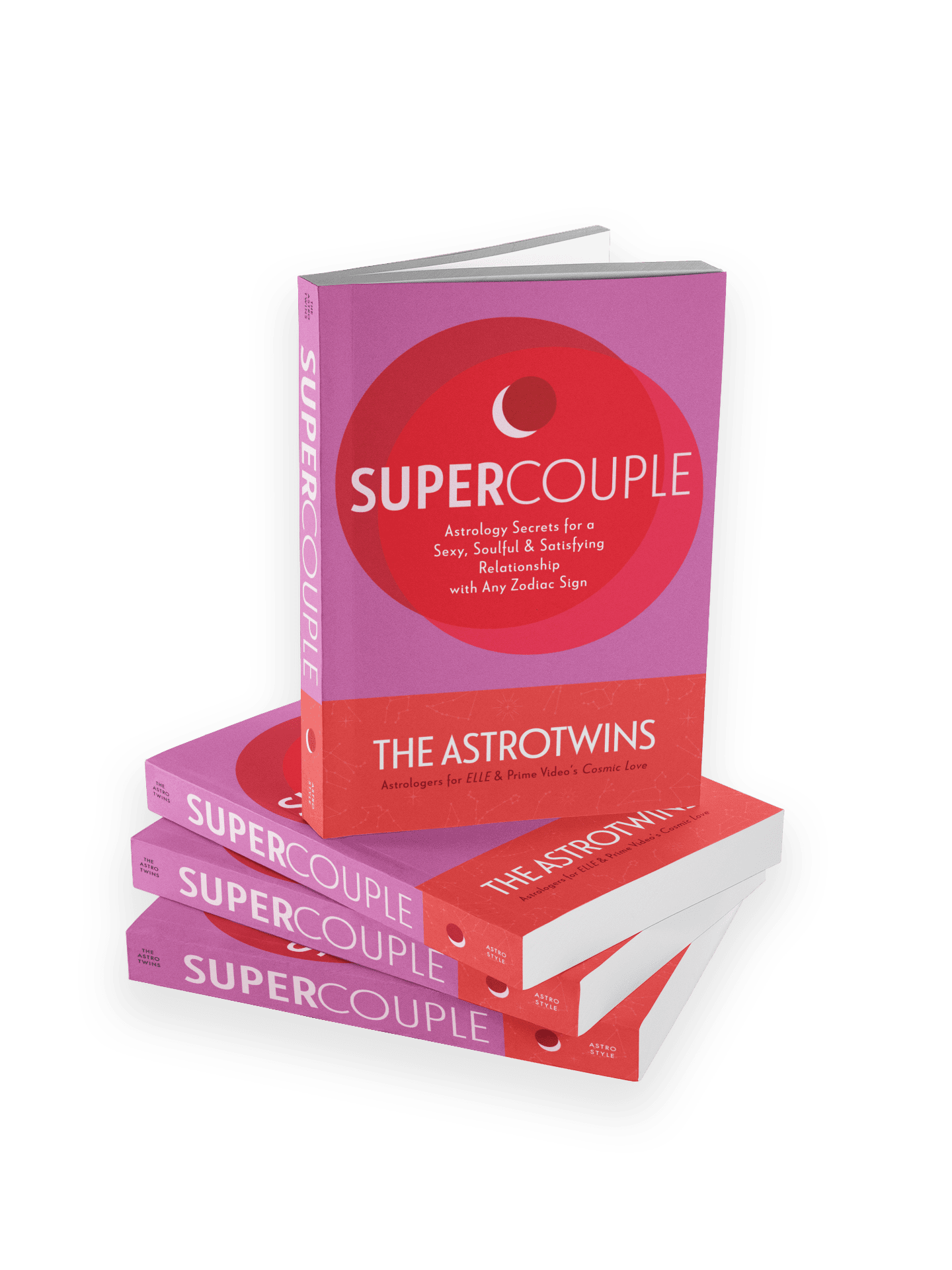 What zodiac sign is your relationship?
Learn the secrets of the composite (blended) chart in SuperCouple, a cosmic care and feeding manual for any relationship. Written by The AstroTwins, astrologers and matchmakers for Amazon Prime Video's Cosmic Love.
More Taurus season astrology facts
Taurus season begins April 20 and ends May 20, 2023. (Note that the exact date may shift by 24 hours, depending on the year.) Taurus season arrives right after Aries season and before Gemini season.
Were you born on the cusp of Taurus? If you know your birth time, you can solve the mystery of your Sun sign for once and for all by doing a free birth chart here!
And for the astro-geeks…here are key Taurus characteristics:
Taurus is the one of the zodiac's three earth signs (along with Virgo and Capricorn) and part of the fixed quality (or triplicity). Its ruling planet is Venus.
Taurus is an earth sign (this energy is physical, tangible and sensual)
Earth signs exude a receptive, yin energy. They can get cast as uptight or slow, but that's not necessarily true. They simply like to have a solid foundation and are the steadiest and most grounded bunch of signs.
Taurus is a "fixed" sign (meaning they are the stabilizers)
These signs (Taurus, Leo, Scorpio, Aquarius) fall in the middle of each zodiac season. They're the ones who set up a solid goal or foundation, then start building. Fixed signs can take the enthusiastic ideas that other signs spark, and craft them into something real. They pick up the ball and run the distance to the goal. Fixed signs are the trustworthy types who like "to-do" lists and fancy titles. If someone says, "Let's go on vacation!" the fixed sign will call the travel agency, book the tickets and hotel, and send everyone a list of what to pack.
Venus is the ruling planet of Taurus, here's what that means
Every zodiac sign has a galactic guardian that guides and protects it. Venus is "assigned" as the ruling planet of Taurus. In astrology, a sign exhibits traits of its ruling planet therefore the energy here is: sensual, lovers of earthly beauty and pleasure, (a little indulgent!).
Through earthy, grounded Taurus, Venus expresses her yin, or feminine, qualities. Said another way, this is the aspect of Venus that rules our receptivity. What do we need in order to feel happy, fulfilled and loved?
Taurus season rituals and advice from The AstroTwins
You may also use the following to help get in the zone during the highly productive energy of Taurus season.
Try:
– a Taurus season mediation to steady wobbly feelings
– or a Taurus meditation that invokes the earth element
– working with crystals selected for Taurus season
And let our Taurus season playlist be your soundtrack for the Sun's four week transit through this sign: