Let's hang out together!
Join our mailing list and let us shower you with gifts and galactic goodies.
You'll get your weekly & monthly horoscopes in your inbox, first dibs on all courses and retreats, VIP event invitations and must-know astro intel before so you can be prepared in any cosmic weather.
PLUS: OUR MUST-HAVE COMPATIBILITY GUIDE IS YOURS FOR FREE!
As a free gift, you'll get our relationship-saving ebook How To Get Along With Anyone (Yes, even THAT person).
Fill out the form below and we'll email you our compatibility guide—free!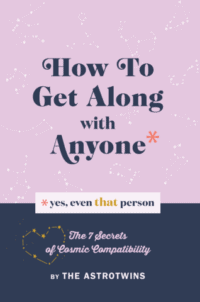 Tired of dealing with difficult people? Help has just arrived.
Learn how to increase the peace…even with the most challenging people in your life. Yes, you can get along with every zodiac sign, even the ones that are thought to be a "bad" or "difficult "match. Our spot-on horoscope compatibility guide reveals simple secrets to coexisting with anyone (yes, even THAT person).
Important! Please Whitelist our emails.
Many email providers (Gmail, Yahoo, Hotmail, etc.) now automatically block spam, which is great…until they go a bit overboard, filtering out emails like ours that you actually WANT to get.
Add the email address astrotwins@astrostyle.com to your whitelist or contact list in the email program you use (Gmail, Yahoo, et. al). By doing so, you are letting your email provider know that you want to receive our emails, and to deliver our email to your inbox.
By submitting this form, you are granting: AstroStyle, c/o Carol Leggett PR, New York, New York, 10011, United States, https://www.astrostyle.com permission to email you. You may unsubscribe via the link found at the bottom of every email. (See our Email Privacy Policy for details.) Emails are sent via Infusionsoft.