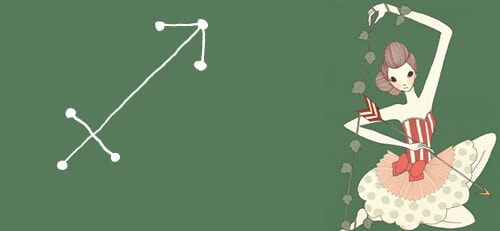 09-15-2014
Are the scales of give-and-take tipped too far in one direction, Archer? Today's parity-restoring quarter moon in your partnership sector helps bring things back into balance. There's just one caveat: you must first resolve a "conflict" before reciprocity can reign again. Sure, you're rightly angry about this person's negligence or laziness, but do everyone a favor, and cool those jets before launching into a diatribe. When you're no longer seeing red, concentrate on what you want to co-create instead of griping about what hasn't been done. What you focus on only gets larger.

09-16-2014
No strings attached? With the moon hovering in your secretive eighth house, there could be hidden costs buried in a "freebie." Even if you're not forking out cold, hard cash, everything comes with a price, Sagittarius. Before jumping at someone's generous offer, think twice about what you will end up owing this so-called selfless person. This lunar light also shines its beams on your spending habits. Has your credit card been getting a workout lately? Pull those purse strings a tad tighter, and start a savings plan. Good things come to those who wait.

09-17-2014
Steer clear of your go-to sounding bound, and stick with your instincts, Sagittarius. You may be faced with making a decision that your crew won't be onboard with today, so seeking their approval will only make your choice more difficult. By all means, share the situation with them and consider their advice, but trust that your vision is sound. Taking this supersized (and controversial) step will carry you where you want to go. Just know it will take time before people will truly understand the method to your madness.

09-18-2014
Don't underestimate the impact you can make today, Sagittarius. Take a bit of time to reflect on whether you're making the most of your presence. If you're dissatisfied with the responses you've been receiving, take a step back to tweak your presentation. Ensure that your delivery—both verbal and visual—is clear, polished, and accessible. Make tweaks to your professional wardrobe and the materials you share in the boardroom. Going to extremes can isolate people, so aim for middle ground. Tone down the sexiness or add a little sparkle to that minimalist vibe. Apply the same logic in your personal life. A balanced approach will bring the best results.

09-19-2014
You're perfectly content living in a bubble made for two, but don't abandon your life outside this relationship. The most successful love connections and friendships incorporate independent time into their union. There's no need to book a vacation for one, Sagittarius. Just carve out some "me" time in the name of staying grounded. That could mean lounging on the sofa watching Netflix, taking a meandering walk through your neighborhood, or snuggling up with your Kindle. With your tanks topped, you'll have that much more to give back to your partner.

09-20-2014
Wanderlust alert! Saturday's alignment of the moon and globetrotting Jupiter in your jet-setting ninth house gives you a serious case of itchy feet. Hitting the open road is the best antidote for a stressed-out or down-in-the-dumps Archer. Hop in the Zipcar, and venture beyond city limits for the day. If you need to stay close to home base, you could also expand your horizons figuratively. Think: an illuminating lecture, an eye-opening workshop, or an adventurous athletic challenge. The stars give you a double-dose of truth serum, so don't even try telling a fib. When the moment arises, express your genuine feelings. On Sunday, your ambition mojo is out in full force, thanks to the moon lighting up your success sector. Slide into get 'er done mode, prepping for upcoming presentations and important meetings. It will give you a serious leg up on the week ahead. Just don't hole yourself away for the entire day, Sagittarius, or you'll end up on overload. The last thing you need is to get distracted by a new project that you don't have the energy to complete. Limit work time to only a few hours; set a timer if you don't trust yourself to watch the clock. Then, pack it in for the day, and kick back with close friends or family. They might even be the perfect audience to give you straight-up feedback on your latest supersized ideas.



SEE ANOTHER SIGN'S DAILY HOROSCOPE:

MORE SAGITTARIUS FORECASTS: