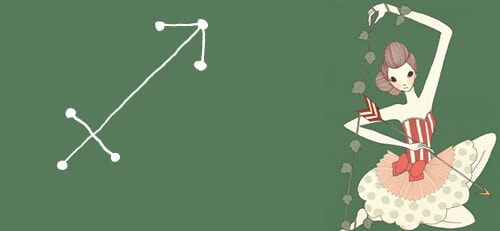 04-21-2014
Ch-ch-changes! Today's square between transformational Pluto and revolutionary Uranus shakes up things on the work and money front. If you crave a bigger paycheck and snazzier title to go with it, assuming more leadership is mandatory. Remember, Archer: a strong leader doesn't carry the load alone. Fame could also come knocking under today's stars. Tread carefully when mixing love and money. Different perspectives could cause you and your sweetie to butt heads. Keep conversations focused on co-created solutions, and you might even end up with more prosperity than you thought possible.
04-22-2014
Call in for reinforcements, Sagittarius! Your overflowing plate is driving up your stress levels, demanding a new plan of action. While your indie spirit prefers to shoulder things solo, take a look at the big picture. Sure, you have to invest in a training period, which takes time away from other tasks. But once this person is up to par, you'll have more than enough free time again. Also, stay open to the possibility of transforming an independent venture into a joint endeavor. Let that kindred spirit convince you to give it a whirl.
04-23-2014
Today's four-way square (otherwise known as a Cardinal Cross) between feisty Mars, in-your-face Jupiter, impulsive Uranus, and crisis-junkie Pluto cranks up conflict. Competitive vibes interfere with group endeavors, even to the point where people are duking it out over the top spot or the Almighty Dollar. Don't even attempt to mediate, Archer. In fact, your fiery sign would be best advised to sit this one out. Remove yourself from the situation, but don't withdraw your membership. Calmer heads (yours included) will prevail in a couple of weeks.
04-24-2014
How about a piece of humble pie, Sagittarius? A healthy dose of humility will serve you well starting today until May 7, as expressive Mercury transits through your practical and helpful sixth house. Your stress levels will plummet once you organize your storage space, file that mound of paperwork, and get your finances in order. Also, it's safer to overshoot the mark, but keep it to yourself. As you do your tasks quietly in the background, people will be even more impressed when you knock it out of the park.
04-25-2014
Sensitive much? With today's mashup of the emo moon and Venus in your domestic fourth house, steer clear of crowds and stick to more intimate, low-key activities. That rocking hipster hotspot isn't going anywhere, Archer, so give yourself permission to catch up with a bestie over a bottle of Sauvignon Blanc and Spanish tapas. Or, you might be motivated to impress your nearest and dearest with your culinary finesse at Chateau Sagittarius. If you're dragging your feet, a potluck dinner works just as well.
04-26-2014
Ready, set, DIY! On Saturday, a harmonious angle between analytical Mercury and imaginative Neptune gives you a craving for some hands-on creating. Strip and stain an old armoire, or paint one wall of your living room a bright, bold color. Dive into projects that also serve a practical purpose, like making your own floating bookshelves. Or, you may want to put your green thumb to use. Get your hands dirty working on a kitchen herb window box, or start a vegetable garden if you have a backyard or rooftop terrace. On Sunday, romance is revving in full gear! The emo moon and impulsive Uranus unite in your passionate fifth house, bringing an attraction from a low simmer to raging boil. A high-octane fling is definitely within the realm of possibilities, Archer. Coupled? While you may be operating in prime form, your willpower is on the weak side, so don't put yourself in temptation's way. Tip: if things are feeling a little stale with your sweetie, don't resort to picking a fight to get those juices flowing again. You're so much more creative than that, Sag. Organize an out-of-the-ordinary date night (check out the Delightful app), or even spend a bit more time pursuing your own interests. A little distance can bring back the love.


SEE ANOTHER SIGN'S DAILY HOROSCOPE:

MORE SAGITTARIUS FORECASTS: