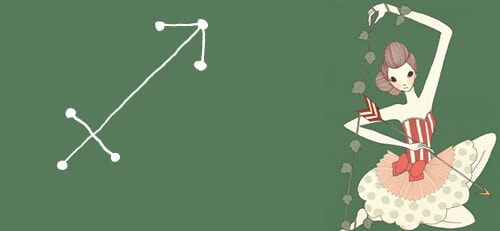 10-20-2014
Power surge! Today's potent alliance of cooperative Venus and make-it-happen Mars tops your tanks, especially when it comes to one lofty goal. Channel that turbo-charged drive and determination, and you'll double your productivity. But as you're traveling at light speed, take off those blinders and pay attention to who's keeping up with you. Instead of investing your energy competing with these wunderkinds, why not merge forces? You and your crew could be scoring the blue ribbon before the weekend rolls around.

10-21-2014
There's strength in numbers, Sagittarius. With today's moon illuminating your ninth house of teamwork, seek out ways to merge forces with other like-minded go-getters. Whether you realize it or not, there are quite a few people who would love to advance your brilliant vision. Take a closer look at those around you, consider how they could contribute, and then bring them officially onboard. Playtime can also amp up productivity, so organize lunch outside the office or a meetup for happy hour drinks. Don't underestimate the power of laughter—even when getting 'er done!

10-22-2014
You've got a lot of friendly faces in your midst, Sagittarius, so take the time to talk to those people you normally pass by. Today's alignment of the moon and Mercury retrograde in your friendship sector sets the scene for some satisfying interactions. In fact, you might even kick yourself for having waited so long to initiate contact. This cosmic combo might also reveal a fascinating group, an invaluable resource, or even a fab restaurant that's been under your nose all this time. If you get the urge to reunite with a crew from your past, go forth and explore. That old synergy might be able to transformed into something surprisingly spectacular.

10-23-2014
Slide into the slow lane, and get ready to pull over, Sagittarius. Today, the Sun settles into Scorpio and your sleepy twelfth house until November 22. The next month is about tying up loose ends, and preparing for your new astrological year. Allow yourself extra siestas, and make time for decluttering. Find release and renewal via creative, spiritual, and artistic pursuits. With love planet Venus assuming the same position until November 16, taking this path might even reveal a fated connection or two. A solar (new moon) eclipse in Scorpio also fills the skies, making letting go easier. No sense in fighting it, Sag. Go with the flow.

10-24-2014
Fact or fiction? Today's moon in your foggy twelfth house makes it difficult to discern between fantasy and reality. If possible, steer clear of making any hard and fast decisions. You probably don't have the full story here, Sagittarius, so take today to get to the bottom of things. Go out on a limb, and ask those tough questions. It's the only way you'll really discover people's true motivations.

10-25-2014
Mutiny on Team Sagittarius? Over the last three weeks, communicator Mercury has been traveling retrograde (backward) in Libra and your eleventh house of group activity, straining dynamics with your crew. All things tech may have also been a source of stress during this cycle. Signals finally unscramble this Saturday, as Mercury corrects its course with forward motion again. Slide into the role of diplomat, and bring back the love with your posse. Also, the quicksilver planet is now in your corner when it comes to forging fresh contacts. Network, network, network! On Sunday, energizer Mars moves into Capricorn and your second house of work and money until December 4. You could finally snag that promotion or bonus you've been hoping for, or secure a dream client. At the same time though, Mars can also crank up the pressure with extra expenses or a heavier workload. Get a firm handle on your budget, and steer clear of splurging unless you know you can really afford it. While you're generous by nature, Archer, you don't need to break the bank when it comes to that gift list. A thoughtful thank-you card, fresh flowers, or even a tin of your famous chocolate chip cookies may be more than enough. Make sure you earmark some of your disposable income for a little something special for yourself. Considering how hard you work, Sag, you deserve it!



SEE ANOTHER SIGN'S DAILY HOROSCOPE:

MORE SAGITTARIUS FORECASTS: