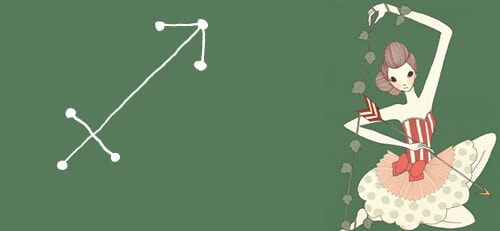 03-10-2014
Royalties, dividends, and affiliate sales, oh my! Today's meetup of the moon and expansive Jupiter in your eighth house of passive income helps you tap into ways to make moola in your sleep. Just don't expect overnight riches. Do some research, and investigate options that seem feasible. Your sultry allure also gets a boost. You won't have any trouble attracting others into your orbit, but be forewarned. Once they're in your life, they won't be in any hurry to leave. Be discerning about where you direct your seductive powers, Sagittarius.

03-11-2014
Spreading yourself too thin, Sagittarius? Curious Mercury in your third house of community triggers your impatient streak when it comes to launching a fresh project or advancing a fledgling friendship. Hit the pause button, and assess how much time you really have at your disposal. Do you have any loose ends to tie up? Are your bonds with your closest friends stable? Taking on something (or someone) new could pile one too many things on your plate, so don't rush into additional responsibilities. Time management is key to tending to both the old and the new.

03-12-2014
Ring your liberty bell! An adventurous trine between the moon and unpredictable Uranus in your passion zone injects your indie spirit with high-octane fuel. As your roam and run free today, you'll be happiest with someone who has a wild side a shade more flamboyant than yours. Caution: it's all fun and games until you find yourself in hot water. Recognize that your escapades could do damage to an important relationship. When flirting, don't play with fire, Archer, especially if you're already spoken for. You want nothing to do with limits, but remember that every action has a consequence—for better or for worse.

03-13-2014
Can your eating habits alert you to emotions that need attention? Today's stars say yes. Have you cleaned out the vending machines at work, or kept on eating even though you were full? Take pause and recognize when you're trying to use food as a numbing agent. Set aside those truffle aioli fries, and face what you're feeling. When it comes to conflict today, tread carefully. Steer clear of flinging accusations, and talk about how the situation makes you feel. You can't make others own their emotions, but at least you can be a strong role model.

03-14-2014
Your greatest aspirations are starting to take shape, Sagittarius, but has this growth spurt caused you to neglect your loved ones? Under today's stars, one of your nearest and dearest could be resentful for being shoved to the back burner. You didn't intentionally ice her out, but you still need to make amends. Even if she launches into a lecture about how hurt she feels, don't get defensive. Once she's gotten it off her chest, it would be wise to have a sit-down about the recent changes to your schedule. Your time is quite limited now, making boundary-setting a must.

03-15-2014
VIP lounges, member-only clubs, and behind the red-velvet ropes, oh my! Saturday's stars put you on the bigwigs' radar, calling for strategic socializing. Rubbing elbows with the power players looks good on you, Sag—not to mention it does wonders for your confidence. You normally wear your heart on your sleeve, but keep a few cards close to your vest. Maintaining a slight air of mystery will have others clamoring to discover more. You'll need to exercise some restraint to pull it off though, but keep your eye on the prize. What's important here is locking in allies for the long-term, not getting a few laughs. Sunday's full moon in your ambitious tenth house could deliver a momentous career victory. What's more, the two weeks following this full moon may bring even more supersized growth. Hello, penthouse office! Don't be surprised if a leadership role lands in your lap. No one expects you to be a master at it out of the starting gate. Besides, Archer, you're a quick study, so you've got nothing to worry about. Fame could also come a'knocking. Lights, camera, action!


SEE ANOTHER SIGN'S DAILY HOROSCOPE:

MORE SAGITTARIUS FORECASTS: