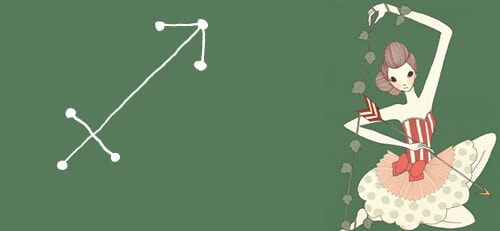 10-27-2014
Frenemies, begone! Under today's stars, you may be called to cut some people out of your life. While it may be painful, it's also an opportunity to evolve. Take time to reflect on what drew you to this drama queen in the first place. Did this person reveal qualities in yourself that you struggle to accept? Don't underestimate the power of mirroring, Sagittarius. Dig deep, and give those primal parts of your personality permission to grow.
10-28-2014
Risk-taking comes naturally to Archers, but take pause today. The Capricorn moon meets with motivator Mars in your practical second house, insisting you plan before powering forward on an unknown path. Mapping out the next steps may be frustrating, but stick it out and you'll be both effective and efficient. The red-hot planet holds this position until December 4, so don't kill yourself trying to get 'er all done today. Begin by focusing on the missions that are truly worth your time.
10-29-2014
Stand up to your inner self-critic, Sagittarius, and show her the door. Never forget that your thoughts form your reality, making it high time you treated yourself with TLC. It's already obvious how negativity attracts more of the same. How about flipping the script by acknowledging your accomplishments? Treat Numero Uno like you would your BFF, and you might just find near-hopeless situations turning themselves around.
10-30-2014
Sweeping stuff under the rug to preserve your popularity, Sagittarius? Today's quarter moon in your friendship sector prompts you to pause and reflect. If you've been sidestepping issues so as not to rock the boat, it's high time you raise those touchy topics. This balancing lunar light helps you wade into those sensitive waters with tact. Be sure to validate your amigos' viewpoints before sharing your own. Remember: this isn't about winning, but finding a way forward that works for everyone.
10-31-2014
The bigger the party, the better the time? Not always, Archer. The moon decamps to your garrulous third house, putting you in the mood to frolic with fun-loving friends. But with the Scorpio Sun in your shadowy twelfth house, you could draw in an energy-sucker into your midst. Be proactive, and keep tonight's plans under wraps. (Yes, that includes Twitter.) And whatever you do, don't guilt-invite someone along. If you do, you'll end up hand-holding or spending most of your evening dodging her.
11-01-2014
It's all about your ladies, Sagittarius! From mid-Saturday on, the moon lingers in your feminine fourth house, calling for lots of bonding time with your gal pals. You can always be counted on for words of wisdom, but now you could use a little support. Confide in a woman you trust and admire. You're looking for sensitivity, practical solutions, and someone who's not afraid to shoot from the hip. As the fourth house also rules the roost, you might be inspired to pull out the bagua map and reconfigure your space. Or, you could pop on your hostess hat, and throw an epic soiree at Chateau Sagittarius. Sunday's stars flip the script when a female family member or friend asks for your help. Take note: a soft touch is required instead of your trademark tell-it-like-it-is approach. Have her over for a home-cooked meal, or cozy up in a booth at your favorite bistro. She's wiped away a few of your tears in the past, making it easy to be there for her now. If you're dragging your feet, a little nurturing will help. Share a cup of tea with a compassionate friend, stretch it out in yoga, and leave your to-do list for later in the week. Netflix, anyone?


SEE ANOTHER SIGN'S DAILY HOROSCOPE:

MORE SAGITTARIUS FORECASTS: