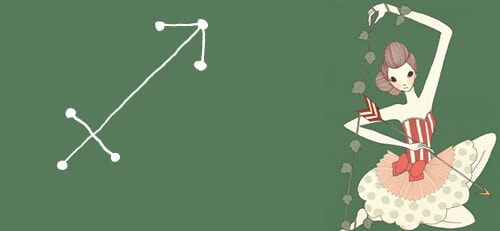 07-28-2014
Take a walk on the wild side, Archer! Today's faceoff between romantic Venus and sultry Pluto puts your desires front and center. This cosmic combo dares you to honor those longings that you haven't allowed yourself to fully acknowledge. Just because a certain idea or person doesn't fit into your big picture, doesn't mean you shouldn't explore it. Muster up the courage to dip your toe into that pond. You might be pleasantly surprised at the path it leads you down.

07-29-2014
Heads up: not everyone is buying tickets to The Sagittarius Show today, Archer. Someone close to you could be feeling intimidated by your accomplishments, so don't be surprised if your latest success is met with a snarky comment or the cold shoulder. While this person's behavior is not acceptable, keep in mind it has nothing to do with you. Could she be feeling neglected? Take time to ask about her passion projects. And be honest with yourself: if you've been viewing her as one your adoring fans, it's time to step up and give HER support.

07-30-2014
Has a professional problem left you feeling paralyzed as to your next step? With the moon and structured Saturn forming a supportive angle today, finding your way out of this conundrum no longer feels impossible. If you're not sure how to proceed, reach out to those sage mentors in your midst for guidance. An older person in your inner circle or even the words of one of your idol authors can lead you to the light. Expect the solutions to come to you in undeniable "a-ha!" moments, making your path crystal clear. Your instincts will never lead you astray, Sag. Honor them.

07-31-2014
Today, expressive Mercury moves into your truth-telling ninth house until August 15, bringing out your honest nature in full force. Say buy-bye to people-pleasing and hello to keeping it real. If you want your desires fulfilled, it's up to you to ask for what you need. Do so diplomatically, and people will be more than willing to oblige. Long-distance relationships and multicultural connections also get a boost from this Mercury spell, so nurture those bonds. If you've been eyeing a workshop or short course, sign up today. Passionate learning awaits.

08-01-2014
Dive into the deep end, Sagittarius. Today's cosmos draw you toward the more mystical side of life, so follow the signs. Pay attention to the clues the universe sends out, be it a book that's calling your name or a serendipitous connection pointing you in the right direction. Your psyche holds the answers, so take time for meditation or communing with nature. Going inward also helps you harness the strength necessary to support someone close to you. Come this evening, keep plans low-key. If you're committed to a lively event tonight, chances are you'll be most comfortable on the sidelines in deep discussion instead of strutting your stuff on the dancefloor.
08-02-2014
Bring on the adventure! On Saturday, garrulous Mercury and your planetary guardian Jupiter align in your ninth house of travel and exploration. Venture far outside your regular stomping grounds, and strike up conversations with strangers. You could make a magical connection with someone from a different culture. That said, it might not be all fun and games, courtesy of agitator Mars in your foggy twelfth house. If you don't make your boundaries clear, someone could misread your amiable approach as a coy come-on. Eek! Don't completely drop your defenses, Archer. The last thing you need is a cling-on (or worse), so be sure those signals you're sending out are crystal clear. Sunday's quarter moon in your twelfth house of healing brings some balance to an emotionally-charged situation. You might realize that your reactions were over the top, or that you've had your head buried in the sand—or even a combination of both! Use this lunar light to have a level-headed discussion about it. Deep down, you know what is right, so trust your gut. It really doesn't matter if others aren't on the same page as you. What counts is what works for Numero Uno. Full stop.



SEE ANOTHER SIGN'S DAILY HOROSCOPE:

MORE SAGITTARIUS FORECASTS: