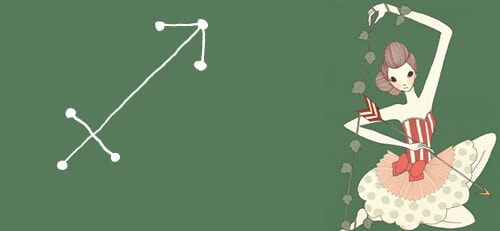 04-14-2014
Mystical Pluto puts your mind on your money. The powerhouse planet turns retrograde in your second house of finances until September 22, giving you a window to review and refine how you earn a living. Identify the elements of your job that are the most fulfilling, and those that drain you dry. Drum up ways to make the most of your time, perhaps through outsourcing or scaling back. Warning: do not take shortcuts. While you may be tempted, it's likely you'll end up with the short end of the stick. Also, steer clear of borrowing or buying on credit. Keep everything on the up and up.
04-15-2014
You're not one to limit yourself, Sagittarius, and you apply the same philosophy to your friends. Under today's Libra lunar eclipse in your eleventh house of groups, a sudden change in your social life may emerge. Out of nowhere, you might realize that you no longer jibe with a particular crowd, or could collide with a crew you've been dreaming about meeting. As the eleventh house also rules all things tech, an out-of-the-blue e-opportunity could pave the way to an increase in your bank balance or it could even help you uncover The One via online dating. Ready, set, click!
04-16-2014
You've got to work it, Sag, but not the way you think. It's easy to get lost in the warm fuzzies of a relationship, but don't gloss over those issues that require attention. There's no such thing as a perfect partnership, but every healthy relationship has a strong foundation built on communication and honesty. Today's cosmos urge you to stop turning a blind eye and face the tough stuff together. Unattached? You might be in hermit mode, but if an intriguing admirer indicates interest, slide out of your slippers and into your favorite date-night duds.
04-17-2014
Your trademark laserbeam focus might be a bit fuzzy, thanks to the moon lingering in your sleepy twelfth house all day. Instead of trying to launch a brand new project, use this energy to take care of pending to-dos. With your right brain at the helm, creative tasks fuel you forward. Use your lunch hour (or cash in on a few hours of free time) to meander through the boho part of town or stop into the spiritual bookstore. This evening, the moon decamps to your sign for the next two days, making you sharp as a whip, once again.
04-18-2014
Just because you're part of a collective doesn't mean you need to get lost in the crowd. Today's Sagittarius moon forms a helpful angle to motivated Mars in your teamwork sector, urging you to share your indie spirit and original vision with the group. Heads up: steer clear of sermons, Archer. Just as your perspectives are unique and to be respected, so are everyone else's. This evening, experiment with a fresh scene, even if you have to head out on your own. Considering how effusive you are today, you definitely won't lack company for long.
04-19-2014
Let's get physical! After four weeks of excess and indulgence, the Sun blasts into your sixth house of healthy habits until May 20. Sure you've enjoyed every last drop and crumb, but you're now happy to treat your body with more TLC. Archers love the great outdoors, so spend more time in the fresh spring air. Join a runners group or arrange regular powerwalks with a few pals. Also, focus on getting (and staying) organized. It will help you stay on top of the heavier workload that's coming your way. On Sunday, wild child Jupiter faces off with possessive Pluto, making your feelings about a certain someone flip-flop. You're not quite ready for an exclusive thing, but you sure as heck don't want to share this person's affections. Alas, Sagittarius, you can't have your cake and eat it, too. Get off the fence and make a decision. It's not fair to keep people waiting in the wings until someone better comes along.


SEE ANOTHER SIGN'S DAILY HOROSCOPE:

MORE SAGITTARIUS FORECASTS: