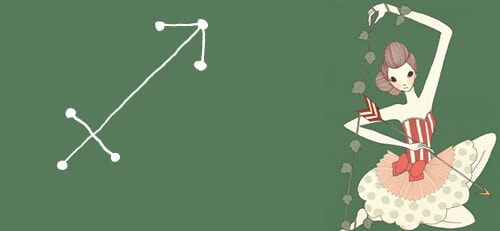 12-15-2014
Take charge! Today's transformational Pluto-Uranus square propels you into a higher income bracket, but it's your job to assume more leadership. You might even find yourself taking on a more public role, too. Think BIG, Archer—not a tall order for your adventurous sign. Heads up: love and money do not mix today. If you clash with someone over finances, try to keep your cool and focus on proactive solutions. If you put your heads together, you might even whip up some moneysaving strategies and perhaps even a few new income streams.
12-16-2014
Systemize and streamline, Sagittarius. Mental Mercury departs your sign today, and settles into Capricorn and your grounded second house until January 6. Instead of launching the New Year on a frazzled note, whip your world into shape now. Set up systems and revamp your budget. It's far too easy to get swept away in a holiday shopping vortex, so before hitting the malls, make sure you know what your priorities are. Don't load up on pricey presents if it means you won't have the funds for those 2015 home renos.
12-17-2014
Feather your nest, Sagittarius. Today's cosmos encourage you to make your home a haven. Declutter your space, reconfigure your furniture, smudge away bad chi. Make sure to leave time to nurture your body, too. How can you treat it like the temple it is? Start by booking a massage and follow it up with a long, hot lavender bath salt soak. Bring on the body-loving vibes.
12-18-2014
Zzzzzz. With today's sleepy twelfth house moon, you'll happily swap a seasonal fiesta for a siesta. Don't let your FOMO kick in either. The moon will be in Sagittarius all weekend long, restoring your life of the party status. Take some downtime now, so you'll be in prime form tomorrow. Heads up: music could soothe the Archer's soul late tonight. Take a disco nap before hitting the dancefloor for a couple of hours.
12-19-2014
Raise the white flag, Sagittarius. Today, you might have to accept that giving up on a venture is the best way forward. Just because you couldn't manifest those rich rewards doesn't mean you've failed. See it as a sign that more fulfilling opportunities await elsewhere. Just don't leave people high and dry. While you may not look forward to wrapping up those pending issues, at least you'll never need to try and make that doomed dynamic work again. Ah, sweet freedom.
12-20-2014
Candles, soft music, and decadent desserts! Saturday's Venus-Pluto mashup puts you in a sensual state of mind. Take a pass on the club scene, and unwind at Chateau Sagittarius with a VIP guest. Impress you-know-who with your culinary finesse, and let the seduction games begin! If you're flying solo, cozying up at home with a few close friends will warm your heart and revive your mojo. Single or spoken for, steer clear of crowds and top your tanks again. On Sunday, put away the party hats and save those birthday balloons for next year. The Sun departs your sign, and settles into Capricorn and your practical second house until January 19. Sure, the eggnog may be flowing freely, but you'll be more interested in whipping your budget into shape or picking up a temporary gig for some extra quid. Sunday's skies also feature a Capricorn new moon, possibly bringing news of an exciting job opportunity or promotion. This lunar light boosts your confidence, making it easier to talk about an issue you've been avoiding like the plague. Speak your truth, Archer. One way or another, folks will eventually find out your real feelings. Better it comes from you, sooner rather than later.
MORE SAGITTARIUS FORECASTS:

SEE ANOTHER SIGN'S DAILY HOROSCOPE: