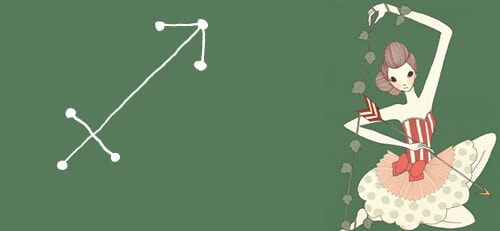 09-29-2014
There's nothing sexier than a beautiful mind, Sagittarius. With love planet Venus decamping to your intellectual, idealistic eleventh house until October 23, substance is more important than what's on the surface. You'll feel synergy with others on a mental level, or go weak in the knees for a freethinking someone who expands your views on life. Some Archers will be keen for more independence when it comes to romance. Single? Wade into the dating pool without obsessively searching for your other half. You could strike gold via online dating, so zhush that Tinder profile and start swiping! Already attached? The couple that plays together, stays together. Socializing as a pair brings out the best in both of you—talk about a turn-on!
09-30-2014
Cue Pharrell's "Happy." Today's Sagittarius moon turns your attention to your own satisfaction, particularly when it comes to your professional life. Are you really content with your current career trajectory? Aside from the accolades and applause that comes with your job, do you enjoy what you're doing? Equally as important is the number of hours you devote to work. If you've got little to no time left for "me, myself, and I," rejig your schedule so that you do. This might mean letting go of a project that sucks most of your energy or brings you little reward. Balance is key.
10-01-2014
Money matters, front and center! Today's quarter moon shines its beams in your second house of finances, calling for more balance in your budget. Your trademark lust for life makes it difficult for Archers to adhere to extreme frugality, but that doesn't mean there aren't areas in which you can scale back. Review your expenses with a fine-tooth comb, and trim the excess. For instance, instead of eating lunch outside the office every day, brown-bag it more often. Also, devote some attention to increasing your earnings. If you've got your sights set on a dream client or earning more per hour, use this week to create the perfect pitch or develop a knock-'em-dead presentation.
10-02-2014
Take off those rose-colored lunettes, Sagittarius, and take a long, hard look at what's really going down. Only when you move out of denial mode can you truly start to deal. Sure, it is what it is, but there's still plenty of room to drum up creative solutions. Face facts, and then put on your brainstorming hat. Be thoughtful and strategic, and a long-term answer will emerge. If you don't know where to start, a mentor in your midst can lend an assist in mapping out your action plan.
10-03-2014
You're eager to dive into an official collaborative venture, but today's stars encourage you to take it one baby step at a time. Start with a smaller, time-limited project first to get an idea of how well your respective working styles mesh. If you do end up clashing, sorting through the conflict won't be nearly as difficult knowing you're not locked into something long-term. Test the waters by wading in slowly.
10-04-2014
If you want to heal, you've got to deal, Sagittarius. From Saturday until October 25, mental Mercury turns retrograde, but backspins through your twelfth house of the subconscious until October 10. Resist the urge to suppress that unsavory memory, and face it head on. Be it a therapist, life coach, or spiritual healer, reach out to someone who has the skills to gently guide you through the process. With their help, you can get in touch with those tough emotions, and gain insight from them. This three-week cycle could even lead you to forgiveness in the name of finally shutting that door behind you. Relief! Tip: follow the muse when she calls—you could create something truly genius now. On Sunday, a sensitive moon-Neptune mashup makes you extra-compassionate. Just don't get reeled into someone's "woe is me" tale, which will undoubtedly pull at your heartstrings. Don't feed the victim narrative, Archer. Offer up encouraging words, and point them in the direction of possible solutions. If you're feeling emotional, get together with your fun-loving friends, not those Debbie Downers. Aligning yourself with the "glass is half-full" types helps keep those dark clouds at bay for the day. Besides, it's not ALL doom and gloom.


SEE ANOTHER SIGN'S DAILY HOROSCOPE:

MORE SAGITTARIUS FORECASTS: