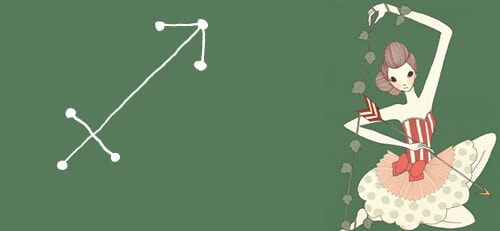 08-25-2014
Ready, set, soar! Today's industrious Virgo new moon illuminates your tenth house of ambition, setting you up for major success over the next sixth months. The timing couldn't be any better for getting a supersized mission into motion. Get crystal clear on your vision, and communicate it others. It could land you some experienced and influential people eager to lend a hand. Save the humble pie for another day, Archer. Show the world what you've got, and you could be considered a respected leader in your field by next March.

08-26-2014
Keep your eyes wide open today, Sagittarius! With manic Mars and slow-moving Saturn merging in your foggy twelfth house, you need to stay on your toes. That means no multi-tasking, especially while on the go. Walking and texting at the same time is asking for an accident. Same goes for while you're driving. If your GPS needs tuning, do it at the side of the road. You've been known to have two left feet anyway, Archer, so err on the side of caution. On the upside, this cosmic combo could draw an influential mentor your way. Be gracious and enthusiastic if this VIP lends you support.

08-27-2014
Up, up, and away! Today's Virgo moon electrifies your ambitious tenth house, giving you the mojo to make a massive power play. Don't even think of second-guessing yourself, Sagittarius. When your instincts give you the green light to make a call with everyone's best interests in mind, go with your gut. Late afternoon, la luna shifts into Libra and your fun-loving eleventh house. Being a leader can get lonely, so move into collaboration mode and bring others onboard with one of your solo missions. Tonight, let your hair down during a lively group dinner, or at your favorite karaoke club. Belting out tunes is a great way to blow off steam.


08-28-2014
Today's stars call for clarity when it comes to your desires. While you need to be explicit about your expectations, there's no need for this to become a dramatic discussion. What you focus on gets larger, Archer, so be intentional with your thoughts and words. If you go on and on about what's hasn't worked and lack faith in the future, you'll just get more of the same. Entice others to join Team Sagittarius by exuding a positive and confident attitude about your plan. You won't be able to convince everybody, so let those few holdouts go their own way. It will make room for people who are a much better match.

08-29-2014
You're keen to whip your world into shape today, but a foggy Sun-Neptune faceoff throws you a curveball. While you may start out motivated to donate those clothes that haven't seen the light of day in years, you could end up bringing them to the front of your closet. Or, you may decide to cut out caffeine, only to give into your craving with a post-lunch double espresso. There's no need to go to extremes, Archer. Moderation is the most sustainable approach forward, so aim to find middle ground.

08-30-2014
The here-and-now is where it's at, Archer. This Saturday's stars prod you to let go of rigid timelines and agendas. Planning for the future is all well and good, but spending too much time projecting ahead can lead you to lose out on today. Dreaming is in your genes, Sag, so why not try a different approach to realizing your desires? Set aside the calculator and those spreadsheets. Then, pull out your scissors, glue stick, and a stack of magazines to create a vibrant vision board. Come Sunday, stern Saturn merges with both the moon and Mars in your twelfth house of transitions. While endings can be painful, remember that they only make room for something better to take its place. Be honest with yourself and let go of that situation, person, or behavior that's preventing you from being your best self. It's high time to unfurl your grip on this stale dynamic. Forgiveness can release you from these chains. As much as you'd like to direct the outcome, don't bother trying. An "earth angel" could show up willing to lend an assist. Remember: suffering is optional, Sagittarius.



SEE ANOTHER SIGN'S DAILY HOROSCOPE:

MORE SAGITTARIUS FORECASTS: