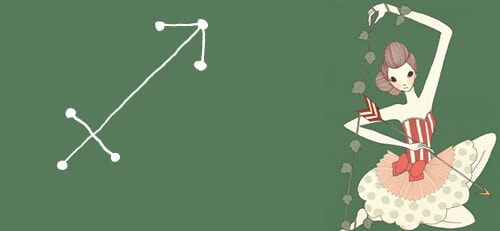 11-24-2014
Today's Sagittarius moon inspires you to blast out of the starting gates, but don't jump the gun. Make sure you consult with your crew before taking on additional responsibilities or making a decision that affects everyone. While your drive and determination is formidable, Archer, no (wo)man is an island. Look for ways your close friends and family can support you in your most recent ventures. Knowing they have your back allows you to soar to new heights.
11-25-2014
Forgiveness doesn't wipe your memory bank clean, Sag, something the stars remind you of today. You could come to the realization that your world no longer has room for someone you used to adore. If this particular person has hurt you in the past, does evidence exist that they won't do it again? If the offending party hasn't done the inner work to truly change, don't walk back into the lion's den. While it may be sad to say goodbye, it's far better than getting burned again.
11-26-2014
Money flows through your fingers like water today, Sag, so keep your wallet on lockdown. Sparkly, shiny things make you go weak in the knees, thanks to the moon merging with Mars in your second house of luxe. Steer clear of the boutique district and all shopping malls today. Delay instant gratification with a Pinterest "wish list" board, or by setting up a special savings account for that coveted objet. If you do cave to the urge to splurge, make sure it comes with a return policy.
11-27-2014
Express yourself! Today, communication planet Mercury decamps to Sagittarius until December 16, making your sweet-talking ways sharper than ever. You're not afraid to say what's on your mind, and your style will mirror your loud-and-proud opinions. From streaking your hair purple to coming clean about a secret part of your personality, you want to let it all hang out. But if you anticipate a cool reception from la familia, save those grand debuts for like-minded friends who fly their freak flags with pride.
11-28-2014
Reserve the morning for some BFF bonding or quality time with a sibling. Take a stroll through nature together, linger over cappuccinos and croissants, or be a dynamic deal-finding duo at Black Friday. This afternoon, the moves shifts into your domestic fourth house, summoning you back to Chateau Sagittarius. Feather your nest, and make it inviting for the guests you may choose to host tonight. Keep it low-key, though. Turkey sandwiches and a couple of movie rentals will be just your speed.
11-29-2014
As the most well-traveled sign of the zodiac, investing time in Chez Sagittarius often doesn't sit high on your priority list. But even nomads need a comfy nest to come back to, Archer. This Saturday, a balancing quarter moon in Pisces and your domestic fourth house helps your home feel more like the haven it should be—instead of a place to shower and change your clothes. Let the zhushing commence! You might need to take some time supporting a relative or roomie. Just make sure you establish clear boundaries so this person's concerns don't eat up half your day. On Sunday, you can no longer turn a blind eye to an issue with a lady in your life. The last thing you want to do is generate conflict, but it's really eating at you. Approach this sister with sensitivity, preferably face to face. She could very well go on the defensive, but make it clear that you only want the best for her—sans judgments. At the end of the day, she'll appreciate your candor and compassion. Long live BFFs!
MORE SAGITTARIUS FORECASTS:

SEE ANOTHER SIGN'S DAILY HOROSCOPE: