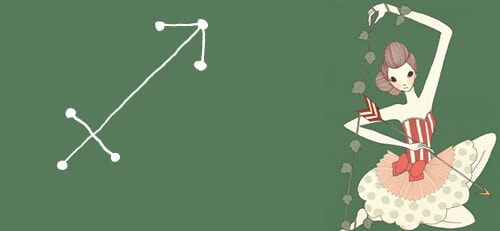 07-21-2014
Bestseller list or tabloid headlines? You want to leave your mark on this world, Sagittarius, but make sure you're imparting the best possible impression. Disruptive Uranus backspins through your fifth house of fame and self-expression. Watch what you put out there, lest you invite bad publicity into your life. Keep emotional meltdowns at bay at kickboxing class, in the dance studio, or on the treadmill. As the fifth house also rules romance, this Uranus retrograde could churn up conflict in your love life. Your paramour may suddenly show disinterest. Don't waste your time on people who can't commit and redirect your frustration into a creative endeavour.
07-22-2014
Archer's large and in charge! Starting today and lasting until August 22, the daring Sun moves into fellow fire sign Leo and your know-no-bounds ninth house. Remove those blinders, and tap into the inspiration now coursing through your veins. Remember: you're only limited by your imagination. From travel to study to entrepreneurial ventures, you're on a one-way track to expansion. Look well beyond your own backyard, Sagittarius. You could become a household name on another continent. Go get 'em!
07-23-2014
Coupled Archers can get by with a little help from their friends. If your relationship has veered onto a rocky road, take a temporary breather. Then, call on your awesome amigos to support you through it. Just choose your confidantes carefully. Calling on the drama queens in your circle will probably augment your angst. Seek out sage advice from those peeps whose track records in the love department speak for themselves. Unattached and unhappy about it? Let your pals play matchmaker today, and they could introduce you to a promising prospect. Make a point of letting them know the traits in a partner that really turn you on.
07-24-2014
As the truth-telling sign of the zodiac, honesty is usually the name of your game, Sagittarius. Under today's alignment of the Sun and candid Jupiter, your shoot-from-the-hip style is in prime form. Never mind going along to get along, or turning a blind eye to conflict. If you want your desires met, diplomatically ask for what you need. Also, opportunity could come knocking from afar or via a cross-cultural connection. If inspiration strikes, follow that urge. Your indie spirit is raring to go, so don't get slowed down by others. Forge ahead!
07-25-2014
Three, two, one, detox! And we're not talking about cleansing your liver, Sagittarius. With get-down-to-business Mars touring your twelfth house of transitions until September 13, clearing away the excess shoots to the top of your priority list. From going on a massive decluttering mission to cutting ties with that ex who's been stringing you along, you now have zero tolerance for toxic vibes. Just proceed with caution. Brazen Mars could cause you to act before thinking things through. If you really have reached the end of the road, close the door thoughtfully and compassionately.
07-26-2014
The truth shall set you free. Saturday's new moon in your sage ninth house inspires you to open your mind and invite deeper meaning into your world. Your search might even lead you to a faraway locale over the next six months. (Not that we need to twist your arm to add another stamp to that passport, globetrotting Sagittarius.) Entrepreneurial endeavors and media projects are also blessed under this lunar light. If haven't yet become your own boss or scored an impressive byline, you could realize such goals by the corresponding full moon on February 4. On Sunday, things aren't as they appear to be. Trust can't be formed overnight, so keep this mind should you experience synergy with intriguing new souls. By all means, dive into those lively discussions and enjoy the excitement of "clicking" with others. Just don't neglect to run the necessary background checks. A tricky angle between the emo moon and Saturn in your twelfth house of illusions makes you susceptible to being taken for a ride by a smooth-talking character. Also, have you perched someone up on a pedestal? Relationships work best when both of you are operating on the same level. While this person may have impressive credentials, you've also got some first-rate skills and gifts that are just as valuable.


SEE ANOTHER SIGN'S DAILY HOROSCOPE:

MORE SAGITTARIUS FORECASTS: