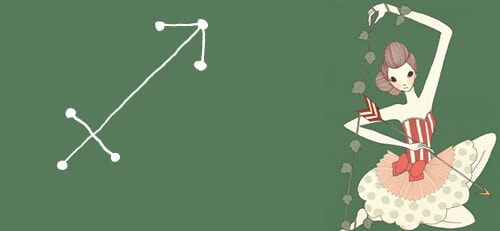 09-01-2014
Endings are never easy, Sag, but today's moon in your twelfth house of transitions helps make the process smoother. You could find yourself inspired to literally clean house, and donate items you no longer use. Or, you could have a healing conversation that finally puts a long-standing resentment to rest. It's a stellar day to relax and rejuvenate, ideally along a shoreline. Instead of choosing a popular beach town several hours away, choose a locale that won't leave you frustrated in stop-and-go traffic. Considering it's the last long weekend of the summer that might be a tall order, so bring along fun-loving friends to pass the time.

09-02-2014
Collaboration is the name your game now, Sagittarius. Today, communicator Mercury decamps to your interactive and innovative eleventh house for the next three weeks. You'll be at your best working as part of a team, so you might consider taking a solo mission and upgrading it to a group endeavor. From creating a public platform to hardcore networking, technology is your new best friend until September 27. Publish a blog, develop an app, launch a webinar series. At minimum, spruce up your social media profiles, and set up a couple new ones.

09-03-2014
Authenticity is the name of your game, Archer, and even more so today. A sweet angle between the moon in your sign and Venus in your expansive ninth house activates your vivacious veracity, inspiring others to live their own truth. Own the choices you've made, the entanglements you learned from, the mistakes you wish you could take back. Your honesty and self-acceptance helps others become more compassionate with themselves. With all this judgment-free energy floating about, you're bound to have soulful bonding moments on both the friend and romance fronts.

09-04-2014
Retail therapy alert! Today's moon-Pluto mashup in your second house of luxe gives you a supersized craving for high-end indulgences. While your will may be weak today, it doesn't mean you need to completely deny yourself. Before heading out to the boutique district or surfing your favorite online shopping sites, work out a budget and see how much you have to play with. If you don't have enough for that objet, set up a special savings account for it. Drop a few dollars into it today, and bring yourself closer to what you desire…perhaps even that travel adventure you've been dreaming about.

09-05-2014
Mapping out your long-term trajectory isn't something your sign is keen on, but dreaming is a different story. Starting today until September 29, amorous Venus transits Virgo and your goal-setting tenth house, calling on your inner creative to conjure up a love life you're truly happy with. Stop settling for second (or third) best. Don't plod along in a relationship without any idea of where you're headed as a couple. Carve out time for creative visualization to get a clear picture of your romantic future. Cupid's in your corner, so start making it happen.
09-06-2014
You hate to miss out on any fun, Archer, but is it worth driving yourself into the ground? We think not. This Saturday, be conscious of not stuffing your social schedule to the brim. Making brief appearances at every single shindig you've been invited to will leave you feeling unfulfilled, not to mention exhausted. Try a more sustainable and satisfying Plan B. Instead of compulsively checking the time so you can zip off to the next fiesta, choose one single soiree to attend. That way, you can let down your hair, and fully enjoy the moment. You really hate to let anyone down, Sag, but stop feeling like you need to prove your loyalty as a solid friend or supporter. Besides, you won't be much fun if you run yourself ragged. On Sunday, put on the detective's chapeau. Your gut instincts are solid, but don't assume they paint the full picture. Use your intuition to help you uncover the whole truth. A friend or a sibling could also move into over-demanding terrain, so be prepared to set clear limits. Steer clear of any sensitive issues though. You're feeling uncharacteristically thin-skinned, so best to talk it out with an uninvolved third party or vent to your trusty journal. Coming face-to-face with that person who's rubbed you the wrong way could end in tears. So not worth it.



SEE ANOTHER SIGN'S DAILY HOROSCOPE:

MORE SAGITTARIUS FORECASTS: