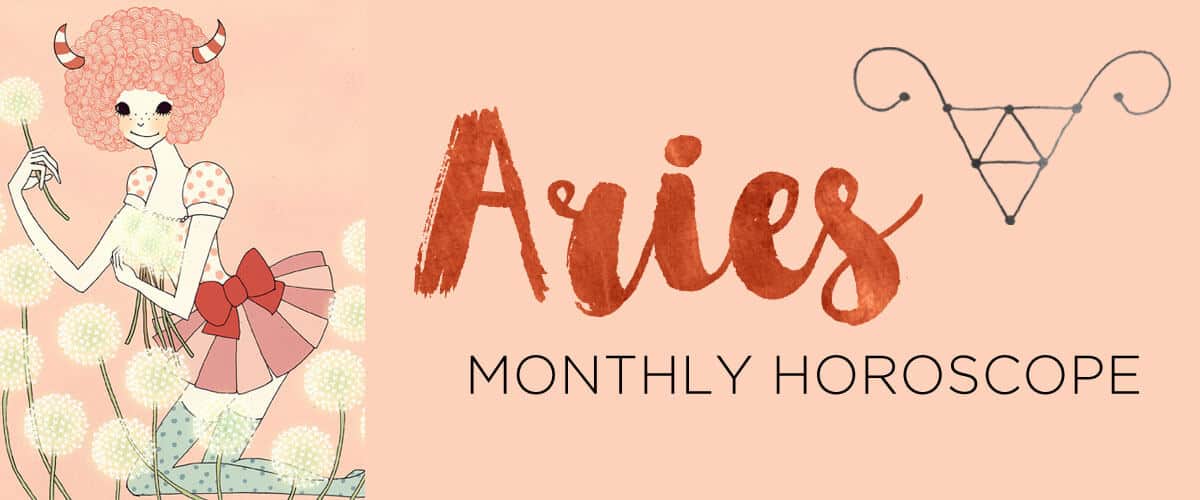 September 2019
You're in full make-it-happen swing as September begins, Aries, and you're staying on top of the details! The Sun is in Virgo and your orderly sixth house, the zone of work and wellness. As spontaneous as you can be, you also have a systematic part of your brain that's adept at connecting dots and putting together a master plan. When you have a clear goal in mind—and can keep yourself motivated—nobody can power to the finish line quite like a Ram on a mission!
With your ruling planet, Mars, also in Virgo from August 18 to October 3, you've got lots of energy to burn. Summertime hedonism gives way to a revitalizing quest for healthy living. In between your visionary projects, make time for a long twilight bike ride through the park. Fill your reusable bags with harvest hauls from the farmer's market (colorful shell beans, plums and bell peppers…yum!). Pick up guest passes to a few fitness studios and try their offerings. Go full Konmari on your home office and streamline your schedule. Mars only comes here every two years, so make use of its efficient and energizing presence!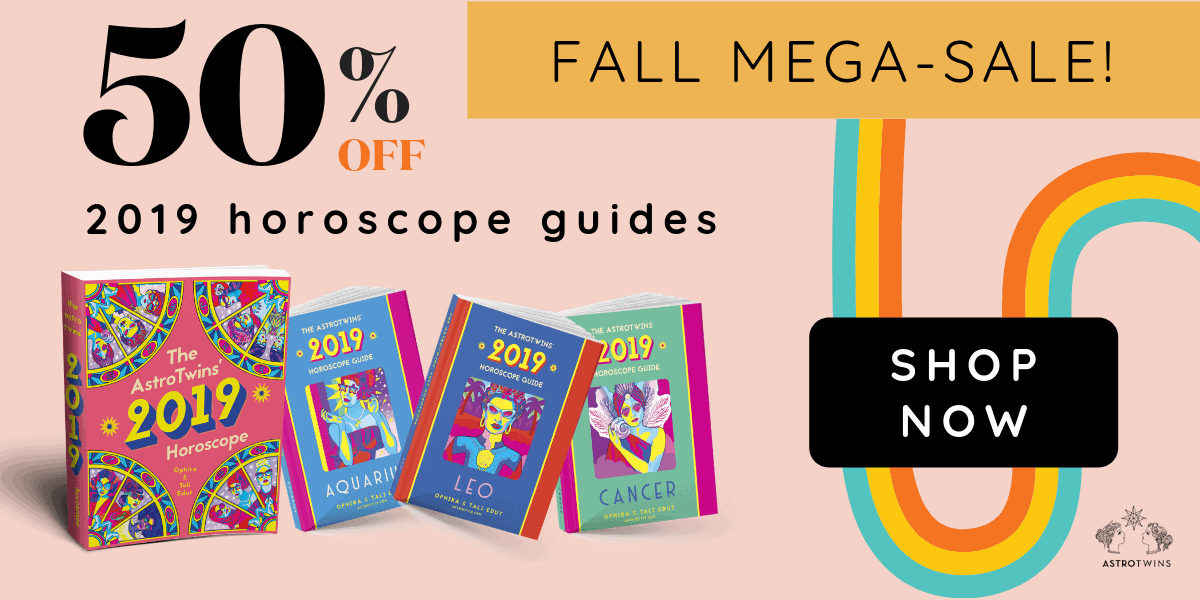 Warning: Mars can add stress and motivation in equal doses. Too much multitasking could leave you frazzled and weaken your immune system. To avoid a late-summer cold or making careless mistakes, slow down and don't take on a zillion responsibilities. Delegate—and be sure to hold your team members accountable by giving them clear instructions about deliverables. This is also an accident-prone transit, so be especially mindful with sharp objects and gym equipment—you don't need any sports-related injuries messing up your new workout schedule!
Staying organized will offset the planetary chaos that's also popping as summer winds down. All month long—and exactly on September 21—optimistic Jupiter and hazy Neptune will make their last of 2019's three dueling
squares
. It's a wakeup call to check whether your grand visions are actually rooted in reality, a concept neither planet is especially keen on. Both are in ever-changing
"mutable" signs
: Jupiter is in its native soil of starry-eyed Sagittarius, and Neptune's daydreaming in its home court of Pisces. This multiplies the delusional potential of this rare transit.
Jupiter and Neptune have been traveling in close contact nearly the entire year; they made two other alignments in January and June. As Jupiter in your ninth house of expansion and risk butted heads with nebulous Neptune in your twelfth house of illusions, it's been hard to separate fact from fantasy. Someone's lofty promises may have amounted to very little in tangible output. You could have bitten off more than you can chew, perhaps underestimating what a big venture will truly take to pull off.
This month, Mars will wedge itself into the Jupiter-Neptune conflict, forming a
T-square
, a three-way battle for the throne. You'll feel this tension from about September 8 to 18, and most strongly from September 12 to 14. During this transit, it's imperative that you put a proper plan behind your ideas, but not one that boxes you in so tightly that it kills creativity. It will take some navigating to find that sweet spot—and lots of communication. You've got big plans brewing, so take the time to do this right!
Aries, you don't like to be slowed down by asking permission (you'd rather beg forgiveness later). But if you don't check in with the other people involved, you'll have an even bigger mess on your hands. So don't take any shortcuts and go through the proper "approval process," even if it means you have to incorporate some outside feedback. But since this is a delicate balancing act, be careful whose input you solicit. Stick to a couple of carefully vetted people who have the qualifications (and honesty) to offer informed opinions instead of asking a million people what they think and ending up even more confused.
This T-square tension will be at full tilt right as the September 14 full moon blooms in Pisces and your twelfth house of endings, healing and the subconscious. If you've been searching for your answer, look within. Since full moons also spark conclusions, you could get a double dose of closure now—or the information you need to finally decide whether to stay or go. With your spiritual sector activated, divine downloads could flood in. Ride the wave of a creative renaissance and capture all of these brilliant ideas. Just heed the warning of the T-square and don't rush to act on them. This day is about releasing what no longer serves you and surrendering to the moment.
You could be especially tired at this full moon, as the twelfth house is the realm of sleep and dreaming. Give your body the rest it deserves, especially if you recently started a fitness routine. Let those muscles rebuild! If you've been waiting for health news, you could hear it now. For Aries dealing with a medical issue, the healing Pisces full moon can help you come up with solid treatment or prevention plans. And if you're dealing with addiction or emotional blocks, this lunar light will illuminate the path to recovery.
Your career becomes the central issue once this wave passes—all the more reason to let the feelings and confusion surface so you can untangle them. On September 18, structured Saturn wakes up from a four-month retrograde in Capricorn that began April 29. With the ringed taskmaster now marching on-beat through your tenth house of ambition and leadership, you're ready to get back to business!
Your professional aim could hit bow-and-arrow precision on September 19, when eagle-eyed Pluto and competitive Mars align in a harmonizing
trine
, activating your career sectors. Got an idea to pitch? Impeccable timing and a presentation to match could win you major support. This is an excellent day to polish up any rough edges and prepare for a smooth entry into fall—from your work habits to your wardrobe to your mindset.
Discipline and integrity are Saturn's marching orders as he powers forward. But this is a longer cosmic evolution that you've been immersed in for nearly two years. This slow-and-steady Saturn cycle runs from December 2017 to December 2020—and Saturn only visits each zodiac sign every 29.5 years. You're learning crucial lessons about business, power and management. If you've been rebellious toward authority, you may find yourself in that top-dog position (and realize, to your chagrin, how bratty you've acted at times). Or, if you've been hesitant to step into your power and take on the responsibilities that seem to clip your wings, Saturn will give you the necessary stamina. Working with a coach or mentor can keep you on track.
The tenth house also rules fathers, and you may have been navigating a period of maturity related to your own dad or a paternal figure. Your relationship to men and masculinity could be challenged by Saturn—and certainly it's a complicated matter in this patriarchal world. Although you don't want to rush to make gender-based generalizations, you've certainly become aware of anything "old-school" that feels oppressive. With Saturn moving forward in Capricorn, you may decide to change the system from within, working inside the ranks of an established hierarchy rather than attacking it from the outside. It could feel like a strange position for you, but one that could be incredibly powerful.
Luckily, you'll get a helping of harmony—and support—starting September 23, when the Sun shifts into Libra and your seventh house of partnerships for a month. Commitments turn serious, whether for romance or business. Prioritize your most important relationships and give them your devoted attention. At the September 28 Libra new moon, someone could propose a permanent arrangement, whether that's with a ring, a promise or a signed contract. Since new moons can take up to six months to unfold, pay attention to the people you meet near this date. One or two could become prominent players in the coming days.
If you're always the one in charge, dial down the DIY and allow others to take the helm. Libra is your opposite sign, and with the Sun at its farthest position on the zodiac wheel from yours, energy could be in short supply. That's all the more reason for you to lean on your squad and delegate to capable crew members. Just because you CAN do it alone doesn't mean you should, Aries!
Check out what's going on for…
Recommended: Aries Love Horoscope