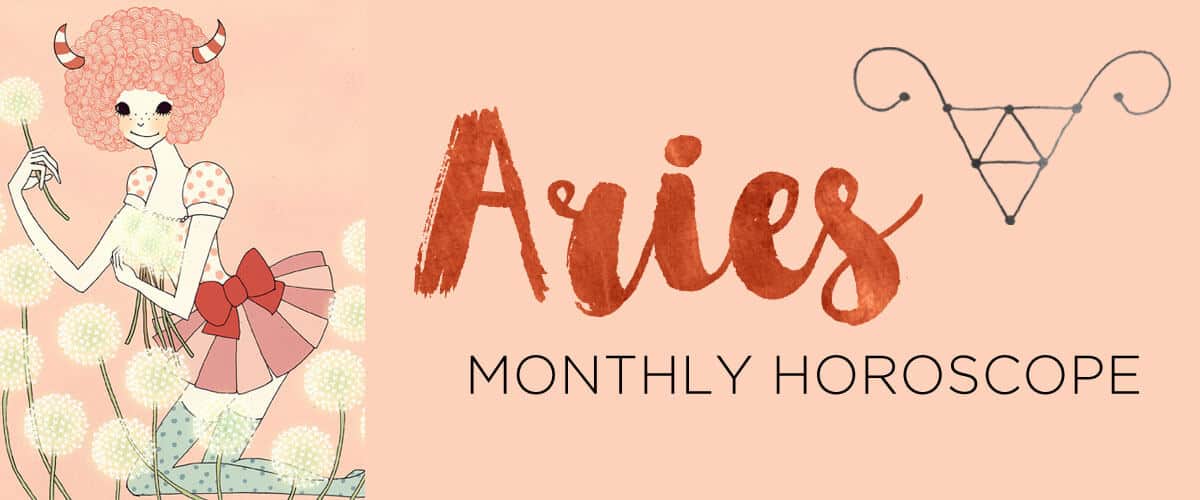 July 2019
Feeling lost is uncomfortable, but it's not necessarily a bad thing, Ram: You've grown so much this year, and you need new and bigger spaces to accommodate Aries 2.0., especially since your rapid expansion will be continuing all year. (And claustrophobia is NOT a good look for you!) Although your sign doesn't shy away from radical change, you freeze up when confronted with too many choices. July presents ALL the options for review: from relocating to career change to transforming your family ties. The month is bookended by a rare double-header of new moons (on July 2 and 31), ideal for trying something new.
The tricky part? Dueling forces overhead are playing the "hurry up and wait" card. You can't just pick a direction and barrel ahead. Instead, do your best to get grounded and turn inward. A gut check (or ten) could be your saving grace, especially while the Sun is in Cancer and your fourth house of home, family and emotional intelligence until July 22. Feelings may not be facts, but they're a reliable GPS during Cancer season. If you get hit by a wave of raw emotion, STOP and do not pass Go until you figure out what this internal broadcast is trying to tell you.
A huge day for emotional awakening arrives on July 2, when a Cancer total solar (new moon) eclipse rocks this domestic and anchoring part of your chart. It's the first of this month's two eclipses (the second is a Capricorn lunar eclipse on July 16), which are falling across your axis of home and career, public and private matters, personal and professional. This polarizing pair will demand that you strike a balance between the two poles. The Cancer/Capricorn eclipses are also activating your "mother" and "father" zones, which can bring you face-to-face with any unresolved family of origin baggage.
Solar eclipses, in our experience, can be a little easier than lunar ones because they're new moon events that bring bold beginnings. The July 2 Cancer eclipse could prompt a move or a significant change under your roof—from the occupants to the decor to the house rules of Chateau Aries. The fourth house is linked to mothers and female-identified people, and this eclipse could spark an important new chapter of your relationship. Is it time to bury a grudge or forge a more accepting relationship of each other? A helpful woman could open an important door, catalyzing something major that unfolds between now and the new year.
Mercury rules all forms of communication—from signing contracts to social media posts to technology. It also governs transportation (cars, subways, commuting systems) and travel. When Mercury turns retrograde from July 7 to 31, your basic attempts to get a message across, or to get anywhere on time, can turn into an utter s***show. Electronic data and devices, if not entire computing networks, can break or have inexplicable outages. Travel plans can go haywire, so confirm all reservations and passport expiration dates before your summer vacay—and then reconfirm just as you're leaving. The silver lining? Retrogrades are ideal for revisiting, revising, slowing down and reflecting. Finish up all those lingering projects. Reconnect with cherished loved ones. If you can squeeze in ANY more time to check the fine print or research before signing on the dotted line, please do!
This go-round, Mercury starts its retrograde in Leo and your passionate fifth house, then backs into Cancer and your touchy-feely fourth house from July 19 to 31. During the Leo portion, your love life could get a little rocky unless you temper your fiery, knee-jerk reactions. Maybe you stuffed down some anger toward a partner, and you need to express it. Choose your words carefully now. If you can't say it calmly, this period might best be used to work through that resentment with a skilled therapist. With the eclipses activating your parental zones, old family baggage could easily be the culprit. Maybe the problem is NOT just that infuriating thing they do, Aries—but rather, the way you respond to it? Dig deep to figure out what's actually triggering you here.
Since retrogrades rules the past, an old flame could reappear. Maybe you start scrolling through an ex's feed, then you open a chat window and...who knows? You could even randomly bump into a past love. Should you go there? Maaaaaaybe. If you broke up due to bad timing, this retrograde could supply a second shot at love. But this "blast from the past" could also be a reminder not to sell out on your needs and values. Sure, you might feel wildly attracted, but do they show up hours late or develop cold feet at the first sign of emotional attachment? Do NOT overlook the red flags.
When Mercury backs into Cancer on July 19, you'll really connect with those intense feelings. We won't lie: It could be deeply uncomfortable. Book time for an "ugly cry" or a good kickboxing session to move some stuck emotions. On the upside, this is a fruitful time for nostalgia. Visit beloved family or a favorite childhood vacation spot. Head to your hometown and make plans with old friends. Look through photo albums or incorporate some heirlooms into your decor scheme. Heads-up: If you're moving or home-hunting, this part of Mercury retrograde could throw some curveballs.
One or both of your parents could be central figures in this month's radical changes. This will be fueled on July 9 and 14, when the Sun in Cancer locks into volatile oppositions with rigid Saturn and power-tripping Pluto respectively. Saturn and Pluto are in Capricorn and your tenth house of boundaries and authority figures. If you feel judged or controlled by ANYONE, you might fly off the handle.
The month's second eclipse on July 16 will make a LOT of things clear. This lunar (full moon) eclipse lands in Capricorn and your tenth house of career, long-term goals and leadership. It might be a huge professional turning point, one that could involve a promotion, an out-of-the-blue offer or an epiphany about what your next ambitious chapter should be. This lunation can also see a key person or role "eclipsed" away—the sudden departure of a boss or client, a shakeup at your office or departmental restructuring.
The role of eclipses, especially lunar, is to sweep away what no longer serves us and clear a path for a better fit. If one position ends or a deal doesn't work out, let it go. The stars are most certainly making space for something MUCH more suited to you. Since the tenth house rules fathers and male-identified people, events near this eclipse could bring big changes to a relationship with one such person. If you've got any unresolved "dad issues" (and let's get real, who doesn't?), it's time to deal. A phase of your relationship, or a way you've treated each other, may need to end so you can start fresh.
Whew! It's a lot to navigate. Luckily, the stars begin serving up some much-needed fun and play on July 22, when the Sun swings into Leo and your expressive, passionate fifth house. Your ruler, Mars, is also here from July 1 to August 18, which will heat up prospects for summer lovin' and spike your inspiration around a creative project. The fifth house rules fertility, so Aries of the childbearing set should consider themselves notified.
The month ends with fanfare as the July 31 Leo new moon—the second new moon this month—opens a fresh chapter for love and passionate connection. As if on cue, Mercury ends its frustrating retrograde that same day, clearing the channels for you to bring your full, open heart to everything you do!
Check out what's going on for…
Recommended: Aries Love Horoscope