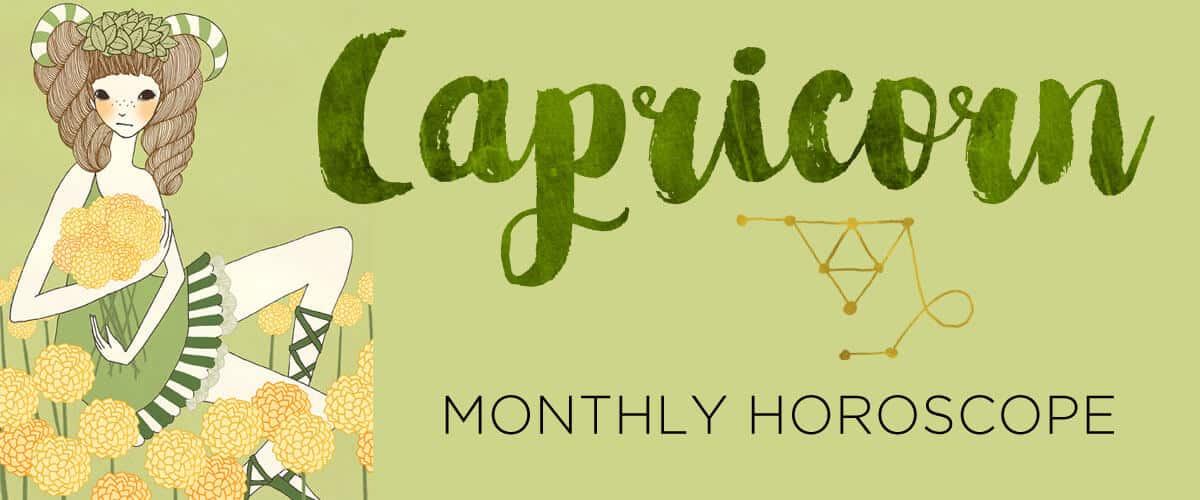 February 2019
Buckle down and get it DONE, Capricorn. With the Sun marching through Aquarius and your industrious second house until February 18, practical matters take precedence. Last month was filled with changes sparked by the January 5 Capricorn solar eclipse. That brought a whirlwind of new options and ideas, which were catalyzed by a second eclipse—the Leo blood supermoon—on January 21.
With two more eclipses landing in Capricorn this July and December, your reinvention tour is just warming up. While more plot twists are ahead, February can anchor you…at least until the next eclipse shakes up your carefully crafted plans in a few months. Make short-term goals and don't set too much in stone. Stay flexible! Eclipses bring surprising options, and you don't want to be so locked into your commitments that you can't take advantage of serendipities that may befall you.

For now, start streamlining and prioritizing. The February 4 Aquarius new moon kicks off a fresh six-month cycle for prosperity and productivity. Which efforts will bring the highest return on investment? At work, break your projects into action steps you can cross off one at a time. If you're job hunting, this is an ideal moment to call a recruiter or accelerate your search. Get a smart budget in place, along with your yearly calendar. The second house rules daily routines, making this a fruitful time to change a habit or start following a simple regimen. Whether that's a regular bedtime, getting your ten thousand steps in or cutting back on refined sugar, you'll see results.
And don't forget the fun! On February 5, the Chinese Lunar New Year waves goodbye to the territorial Dog and ushers in the pleasure-centric Earth Pig. The next 12 months are all about working hard AND playing hard. As a responsible Capricorn, you tend to leave out the playing part—but it's essential to your growth and wellbeing. Unlike the guarded and hierarchical Dog, the Pig is a communal and egalitarian animal. Life will be much more fun—and far less stressful—when you come together for a common cause or goal.
While work will keep you busy, there's also a lot of action on the home front this month. Energizer Mars is making its biannual visit to Aries and your domestic fourth house from January 1 to February 14. This could stir up friction under your roof, perhaps with a roommate or family member or from nearby construction noise (jackhammers at 7:00 am, guys—really?). You might have a hard time relaxing with invasive Mars all up in your abode. Consider trying out new furniture configurations or doing a Konmari-level decluttering (check out our new Feng Shui section for ideas.
Unpredictable Uranus is also in Aries, rounding out an eight-year visit on March 6. With both of these disruptive planets in your home zone, some Capricorns might buy or sell property, move or redecorate in a completely new style. On February 13, Mars and Uranus will make an exact conjunction in Aries, an explosive connection that brings intense emotions into the open. It'll be hard to hold back when these hotheaded planets unite, but be careful not to burn your bonds with angry (and irretrievable) words. Call a time-out if things devolve into cruelty and low blows.
Mama drama alert! This Mars-Uranus connection could bring a curveball event with your home or a female relative. Pregnancy or adoption news might arrive midmonth. A powerful and outspoken woman could be linked to any shakeups, especially related involving your living situation. Mars and Uranus will never again meet like this in your lifetime. If you've been dragging your feet on a big personal-life change, this is your window to take a courageous risk, even if it's a little shocking.
On Valentine's Day, Mars will move into Taurus and your passionate, playful fifth house: Mood swings and family flareups begone! Between now and March 31, the red planet stokes your creativity and libido. You'd rather be out dancing or delivering an epic performance on the karaoke mic than rehashing the latest melodrama about your cousin's niece's whatever. This glamorous transit turns a keen eye to your closet. Add some bold colors, patterns and personality to your wardrobe—and sharpen up your hair game while you're at it. Teamed with beautifying Venus in Capricorn all month, Mars in Taurus is high season for an extreme makeover. Snap a selfie while you're admiring your updated reflection. Vibrant Mars in your fame sector will draw admirers, so you might as well dazzle them! In addition to building your fan base, you'll attract romantic prospects with little effort now.
But even with Mars stoking your fire, Valentine's Day proper could be a little underwhelming. The moon is in Gemini and your sixth house of health and organization. On top of that, it's forming a tense T-square to nebulous Neptune in your social sector and Jupiter in your sleepy twelfth house. You might prefer a good workout then a chill night at home with a few close friends—or your favorite pillow! Give your body some love in the name of Cupid and enjoy a big salad or a great vegan dinner and vibrant conversation. This cosmic lineup could also inspire a decluttering. Got a few nice things that you no longer love? Gift them to friends or take them to a consignment shop. If you don't adore it, don't keep it.
On February 18, "wounded healer" Chiron will move into Aries, staying until April 2027. Chiron made a brief pit stop here from April to September 2018, then receded back into Pisces. While Chiron is in Aries, we'll collectively mend old scars around visibility, self-esteem and identity. According to mythology, Chiron was a healer who couldn't heal himself. Under his influence, we transform by helping others overcome struggles that we've dealt with (and may still be muddling through). It's the ultimate act of service, where the giver ends up receiving an unexpected karmic gift.
For you, Capricorn, Chiron will enter your fourth house of home and family, helping you process deep-seated issues around your roots. Healing issues of codependency, especially with your mother or a child, could become a crucial piece of Chiron's puzzle. Working with women, possibly survivors of abuse or broken homes, could become an unexpected passion. There's no shortage of opportunities to help women and girls boost their self-esteem and command their worth—and you could play a hand in shaping the next "She"-EO taking boardrooms and C-suites by storm.
These themes won't be entirely new because radical Uranus has been in Aries since 2011, shaking up the status quo in this zone of your chart for years. On March 6, Uranus will permanently exit, passing the transformational baton to Chiron for the next nine years.
Also on February 18, the Sun will start a monthlong visit to Pisces and your social third house. You're such a hard worker, Capricorn, but you'll accomplish more by getting out and circulating. Hit some local hotspots, commune over coffee with a client prospect, RSVP yes to more industry cocktail hours.
And hey, aren't you due for some vacation time? The February 19 full supermoon in Virgo sparks up your ninth house of travel, inspiring you to hit "book now" on a bucket list trip. The ninth house also rules entrepreneurship and learning. If you're thinking of starting a business (or have a budding venture underway), take an important action today. A class or workshop could deepen your knowledge, giving you more confident about putting yourself out there. Have you been procrastinating on an important conversation? The full moon in your outspoken ninth house could get the #RealTalk flowing. Be kind and respectful, but don't hold back the truth. There, don't you feel better with that off your chest?
Want some more?
Check out what's going on for…