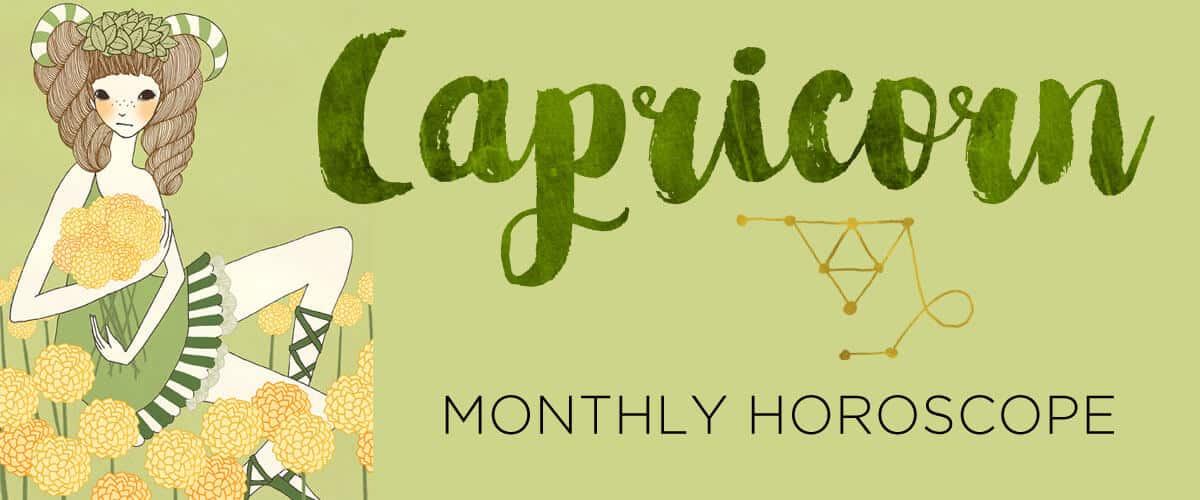 August 2019
A reflective month is ahead for you Capricorn, so silence those notifications and block off plenty of time to yourself. The Sun is taking its annual plunge through Leo and your eighth house of merging, intimacy and privacy until August 23. Ignore the #LeoSeason memes about glamming up and getting fierce. For you, this is a time to go into "focus mode" and reserve your attention and considerable energy for a detailed project or a few close relationships.
The eighth house governs the space where we combine our resources—whether that's time, money, emotions, sex—into a greater and more powerful entity. This month, it's all about quality over quantity. Who are the people that you become MORE of your best self when you spend time around them? Which investments (financial and emotional) are paying off and which ones are draining you? This month, you've got the cosmic okay to move energy-sucking commitments to the giveaway pile, and then ship 'em out for good.
With the Sun heating up your sensual eighth house, a love affair could intensify. But this is no lighthearted fling, Capricorn. The mind-body-soul connection of the eighth house will have you forming an attachment to anyone you get close to, whether you mean to or not. Do you want to get this enmeshed, Capricorn? Under these stars, a connection can turn into an obsession if you aren't careful. Tunnel vision can also kick in at work.
On December 2, Jupiter will begin a yearlong visit to Capricorn—a thrilling start to a fresh 12-year chapter of your life. If you've been feeling more "dark nights of the soul" or just dealing with a LOT of emotions you've swept aside over the years, know that this beacon awaits. But until then, don't shy away from your emotions or from doing the work of truly understanding your deepest motives. Addictive patterns, avoidance, codependence—any of the "ugly truths" of being human must be faced now. When you surrender (which is SO much harder than it sounds!) instead of swimming upstream or trying to control the outcome, miracles flood in. The next four months are here to give you a taste of that.
If you're an artist or healer of any kind, lucky Jupiter in this mystical zone could be a boon for your visibility. But you could just as happily slip into the "studio" or disappear into your creative bubble and do some of your finest work. Exploring the subconscious or even plant-based therapies might appeal to you. Got some forgiveness work to do? Working with a therapist or skilled pro could bring major breakthroughs before the end of the year. You've got huge opportunities ahead for the new decade, Capricorn. Why drag any unnecessary baggage into it?
With Uranus retrograde for the rest of the year, an old romance could resurface, but it could also create a bit of chaos—so be careful before you open that door. You might return to a back-burnered creative project or distance yourself from a situation that's bringing up anger and tempestuous emotions.
Your mind is on stability on August 15 when the year's only Aquarius full moon plants itself in your second house of work, money and daily routines. The spotlight's on your budget and routines now, Capricorn. Review your spending and saving. Tweak your budget for the remainder of 2019. Put a few solid habits in place to prepare for "back-to-school" season. What makes you feel anchored? Simple shifts like going to bed an hour earlier or eating at regular times can make a world of difference.
Ready to change careers or just be more productive? Tap into the Aquarius full moon energy for support. If you've been wooing a client or going back and forth with negotiations, today brings a decisive moment. And if you keep banging your head on a glass ceiling, consider this: Maybe you've gone as far as you can in this role. Full moons can bring endings, so if it's quitting time, here's your exit strategy, Capricorn. If appropriate, you could also introduce the idea of a promotion or a raise—or make a bold request to be switched to a more stimulating project. If you can't leverage that, perhaps you could get a couple work-from-home days. That flexibility could be a lifesaver!
Freedom becomes even more of a coveted state starting August 23, when the Sun starts its monthlong visit to Virgo and your ninth house of adventure, travel and risk-taking. With energizer Mars also in Virgo from August 18 to October 3, you'll be emboldened to take a chance on a visionary plan. Maybe you'll plan an epic getaway, launch a business idea or return to school to pursue a passion. Don't limit yourself; Mars only comes here every two years, giving you an extra shot of motivation.
When the August 30 Virgo new moon arrives, a long-distance opportunity or a chance to take a grand leap of faith could present itself. You don't have to give an immediate yes since new moons can take up to six months to fully reveal their gifts. But DO spend some time pondering your purpose and being deeply honest with yourself and others. This outspoken new moon encourages you to get real, even (maybe especially) if it's uncomfortable.
Life goes by fast, Capricorn, and this year is truly reminding you of that. With goal-driven Saturn (your ruler), transformational Pluto AND three life-changing eclipses in your sign all happening in 2019, change is inevitable. Better to be in the driver's seat than to just let it "happen" to you, right? The unknown can be scary, and we get it. But resist the urge to try to control or manage everything. Consider the Virgo new moon your call to action—seize the reins of whatever's next and make it into the most exciting ride of your lifetime!
Check out what's going on for…