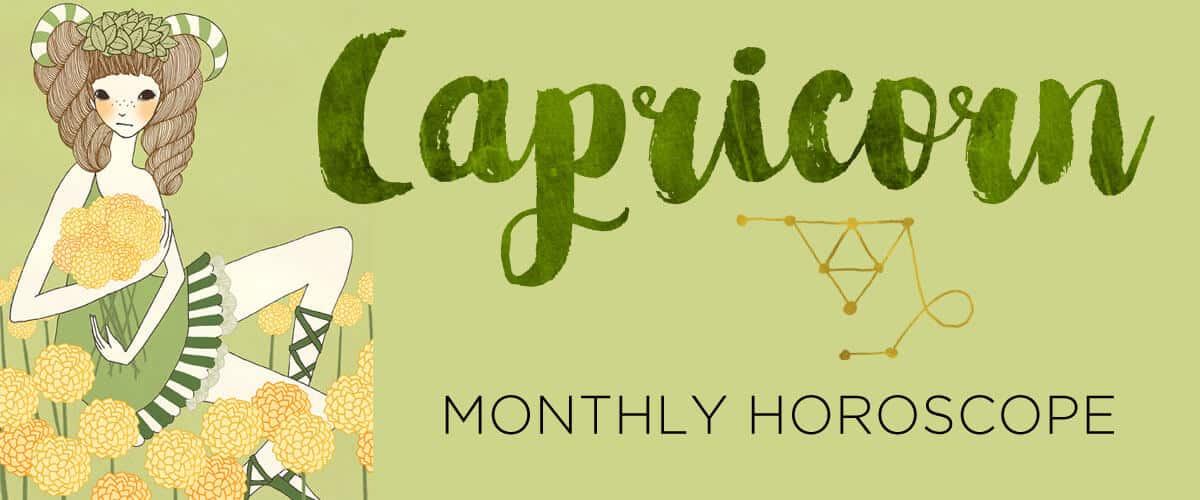 April 2019
Hunker down at home base, Capricorn. April marks one of the most internal and domestic months in a year already colored by a cacophony of emotions that have washed up without much warning. You're releasing major blocks and baggage, stripping away inauthentic parts of yourself and getting vulnerable. While some zodiac signs might welcome this, it's almost counterintuitive to your nature. Yet, here you find yourself, unable to get around those feelings…so you might as well go through them wholeheartedly.
In this acceptance of the process, you'll find your power. And the Sun's visit to Aries and your anchoring, emotional fourth house until April 20 will be your lifeboat—if you let it. That means doing some uncomfortable things like admitting "weakness" and "imperfection," dropping your mask and asking for support. At the April 5 Aries new moon, a new emotional chapter could open that unfolds over the coming six months. You might do some work around breaking childhood or ancestral patterns or get inspired to reconnect with your roots. Other Capricorns could relocate or start house-hunting this month. Where could your living situation use a little change, Cap? Whether it's a fresh coat of paint, a new roommate or a "for sale" sign sunk into the lawn, see what the new moon inspires.
The first planet to retrograde is Jupiter, which will rear through Sagittarius and your twelfth house of closure, healing and transitions. No, it's not some kind of cruel punishment: This entire year is a rare opportunity to let your desires, not your dutiful nature, dictate. That's because Jupiter is making a rare trek through Sagittarius and your healing twelfth house from November 8, 2018, until December 2, 2019. From April 10 to August 11, Jupiter will turn retrograde, a time to connect to your deepest feelings and do some healing or forgiveness work. You might release an outmoded situation or grieve a loss that you haven't processed. Maybe you'll spend time developing a creative or spiritual gift with the help of a masterful mentor.
We know, it sounds so heavy, but fear not: It's all leading somewhere. On December 2, lucky Jupiter will soar into Capricorn for a year, kicking off a fresh 12-year chapter of your life. Dragging baggage into that new era would be a waste! The planets are inviting you to handle it now by doing the real work instead of skimming the surface. Prioritize personal growth, inner work and creativity—and focus on closure around any painful parts of your past.
The one day to pull out of your cocoon will be April 19, when the second of two back-to-back Libra full moons illuminates your tenth house of career. It all started on March 20, when the Libra full supermoon may have brought a professional matter or a grand goal into the spotlight. But this could stretch back to the Libra NEW moon of October 8, 2018, which planted the seeds for whatever you might harvest now. Your diligent effort could pay off in the form of recognition, a promotion or a leadership opportunity. Your relationship with your father or an important man could also be in the spotlight. Since full moons can bring transitions, you may decide to exit one path and shift onto another.
Finally, on April 20, some long-overdue fun enters the picture as the Sun begins its annual foray through Taurus and your fifth house of passion, pleasure and play for a month. The next four weeks could awaken spring fever or bring a sizzling attraction into your sphere. For couples, enough with the couch-potato act—it's time to glam up and go have some decadent, well-deserved fun.
On April 22, the Sun will make a once-a-year conjunction with Uranus, the planet of unexpected events, which could spark a sudden attraction. With the feisty Sun and shock jock Uranus teaming up, you could be captivated by a rebellious type, someone who makes you feel a little bit "bad" (and badass!). But even if youthful Uranus hands you the equivalent of a backstage pass to flirt with your favorite band, consider the impact of your actions on others. This Sun-Uranus conjunction could just as easily heat up egos and tempers. Catch your knee-jerk reactions before they detonate. This astrological alliance could also spark a stroke of creative genius today. Be ready for the muse in case she makes an unannounced appearance!
On April 24, your soul-searching spring/summer begins as transformational Pluto begins a retrograde through Capricorn that will last until October 3. You've weathered these five-month backspins through your sign since 2009, so questioning your identity, worldview and goals has become something of an annual event. This year, Capricorns born between January 11 to 14 will feel Pluto's retrograde strongest. Is there some way you express yourself, an attitude or belief, that no longer feels true to you? Pluto's backspin could push you to change that. If you haven't been honest or above-board, evasiveness will no longer fly. No more hiding, Capricorn—it's time to let the world see your strength and reveal who you truly are.
From April 29 to September 18, your ruling planet, Saturn, will also turn retrograde in Capricorn, which could bring some fast-moving plans to a temporary halt if you haven't built them on a proper foundation. Inspector Saturn doesn't allow us to cut corners, and doubly so when retrograde in YOUR sign. This year, Capricorns born between January 4 to 11 will feel Saturn's retrograde strongest. Both Saturn and Pluto's backspin can test your willpower and mettle, forcing you to take a stand for your beliefs or commit to your priorities. While this might not be the easiest time of your life, it will be clarifying and, if you allow yourself to go through the process instead of fighting it, you could emerge with a true sense of resilience.
Check out what's going on for…