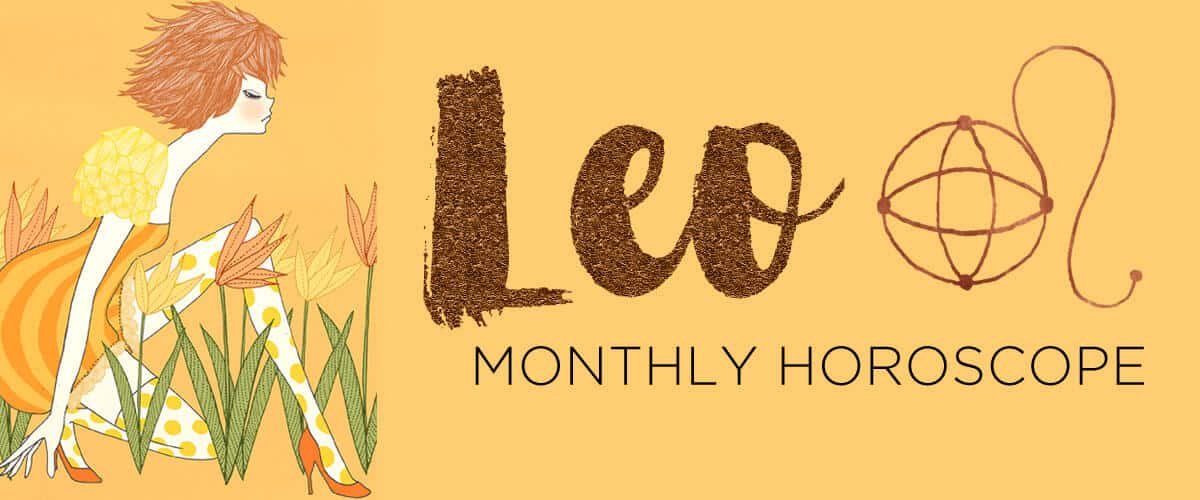 April 2019
Stretch wide, Leo! The Sun is in Aries and your ebullient, expansive ninth house until April 20, gifting you with the kind of wide-angle lens on life that reveals limitless possibilities. Ah, just the way you like it! The first three weeks of April draw you far out of your comfort zone with opportunities to travel, learn and explore visionary ideas. What really lights your fire, Lion? The April 5 Aries new moon could provide a healthy dose of clues, igniting your passion and sparking an idea that you pursue in the coming six months.
You don't have to commit to anything concrete yet. In fact, you might best use the spring and summer to dip a toe in a few pools since this month will see three of the slow-moving outer planets (Jupiter, Saturn and Pluto) turn retrograde for four- to five-month stretches.
The first to backspin is Jupiter, the planet of risk and expansion. From April 10 to August 11, it will retrograde through Sagittarius and your fifth house of love and creativity. Jupiter has been in the Archer's arena since November 8, 2018, and it's here until December 2 of this year. During this 13-month cycle, an exciting new romantic or artistic endeavor could captivate your imagination. You could be swept up in all the starry-eyed feels. The fifth house also rules fertility, so whether you're thinking actual bambinos or birthing a "creative brainchild," 2019 could be a prolific year for Leos.
With Jupiter slowing its roll for the next four months, some of those plans might decelerate or even get a wee reality check. Have you been hoisting someone a little TOO high onto a pedestal? There's nothing wrong with gushing, but make sure you give people the space to be human. Since retrogrades turn our galactic gaze to the past, Jupiter retrograde could bring back an ex or an old source of drama. Watch those overblown reactions between now and August, Leo—make sure you get lots of playtime and activity to keep from becoming a cagey Lion!
Your big ideas could really gel on April 19, when the Libra full moon illuminates your third house of communication and community. Not only will you see HOW to pull it off, you could get an aha epiphany about WHO might be a synergistic partner to make your project a reality. This is the rare second full moon in a row to fall in Libra this year. Look back to the March 20 Libra full supermoon for clues of what might get resolved now. Today could bring an important conversation or long-awaited news—the answer you've been awaiting.
On April 20, the Sun moves into Taurus, heating up your tenth house of long-term goals and career for a month. Narrow down your blue-sky visioning and focus on a couple key milestones you want to reach over the next four weeks. This is your annual time to plan and prioritize and to make headway on your key ambitions.
But don't lock yourself in TOO quickly. On April 22, the Sun makes its once-a-year conjunction (meetup) with changemaker Uranus. This could bring a career curveball, possibly out of left field or perhaps you boldly instigate it yourself. Progress-driven Uranus doesn't tolerate stagnation, and when it blends with your ruler, the confident Sun, any obstacles to your dreams will feel intolerable. You might get an urge to make a quick exit or completely change your plans around a project. While it's a mark of good leadership to be agile, make sure you're prepared for the chaos that can accompany a quick change—and ready to get everyone up to speed.
But before you rip up every square inch of your life, a better approach might be to evaluate which systems are working and which aren't. From April 24 to October 3, transformational Pluto turns retrograde in Capricorn and your orderly sixth house, followed by structured Saturn's retrograde here from April 29 to September 18. This could reveal itself in a literal way as you spend the next few months doing a deep declutter and building new storage and shelving in your home to keep things neat and organized.
Or you might seriously streamline your schedule, weeding out commitments that don't feed your soul. They don't have to be moneymakers; volunteering your time is fine if, say, it's helping you build toward a bigger goal or fulfill a personal desire to make change.
The sixth house rules helpful people. Are you getting the right kind of support on a day-to-day basis? You might decide to add (or subtract) a few Team Leo members. At the very least, you might need a gloves-off chat with them to divide up duties more effectively and hold everyone accountable. Avoid the "I'll just do it myself" trap, Leo. (Just because you CAN doesn't mean you should.) If it makes sense, you might decide to roll up your sleeves with a summer course and learn a new skill. And even if you do decide to outsource after that, at least you'll have a better understanding of what the job requires.
The sixth house rules health, and these retrogrades could prompt a spring-summer wellness revamp. Some Leos may get doctor's orders to make some lifestyle or dietary changes. With deep-diving Pluto here, exploring the mind-body-soul connection will be important. The sixth house rules the digestive system so look into gut health, which has been linked to a so many other conditions in recent years. While traditional Saturn governs Western modalities, Pluto prompts you to peer under the hood a little further. Whether you're receiving treatment or just shopping for a new doc, this retrograde cues you to find a functional practitioner who mixes conventional and more holistic, integrative methods.
With disciplined Saturn retrograde, it may be hard to stick to a regular workout schedule, especially if your stress levels and/or boredom increase (a side effect of this retrograde for some). Make a dedicated effort to get out in nature whenever you can—an outdoor workout should break up some monotony.
Speaking of all things green, you may have an opportunity to volunteer or do work that involves sustainability and the environment. Even taking a more conscious, footprint-shrinking approach to your life will count. Make a summer challenge for yourself of eating lower on the food chain, bringing reusable bags to the market or using LED bulbs. Get your coworkers or family to participate, even your neighbors. There's nothing Leo loves more than bringing together your favorite people for a good cause. Make a fiesta out of a local electronics recycling drop-off day or a vegan block party barbecue (hello, jackfruit!). Unleash your creativity and entertaining skills and watch what happens!
Check out what's going on for…