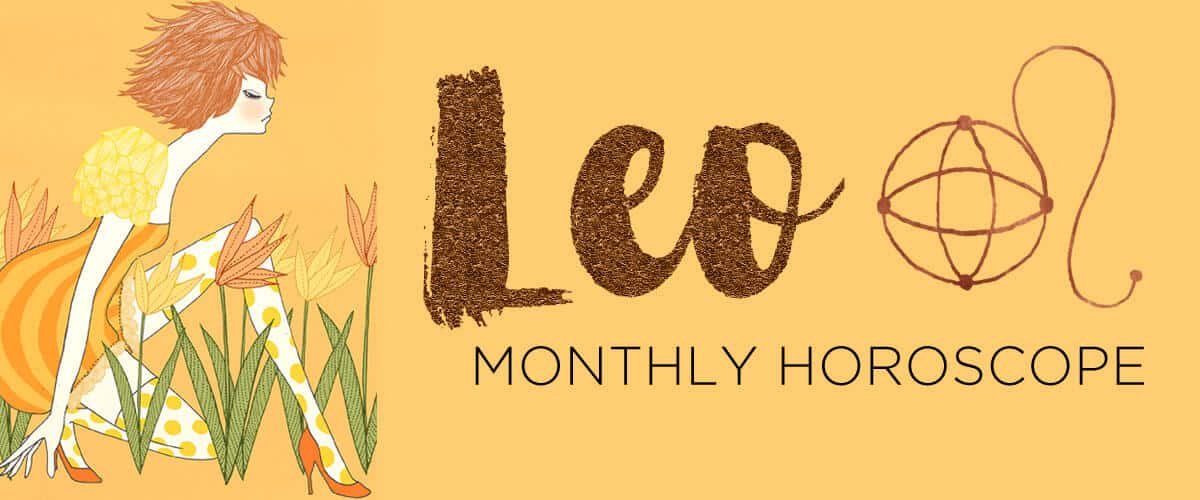 February 2019
Your one-Lion act is an awesome show, but this month, your encore performances will require a co-star or two. February is dynamic duo season, when Leos should lean on a capable and complementary counterpart. Just because you CAN do it all by yourself doesn't mean you should!
The Sun is in your opposite sign of Aquarius until February 18, illuminating your seventh house of partnerships. With your solar power source at its most remote placement, your energy levels might be a little lower and your moods a bit subdued. The planets are prodding you to pass the baton for a bit. Find a talented "best supporting actor" to carry a few scenes. Delegate or start your search for someone who can take your efforts further. Oh, and hey, Cupid: The month of love is prime time for Leos to meet someone with long-term potential. Coupled cats: Make getting back in sync with your sweetie a top priority.

The February 4 Aquarius new moon—the only one this year—brings fresh energy to all your closest ties. A serious connection could spark up, or you might be the one to proactively make things official. Might as well get the Valentine's party started a few days early, Leo! Workwise, this new moon could bring a contract or an opportunity to join forces. Take stock of your most important ties today. Do you need a better balance of give-and-take? Does your relationship feel respectful and rewarding? Address any areas that don't feel equitable—or just parts that have fallen a bit flat. Need more support? This new moon could inspire you to search for pro-level help.
While you're at it, how about having more fun? February 5 kicks off the Chinese Lunar New Year. Say farewell to the standoffish Earth Dog and welcome the pleasure-loving Earth Pig. Devote the next 12 months to decadence as the communal Pig encourages us to build bonds through shared enjoyment. Life can be stressful, but vibrant camaraderie makes it all worthwhile. Choose to be around people who uplift you, then laugh your way through whatever life serves up. Gung hay fat choy!
Inspiration should be plentiful, especially during the first half of the month while energizer Mars is in Aries, stoking your ninth house of travel, new horizons and learning. Mars is making its biannual visit here from January 1 to February 14, giving you the courage to take a big risk on your dreams. While innovator Uranus is also here until March 6, think FAR outside the boring box. Who cares how it's "always been done"? Break the mold, Leo. These two planets will never align like this again in your lifetime. Use the first two weeks of February to explore one of your bucket-list ideas.
On February 13, Mars and Uranus will make an exact conjunction (meetup), THE perfect moment to launch or take a leap of faith. But warning: This mashup can also make people volatile and impulsive. With this cosmic duo in your outspoken ninth house, you might ladle out a heavy dose of truth serum, and the brutal honesty could be too much for some people to swallow. Still, something needs to be said, and without a lot of sugarcoating. Is there a burning desire you've been putting off: a vacation, business idea or talent you want to develop? Quit procrastinating. The Mars-Uranus combo says, There's no time like the present!
Valentine's Day has a more casual vibe this year as the moon lingers in Gemini and your eleventh house of group activity and casual connections. Friends could suggest group plans, which could be just your speed. You'll probably have more fun at a live show or local outing than at an overpriced candlelight dinner.
Still, your romantic side will tug at you. The moon will form a T-square to generous Jupiter in your passion sector and fantasy-fueled Neptune in your erotic, intimate eighth house. Carve out some one-on-one time before (and after!) you hang with the herd. Single Leos might be feeling emotional and a bit dramatic about your solo status. Instead of delivering a woe-is-me monologue, appreciate your friends for their unconditional love.
Your V-Day vista might include conference rooms and cubicles—and maybe even Cupid, creeping through the industrial carpet to aim at one of your coworkers. From February 14 to March 31, go-getter Mars will blaze through Taurus and your tenth house of career, heating up your professional game. The red planet only visits here once every two years, and you can take great strides toward your goals if you prioritize and focus. A sexy office attraction could help you through the long hours, but careful you don't jeopardize your standing by going there.
Mars can ramp up stress, and you may feel some pressure from tight deadlines, demanding clients or fast-paced negotiations. Channel your energy into projects that have a high ROI, avoiding the time-sucks at all costs. If you're considering a career change, Mars will catalyze your job search efforts. A mentor or well-connected headhunter can raise your asking price or bring a great prospect your way. Not sure whether to go for it? Try applying the "10-10-10 Rule"by business expert Suzy Welch and consider how a decision might impact you in ten minutes, ten months and ten years. This exercise can be incredibly clarifying!
On February 18, "wounded healer" Chiron will move into Aries, staying until April 2027. Chiron made a brief pit stop here from April to September 2018, then receded back into Pisces. While Chiron is in Aries, we'll collectively mend old scars around visibility, self-esteem and identity. According to mythology, Chiron was a healer who couldn't heal himself. Under his influence, we transform by helping others overcome struggles that we've dealt with (and may still be muddling through). It's the ultimate act of service, where the giver ends up receiving an unexpected karmic gift.
With Chiron in your worldly ninth house, diversity could become your new platform. You might fancy yourself an open person who brings people together across the divides. Now it's time to walk your talk. Truth is, we all have privilege-based biases, and being honest about those can be the first step to transforming them. With Chiron handing you the talking stick, you could get involved in projects that unite disparate groups—a sorely needed mission during these divisive times.
These themes won't be entirely new because radical Uranus has been in Aries since 2011, shaking up the status quo in this zone of your chart for years. On March 6, Uranus will permanently exit, handing the transformational keys to Chiron for the next nine years.
That same day (February 18), the Sun starts its monthlong visit to Pisces and your privacy-seeking eighth house. Slip off the scene and hunker down while your powers of concentration are so mighty. Things could heat up with an intriguing plus-one, and you may want to hang the "Do Not Disturb" sign during Pisces season so you can connect without interruption. For longtime couples, this is an important time to engage on a deeper emotional level. Let yourself be vulnerable, Leo, even if things get a little raw. Those sensitive subjects won't stop nagging at you unless you deal with them directly. With work being so busy, you could soak up people's stress like a sponge. All the more reason to take some quiet moments to decompress and tune in to your inner voice.
A bold money moment arrives on February 19, when the Virgo full moon—also a potent supermoon—illuminates your second house of work and finances. If you're considering an offer, getting ready for a job change or pondering a new project, the full moon emboldens you to make a decision. Under these confident moonbeams, you're poised to advocate for yourself. Be prepared with facts and figures, then make your big ask!
Want some more?
Check out what's going on for…