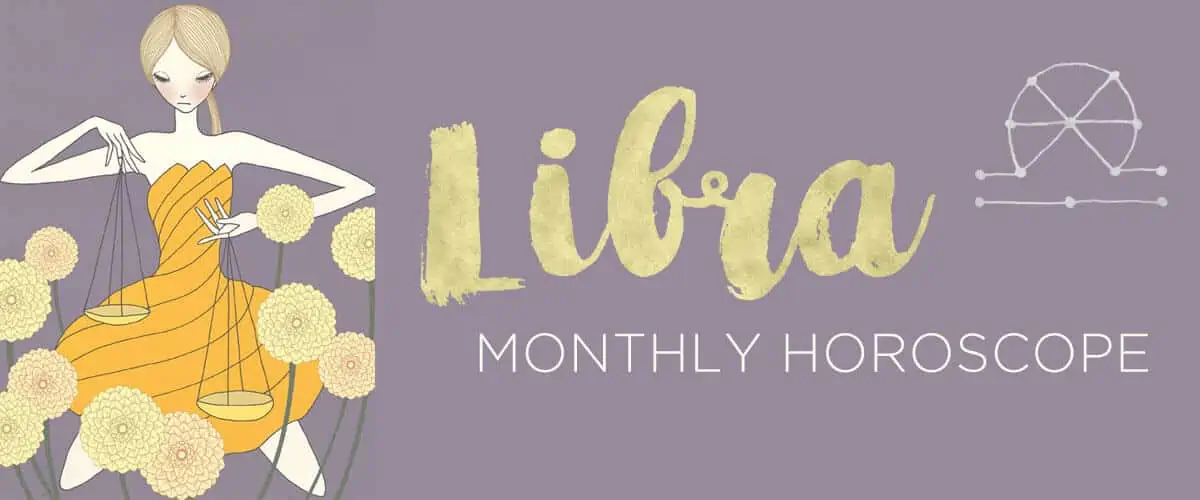 March 2019
How about a little spring cleanup, Libra? Until March 20, the Sun is in Pisces and your organized, healthy sixth house, prompting you to restore order to your balance-loving Libra-verse. And you'll be glad you did because March 20 will feature the first of this year's two rare, consecutive Libra full moons…also a potent supermoon! This double-header of cosmic coming-out parties could bring unexpected spotlight moments—or a surge of conviction to pursue a passion project.
Normally each zodiac sign only gets one full moon in their sign per year, but in 2019, the cosmos serves up two for you. Should you read into that? Heck yeah! Let's be honest: Libras can procrastinate—sorry, "take their time"—when it comes to making bold decisions. You like to weigh the pros and cons to make sure you're using good judgment before impulsively jumping into a commitment. Nothing wrong with that, except that opportunity can pass you by while you're deliberating. Between the March 20 Libra full moon and the second one on April 19, you get a one-month window to hold all the dress rehearsals you need before the big celestial cotillion. Set your sights on something truly meaningful to you and prepare for the big reveal!

You'll get all the time you need this month to "workshop" plans because from March 5 to 28, communication planet Mercury will be retrograde in Pisces and your efficient, fitness-focused sixth house. Where in your life could you stand to sharpen the edges? Before the spring equinox makes the new season official, you can get a head start by taking inventory of changes you'd like to make.
Just unroll them patiently: With the planet of technology, travel and interpersonal affairs gone awry, a lot of key details can slip through the cracks. Between Mercury's mayhem and your manic multitasking, you can get overwhelmed fast. Stay mindful of what you take on and keep it simple. Too much juggling will mean a lot of dropped balls—not to mention major frustration trying to get cooperation and clear answers from your support squad. Since the sixth house rules service providers and helpful people, this Mercury retrograde could create communication breakdowns on Team Libra.
Eager to clean up your diet and get back on track with workouts? The March 6 Pisces new moon is a great day for a "soft launch" of those plans. Start by clearing the junk out of your cabinets, booking checkups and doctor's appointments and handling anything health-related you've been putting off. While Mercury is retrograde, guard against germs by washing your hands often and avoiding the snifflers and coughers. You'll be extra susceptible to picking up a bug now, especially if your stress levels rise.
A slow-and-steady start will help you make a lifestyle change better than obsessing about the upcoming "swimsuit season." Focus on feeling great and successfully turning simple daily practices into lasting habits one manageable step at a time. We're fans of the "micro-resolution" concept: Instead of cutting out sugar, refined flour, gluten and dairy all at once (recipe for failure!), choose one small habit to master, such as taking a ten-minute walk every day on your lunch break. By succeeding with your new mini-habit, you'll gain momentum and create a snowball effect of positive change.
Speaking of change, there's a revolution brewing within. On March 6, radical changemaker Uranus will start a new seven-year visit to Taurus and your eighth house of long-term finance, intimacy, sex and transformation. The cosmic disruptor spent the last eight years in Aries and your partnership house, shaking up the status quo in all your closest relationships. For you, the sign that rules dynamic duos, these frequent fluctuations have NOT been easy. But on the upside, you've learned some important lessons about autonomy—and being happy no matter what anyone else around you is doing! It might sound "101," but Libras are deeply affected by their loved ones, and Uranus in Aries busted up anything with even a whiff of codependence.
Between now and April 2026, you've got more interesting twists ahead. Not only is Uranus in "fall" (its least comfortable position) in Taurus, but it's further convoluted when it sits in the eighth house. Here's why: Uranus is the ruler of liberation, abrupt changes and rebellion­—the "don't fence me in!" planet that's so darn unconventional it spins on its side. It's the antithesis of Taurus, the zodiac sign that seeks tradition, security and stability. Meantime, the eighth house rules control and isn't exactly a fan of having Uranus pull the rug out from under it.
So, Libra, it's time to strengthen your core and work that famous balance! You already had a sneak preview of this from May 16 to November 6, 2018, when Uranus made a brief stop in Taurus. As it settles in for the long haul, prepare for shifts in your finances, relationships and home life over the coming years. With cyber-savvy Uranus in this wealth-conscious corner of your chart, you might invest in technology, either as a stockholder or making passive income through affiliate sales or an online business. This cycle could bring changes to your living situation through an unexpected real estate purchase or sale. Is it time to start taking pointers from reality-TV house flippers or to turn a cute little cabin into an investment property?
With subversive Uranus in your erotic eighth house, you could veer far from vanilla with your boudoir explorations. You might even keep a "lover in every port" or be drawn into a secret attraction. That might already be heating up, thanks to lusty Mars also in Taurus from February 14 until March 31. If your sex life has flatlined a bit, rev that mojo up! This planetary pairing will provide all the firepower you need to get back in a randy mood.
Mars and Uranus in Taurus could motivate you to team up for a lucrative joint venture, or their erratic energy might add financial stress (or both!). You'll certainly feel the intensity, and Libras don't respond well to pressure. This your call to tune out distractions and focus on just ONE thing. Cut the multitasking to avoid careless errors (especially with Mercury retrograde until March 28) and get expert advice when dealing with any legal paperwork.
Luckily, the eighth house rules spirituality, making this is a good time to double down on your yoga and meditation practice. Uranus in Taurus also provides a powerful opportunity to develop your clairvoyant gifts. You might be led to some off-the-beaten-path healers, shamans and energy workers. But watch out for the false prophets and gurus since Uranus can also bring some fringe, even cultish, characters into your orbit.
On March 20, the Sun enters Aries—the same day as the Libra full supermoon—and kicks off a monthlong visit to your partnership sector. When the Sun is in your opposite sign, it's farthest away from you, so you may feel a bit tired and short on "solar power." Conserve your energy and lean on your most supportive people instead of trying to do it all alone.
That same day (March 20), Mars in Taurus and your eighth house of bonding will form an electrifying trine to transformational Pluto in Capricorn and your fourth house of home and family. A relative could come through with a financial gift, emotional support or both. You might get word of an inheritance or property settlement, especially since Mars and Pluto are both in real estate-related sectors of your chart. Having trouble moving or selling a home? The energy may be "off" and in need of some alchemy. Check out our new Feng Shui section (https://www.astrostyle.com/feng-shui-astrology) and try the tips for space clearing. Unblocking the flow could bring in abundance from unexpected sources.
Want some more?
Check out what's going on for…