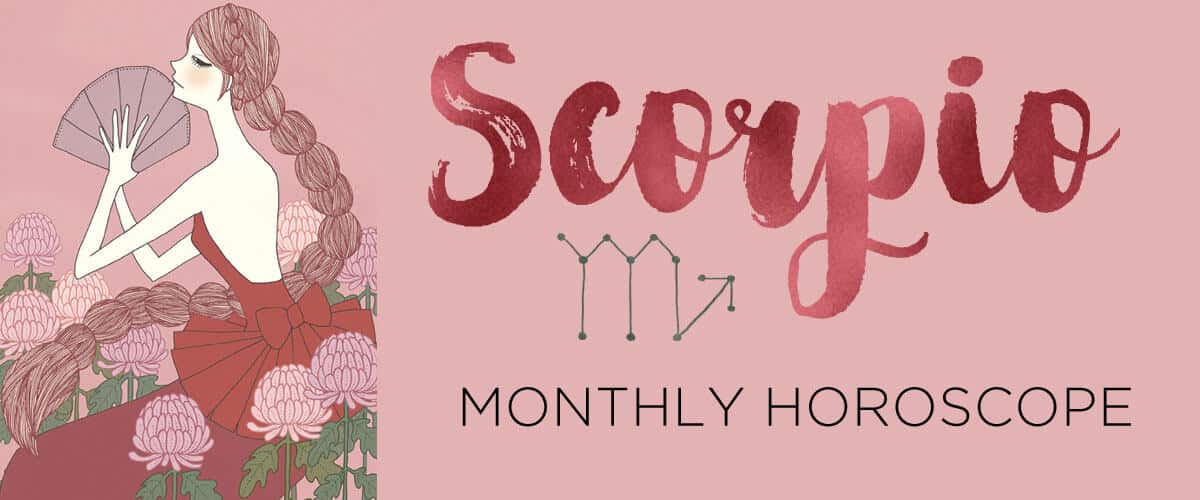 October 2019
We interrupt this broadcast for a short pause, Scorpio. Until October 23, the Sun is submerged in Libra and your twelfth house of rest, endings and healing—your annual four-week "retreat" cycle. Need a nap…or just a minute to catch up? The window before your birthday (and Scorpio season) grants you planetary permission to get into a flowy state as often as possible. Restore and rejuvenate, keeping your schedule light. If possible, escape for a little off-the-grid getaway, even if it's only for a night. Grab a deal on a spa pass while you're at it. Under these creative rays, your imagination is dialed up, making this a perfect time to dive into an artistic project or some deep spiritual seeking.
This year, however, Libra season won't let you totally tune out. Energizer Mars (your co-ruler) will make its biennial visit to Libra from October 4 to November 19, pushing you to confront issues you've swept under the rug. If some chapter of your life needs to end or majorly transform, you won't be able to waffle any longer. Mars demands action! You may need to stand up to a bullying or domineering person, or to confront someone who hasn't been totally above-board with you. Extracting the truth from them might take a while, but better to get it all out in the open…at least as much as you can. Scorpio, we know this sounds irritating, but it's necessary work that will clear the channels for you to feel free and enlivened again. Just because we ignore something doesn't mean it isn't there. Now is your chance to deal and heal.
Mars is in "detriment" here, a weakened position because after all, he's the warrior planet and Libra is the sign of peace. The uneasy combo can make it hard to chill out. People will be passive-aggressive, even whiny, and you might find yourself tossing and turning over stressful thoughts. Put in extra measures to power down at night, making a firm "devices and lights off" time and having supportive people (whether friends, therapists or healers) lined up if you're processing any heavy emotions or confronting some grief that you pushed aside.
On October 3, your other co-ruler, transformational and karmic Pluto, wakes up from a five-month retrograde through Capricorn and your third house of expression, community and media. Messages may have gotten scrambled—or totally lost—during this retrograde, and you've been pushed to do a LOT of thinking about how you articulate ideas and interact with others.
Communication has been an ongoing issue for you to transform and improve for the past few years as Pluto makes its lengthy, once-in-a-lifetime journey through Capricorn from 2008 to 2024. You've already learned HUGE lessons about how to interact impactfully with others and when to trust someone enough to forge a friendship or creative collaboration. While Pluto was retrograde since April 24, many Scorpios struggled to get their point across. Old fears, some driven by shame and anxiety, may have created blocks in key relationships. As Pluto corrects course, you'll be better able to untangle any dicey dynamics. And during this psyche-probing October, you can get down to the root cause, which will help you make lasting change.
Hey, if you've done your research, you might just wow the skeptics and win over the naysayers, which wouldn't be a bad thing! But you could have to negotiate through a minefield of obstinate decision makers with old-school opinions. Are you the one being stubborn and stonewalling? If so, take a hard look at what's driving that. This transit will repeat on October 27 between intense Mars (also in Libra) and Saturn, a day to really give yourself a break. You could hit a point of meltdown if you don't, which could lead to unfortunate arguments and battles of will.
The bigger lesson? Know your limits! Give yourself—and others—a chance to absorb information and climb the inevitable learning curve. You might be on information overload or just emotionally saturated (wring out that psychic sponge!) from excessive caretaking and problem-solving. Could it be a hint of…codependence? This month, sort out what's "yours" and what's "theirs," and you'll lighten your load in every way.
Just in time, the October 13 Aries full moon sweeps into your sensible sixth house of health, order and analytical thinking. At least for today you'll emerge from that Libra-season fog and regain your astute Scorpionic ability to connect the dots. Simplify, streamline and prioritize. And ask for (good) help! The sixth house rules employees and assistants, and full moons mark transitions. If someone's slacking on Team Scorpio, it's time for a performance review or maybe to relieve them of their duties.
Ready to get your fall fitness plans underway? The full moon in your wellness zone gives you the surge of energy to replace those bad habits with life-affirming ones before holiday hedonism kicks in. Schedule those checkups and tests you've been putting off. Under the light of the full moon, a nagging issue could finally be properly diagnosed and treated. Since this zodiac sector rules digestive health, a cleanse or detox can give you a great seasonal "gut" reset.
Don't ignore mental wellbeing now, either—especially since the full moon will square off with Pluto in your cerebral third house. Your spinning thoughts can be the culprit of a lot of stress and anxiety. If you've been suffering alone, find someone qualified to talk this through with. You deserve all the compassion, Scorpio…you take on so much and rarely ask for help. But nobody ever got a medal for being a martyr. And if you scratch below the surface, there may be some control issues rooted in ancient fears operating. Wouldn't it be nice to be free of their grips?
Great news: Scorpio season swings into gear on October 23, flipping the lights back on. After an intense internally focused month, it's time for some action! Pace yourself, of course, because energizer Mars will still be marching through your restful twelfth house. But your confidence and can-do spirit return. Prioritize passion projects for the next four weeks while your solo endeavors get a special hit of solar power.
All fresh starts are favored on October 27, when the year's only Scorpio new moon arrives, marking your astrological new year. This annual reset kicks off a six-month cycle for your personal goals and dreams. A style refresh could also be in the making now. It's time to put yourself first again! You may have to dodge some disruptions from a couple of your closest people, though. The new moon will form a tricky opposition to unpredictable Uranus in your partnership house. Don't let a rebellious or difficult person drag you out of your happy place today. In fact, you might need to temporarily (or permanently) sever ties with someone who's bringing you down. This could happen abruptly, but once the shock passes, you'll feel a million times lighter!
Check out what's going on for…