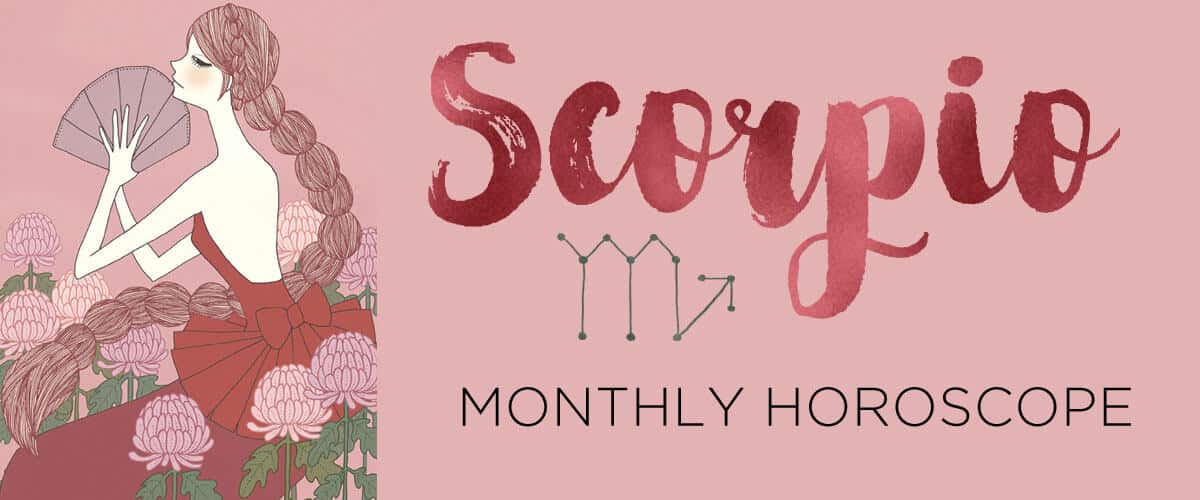 February 2019
Take time for a little hibernation, Scorpio. You've got permission to nest and rest for the first three weeks of the month. The Sun is in Aquarius and your fourth house of home, family and self-care until February 18, a reflective cycle that only comes once a year. Put your ambitious goals on simmer and connect with your closest crew. Boosting your bonds will lower your stress levels—something we could all use help with these days. Slow down a little and make time to read, cook or get lost in a creative project. Last month's schedule was fun but hectic for a lot of Scorpios. Swap your FOMO for JOMO ("joy of missing out") and keep your social calendar light.
On February 4, the year's only Aquarius new moon opens a new six-month chapter in your personal playbook. If you're home-shopping, you'll have lunar-powered support for your search. Scout the listings and start perusing neighborhoods to see how you jibe with the community and its curb appeal. Happy where you are? Give your abode a once-over and look for areas you can either spruce up or bring into energetic harmony (check out our new Feng Shui section for ideas). The new moon could bring a change to your family, such as a roommate switch or a pregnancy announcement (yours or a relative's). Your relationship with your mother, a child or a close woman could get a fresh start.

The next day, February 5, kicks off the Chinese Lunar New Year, when we usher out the territorial Earth Dog and welcome the pleasure-loving Earth Pig. In Western astrology, the Pig is associated with Scorpio, giving you something to say "Gung hay fat choy" about! After a year of marking territory and delineating pack hierarchies (which, in truth, might be more the Scorpio way), the communal Pig brings a more democratic and collaborative approach. This is a year to work hard AND play hard—all surrounded by good company!
Speaking of work, the first half of the month could be a little stressful as your co-ruler, energizer Mars, rounds out a visit to Aries and your orderly, health-conscious sixth house. Mars is here from January 1 to February 14, powering up your fitness goals but also piling on the pressure of a million tasks and loose ends. It will take many deep breaths (and at any opportunity, long cardio workouts) to avert a meltdown. Employ as many life-hacking strategies as you can, such as breaking big endeavors into small, grouped action items you can tackle piece by piece.
Don't forget to delegate! The sixth house rules helpful people, and Mars here may reveal cracks in your administrative infrastructure. While it's true that nobody can do it as well as you, trying to DIY certain things is a waste of time and energy. Outsource to specialists, even if it's hard to find time to search for them. Ego-driven Mars could cause your pride to get in the way, but humble yourself and ask for assistance or admit that you don't know how to do something. It will save you a huge headache down the line.
Innovative Uranus is also in Aries until March 6, introducing useful technology to make your life more efficient (yes, Scorpio, there IS an app for that). On February 13, Mars and Uranus will make a rare conjunction (meetup)—one that will never happen in this part of your chart again in your lifetime. With Mars and Uranus in your sixth house, this could be a day for quick hiring (or firing). The sixth house rules pets, and you might shock yourself by suddenly adopting one. If you already have an animal companion, your furry friend could pick up on the erratic energy of the Mars-Uranus meetup. A long walk or play session might be in order to get them (and you!) calmed down.
Ooh la la! Valentine's Day brings a special delivery as sexy, energizing Mars moves into Taurus and your seventh house of partnerships until March 31. This could turn up the heat AND the tension in your commitment sector. Over the next several weeks, things could move quickly in a relationship, whether you're negotiating a work contract or making things more official with a romantic partner.
V-Day will feature the moon in Gemini and your erotic eighth house. If you've got a willing partner, this could make for one steamy celebration, Cupid-style. But watch for some friction (and not the good kind) from two other planets. The moon will be wedged into a tense T-square with excessive Jupiter in your money zone and needy Neptune in your dramatic fifth house. You might want ambience and privacy while a date or friends are looking for a big, flashy blowout. Or perhaps your picture-perfect plans are interrupted by work demands—for example, you or your date suddenly have to stay late at the office. The key is remaining flexible. Even if you DO dress up and navigate the crowds or make a gourmet candlelight dinner that (hopefully) leads to the bedroom, keep your sense of humor intact. The best-laid plans are likely to need adjustment. Play it safe and avoid booking anything that necessitates rushing home early to get ready.
On February 18, "wounded healer" Chiron will move into Aries, staying until April 2027. Chiron made a brief pit stop here from April to September 2018, then receded back into Pisces. While Chiron is in Aries, we'll collectively mend old scars around visibility, self-esteem and identity. According to mythology, Chiron was a healer who couldn't heal himself. Under his influence, we transform by helping others overcome struggles that we've dealt with (and may still be muddling through). It's the ultimate act of service, where the giver ends up receiving an unexpected karmic gift.
Work and wellness could become new hot buttons as Chiron enters your orderly, health-conscious sixth house. Your transformation could start with an epic decluttering. One of our favorite Scorpios does an annual practice called Swedish Death Cleaning, whereby you get rid of anything you wouldn't want lingering around longer than you do. (How's THAT for a Scorpionic spin on Marie Kondo's prim "tidying up"!) If you've experienced any health challenges in your lifetime, you might become passionate about prevention, spreading the message of wellbeing to the world in a transformational way. If you're grappling with any physical issues, a deep dive into the hidden emotional and spiritual causes could lead to a powerful recovery.
These themes won't be entirely new because radical Uranus has been in Aries since 2011, shaking up the status quo in this zone of your chart for years. On March 6, Uranus will permanently exit, passing the transformational baton to Chiron for the next nine years.
More belated V-Day vibes head your way on February 18 as the Sun starts a monthlong visit to your fifth house of love and creativity. Your winter shut-in days are over, Scorpio—it's time to get out and have some fun! The perfect opportunity arrives on February 19, when the Virgo full supermoon beams in your teamwork zone. Gather with your favorite group or say yes to a promising collaboration. Your social media game is strong under these moonbeams, so use your platform to crowdsource or spread the word.
Want some more?
Check out what's going on for…