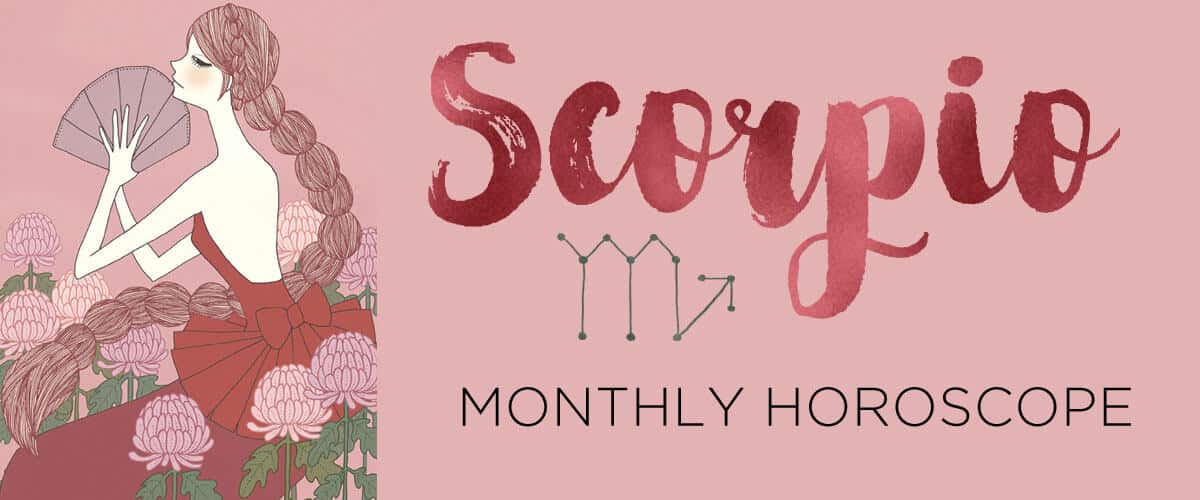 April 2019
All systems go? April begins with a sigh of relief as we leave March's Mercury-retrograde madness in the rearview, along with its attendant drama. You're eager to get back to your routines and plans—enough chaos already! Good news: Your efforts to restore order are supported by the Sun in Aries and your sixth house of health and organization. Until April 20, el Sol is heating up this systematic sector. You're eager to bring some sharp edges back where things have gotten fuzzy.
The April 5 Aries new moon sparks your spring fitness plans. Infuse some novelty: Begin a new HIIT workout regimen or troll the farmer's market for seasonal produce, from foraged morel mushrooms to freshly harvested asparagus (yum!). The sixth house also rules service and helpful people. If you're not already giving back in some way, you could be inspired to get involved in a do-good effort.
Assess Team Scorpio at the Aries new moon: Do you have enough support, and if so, is it the right kind? You're a force of nature, but without backup, you'll only get so far. Consider trading a little control for a wider reach. That doesn't mean you have to lower your standards or hand someone control of the wheel (as if you'd ever). Ramp up your skills and those of the people around you, and you'll position yourself for even greater success.
The first retrograde is expansive Jupiter, which will back through Sagittarius and your second house of work, money and security from April 10 to August 11. Have you been spending a bit wildly this year or allowing some costs to balloon? Pull back and tighten up your budget, being more discerning with your dollars. Jupiter is here for a 13-month visit that began on November 8, 2018, and will complete December 2, 2019—a transit that only occurs every 12 years. While bountiful Jupiter can bring exciting opportunities and new professional paths, it can also tempt us to rush forward with some risky, overconfident moves. No harm in pulling back a little to make sure you've got your basics covered first, Scorpio.
Could your confidence use some reinforcement? Jupiter retrograde in your self-esteem sector is a good time for personal-growth workshops or doing some thoughtful work to bolster a strong inner connection with yourself. We're not suggesting you get all navel-gazey, but DO use this time to root into an anchoring sense of worthiness. Make changes to your lifestyle and more deliberate choices in your day-to-day life that will align you with your core values.
Closure is your focus on April 19, when the second of two rare, consecutive Libra full moons illuminates your twelfth house of healing and endings. The first full moon of this duo was the March 20 Libra supermoon, so look back to that date for clues of what may come into strong focus now. You could feel a double dose of transitional energy since full moons AND the twelfth house are both associated with finality. What part of your life do you need to leave behind? Whether it's a relationship or a limiting belief or behavior pattern, it's time to release that struggle to the universe.
"Surrender" is the keyword here—and as the sign of power and control, it's not exactly something you do readily. But with this full moon sounding the call to let go, doing so will open up a massive energetic space for something new and transformational to come in. Don't hang on for hanging on's sake! Spoiler alert: May's full moon will be in Scorpio, which could bring in something even better. But you won't find out if you remain doggedly fixated on something that's passed its prime.
The next day, April 20, the Sun will move into Taurus and your partnership zone for a month, giving you some people to lean on. Use the next four months to get your closest connections back on track, harmonizing and balancing your bonds. Last month, Mercury retrograde may have derailed a negotiation. Now, you could feel confident signing on the dotted line—or cutting your losses and going elsewhere.
On April 22, the Sun will make its once-a-year conjunction (meetup) with radical changemaker Uranus, which could throw a curveball into one of your relationships. Is it time to shake things up? Maybe you're feeling restless, like things have become stagnant. Just be sure you introduce "excitement" in a healthy way. These two volatile luminaries can be hotheaded and egocentric, and you don't want to push people's buttons just to get a reaction. If you're tempted to do that, pause. Try authentically voicing your truth, even if that means saying, "I'm bored in our relationship and I want to add more excitement."
There's a possibility you could be tempted by an unexpected attraction near this date—and the rush of novelty could be hard to resist. Again, consider that this is a short-term astrological transit. Is overturning your hard-won security worth it? (You know the answer.) Consider that this "magical" person might just be a messenger, someone reminding you that you need to feel vibrant and alive again. Ultimately, that's your responsibility, not anyone else's.
In The State of Affairs, author and researcher Esther Perel suggests that people in committed relationships may cheat not because they are unhappy in their unions, but because they are connecting to a lost or abandoned part of THEMSELVES. So if you're tantalized or tempted by someone you've idealized, consider that. When do you remember being your happiest and most powerful self? What actions could you take to bring that feeling back—without causing pain or chaos?
Another reason to examine your motives: During the last week of April, Pluto and Saturn will turn retrograde in Capricorn and your third house of communication. Deep-diving Pluto will backspin from April 24 to October 3, pushing you to question your limiting beliefs or transform your communication style.
Structured Saturn will follow suit from April 29 to September 18, a time when you may need to take a hard look at the way you express yourself to others. Are your boundaries firm enough…or maybe too firm? Do others experience you as intimidating or hard to read? There's only one way to know, Scorpio: Ask them. And don't punish anyone for their honesty either. Authentic feedback is a contribution, and if you can see it that way, you might become a better friend, neighbor, colleague and community member for allowing it. If you need to have a few tough conversations, make the time and space for those.
With Saturn and Pluto backing through your third house of learning, you might also sign up for a spring or summer workshop to build your skills. By the time they turn direct (forward), you could be positioned for a new income bracket or creative opportunity. Feed your mind and the rest will follow!
Check out what's going on for…