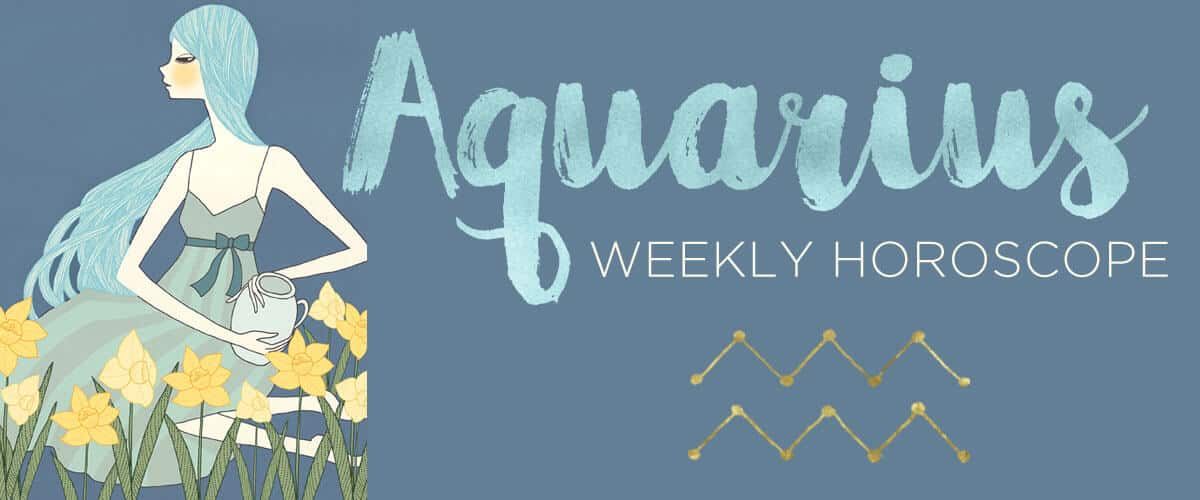 08-26-2019 to 09-01-2019
You might as well as shed the emotional armor now, Aquarius. This week will test your defensive mettle—but that's actually a good thing! And really, aren't you getting exhausted keeping people at arm's length all the time? But this Monday, August 26, ardent Venus in your intimate and erotic eighth house forms the first of two back-to-back earth trines, this one with experimental Uranus (your co-ruler) in your sentimental fourth house. For once, you might actually relish the idea of rolling in the deep. And your choice of "roll mates" may surprise you. Obviously there needs to be some degree of physical attraction, but someone with the right combination of intellect, wit and charm could bowl you over. A similar vibe is in the air on Sunday, when Venus locks into her second trine this week: to your other co-ruler, grounded Saturn, in your dreamily idealistic twelfth house. Whatever you do, you'll benefit from surrounding yourself with high-minded people. But if you're seeking a love connection, look beyond appearances and sex appeal to determine who this person is and what they stand for. A champion of underdogs and under-represented people will be far more appealing than a slick-talking investment banker under these skies. Already attached? Find some do-gooder activities that you and bae can participate in together. If your current relationship status is "complicated," Venus' warm glow could melt away any resistance to permabonding. Still a little gun-shy? Take a small (but significant) step, like exchanging keys or moving more of your clothes into each other's closets!
Your ruler Uranus grabs the wheel midweek and starts shifting lanes of its own accord—but you may like this new direction so much, you don't even put up a fuss. On Wednesday and Thursday, the side-spinning planet high-fives passionate Mars and then the confident Sun, both in earthy Virgo and your eighth house of soul- and resources-merging. Boundaries won't hold you back if you're ready to fuse your heart or other assets with someone special. Because this is your sector of long-term investments, you could make some major money moves or seal a big-bucks deal. In any event, it's a good time to review your savings strategy and make sure you're on pace for those goals. But in affaires du coeur, you might want to ensure your other half is on the same page as you in terms of commitment.
Your weekend begins on Thursday, when articulate Mercury blazes into Virgo until September 14. Not only will you have a major case of the feels, but you'll have no difficulty admitting it—perhaps even in a love sonnet written in iambic pentameter! Friday brings what might be the week's pyrotechnic finale: The only Virgo new moon of 2019 sends a jolt of electricity through that eighth house of permabonding. If you're attached, you might feel the need for closer connection—in ALL your key relationships. Singles, too, will crave intimacy and a real sense of "we're in this together." One thing to watch for is blowing minor flaws or challenges out of proportion (a Virgo specialty). Tell yourself, instead, that sometimes love really does conquer all.
Check out what's going on for…