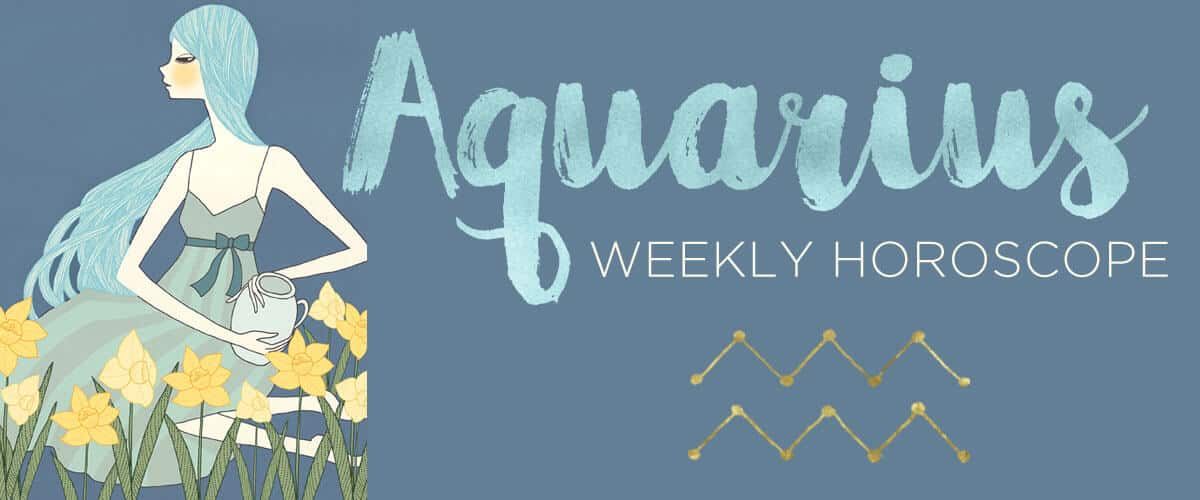 12-09-2019 to 12-15-2019
Let's talk about that analytical—and downright genius—mind of yours, Aquarius. This Monday, December 9 geeky Mercury sweeps into Sagittarius, activating your cerebral eleventh house (AKA the "innovation station") until December 28. Your weird and wild ideas could take flight and deserve dedicated airtime. Break from protocol, tapping into technology and untested methods for production. During this three-week stretch you may sound a lot like Aquarius Thomas Edison who once bellowed, "Hell, there are no rules here. We're trying to accomplish something!" But that doesn't mean suffering through it alone. As Mercury exits your hard-working tenth house and sashays into your collaborative corner, rally the hive mind to buzz along on these emerging plans. This three-week Mercury cycle is a golden time for networking. It's not "wrong" to pass out your cards at seasonal parties or get the contact info of movers and shakers. And with the wired planet plowing through your tech center, update your software, upgrade devices, tweak your profiles and fine tune your website. The more will certainly be merrier for you—so much so that you may need to keep a few costume changes at work. If you do spend any time at home, it probably won't be by yourself. Whether you're cranking out gender non-binary gingerbread people, wrapping sustainably-sourced gifts or decorating to decor blog standards, it's likely to turn into a social occasion. Single? The world of online dating might suddenly seem like a rich landscape instead of a depressing wasteland, so flex those swiping fingers and prepare to meet thy match!

On Thursday, the year's only full moon in Gemini rocks your fifth house of flamboyance, fame and amour. Got a message or project to get out there? Don't sit around hoping someone will "discover" you. This enterprising full moon gives you permission to self-promote. Since you can be modest about pumping yourself up, focus on your services and offerings. What's in it for other people, Aquarius? When you think about it that way, it feels anything but narcissistic. Don't deprive the world of the gifts that are flowing through you. In the romance department, the full moon unleashes a milestone moment, whether that's achieving liftoff with a new relationship or allowing a moribund one to finally come to its inevitable finale. As every Aquarius knows, it's better to have your self-respect intact than be stuck with someone who makes you feel unappreciated or less than your best. Avoid pointing the finger of blame, though. We teach people how to treat us, so if you've been giving without asking for anything in return, pull back and see if the connection regains a healthy balance by the end of 2019. In an LTR? La luna could bring a high point of your year. If your other half isn't fully on-board, seize the reins and steer things in the direction you want them to go. The gentlest nudge (and nuzzle) might be all this person needs to go all in.
Drop your guard, Aquarius! On Sunday, your free-thinking ruler, Uranus, makes a dazzling trine (120-degree angle) to expansive Jupiter in your unconscious twelfth house, effectively revolutionizing the emotional landscape as you know it. While your usual M.O. is to tough things out and avoid any kind of touchy-feely confrontation, that might not be possible now. Yet this could be precisely the icebreaker you've been waiting for (whether you realize it or not). Uranus brings sudden, unexpected events, and its supportive connection to positive Jupiter could bring a beautiful moment of forgiveness or deep bonding. And for those Water Bearers who've been stuck in martyr mode with their inner circle, this trine can set you free. Devoted members of Team Aqua will understand your need to set limits. No need to play the blame game or let resentment creep into your voice. Shift happens, and people have to accept that. If you had agreed to do things a certain way but it didn't work out so well, you get to change the rules. From this point on, let your guiding philosophy be: What CAN you give without feeling taken advantage of? Spell it out while candid Jupiter's got your back. Furthermore, these game-changing planets won't reconnect like this until 2028—so make the most of this liberating alignment!
Check out what's going on for…