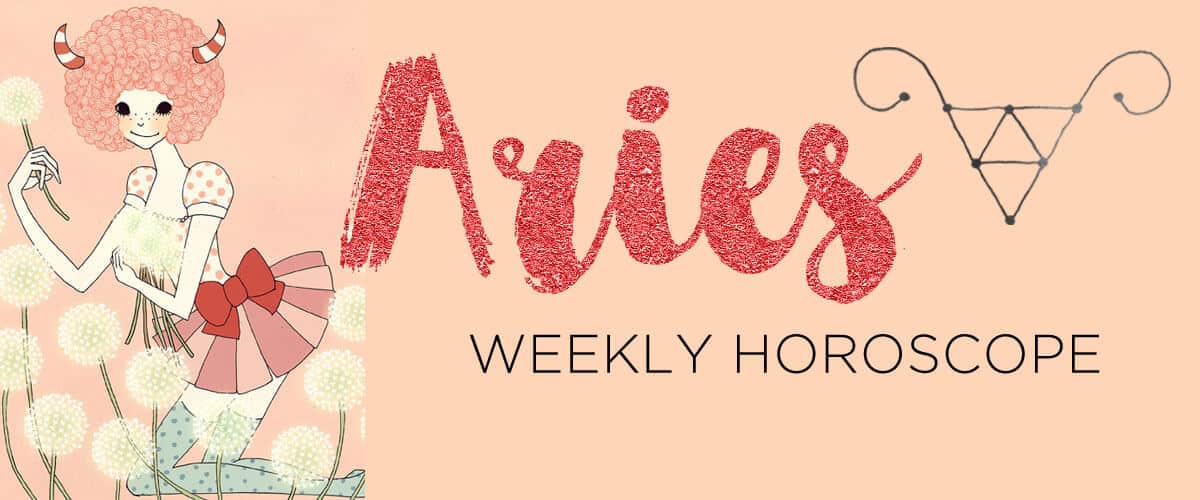 02-18-2019 to 02-24-2019
Downshift and downsize. Let that be your mantra for the next four weeks as the Sun begins its sojourn through Pisces and your transitional twelfth house on Monday, February 18. This reflective solar cycle is the last one before your birthday. It's a time meant for sorting through everything you've accumulated over the past year then deciding what to keep and what to release. That includes your possessions, beliefs, affiliations and social activities. We only have so much time here on Earth, Aries. Why not fill your precious minutes with experiences that not only "spark joy" but keep you fired up and fulfilled? By the time Aries season rolls around on March 20, make it your mission to travel with a lighter (and curated!) pack. Before then, clear some whitespace on your calendar to lounge, dream, and start a meditation practice. In serene spaces you'll do your best thinking—and the brilliant gems will flow in! If you're a restless Ram, opt for a moving meditation like yoga or walking/snowshoeing with digital devices in Airplane mode. Or, try freewriting to connect to your inner voice—especially first thing in the morning. Those cathartic AM scrawlings will be full of rich material.

Do you need to mourn a loss? Swaddle yourself in support and even find a great therapist or coach who can Sherpa you through your process. Suffering is optional, Aries: If you want it to stop, let go of your pride and love your own humanity. Feeling means dealing—and your emotions deserve to be honored! That fact will be doubly underscored on Monday when Chiron, the "wounded healer" asteroid, shifts back into Aries until April 14, 2027. You already experienced a brief spell of this energy from April 17 to September 25, 2018, so themes from that phase may arise once again. Chiron's purpose is to help us take our pain and turn it into power, and while transiting YOUR sign, you may feel a strong calling to share your transformational gifts with the world. But first—or simultaneously—you'll have to do your own inner work. If you're an Aries who struggles with anger, unhealthy levels of competition (including "comparing and despairing" when you look at other people's social media feeds) or swinging wildly between over-giving and defensive selfishness, now's the time to get to the source of your pain. Learning to express your upset feelings BEFORE they transmute into rage or resentment may be goal number one. There's no better time for working with a therapist, mentor or spiritual counselor if you struggle to put your pain into words. If you've already done significant exploration in these realms, Chiron's transit through your sign could make you an influential force in the self-development world. Even the shyest of Rams may realize how easy it is to take the podium when you have something life-changing to offer other humans! Lots more on Chiron in Aries here.
You do get ONE day off from all this introspection though! On Tuesday, it's time to get physical as the full supermoon lands in Virgo and activates your wellness zone. Your body is your soul's address here on Earth and this lunar lift reminds you to treat it like the temple it is. Since you're ruled by competitive Mars, training for a race or joining a dance troupe might be the thing that gets you moving. Or maybe indoor rock climbing, cycling...whatever! The point is, that you're revving up your heart rate and breaking a sweat in a way that's also fun. The more energy you exert, the more it increases, so don't be hard on yourself if you're not in fighting shape—yet. Just keep at it! If you've succumbed to any vices this winter, start powering your bod with clean, green fuel. With your industrious sixth house alighted, you may feel motivated to kick off new projects—an Aries addiction. But hang on a minute! Full moons are about completing cycles. Tie up loose ends BEFORE you start Prime-ing a bunch of new supplies. Give it some elbow grease first and, if necessary, hire someone for a few hours of assistance in the name of getting the job done and dusted. By the vernal equinox, you could have the basement shelves built and organized and your home office Pinterest-perfect! Aries on the job hunt could get word of an ideal opportunity near Tuesday. Google your name to make sure the search results reveal your high pro glow!
Check out what's going on for…