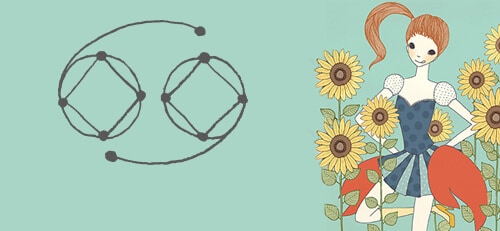 Monday October 27th - Sunday November 2nd
Slip on the rose-colored glasses. This week, you're prone to romanticizing, well, pretty much everything. Oh the gorgeous patina of peeling paint, the same coat that made you want to run to the Benjamin Moore store last week. My how adorable someone's quirks are — the ones that worked your nerves like crazy a month ago. Your ability to see everything in this soft-filter light is a gift of the Sun-Neptune trine, The two planets will form this auspicious 60 degree angle on Monday, October 27, launching the week off to a dreamy start. The Scorpio Sun is parked in your fifth house of amour while fantasy-fueled Neptune in Pisces is slowly drifting through your happy-go-lucky ninth. Luck be a Cancer tonight! There couldn't be a better time than this to take a chance on romance. Drop to one knee, bring up talks about babymaking, invite your new crush to meet your crew of friends. Even the most reserved Cancers could find themselves flirting shamelessly near Monday, or trying on Monique Lhuillier gowns ("just 'cause") even if a proposal is nowhere in sight. Have your Disney princess moment, but do try to keep one wedge sneaker planted on terra firma. Ignoring red flags or brushing aside your concerns could lead to a blowup later in the week. If someone does or says something that really hits a sour note in your psyche, speak up right away. At least that way, you have a fighting chance at addressing the matter with grace and diplomacy.
Thursday's quarter moon in Aquarius illuminates your eighth house, also known as "the chamber of secrets." You tend to swing in one of two directions: insanely open, letting every emotion spill out or completely clamped shut, impossible to read. How about striving for more of a middle ground, Cancer? If you've been venting or gushing a little too much to one person, make a concerted effort to listen to THEIR stories too. Either that, or find a couple new confidantes to lean on so you don't tax your BFF or sister. Maybe you've been waiting for a certain someone to open up to YOU first. Step out of the stalemate and be the first to get vulnerable. You don't have to haul the most shameful skeleton out of your crypt but do share something that you wouldn't tell the average person on the street. If this relationship is meant to actually go anywhere, your candor will provoke the other person to open up more. If s/he remains tight-lipped after you've revealed a card, it's probably in your best interest to keep it moving. Mysterious people can be exciting, but total enigmas? Notsomuch.


Halloween also features a furtive eighth house moon, which can be perfect for enjoying the esoteric vibes of the day. Visit a haunted house with a few friends or book appointments with a credible intuitive and get readings by candlelight (or break out your own divination deck and do readings for each other). This sultry moon could also bring unspoken chemistry to a rolling boil. A "monster mash" may be in the cards as you slip off for some steamy fun with a fellow reveler. Or, you could meet someone who gives you major butterflies and make a date for the weekend. With Mercury in your domestic fourth house, you could be inspired to host a masked ball at Chez Cancer too. If so, consider having it on Saturday instead, when you'll be in a far more festive and outgoing mood.
Next up: Your Cancer Monthly Horoscope >
SEE ANOTHER SIGN'S WEEKLY HOROSCOPE