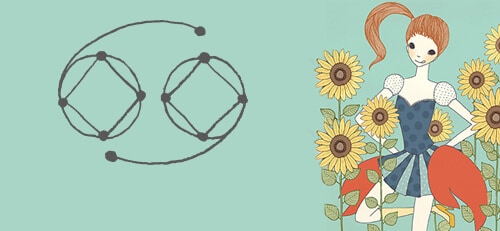 Monday October 20th - Sunday October 26th
Pile on the statement accessories; slip on your badass go-go boots. The rockstar in you takes the stage this week, as a cosmic trifecta converges in Scorpio and your fifth house of fame, romance and flamboyant self-expression. Earlier in the week, you'll be nesting hardcore; your Instagram feed gone dark. Not after Thursday! On October 23, the confidence-boosting Sun and Venus both move into Scorpio, accompanied by a powerful solar eclipse. Ka-boom! The competition didn't even see you coming, Cancer. Heck, you didn't even see YOURSELF coming to life quite like this. During this showy cosmic cycle, the performer, entertainer, daredevil and exhibitionist in you is steering the ship. No, not every moment is appropriate timing for a selfie — but with the Sun here until November 22 and Venus until November 16, most moments are. Start making plans for a glamorous makeover or chic, headturning makeunder. You'll have the green light to ombre, pierce, ink, and adorn after Saturday when Mercury ends its three-week retrograde. Until then, compile looks on a Pinterest board. When it comes to getting credit for your work, "almost famous" won't do. Start a buzz on your own behalf, using social media or by collaborating with people who help you shine brighter. Thursday's eclipse could speed your meteoric rise! A high-profile project could land in your lap, even one involving a celebrity client or that places you in front of the cameras as the spokesperson. A Toastmaster's workshop or coaching from committedimpulse.com can help you gain confidence in freeing your authentic voice.
This eclipse brings seismic shifts to your love life too. A fresh six-month cycle for amour is off to a galloping start. Fan the flames of passion, whether you're giving someone new a go or reviving the sparks with your long-term partner. One thing's for sure: you need attention in order to feel turned on. Bring on the dress-up dates, flirt shamelessly, and maybe even spell it out for your honey: I need you to worship and adore me, at least for an hour each day. On Sunday the 26th, motivator Mars joins the crusade for coupledom when it moves into Capricorn and your seventh house of partnerships. As a sign that craves security it's lot easier for you to unleash your wild child energy when you have a steady lover who has your back. With Mars here until December 4, you'll have more than the usual amount of motivation to find — or enjoy — true love. Mars is lusty, daring and bold. Paging Christian Grey! Things could get pretty steamy in your boudoir in the days ahead. On a less scintillating note, this Mars cycle also paves the way for powerful business partnerships. Take the initiative and strike while the iron is scorching! If other two-person ventures have been rocky, you won't be able to keep that clipped, polite smile on your face. Stop sucking it up and address the conflicts directly. Just know that warrior Mars can give you some extra, uh, firepower, so don't veer to the opposite extreme and burn a bridge by unleashing an uncensored emotional rant.
Take heart: It will be easier to have tough talks after Mercury turns direct on Saturday. With the messenger planet making a U-turn in your zone of home and family, smoothing out the tension with your inner circle. If you need to make decisions about your living situation clarity returns. By the time the shadow of Mercury retrograde fully passes on November 11, you could be welcoming a new roomie, hiring a decorator, or even relocating. Even if the changes aren't THAT major, purchasing a great piece of art or setting up new house rules can make home feel more like a sanctuary for you. And as a Cancer, that's an absolute must.


Next up: Your Cancer Monthly Horoscope >
SEE ANOTHER SIGN'S WEEKLY HOROSCOPE