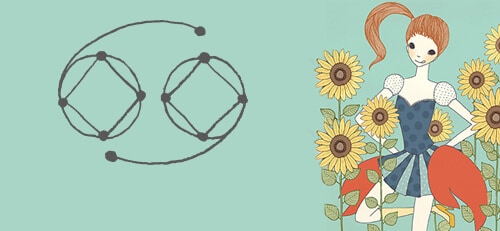 Monday April 21st - Sunday April 27th
Snip, snip, snip go those apron strings. This week, your nurturing nature could hit its natural limit, prompting you to break free from a suffocating alliance—and maybe push a baby bird outta the nest. That's because this Wednesday, April 23, four powerful planets assemble into a Grand Cardinal Cross—a rare four-way tug of war—that challenges us to make choices and changes. Major. This cosmic event involves two pairs of planets that are in opposition with each other: Jupiter versus Pluto; and Mars in a celestial smackdown with Uranus. Expansive Jupiter is touring Cancer from June 25, 2013 until this July 16 causing a major growth spurt for your sign. You've stretched in ways that you haven't for years. And for a change you're prioritizing Numero Uno instead of putting everyone else's needs before your own. Naturally, your nearest and dearest should be happy to see you spread your wings…uh, right? Well, not exactly.

With control-freak Pluto opposing Jupiter from your seventh house of relationships, this week could reveal some serious resistance from your own inner circle. (Maybe even the person who shares your bed.) Hey, Cancer, you can't blame them for missing the old, accommodating you. But rather than autopilot back into Mama Crab mode, offer encouraging words and let them figure it out themselves. Don't be seduced into playing caretaker in romantic relationships either. While it's flattering that your love interest compliments your cooking and "has no idea what I'd do without you," obligation feels like a lead anvil on your mojo now. If you're bringing home the bacon, let your sweetie fry it up in the pan—or just order BLTs from the takeout joint if you're both too tired. Then again, maybe YOU are the one who has grown a wee bit too dependent on your other half, whether a romantic partner or a business collaborator. If that's the case, the Cardinal Cross can bring a wakeup call. When stress strikes, stand tall on your own stilettos before sending up an SOS call. You'll pass this test with flying colors gaining boundless inner strength in the process. Turns out you were more capable than you gave yourself credit for. The overlapping opposition of the Grand Cross comes from aggravator Mars in your domestic fourth house sitting across from disruptive Uranus in your career zone. Oh the pressure! And it's coming from both your home life and the office this week. Don't rush to put out the fires here either. Perhaps it's time to train your team—be they roommates or officemates—in the fine art of fishing instead of casting the line for them again and again. Could you use some extra help with loading the dishwasher, putting the kids to bed, or scheduling your appointments? The Mars-Uranus faceoff will push you to your edge, forcing you to delegate or bust. If no one on Team Cancer can carry the load, outsource. Don't be cheap, Cancer. For the price of one of your decadent brunches, a virtual assistant or housekeeper could take massive weight off your shoulders. Fortunately, finding the right collaborators gets easier than ever this week. On Wednesday, social Mercury switches signs, moving into Taurus and your eleventh house of teamwork until May 7. You could turn networking into a sport now, Cancer, both online and in real time. As the smoke clears from the Cardinal Cross, you'll have an easier time trusting people too. Who knows? You might even turn a former competitor into your new ally for a joint venture. Got an idea for an app, blog, or website? Call the developers! Geek is chic while Mercury tours this zone of your chart. Upgrade your life with efficiency-boosting gadgets while you're at it. There's an app for everything nowadays, so let your smartphone do the thinking for you and save your brain space for things that really matter.
Next up: Your Cancer Monthly Horoscope >
SEE ANOTHER SIGN'S WEEKLY HOROSCOPE