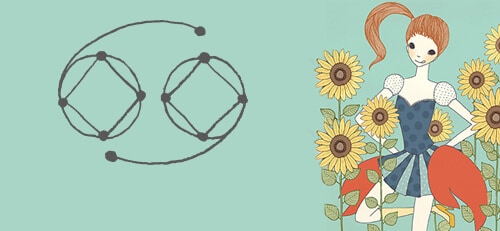 Monday November 24th - Sunday November 30th
Feeling alone on that throne, Cancer? This Tuesday, November 25, taskmaster Saturn and communication planet Mercury align in Scorpio and your fifth house of leadership. Yours are the shoulders that everyone cries on, but carrying around the weight of their problems could be too much to hold. That's not to say you have to step down from your power position — not at all. But perhaps you could start asking more of the people who are supposed to be supporting you. And please, don't apologize for making these requests! Adopt a "business, not personal" attitude at work this week, even with your family. Hello, you're not going to eat Thursday's feast alone, so, uh, why isn't anyone else bringing sides, wine or desserts? Start delegating, STAT. A romantic connection could grow quite serious under this cosmic coupling. Talks may turn to babymaking, engagement, or deeper matters of the heart. Go there.
The intensity continues on through Thanksgiving as Thursday's moon in Aquarius lights up your playing-for-keeps eighth house. Beware the green-eyed monster! Just because your sweetie got flirty praise for carving the turkey doesn't mean your relationship is under fire. That said, if you don't get adequate one on one time, you could get quite cranky. Make sure the day's celebrations include a private paso doble with your amour. Single? Thursday's sultry stars could bring a potent connection with someone you just can't stop talking to. You'll be in no mood for superficial conversation as the week wraps, no matter who you're with. If a love connection isn't calling, slip off for some girl talk with your mom or sister in between turkey and the dessert course. Also on Thursday, Mercury moves into Sagittarius and your sixth house of efficiency, integrity and healthy routines. Until December 16, you'll have the speedy messenger planet's support with taking great care of your body and powering through those end-of-year assignments. The Sun and Venus are also in Sagittarius so this trio of planets can help you find joy in things like preparing nutritious food (that is also tasty and beautifully presented) or zhushing your office to décor magazine perfection.
On Saturday, the quarter moon in Pisces and your candid ninth house helps you find the balance between "honest to a fault" and just plain honest. In your zeal to be helpful did your advice hit a little TOO close to home? When the student is ready, the teacher will come, Cancer. Trying to force one of your golden lessons down someone's throat will only cause them to resist you further. Come on down from the soapbox without denying people your sage advice. The best way to deliver it? Instead of saying, "You should do this," serve it up from the first person perspective. For example, "I'm not sure what will work for you, but when I was dealing with something similar, this is what helped me." That subtle shift can make all the difference in how your message is received.
Next up: Your Cancer Monthly Horoscope >
SEE ANOTHER SIGN'S WEEKLY HOROSCOPE