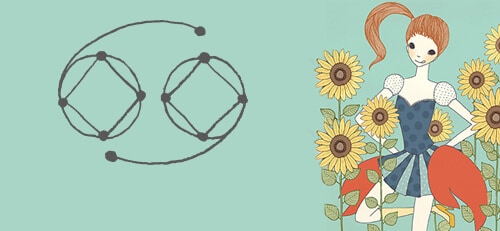 Monday December 15th - Sunday December 21st
Make a list and check it twice. The Sun spends its final days of 2014 in Sagittarius and your sixth house of efficiency, productivity and healthy living. Is your life running like a well-oiled machine, Cancer? Fine tune. The devil is in the details. Although your mind is drifting to holiday celebrations. stave off the cups of cheer between now and Saturday (or stop after one). Before you break for Christmas, you could accomplish something major at work — or at the very least, position yourself for an impressive leap in early 2015. Do your fellow revelers need a little help project managing the upcoming festivities? There's no one better than you to helm this mission. Grab the proverbial clipboard and whistle and start assigning tasks. Please DON'T, however, go into "I'll just take care of it" martyr mode and overload yourself with responsibilities. It's not your job to save Christmas, Hanukkah, Kwanza, or Festivus; in fact, people will be pleased if you include them in the preparation process.
Be sure to nurture your closest relationships this week, Cancer. On Monday, enigmatic Pluto locks into a tense square (90 degree angle) with disruptive Uranus. You may notice that someone is pulling away or being rather secretive. Yes, it could be that this person is hiding something — and you should do a bit of research to crack the case. But, this elusiveness may also be a response to your own protective armor. Have you been making it difficult for this supportive soul to penetrate your shell? Maybe you've been so darn focused on work that you haven't paused to make time for romance. Vulnerability begets vulnerability, Cancer. This relationship will suffer if you don't drop your guard. If you're feeling overloaded with work, the Pluto-Uranus square will push hard for partnership. Stop suffering and keep your antennae up for qualified collaborators. With techie, community-oriented Uranus in the picture, you could even meet through social media or the introduction of mutual friends.
On Tuesday, expressive Mercury moves into Capricorn and your seventh house of partnerships busting through the Hoover Dam in your heart. On Sunday, the Sun will blaze into Capricorn along with a new moon in Cap the very same day. Resistance is futile as the week draws to a close, Crab; so damn it, let people love you! Single Cancers could meet someone new on Sunday, or simply feel the lunar inspiration to put up that online dating profile or give Tinder a try. Don't just gravitate to the usual types. With the Sun in your opposite sign of Capricorn it naturally follows that opposites attract. A complementary force could be a better fit than someone who is eerily similar to you. A fresh chapter opens up in the love story of coupled Cancerians. Talks could turn to "the next level" in your relationship — there might even be a proposal in store. Pairing up professionally is a smart idea now too, so follow the prompts from earlier this week to find your business soulmate.
Next up: Your Cancer Monthly Horoscope >
SEE ANOTHER SIGN'S WEEKLY HOROSCOPE