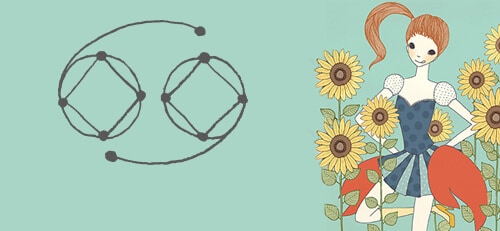 Monday July 21st - Sunday July 27th
Have you properly feted your birthday, Cancer? Monday is the day to make sure you do just that. (Extended weekend, anyone?) The next day—Tuesday, July 22—el sol— moves on to Leo, handing the lions their champagne and cake and commanding you to get back down to business. Truthfully, you're ready for the grounded groove of the Sun in Leo provides, which lasts until August 23. Put on the project manager's chapeau and get granular: how much will it cost, how long will it take, and how many people will you need to pull off those wild ideas you dreamed up over the past four weeks? The cold, hard facts could be quite encouraging, making this idea seem tangible and doable. Your work life could flourish too, especially this week as the Sun and enterprising Jupiter travel at a close degree to one another—and meeting at the exact degree of Leo on Thursday. Jupiter's a jetsetter, so you might even travel for professional purposes, relocate, or soon take on a more "intrapreneurial" role within an existing company. You're the perfect person to start up that new division, Cancer.
Warning: the Sun and Jupiter both love to live it up, but your enjoyment of the good life and all its luxe trappings could drain your funds. Indulge responsibly. And make sure that the money you do shell out goes towards objet that will stand the test of time. That killer career connection could even come Saturday, under the light of the new moon in Leo. This lunar flash kicks off a fresh six-month cycle for your finances. If you burn it as fast as you earn it, you might enlist a planner or bookkeeper who can help you set up a budget and gain power over your funds. Hunting for new clients or more gainful employment? Spread the word via your social network, or tap a powerful person you know to write you a recommendation letter and put in a good word on your behalf. This is the time to use those friends in high places, or to get back into a networking groove if you need to refresh your contact database with impressive names. On Friday, you're breaking out of your shell—in a feather headdress, boa, and sparkly bodysuit. Va-va-voom! Pulse-quickening Mars moves into Scorpio and your fifth house of passion, fame, and romance for seven weeks, making you the hottest thing in town. What was that rumor about Cancers being shy? Uhhh…you'll definitely prove that one wrong between now and September 13. You're uncharacteristically bold, so take the lead in the game of love. What do you want: a princess cut engagement ring, babies, a trip for two to The Mayan Rivera? Put it out there, Cancer, instead of expecting your honey to read your mind. Fortune favors the bold, and Mars does too! Some Crabs could even come on a little too strong, so try to keep those hormones in check during this lust-fueled phase. (Good luck with that one.) Cancer performers could flourish now. Get thee to a stage or podium; film a series for your own YouTube channel. You could seriously make a name for yourself before the summer is officially through. Just make sure you really want the person, place or thing you're chasing after. From Monday until December 21, unpredictable Uranus goes retrograde in Aries and your tenth house of long-term goals. You could even rethink your professional trajectory, passing up on a promotion so that you have the freedom to pursue a more fulfilling (and perhaps independent) path. Don't lose your nerve though if you're offered greater leadership but don't quite have all the skills you need yet. As with every new job, you'll learn as you go. And with techie Uranus in nap mode, notice if you are overly reliant on your gadgets when it comes to work. As much as the robots can do the thinking for you, it's also important to know how to do some things by hand.

Next up: Your Cancer Monthly Horoscope >
SEE ANOTHER SIGN'S WEEKLY HOROSCOPE