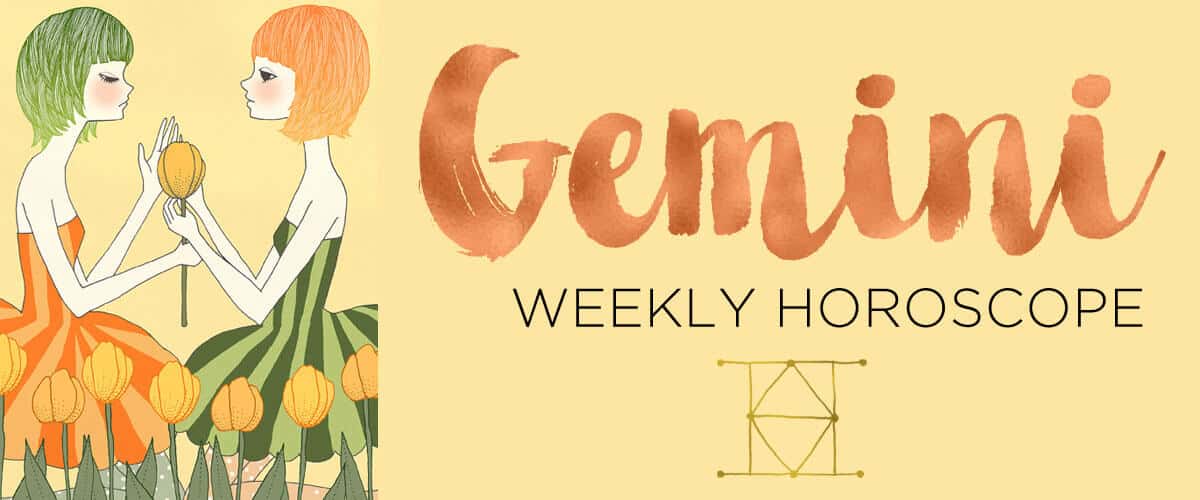 08-26-2019 to 09-01-2019
You may want to fold up those social-butterfly wings and put them in mothballs—for the next couple of weeks, anyway! Romance and cozy domesticity are going to be the order of the day (and the rest of August) once comfort-seeking Venus, who's snuggled up in Virgo and your sentimental fourth house, forms a pair of potent "earth trines." First up, on Monday, August 26, is game-changing Uranus in Taurus and your mystical, internal twelfth house. And then on Sunday, Venus touches base with sturdy Saturn in long-range Capricorn and your intimacy zone. Anyone with designs on your heart will need to be content cooking, chilling and canoodling on the couch—at least for the foreseeable future. Single Gems might meet someone while grocery-shopping or sampling French rose at the wine shop. If you're dating but live separately, talk of cohabitation—or at least key exchanges—may escalate. Not that you need a roommate to keep yourself busy! Redecorating, crafting, baking, home-brewing, painting: All those good old-fashioned "home arts" will make you happy as a clam over the coming four weeks. If you're more of an enthusiast than an artisan, join a wine or book club or throw an epic dinner party this weekend. Even though you're still a "more the merrier" Gemini, preemptively preclude drama by making sure everyone you invite into your lair is simpatico—and tranquilo.
Your inner life continues to shine more brightly than "mere" events in the outer world later this week as alchemical Uranus (in your twelfth house of metaphysics, introspection and healing) sets up another pair of earth trines, first with energizing Mars (on Wednesday) and then the big-hearted Sun (Thursday), both parked in your domesticity center. The siren call of forgiveness may become louder and harder to ignore, but there's a lot of confusion around this topic. We don't forgive people for THEIR benefit. Hanging on to painful memories or old hurts or grudges disrupts OUR energy fields and makes peace of mind elusive. Even when you have a handle on it, it's much easier to talk about than to actually do. During these midweek mashups, you have a rare and empowering opportunity to release something (or someone) for once and for all as you decide to let bygones be bygones. Don't overanalyze it or blow it out of proportion. Just decide to move on and then let it go!
Even more "news" on the home front is in store this week! On Thursday, your cosmic co-pilot, quicksilver Mercury, joins the Virgo party until September 14, giving you some Big Ideas about making Chez Gemini even more of a peaceful, gorgeous sanctuary. And then on Friday, the year's only Virgo new moon shoots an energizing jolt through that fourth house of foundations, family and females. Invest some quality time in get-togethers with your favorite chicas over the next two weeks. Not only will it be emotionally rewarding, but it could spark stimulating professional synergies. And if you've been mulling a real estate deal, get off the fence and take a serious step. This cosmic tailwind can conjure a deal out of thin air!
Check out what's going on for…