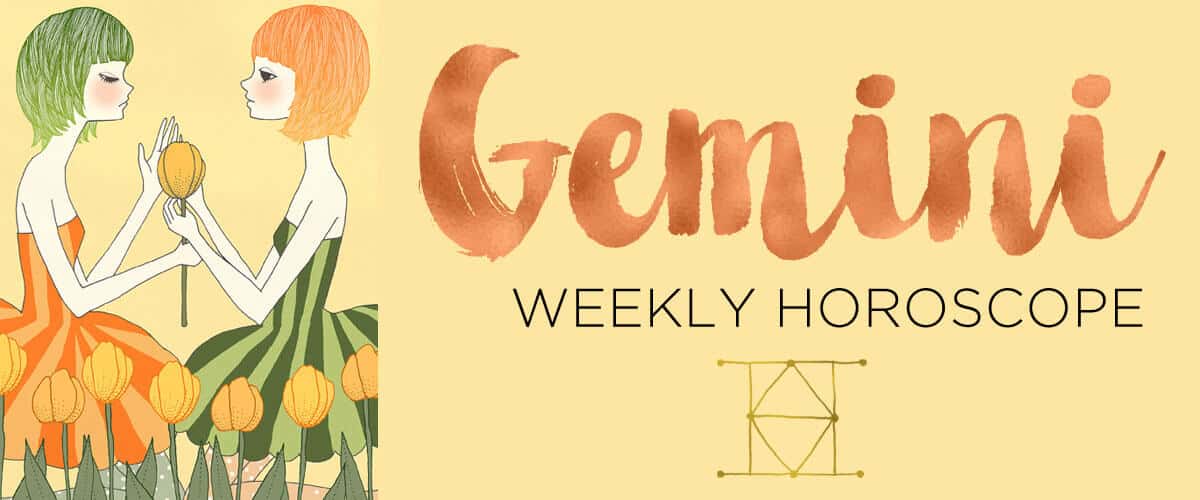 01-20-2020 to 01-26-2020
When you wake up this Monday, January 20, the world will feel a lot more like your oyster than it has in a month (at least). For this you can thank el Sol, who is swinging into fellow air sign Aquarius until February 18 and kicking up its studded combat boots in your free-spirited, nomadic ninth house. Suddenly, you're following hashtags like #RoamThePlanet and #WorkFromAnywhere and cataloging apartment rentals with the most breathtaking views on every continent. (And if you're not, you should be!) Whether or not it's time to use those vacation days isn't the point. This four-week cycle is all about expansion, Gemini, which could mean popping into new venues in your neighborhood and making a point to mingle multiculturally in your community. The temps may be low outside, but it'll be plenty warm in whatever room you chose to alight. And, if you can't manage to shake the icicles off your butterfly wings, maybe it's time to reconnect with a soul friend living south of the equator. Traveling for work is another possibility. Get ready to fill out the paperwork to apply for a visa since you may be getting paid in foreign currency.

Wanderlust strikes again this Friday, January 24, as 2020's only new moon in Aquarius drops a pin in your global ninth house. If you've been stuck in a rut, you're done complaining and SO ready to explore a way out. While this may involve scratching the itch of wanderlust, the pearls you seek may be pearls of wisdom, Gemini. Look to see if your skill set could use some polish. Enroll in the online course in UX Design, travel abroad for an intensive masterclass, sign up for a ten-pack of coaching sessions. Whatever you do, stay humble, Twin. That trait could endear you to an expert who wants to take you on as an apprentice. Priceless! If you're an entrepreneur or a media maker, this lunar lift propels projects into motion. Set six-month benchmarks. What could you launch by the corresponding August 3 full moon...and how could you skillfully monetize it? With digitally savvy Aquarius ruling your ninth house of education, teaching an online course—or creating a series of how-to videos for YouTube—might open up a new income stream. Need to bring your skills up to snuff? Enroll in a training or apply for a degree program that will position you for greater earnings.
This weekend, you'll be more focused on #RelationshipGoals than career ambitions when romantic Venus in your responsible tenth house gets in a dynamic dust-up with Mars in your seventh house of committed relationships. The question at the top of your mind could be, "Where is this thing going?" If you're in a locked-and-loaded union, there might be still some large unanswered questions looming over your head. And frankly, Gem, there's nothing wrong with coming out and asking. Just don't lunge into it all anxious and accusatory, though! The Mars-Venus square will ratchet up tension and no one wants to see a mimosa glass flying through the air during a frustrating brunch argument. But do find out: Are you heading in the same direction with your lives—or are you willing to support each other's dreams even if that means a little more space or time apart? You don't have to settle, but you DO need to participate in co-creating your future by laying out your requirements. If you're newly dating, it may be hard to finesse that fine line between "letting it unfold organically" and having the confidence in a shared future together. It might be too soon to ask "those" kinds of questions, but you CAN do a little probing to find out bae's values. Does this person even want the same things? If you're single, this is a perfect time to reconnect to your own highest values, which is how you'll attune your frequency to attract someone who's on the same wavelength. What qualities do you seek in a partner, and what are your non-negotiable deal breakers? If you're not clear on these things, you can weaken your chances of manifesting a suitable mate.
Check out what's going on for…