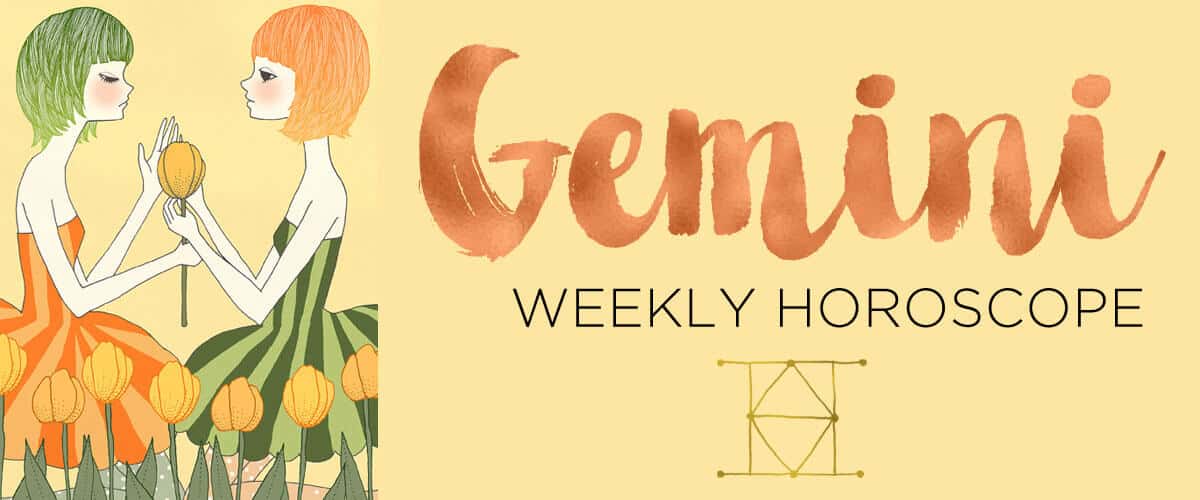 12-09-2019 to 12-15-2019
Stop playing coy, Gemini. This week's live out loud planets just won't tolerate a Twin on mute. It begins on Monday, December 9, when your ruler, voluble Mercury, joins the confident Sun in candid Sagittarius and your house of twosomes. Until December 28, the top-shelf truth serum flows like brandied eggnog at a dairy farm. Have you been stuck wondering "will they or won't they" about someone you've been seeing or hoping to do business with? Get out of the passenger seat, Gemini. You can start by confronting your deepest fear. Imagine that "the worst" has already happened…and then you'll act from a place of having nothing to lose. Over the coming three weeks, you can restore the balance—and harmonious interactions—with the people you consider your partners, whether romantic, professional or creative. Clarity is fundamental to lasting peace and happiness, and it's better to know where you stand than to grope around in the dark. Single? The winged messenger here can make you an unabashed flirt, and even attached Geminis may not be able to pass up on a mistletoe moment. But even if it's just "harmless fun" to you, try not to minimize the impact you have on others. Charming people is your natural expression, but someone could start having (glug) expectations. In a serious relationship? When you're talking about the heavy stuff, be sure to sandwich any complaints between compliments. And remember, actions speak much louder than words!

Thursday brings the only full moon in Gemini of 2019, and you'll shine like the star on top of the Rockefeller Center tree. It's only human to look to others for validation, but with the sky ablaze with Gemini energy, you shouldn't trust anything but that loud inner voice that's directing your emotional traffic. This full moon has one primary directive: To thine own self be true. Even if that means diverging from the pack on certain issues, follow YOUR guidance and believe that all the answers you need live inside of you. Sure you may have to meditate or journal or even talk to a neutral sounding board to distill your own message. Avoid judgmental people and don't distract yourself with social media just because you're feeling a little edgy inside. Underneath that angst is a powerful message from your psyche—and on that note, you may need to sit in quiet solitude for an hour in order to hear that inner voice. Also, this change doesn't have to be so utterly extreme. Avoid the high highs ("I just decided to quit my job and move to Costa Rica next week to bartend and study with a shaman!"). Impulsive moves like that can come with a crash if you're simply trying to run away from difficult circumstances. But hey, Gemini, if your soul is calling you to that island, tender your resignation, grab your cocktail shaker and your rattles, and go! This full moon can give shy Geminis a push out into the spotlight. Your genius may never be acknowledged if you keep it hidden in your private lair. Let the world in on your magic!
Let it go, let it go! You can harp on a wrong longer than many, Gemini, but under Sunday's heart-opening trine between benevolent Uranus and transformational Jupiter in the most personal sectors of your chart, you have the occasion to alter your entire emotional landscape. Dropping your guard can lead to a white light moment about how this resentment is weighing you down. If you're ready to forgive and move on, you could lighten your psychic load by a ton! These two game-changing planets won't reconnect like this again until 2028, so don't miss a great chance for liberation! Of course, this doesn't mean you have to tolerate a toxic "friend" or allow an exasperating ex back into your life. Even if you still miss certain aspects of the relationship or haven't found a replacement yet, try to see the divine hand that guided you AWAY from this person. Dwelling on the hurt could be "blocking your blessings," as they say. Be okay with the space that a loss brings, whether it was a person, job or situation you desperately hoped would work. With Uranus and Jupiter nudging you to move on, you could carve out a place for an even better fit. At the very least, these cosmic heavyweights can restore your faith that someone else (or another opportunity) really does exist.
Check out what's going on for…