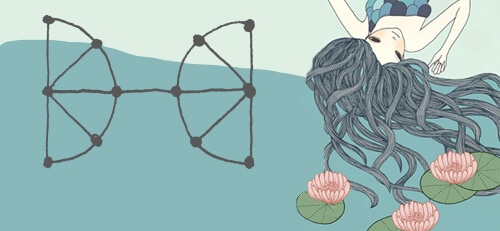 Monday April 21st - Sunday April 27th
Your star is rising, Pisces, but this week, it may be hard to find your place within the galaxy. A challenging planetary lineup—called a Grand Cardinal Cross in astrospeak—makes you bold one moment, shy the next. The Grand Cross is essentially a four-way game of thrones in which a quartet of planets vies for rulership over your time and attention. The crisscrossing cosmos in this week's battle are Jupiter versus Pluto and Mars versus Uranus, which will all be at 13 degrees in the cardinal signs (Aries, Cancer, Libra and Capricorn) on Wednesday. Rare indeed…and intense! Put up your shield because drama may be headed your way. With daring Jupiter in your fifth house of passion, glamour and romance, you can't help but turn heads. For a change, you feel confident prioritizing your own pleasure and desires instead of catering to other people's demands. In love, you're willing to take more chances—no matter what the feedback from the peanut gallery may be. While this sounds like major progress, shadowy Pluto in your friendship and teamwork house is sitting in tense opposition to Jupiter all week.

Are there haters on the home team? A few key players from your inner circle may be acting jealous and threatened of your growing fame. While you've been the dutiful friend, making every effort to bring them along for the ride, they seem to be taking your generosity for granted. This week, it might be necessary to pull some people aside for an "excuse me, but, uh…" conversation. And if certain people simply aren't warming to the light of your incandescent glow, turn your beams elsewhere. An appreciative audience awaits, Pisces, and your talents are meant for the mainstage. Don't lay your pearls before swine. The same holds true for your romantic life. With free-spirited Jupiter beaming through your love zone, you might feel irritated when friends weigh in on your love life. Chances are, you're the one who set up that "advise me!" dynamic, so perhaps it's time to stop opinion-polling them. Also, let your friends off the hook for being the voice of your conscience. Throwing yourself into dangerous situations then weeping to them about it later is really a mindbender—and wholly unfair to your entourage. Stop stressing them out with your woeful tales and making them feel like they have to rescue you. Put on the big kid pants and own your choices, Pisces, good and bad. Everyone will be thankful for the freedom this brings. The second opposition of the Grand Cross is between aggressive Mars in your intimacy, wealth and joint venture zone and volatile Uranus in your work and money house. A business collaboration or relationship may be moving at warp speed—far too fast for you! Before you drain your retirement account or burn a hole in your charmeuse-lined pocket, step on the brakes. Take an honest look at your budget. Your expenses could be building up while your personal finances are in flux. Is it time to unload some assets that are draining your funds? The second house also rules self-esteem, and your confidence could be shaky thanks to unstable Uranus here. This could affect how much your value and vouch for yourself in a close relationship or a joint financial venture. Are you asking for what you're worth, Pisces—or even aware of what that is? Research competitive rates and inform yourself. Before the week is through, you could be raising the prices for your services or marching into management's office to request a salary review. Debt is a no-no this week—more than ever. Even if you're borrowing for a specific purpose, make sure you have a clear and practical plan in place for repaying those funds. If you're looking for new work, you might hire a headhunter or agent; or, have a lawyer or representative negotiate on your behalf. This sidesteps the risk of you underselling yourself O' Modest One. As the dust settles from the Grand Cardinal Cross, you're the first one back out on the playground. That's because garrulous Mercury is moving into Taurus and your house of social networking from Wednesday until May 7. Those butterfly wings will get a workout, so let the party planning begin. For the next three weeks, you are the appointed social organizer of your crew. From Cinco de Mayo fiestas to springtime hikes to glamping trips at music festivals, you are the nucleus of all things fun. Kick up your heels, and look for fun activities close to home. If nothing's going on in your ZIP-code, enlist a local business in hosting a trivia night, karaoke or open mic to entertain and spotlight the neighborhood talent.
Next up: Your Pisces Monthly Horoscope >
SEE ANOTHER SIGN'S WEEKLY HOROSCOPE