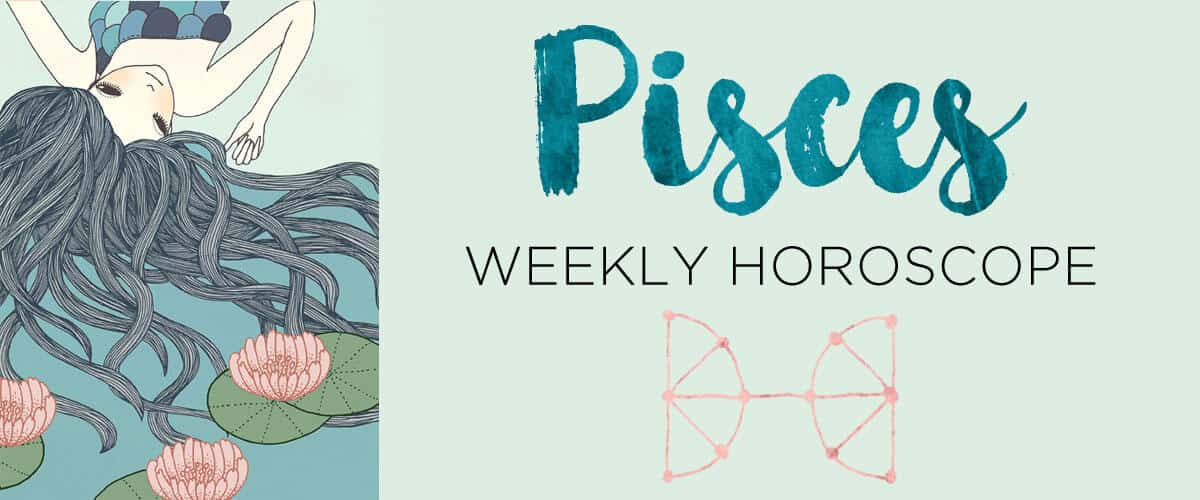 06-24-2019 to 06-30-2019
Pop-up reminder: You can't please everyone, Pisces. If you catch yourself jumping through hoops this Monday, June 24, stop that circus mid-act. With your ruling planet, boundary-challenged Neptune, getting clipped by generous Venus, it will be hard to know where your limits lie. Plus, you innately love to give and help! The problem comes in when you start to drain your resources or cram your schedule with more than any mere mortal should squeeze into a 24-hour period. And don't go modifying your preferences just because everyone in a group is leaning towards one in particular. If you feel intuitively that things should go a certain way, you'll be doing everyone a favor by sharing your refreshingly unique point of view.
While your lust for the luxe intensifies this week, keep a watchful eye on your bank balance. Tuesday's quarter moon in Aries and your second house of finances sounds the call for better budgeting. Take a break from impulse splurging on shiny things. If you're going to indulge, it should be on something practical and built to last. Maybe it's best to buy something a little more expensive if it comes with a lifetime guarantee and from a quality manufacturer. This sensual quarter moon reminds you to slow down and catch a whiff of those roses. But don't stop altogether. You need to remain productive this week while ensuring that you're doing the best possible job—not rushing or cutting corners just to get 'er done.
On Wednesday, analytical Mercury swings into Leo and your sixth house of work, service, self-care and daily routines until August 29, helping you reorganize your life from the ground up. Your go-with-the-flow sign likes being spontaneous and able to react to situations as they arise, but you can also benefit from getting things super-systematized and streamlined. The fleet-footed messenger visits here every year, but this time, you'll get a bonus six weeks because of a retrograde from July 7 to 31. Start by clearing out the clutter and tackling any digital messes that are unwittingly slowing you down. Make your health a priority and get some doctor's appointments and bodywork sessions on the books. Need a little help? Hiring service providers takes the grunt work off your plate and allows you to focus on what only you can do, like the creative and visionary aspects of your work. While you'll have to cough up time and money, if you're patient and train them right, it'll be one of the smartest investments you can make. No funds? Work the barter system…or call in some of those favors you're owed from your friends. You'll have a cat sitter or house painting crew assembled in no time.
Check out what's going on for…