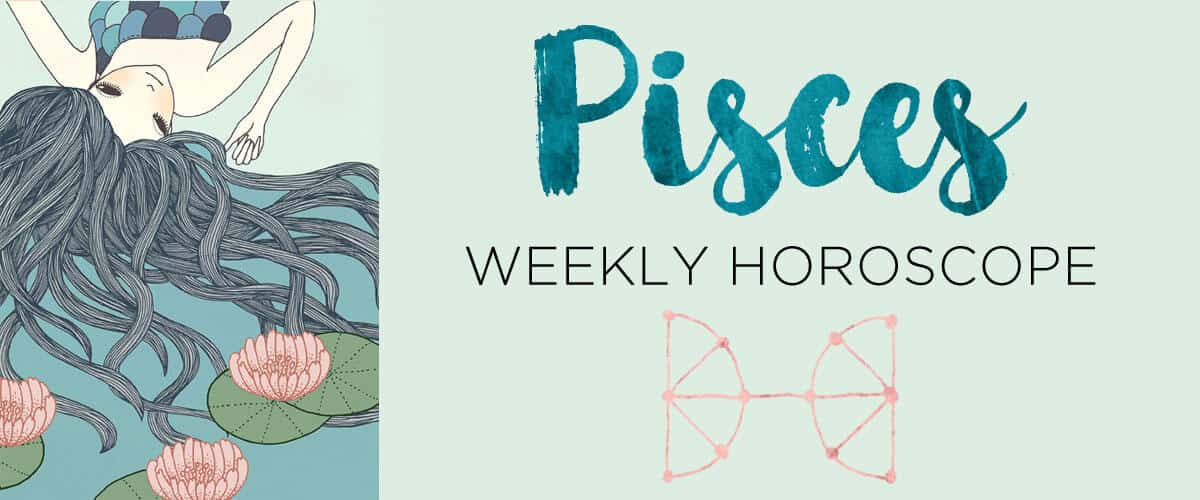 01-20-2020 to 01-26-2020
Program your settings to flow mode, Pisces. This Monday, January 20, the Sun nestles into Aquarius and your twelfth house of healing, divine inspiration and escape. If you've had zero chill in your life since 2020 began, this will be music to your ears. This will be all the better if you can slip off to a beachy destination for restorative mermaid time or hit the slopes if you're more of a "frozen tundra" kind of water sign. But only if it's not going to involve stressful trip-planning and maneuvering! The four weeks leading up to Pisces season are the sunset of your annual solar cycle. You won't have the energy for searching all over town to find a sitter for your Labradoodle. This quiet, contemplative time is more about releasing the past than rushing into anything new. Are you still hanging on to some baggage, like resentment, grudges—or quite literally bags of old clothes that need to be hauled to the thrift store? As gently as possible, begin to move these things out of your life. The twelfth house governs the subconscious and the spiritual. A session with a great therapist, then one with a shamanic healer, could provide the deeper support you need to REALLY let it go before Pisces season begins on February 18. During this internally focused time, your intuition will be sharper than usual and you may feel drawn to helping out friends who are struggling. But set boundaries with people who keep bugging you for free (and constant) card readings. Hmm, maybe it's time to start charging for those sessions!

Do your closets and cupboards runneth over? We know you cherish your sentimental objects, and we're certainly not suggesting you chuck them in a downsizing frenzy. But don't be surprised if you feel ready to let go of a few more things starting this Friday, January 24, when the year's only new moon in Aquarius lands in that same twelfth house of healing, surrender and release. Every object holds a charge, Pisces, even the ones you have "binned" on the high-high shelves in your kitchen or garage. Fling open the lids and see what's what. Then, give your calendar—and your friend list—the same discerning treatment. Are you missing magical moments with people who allow you to "just be" as you race to prove your allegiance to high-maintenance snobs? This new moon may illuminate ways that you've been pleasing others at your own expense. Enough of that! Graciously bow out of plans that don't feed your soul and replace them with activities that revive your spirits. This lunar liftoff is the perfect time to begin (or pick back up with) a practice such as yoga, meditation, or working on an artistic project.
On Sunday, you may feel stretched toward two very different magnetic poles. Venus in Pisces is dialing up your romantic side, but a dicey square from driven Mars adds some dynamic tension to the weekend's vibes. Of course, relationships require a constant recalibrating, and your kind-hearted sign is always willing to compromise to keep the peace with your inner circle. But this weekend, you risk putting your personal goals aside for the sake of work—or a more forceful personality. Take a look at where you "leak" energy when you shape-shift to fit someone else's mold. The measure of your love isn't based on how much you sacrifice. Saying no to being Best Supporting Pisces can be hard, but don't feel guilty about that decision. To avoid becoming resentful—and then acting out passive-aggressively—think about what you stand to gain by prioritizing YOUR desires...and what you could lose if you don't. When you're happy and fulfilled, you have more to offer other people, making that choice a win-win for everyone. But if you give it up for somebody else, who benefits from that?
Check out what's going on for…