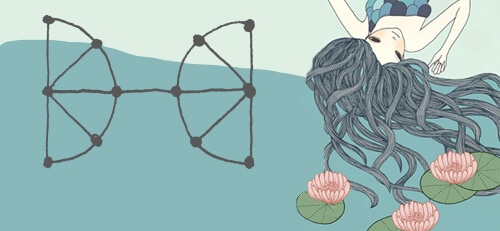 Monday March 10th - Sunday March 16th
Are you down for the crown, Pisces? There's a "royal rumble" from the heavens this Monday, March 10, as the moon and lucky Jupiter declare you king or queen for the day. Take charge, with your trademark creativity and compassion in tow. A leadership position has your name stamped all over it—and this one could even vault you straight into the public eye. If you have a project to promote or simply want to brag about your latest and greatest accomplishments, get the buzz going Monday. Jetsetting Jupiter is in the mix helping you go farther, faster. Expand the radius of your reach using social media and tapping friends from other parts of the globe to help you spread the word. Before you know it, you could be "really big in Europe" or taking your walk of fame on a larger stage. As you grow exponentially, Pisces, do you have systems in place to support your stretch?
All week, the expressive Sun and structured Saturn are synced up in a supportive trine (60 degree angle), helping you create a strong foundation for success. Let's face it, you have had your "sparklepony" moments, Pisces, chasing after shiny experiences and forgetting about the promises you've already made. This is no time to blow off your tried-and-true crew for the latest adventure. Yet you might need to adjust their expectations. Perhaps they are leaning a little too heavily on your nurturing shoulders, and you're secretly feeling cramped, cornered, and claustrophobic. The trouble is, you don't want to be "mean" and let them know that you need some space. What a bind! Err on the side of authenticity rather than compromising your needs. People are far more understanding than you've given them credit for—and your true friends will understand your need to fly free from time to time. A travel opportunity could crop up this week, one that has a professional purpose attached to it. Pack your bags and go. There's fortune to be found in new ZIP-codes this week. Sunday's full moon in Virgo shines its bright beams on your closest relationships. A casual connection could become a real-deal commitment over the coming two weeks, or you'll be inspired to get back out on the playing field again. Some Pisces could be meandering through Harry Winston or seeing a special someone drop to one knee unexpectedly near Sunday. Has a partnership hit a snag? Hash out the finer points of your agreement before you storm off. This might not be the end of the road, Pisces, but rather, an opportunity to grow closer by finding new ways to compromise and cooperate. Legal matters draw to a close over the two weeks following the full moon. At last—you could settle a suit, sign papers, or ink a deal on a dynamic duo.
Next up: Your Pisces Monthly Horoscope >
SEE ANOTHER SIGN'S WEEKLY HOROSCOPE