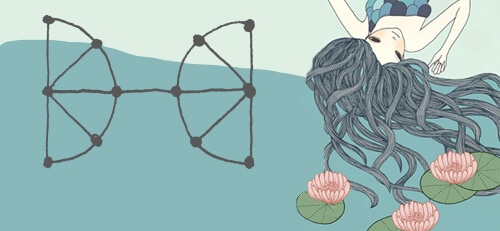 Monday October 27th - Sunday November 2nd
Stre-e-e-e-tch. This Monday, October 27 your ruling planet Neptune forms a sweet trine (60 degree angle) to the Scorpio Sun. The Sun governs our ego and identity and this cosmic mashup will inspire you to play around with your image a bit. It's Halloween week, after all, a time when it's socially sanctioned to wear a costume. But in this case, you're not actually masquerading. Rather, you're lifting the curtain on hidden aspects of yourself and wearing your truth on your sleeve — literally. Let the woo-woo dreamer, the punk rock girl, the 60s flower child, whatever out to play. Heck, you won't even mind if it causes a little controversy or shock. This could lead to some truly stimulating discussions amongst your network. No shame in your game! Your refreshing honesty will inspire others to be more authentic too. Are you a master of a particular craft? With the Sun in your ninth house of education, you could find yourself teaching the subject, or designing a workshop in your area of expertise. On the flip side, Neptune may inspire you to pursue a mystical or creative subject with greater fervor. Go on and sign up for that Angel Intuitive Readings or Acoustic Guitar Basics class.
Thursday's quarter moon parks in Aquarius and your twelfth house of transitions. Something's gotta go in order for you to grow. No need for a massive purging mission here though. This is a quarter moon, which is more about moderation and balance than anything extreme. How can you gently retreat from a situation that just isn't serving your highest good? Maybe you simply need to downsize. Have at those cluttered closets and drawers, pulling out pieces you rarely (if ever) use. Would someone in your circle get a lot more mileage out of them than you? Earn some karma points and donate them to a loved one who will treasure these goods. Some Pisces will find themselves walking the tightrope between compassionate and codependent. You can't help but care deeply for the people in your life, sometimes wanting better for them than they do for themselves. This week, if you find yourself needling, nagging and going overboard with the help, draw back! Trust that your message has been delivered. The more you push, the more apt people are to drop the ball. Maybe you've been straight up enabling someone's bad behavior by rushing in for the save and preventing a "crisis." Again, this quarter moon urges you to step back. Focus on Numero Uno, because if this person stumbles (something you can't stop them from doing), you'll need to be strong and stable when they finally come to you for advice.
Friday is Halloween and this promises to be a fantasy-fueled one for you. The moon is hovering in your enchanted twelfth house while expressive Mercury has taken up residence in your mystical eighth. Dress as a magical creature from Narnia or Harry Potter lore. You might even slip into a villain's garb: Angelina's Maleficent or The Wicked Witch Of The West, perhaps? While you'll be feeling the spirit of this haunted holiday, don't overdo it on the pumpkin ales or bite-sized candy (the mix of which could be, er, intense). You won't have the best sense of boundaries with the moon in your twelfth house. Monitor yourself so you don't end the night in hot mess mode. Mercury's alluring influence could bring some fairy tale loving your way too. With Venus in your worldly ninth house, the sultry someone under the mask could even be from a different culture or part of the world. One love!
Next up: Your Pisces Monthly Horoscope >
SEE ANOTHER SIGN'S WEEKLY HOROSCOPE