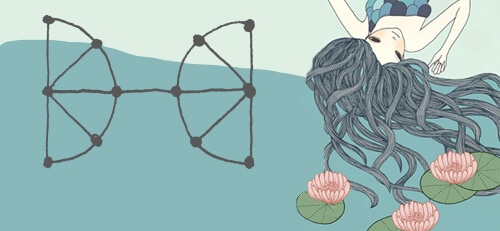 Monday September 1st - Sunday September 7th
What's really going on here, anyway? On Tuesday, September 2, messenger Mercury slips into Libra and your chamber of secrets until the 27th. All things esoteric will lure you now, so dive below the surface. (Not that anyone has to twist your mermaid tail to get you to do this!) What people aren't saying is far more fascinating than the words coming out of their mouths. Body language is so telling too. Tune in: are people fidgeting or crossing their arms when they are with you? Struggling to make eye contact? They may be hiding something. You'll make it your mission to find out exactly what. Tune in to your own body's signals too. Do you feel a sense of ease and openness when in the company of certain folks or a constricted tightness and racing heart? Beyond a little social anxiety here and there, these can be cues from your intuition. Don't brush them off. With Mercury in this position, your seductive charms will be on high. Conversations will be charged with innuendoes. Save your final rose for someone who can meet you on all levels: mind, body and soul. Your love life continues to heat up as the week bodes on.
This Friday, amorous Venus relocates to Virgo and your seventh house of relationships until September 29. A real deal romance could rock your world. Keep your antennas up for someone who can truly go the distance. Opposites attract now, so be willing to break from type. You'll be pleasantly surprised by what a complementary force can offer. Has a commitmentphobe been stringing you along with empty promises? Shut the door and bolt it behind you. You're not going to manifest a genuine partner if you're reserving a fragment of your heart for this time-sucking vampire. When it comes to less offensive behaviors—socks strewn along the floor, a failure to call exactly on time—you might decide to ease up a bit and focus on the things you DO love about a certain someone. Is it really that big of a deal to pick up the trail of laundry or wait ten minutes if you're getting your RDA of love? Choose your battles. Venus could also usher in a creative collaboration. See what happens if you team up with another visionary force this September. Spend the weekend tying up loose ends. With the moon in Aquarius and your twelfth house of transitions, you're ready to let go of anything that's standing in the way of your progress. Start with your physical space: emptying out those junk drawers can be liberating, especially when you discover "sentimental objects" that are charged with memories you'd rather not rehash. This is also a great weekend to rejuvenate. Slip off for a spa day, or an overnight visit to your most nurturing friend. It's time for YOU to lean on people for support instead of being everybody's favorite shoulder to cry on.

Next up: Your Pisces Monthly Horoscope >
SEE ANOTHER SIGN'S WEEKLY HOROSCOPE