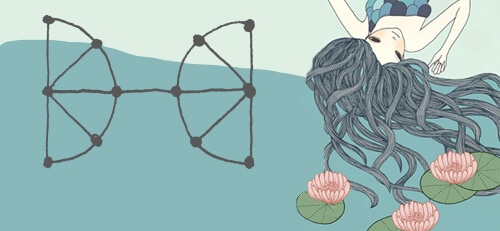 Monday October 20th - Sunday October 26th
Ready, set, expand! You're coming out of hiding this week, Pisces, waving your passport and toting a trés adorbs weekender bag. From Monday through Wednesday, however, the Sun rounds out its tour of Libra and your mysterious, seductive eighth house. Handle your behind-the-scenes business; entertain in your boudoir or just plain disappear from the world for a minute so you can reboot and recharge. On Thursday, el sol moves on to Scorpio and your jetsetting ninth house for a month, and all the world's your stage once again. Paging The Scarecrow, Tin Man and Lion. You'll want to look a lot further than your own front door (or country code) for the opportunities you crave. Connect to people online, but lean into the spirit of adventure too. If meeting a friend in Paris or attending a workshop in New York City seems like a fun and doable idea, well, why not seize the day and buy a ticket? Life is too short for regrets. Romantic Venus will join the Sun in Scorpio from Thursday until November 16, bringing love in every flavor. Single Pisces could feel the click with a cutie from a different culture. If you're in a relationship, book the B&B for the weekend or hop on the pre-holiday specials for a resort package. And now for the cherry on this sundae: Thursday's Sun-Venus merger also arrives with a solar (new moon) eclipse in Scorpio, which helps you take flight like a Boeing 747. Inspiration could flood you, and this lunar momentum could help you get started on a business venture or a book idea (check out Your Big Beautiful Book Plan for motivation if the writing muse strikes). This eclipse is the beginning of a six-month cycle, so don't feel like you have to build your Rome in a day's time. Just take the first steps after Thursday because you'll see hidden opportunity — a gift of the eclipse — at every turn for the month that follows. Carpe diem!
On Saturday, expressive Mercury ends a rocky three-week retrograde and turns direct in your eighth house of seduction and shared resources. Since October 4, an ex or a nemesis may have reappeared, stirring up jealousy or competitive vibes. Either that, or you felt your own paranoia and possessiveness spiraling out of control. Intense! With Mercury moving forward again on Saturday, you'll know just what to do: bow out of the competition or take the appropriate steps to keep this person far away from what's precious to you. In the case of an old flame, any confusion about whether or not to try a round deux will begin to clear. If a contract like a business merger or real estate deal stalled, Mercury's course correction will bring you back to the negotiating table again. Write a draft of an email this weekend or plan on picking up the phone to see what the holdup is next week. Sure, you already know bleeping Mercury retrograde is to blame, but the point is to gracefully remind people that it's time to get the show on the road again!
On Sunday, go-getter Mars moves into Capricorn and your eleventh house of community. Sweet relief! Life has been stressful since Mars parked in Sagittarius on September 13, since you've been ultra driven and focused on accomplishing some of the grandest goals on your wishlist. And while the red planet probably helped with career strides, it could be getting rather lonely at the top. With Mars moving on to a more collaborative place, rally Team Pisces together and start searching for some new recruits. Not only do many hands make light work, but you'll greatly enjoy the brainstorming and co-creating process between now and December 4. With certain people, aggro Mars can stir up tension that's been simmering below the surface. If you're so over the in-fighting, you could finally screw up the courage to bounce from this bunch. If it's not goodbye for good, at least let it be goodbye for now. You need a breather from chaos! Having fun for fun's sake is important for the coming five weeks too. Laughter really is the best medicine, and make it your mission to find new adventures that leave you rolling on the floor. The eleventh house governs technology too. With Mars in Capricorn, you could be consumed by an online project or developing a blog, e-store, YouTube channel, or even an app. Geek out! You might not invent the next Google, but then again, you never do know.

Next up: Your Pisces Monthly Horoscope >
SEE ANOTHER SIGN'S WEEKLY HOROSCOPE