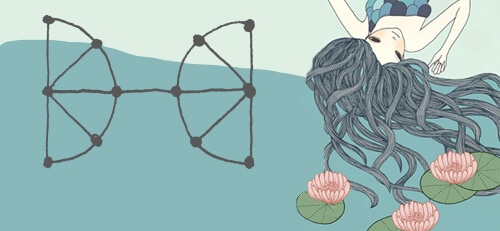 Monday April 14th - Sunday April 20th
Hang that red velvet rope, Pisces, and keep it in place for a while. This Monday, April 14, murky, mysterious Pluto turns retrograde in your eleventh house of groups and teams. For the next five months, be more discerning about who you let in to your inner circle. With Pluto's guard down, it's all too easy for the drama queens, disruptive vampires, and doubt-planting frenemies to creep past security. Your heart is huge, but let your intuition's voice be the louder one. If your inner guides are sending up red flags, pay attention! Let people earn their sacred spots in your entourage. If nothing else, you'll find some truly trustworthy allies and lifelong friends from your "admission process." Your humanitarian spirit is never on hiatus, but you need to set limits with your involvement in a good cause. You can't save the world, Pisces, not if that means draining your own reserves and zapping your joy and energy. Finding the right balance will require careful foresight. Remember that you also deserve the happy life you're trying to create for people in need!





A soulful or spiritual group could draw you in between now and September 22, but don't enter with "eyes wide shut." (Pun intended.) Teachers are great but you don't need a Svengali to direct your every move. Be your own guru and steer clear of any group that doesn't encourage you to think for yourself. Tuesday's lunar (full moon) eclipse in Libra brings sexy back in a major way. Full moons are already known to be potent periods for manifestation, but with the extra zing of an eclipse happening, you could receive a bumper crop. Hello, skyrocketing libido! An unexpected attraction could sweep you off of your stilettos on Tuesday, or in the two weeks that follow. Odds are, the chemistry has been bubbling for a while but maybe you just weren't sure how to break the ice or if the other person was feeling more than friendship vibes. Get ready for a mindblowing makeout session, and quite possibly, talks about a happily ever after. For some Pisces, this eclipse could bring a make it or break it moment. If you're ready to nudge your union into more permanent terrain, lay your feelings on the line. Deliver a gentle ultimatum if necessary. You need to know: are they in or are they out? Have you been sweeping someone's unsavory behavior under the shag rug? Long-overdue anger could strike like a lightning bolt, helping you break free from this toxic entanglement. Perhaps you've veered to the opposite extreme, taking forever to open up to someone who loves you. The tipping point could be reached on Tuesday sending you straight into the arms of love. If you've been more "not" than "hot" lately, this eclipse could loosen the packed earth around your mojo. Make a point of moving your body more—but also getting real about resentments that have been quietly brewing in your psyche. Have you been afraid to ask for what you want and need? People are not mind readers so keep it real, Pisces. Consider the alternative: if you don't speak up the spark could go out in an important relationship, and that would be a shame. If you're struggling to express yourself, fear not. On Saturday, the life-giving Sun blazes into Taurus and your third house of communication for a month. You'll be blessed with the gift of gab and the power of the pen between now and May 20. Get to work on those searing blog posts, sultry song lyrics, or the next chapter of your future Pulitzer Prize winning novel. Your way with words is definitely winning whether you're typing them into a document or speaking them aloud. Got a project to pitch, a product to sell? You could sell bright bouquets of tulips to a Dutch florist over the next four weeks, so get out there and work your magic. If you see something, say something. Drumming up support for any idea will be a snap—and some people could even turn into partners for a joint venture. Surprise! You might even link up with the so-called competition, which only serves to make you both stronger. Keep your antennas up for kindred spirits. Your right hand person could also emerge from your existing inner circle—a sibling, neighbor, or relative close in age. Start discussing the idea of a formal collab this weekend, even if you're simply working on a project-by-project basis.
Next up: Your Pisces Monthly Horoscope >
SEE ANOTHER SIGN'S WEEKLY HOROSCOPE