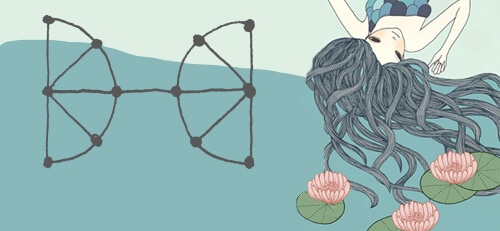 Monday July 28th - Sunday August 3rd
Fasten your seatbelt, Pisces. This week could be quite the wild and dramatic ride. With love planet Venus parked in Cancer and your fifth house of passion, you'll certainly see some fireworks. But three other planets will hit Venus up throughout the week, bringing both challenging and exhilarating events. It begins on Monday, July 28, when seductive, possessive Pluto plunks down directly opposite Venus. This once-a-year crossfire could bring some intense emotions to the fore. Love them or hate them, that is the question? That line will be ultra-thin during the Venus-Pluto faceoff. You could suddenly need major space from the person who you couldn't get enough of last week—or find that your emotions run hot and cold on an hourly basis.
With Venus in your fifth house, you're likely to be experiencing a surge of sexy self-expression. You want to wear your colorful personality on your sleeve, bandeau top, or high-slit skirt (pelvage alert?), and enjoy the attention that comes along with those bold, stylista moves. You'd think your real friends would smile upon you cutting loose like this, but not this week, Pisces. You could get some flak from your entourage for coloring outside of the lines or letting your hair down more than they are comfortable with seeing. What's good for the gander probably won't cut it for the Pisces goose this week. As much as you want to say, "c'est la vie," you could be emotionally affected by the peer pressure with snarky-bully Pluto in the mix. Stand your ground and remain true to yourself. Some people may even accuse you of hogging the spotlight. Well, it IS your time to shine with Venus in your fame zone until August 12. But to keep the peace, don't forget to share the glare of those bright lights with others who helped you along the way. You could even use your starpower to draw attention to a cause that is near and dear to your heart like Pisces reality TV star Dina Manzo does with her charity Project Ladybug. On Friday, stable Saturn forms a nurturing angle to Venus, helping you fly your freak flag with pride. This is a day where taking a gamble could actually pay off. No, you might not please everybody, but the people who DO catch your drift could be some rather impressive souls. An opportunity could come from afar, one that allows you to fulfill a dream of traveling or even relocating. Packing a bag might not be necessary though. You could gain a new fanbase through the Internet too. In love, it's safe to take a gamble on Friday. With Saturn in the frame, you'll land squarely on your stilettos—and quite possibly in someone's arms. Be more forthright about what you want from a mate. Don't be afraid to ask the big questions either. The right person for you will dive right into these discussions, happy to give you quality information to work with. On Thursday, slow down and systematize.

Mental Mercury moves into Leo and your efficiency zone until August 15, joining the confident Sun and venturesome Jupiter there. Take a break from all the "doing, doing, doing" to get all your ducks in a row. Your daily life has already become more demanding since Jupiter moved into Leo for thirteen months on July 16. Some Pisces could have a business plan in the works or be on a mission to ascend the ladder of success. You want the Pisces machine to run like a well-oiled one, which could require you to simplify. Spend a good chunk of this weekend decluttering, sorting and filing. And if you just can't bring yourself to sacrifice any of those bells and whistles, you will have to outsource. Good help is easy to find with Mercury, Jupiter and the Sun synced up. Post an ad on Craigslist or reach out to your social network for referrals. Sacrificing a prix fixe brunch for a weekly housecleaner, virtual assistant or babysitter will be money well spent. This is a great time to get a wellness mission underway. Work from a plan, one with printable menus that download to your smartphone, for example; and set times for exercising each week. Let someone else do the thinking for you, so that all you have to do is show up at the green grocer's or gym!

Next up: Your Pisces Monthly Horoscope >
SEE ANOTHER SIGN'S WEEKLY HOROSCOPE