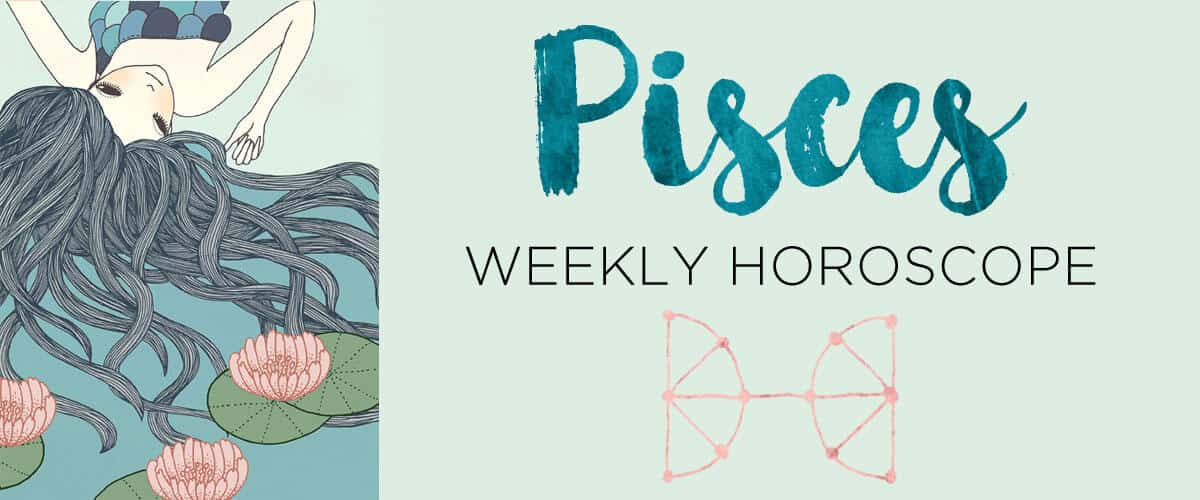 04-22-2019 to 04-28-2019
Put yourself out there this week, Pisces! The stars not only are sending support—they're giving you a cosmic kick in the pantalones to share a bold idea or take a bit of a gamble in approaching someone on your radar. On Monday, April 22, the Sun holds a summit with game-changer Uranus. While this merger happens once every year, this is the first time since 1942 that it's happening in grounded Taurus and your third house of communication and networking. Mentally push aside any inhibitions or self-consciousness and, even if you have to fake it till you make it, act with confidence. That alone will attract people to you AND your message. You'll be amazed by your ability to say exactly the right thing to people, in precisely the right way, to get them on-board. As a Pisces, you can't help but be emotive, and the more genuine enthusiasm you can muster and convey, the more likely they'll be to lend whatever support you desire. In your third house, this electrifying mashup will inspire you to take the initiative in meetings and voluntarily share your brilliant ideas. Don't water down your weirder thoughts. If anything, emphasize them—they're the ace up your sleeve.
Come midweek, however, you'll want to tap your shrewd sense of discernment as probing Pluto turns retrograde in Capricorn and your group-activity sector on Wednesday. Don't be too quick to show your cards to just anyone, even if they're on your team. With shadowy Pluto kicking off its annual five-month backspin, situations and people's motives may not be as they seem, and it'll be up to you to call them on any and all BS. Be extra selective about who you share intel with or welcome into your inner circle between now and October 3. (Remember: The "con" in con man is short for confidence, so don't hand yours out too readily.) Any collaborative initiatives should be checked and double-checked to give you the assurance you need to move forward—especially if you're investing money or a piece of your soul. This doesn't make you paranoid, Pisces: It keeps you safe. An upside? If you've been wishing you could redo some contribution to a team project or need to upgrade or learn new software, the next several months should offer timely opportunities. Any aspect of your digital life is worth reviewing now since retrogrades rule the past, and Pluto is the master of metamorphosis. But again, there's no reason to reveal what you're up to until you're 100 percent ready. The last thing you need is someone taking one of your ingenious ideas and running with it.
Keep your emotional antennae up this Saturday, when you may get sucked into a family issue—despite your insistence at staying out of it. Aggro Mars is marching through your fourth house of home and family, which could stir things up all by itself. Making matters even twitchier is an exasperating square from misleading Neptune hovering in your sign and scrambling the signals past the point of decoding. You won't be able to get to the bottom of the situation, so if you can't extract yourself from it, use your Spidey senses to detect whether someone is intentionally pulling your chain or so confused herself that she doesn't really know how "off" she's being. Even if she's in a legit crisis, remember: The best support is the kind that empowers a person, not enables them.
Check out what's going on for…