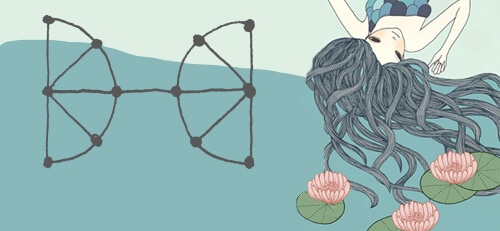 Monday September 22nd - Sunday September 28th
On Monday, September 22, the luminous Sun slithers into Libra and your eighth house of intimacy and seduction until October 23. A relationship could deepen quickly, and in spite of your intention to take it slowly, you may be ready to go all in. But don't lose yourself in the process. Stay attuned to what your always-reliable intuition is telling you. If you're getting pings of distrust, jealousy or anxiety, pump the brakes. You can prevent a possible slide down the rabbit hole by keeping your social calendar packed with "me-based" activities so keep some breathing room. Single: You'll be a magnet for romance, so make sure you're sending out signals that match what you desire—and don't settle. Take your time getting to know a hot prospect before succumbing to his or her physical charms. Once you cross that line, Pisces, there's no turning back. If you're in a committed relationship, tap into the "shared resources" aspect of the eighth house to make life easier for both of you in the next month.
Whatever your status, you'll get a double dose of this energy on Wednesday, when a new moon joins the Sun in Libra. You could make "the" commitment to your significant other or ink a deal with a business partner. An unexpected windfall could come your way too, through an inheritance, property sale or commission check. Over the next six months, the time period ruled by this new moon, you might realize that the 9-5 lifestyle is not for you. But since you can't just click your heels together and suddenly be a mogul, start devising a plan to make your own hours—or become financially independent. If necessary, sign up for advanced training or a certification course. Friends can be helpful in this department, though it's been tough to tell who your true buds are these past five months. Blame the confusion on a retrograde Pluto, which has been spinning backward in your eleventh house of friendship since April 17. On Tuesday, though, the transformational planet resumes forward motion, helping you bring some predictability to your social life. Now you'll know whom you can turn to for help and support—and who it might be time to hand walking papers to.

On Saturday, your social circle may widen to include some charming (and sexy) folks from other countries or backgrounds. Curious, communicative Mercury shifts into Scorpio and your ninth house of travel and higher education until October 10. Combine your love of all these things by taking a language course or doing something that will satisfy your hunger. Who knows, Pisces? You might even get certified to teach English as a second language and start hunting for jobs overseas. When Mercury goes retrograde from October 4 to 25, nostalgia for places you've been and foreign friends may get strong, so keep that passport within easy reach.
Next up: Your Pisces Monthly Horoscope >
SEE ANOTHER SIGN'S WEEKLY HOROSCOPE