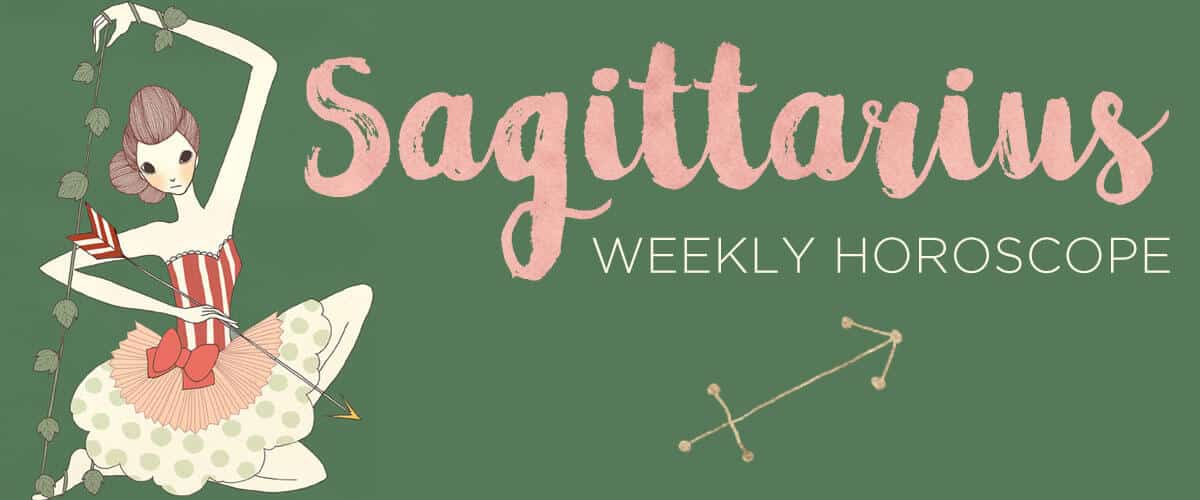 12-09-2019 to 12-15-2019
Birthday season is in full swing, but the festivities heat up on Monday, December 9, as effusive Mercury joins the playful Sun in your sign—putting you in merry spirits until December 28. While Mercury was skulking through secretive Scorpio since October 3—an extended tour which included a retrograde from October 31 to November 20—you may have felt like you were wearing a cloak of invisibility. And TBH, you probably preferred it that way! But as the celestial socialite resurfaces in your sign, you're about to emerge and reclaim your fire sign magnetism. Live out loud Sagittarius is back at the helm, and plans you've been quietly developing are ready to be finalized for debut. First, though, run them by the hive mind for a last round of feedback. Think in terms of mass appeal and make any necessary tweaks for them to go viral. You have to be happy with the final product, but also remember that some things might not be perfect straight out the gate. Pick your battles, Archer! With Mercury in your sign, you might be more candid and outspoken than usual, which is saying a lot. Yes, you'll be in possession of a silver tongue…but it may be sharper-edged than you realize. So while it's good to let people know how you REALLY feel, be careful not to crush anyone's dreams in the process.

The negotiating table beckons on Thursday, when 2019's only full moon in Gemini illuminates your partnership house and brings a seal-the-deal vibe to the week. This lunar lift in your seventh house of commitments could turn a Sagittarius solo-act into a dynamic duet. But think carefully before you peg anyone as partnership material. The duplicity of the Gemini full moon can deliver a contradictory character—someone whose motives you can't quite see right off the bat. Give yourself a couple weeks to do your due diligence. Although you may seem to have everything in common up front, a little digging might reveal some real differences going on in the way you live your lives and even your values around dealing with time, money and relationships. This doesn't have to be a dealbreaker though, but some negotiating will be necessary to harmonize the attraction of opposites. If you're a single Sag, this is your week to be proactive. Plant yourself under the mistletoe, chat people up at holiday parties, hop on the dating apps. If your status is "complicated," this lunation is your cue to clear the decks and create space for someone who is interested in pursuing an actual relationship NOW. If you're in a solid, loving union, your status could evolve in exciting ways. With playful Gemini directing these moonbeams, some 101 date-planning can ignite a new fire. Stock the shared calendar with seasonal cultural events—are you able to slip off to another city for a weekend, even snag front row seats at a concert from that friend with connections? Lucky Archers can pull off the miraculous this week. In your everyday life, consciously look for ways to co-create, whether you're hosting the holidays for your blended families or starting a healthy eating and exercise program together in the new year.
On Sunday, a therapeutic connection between life-force energizer Uranus in your healthy living sector and your ruler, vital Jupiter, in your practical second house gives you the urge to hop back on the wellness wagon. If you've fallen into a lifestyle rut, look to the future instead of kicking yourself about those missed workouts and top-shelf bourbons. It takes 21 days to create a new habit, and this week you can begin (or begin again) some truly life-affirming ones. Up the motivational factor by adding a little ritual to your routines. Need some help getting to the gym? Create new playlists that will make your workouts more stimulating. Because you're a mutable sign, for you, variety is definitely the spice of life. As long as you're exercising regularly, it doesn't matter whether it's Soul Cycle on Sunday, Pilates on Thursday or African dance on Thursday. Your "practice" can be a sampler platter, cobbled together to fit your mood on any given day. In the other areas of your life, look for simple ways to add beauty and sensuality, like filling an ionic diffuser with lavender oil and placing it near your bed. With an approach like this, "ordinary" moments will feel extraordinary!
Check out what's going on for…