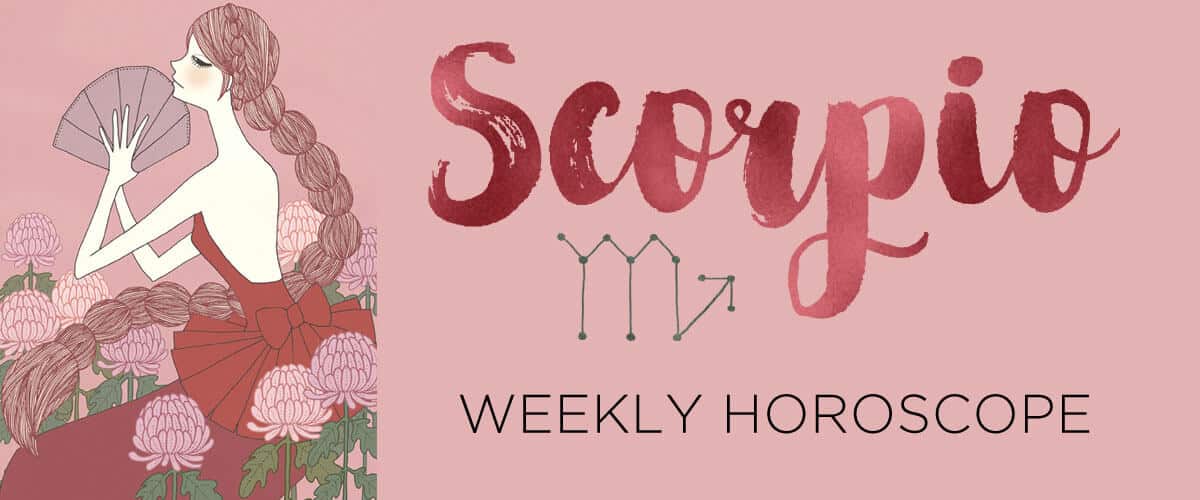 12-09-2019 to 12-15-2019
Ever since Mercury embarked on its extended tour through Scorpio this past October 3, it was like you had a spotlight on you 24/7—and an Instagram husband following you around with a camera, to boot. Maybe you just spent more time than you ever thought you could obsessing over what's next for your life. But it's also been rather exhausting for your contemplative sign! Hopefully you soaked up all the attention you deserved, because on Monday, December 9, messenger Mercury shifts gears and heads into Sagittarius and your second house of practical luxury and values. Your mind will turn to your money with Mercury here. Holiday indulgences could raise your debt ceiling if you don't get your budget in order now. Get clear about what you have to spend on gifts, entertainment and travel—and what you need to set aside for your basic monthly costs like food and shelter. This will be a quieter cycle for you, Scorpio. (Mercy, mercy!) Don't make the mistake of turning your attention to other people's problems—that will just create a major distraction. With Mercury here until December 28, you need a few weeks to digest everything that's happened over the past two months. You don't have to make any big life decisions; just tune in to your body. When you think about a certain possibility, what sensations arise? The second house is somatic—and those body-based messages can reveal things your intellect cannot. If you've been ruminating in your head, Mercury in Sagittarius gives voice to all those ideas. Talk them through with people you trust—not just because they are pragmatic, but because they make decisions that bring them joy and fulfillment. Spending time in nature can do wonders to help you integrate it all. Bundle up for regular walks or think about rerouting your holiday plans to a woodsy cabin or beachfront hammock.

Thursday marks the year's only full moon in Gemini and your intense, seductive eighth house—the one associated with your sign. You won't have to plant yourself under any low-hanging mistletoe for the action to heat up. An intense connection that's been building for the past several months could culminate in a bodice-ripping hookup in the two weeks that follow this full moon. If you're single with no prospects on the horizon, that may change on a dime—just turn your gaze to the most appealing (eligible) person in the room and wink, smile or laugh at their jokes. Or hey, just give them that penetrating Scorpio gaze (without being creepy, of course). Of all those prospective fish in the sea, most of them will be of the catch-and-release variety. But over the holiday season you might reel in one worth hanging onto. This soulful full moon may deliver the kind of deep mind-body-spirit connection you've been dreaming about. Coupled Scorpios can bring sexy back by not trying too hard. The key lies in giving yourself more downtime to relax. But if the only movement you've gotten in the past month is along that well-worn track between the sofa and the fridge, it would be little wonder if your mojo is in slow-mo. Sweat it out at the gym or on your yoga mat to get your chi flowing again. A few killer workouts may be all it takes to resuscitate the slumbering Scorpionic siren!
Two's your lucky number on Sunday, when spontaneous Uranus beams into an auspicious trine with auspicious Jupiter. Bring on the dynamic duos! Both planets are parked in the most synergistic sectors of your chart, urging you to buddy up. While you cherish your space, this cosmic lineup can show you the huge benefits of teaming up with the right companion. Your solo efforts are fabulous, Scorpio, but life can be richer and more meaningful when you have a kindred spirit to share it with. This may be a business alliance or someone who feels heaven-sent by Cupid. And while the two of you definitely have shared values, your skills will also be complementary. Make a point of networking if you need to build a stronger support system. As a social creature, this truth is self-evident: It's all about who you know! These game-changing planets won't sync up like this again until 2028, so take advantage of a beautiful opportunity!
Check out what's going on for…