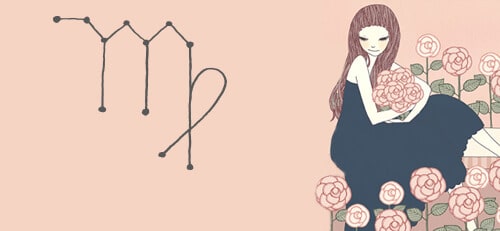 Monday November 24th - Sunday November 30th
If you can't be with the one you love, love the one you're with. This Tuesday, November 25, expressive Mercury unites with heavyweight Saturn, inviting you to "be here now." The present moment really is the only thing we humans have any sort of control over. This can be a tough concept for Virgos to grasp since you're so often ruminating over the past or spiraling out into "what if?" scenarios about the future. Allow yourself to be grounded, present and in the moment in the early part of this week. While you may feel stuck or frustrated initially, that won't last too long. Miraculously, you'll start to see how much you've been overlooking the obvious. You'll be pleasantly surprised by the quieter people in your midst ­— the ones who are actually hidden gems. Don't let your headphones drown out the banter of the other people waiting in line at Whole Foods or your go-to café. A chance conversation could spark a friendship or you could hear about something amazing that's happening on the local scene. Watch your words! Your missives carry extra weight with communicator Mercury and sober Saturn aligned, and it's a little too easy to plant the seeds of doubt into other people's minds. Stay proactive or stay mum, or you could get a rep as a Debbie Downer. Ouch!
On Thursday, the family-friendly vibes wash over you when your ruling planet Mercury decamps to Sagittarius and your domestic corner until December 16. It's not too late to pull together a sentimental toast or hilarious retrospective of family photos — one that guarantees nary a dry eye in the house. The Sun and creatrix Venus are already in Sagittarius since last week so the decorating bug could bite hard. In between polishing off those leftovers, some Virgos will be hitting the furniture and bedding stores for Black Friday scores — anything to make your house feel just a little more like a home that reflects who YOU are. Reconnecting to old friends or long-lost relatives can be heartwarming over the coming three weeks too. Just make sure your schedule leaves room for some "me time." Your emotions will be a bit more raw at times — a red flag that you need to stop caring for everyone around you and go do something to revitalize yourself.
Saturday's quarter moon in Pisces and your seventh house of partnerships brings your closest relationships up for review. You love them, you love them not: such is the nature of intimacy, but are any of these connections feeling a bit lopsided? You're a helpful soul by nature, but draining yourself to prove that you care is no way to go. Rather than raging about how you give and give and GIVE, simply restrain yourself. This will create a space for other people to step forward and stop taking you for granted. And if they don't, are they really the kind of people you want in your life anyway? You could also dabble in the art of asking for what you need. Practice makes perfect here. Are you feeling guilty or pressured about receiving from someone who adores you? Press pause and make sure the scorecard doesn't get too uneven. As awkward as it may be, you might have to tell someone, "Thank you for all the generosity and gifts, but I'm feeling like I can't give back in kind." Honesty is the best policy.
Next up: Your Virgo Monthly Horoscope >

SEE ANOTHER SIGN'S WEEKLY HOROSCOPE