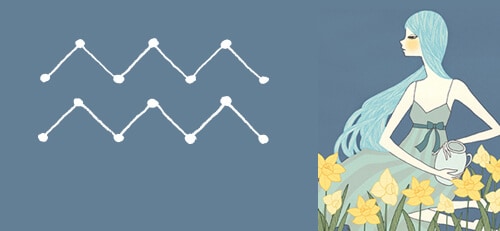 08-25-2014
Plumb the depths, Aquarius. With a new moon activating your intimate eighth house, seek to satisfy your craving for soul-to-soul bonding. While this is not well-trodden ground for many Water Bearers, taking an emotional risk today could solidify a relationship that will last a lifetime. If you lack intimacy in your life, start developing it. Your challenge is to resist that instinct to bolt for the door. People aren't going to open their hearts if they can't count on you to stay put. Push through the uncomfortable stuff that comes up as you learn about each other… the good, the bad, AND the ugly. Give it your all—it'll be worth it.


08-26-2014
Today's stars could find you spinning your wheels, especially when it comes to your career. While you may be pumped to make your latest mission fly high, others might not feel the same way. You can't pull this off on your own, but with a little patience and perseverance, you can recruit others for Team Aquarius. The key to convincing them is to understand what their specific concerns are so you can properly address them. Lay their fears to rest, and you'll be able to finally move forward.

08-27-2014
You'll get on like a house on fire with a particular person today, and set off some serious sexy sparks. But late afternoon, the moon leaves your erotic eighth house and moves into your liberated ninth house. Instead of reveling in the heat, you might be clamoring for some fresh air. Be thoughtful about tying yourself down. If you're not sure want to go out of your way for someone, or plop down a wad of cash on a final sale item, it's best you take a pass. Or, negotiate an alternative arrangement that gives you an out. It doesn't mean you're going to use it, but as an Aquarius, having options makes committing that much easier.

08-28-2014
Be it for business, romance, or a creative undertaking, multicultural mingling could lead to a combustible collaboration today. If you're on vacation, you could feel a magical click with a local. Or, you might have a hard time getting that person you met on vacay out of your mind. Follow that urge and reconnect. A spicy Skype session could lead to some IRL frolicking. Already attached? Log on to your favorite travel blogs this evening, and start planning your next adventure a deux.

08-29-2014
Look out: emotional vortex ahead! Today's annual opposition between the fiery Sun and illusory Neptune could churn up heated emotions. Steer clear of jumping to conclusions, Water Bearer. If you end up throwing yourself into a tizzy before you've got all the deets, you're liable to regret it. Get ALL the facts before you react. Keep your mind on money matters, too. When it comes to shared expenses, be explicit as to what each person will pay. If not, you may wind up forking out an "equal" share of the bill when all you ordered was a small salad. Don't waste time on those divas in your world either. You've got zero tolerance for any over-the-top nonsense today.

08-30-2014
People turn to you for guidance this Saturday, and you're more than happy to lead the way. Your sharp insights and well-earned wisdom can truly inspire, Aquarius. Think about the books you've consumed, those workshops you threw yourself into, the "life experiences" that left your friends shaking their heads. As it stands, you've got exactly what others need, so don't be shy about sharing it. No one will raise any eyebrows at the advice you dole out. In fact, it could truly help someone turn an important corner in his life. On Sunday, serious Saturn, the moon, and Mars align in your tenth house of professional success. This intense cosmic trio has a two-fold effect. First, it shines a light on your financial future, your present and potential resources, and the limitations of your current job. Second, it reveals opportunity for leadership and public recognition. Now's the time to reflect on how aligned both aspects are. If there are gaps you need to fill to reach your highest potential and desires, there's no need for drastic action. Just start moving in the right direction. For instance, if you dream of launching a music career, sign up for voice lessons (check out www.inspiredtosing.com for a great online resource), seek out a manager, ask a producer to help you cut a few rough tracks. The journey of a thousand miles begins with the first step.



SEE ANOTHER SIGN'S DAILY HOROSCOPE:

MORE AQUARIUS FORECASTS: