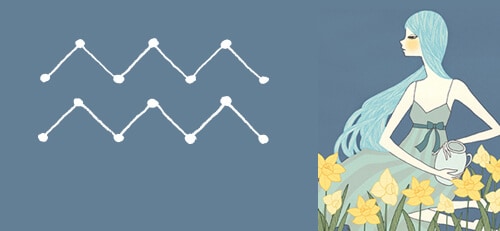 07-28-2014
Keep things above board today, Aquarius. With sultry Venus opposing shadowy Pluto, hush-hush encounters could light your fire. Proceed with caution: the excitement of going down a secretive path will quickly dissipate. When the high has worn off, you're liable to be plagued with guilt and anxiety about the potential consequences. Save yourself the misery, and steer clear of clandestine connections. Be smart when it comes to your health as well. If an ache or pain is demanding more attention, steer clear of Dr. Google and get to a professional.

07-29-2014
The mysterious side of life beckons, so dive deep, Aquarius. It's hard to tell fact from fiction today, but that just adds to the adventure—something your sign is always onboard for. Spend time with the timid types in your midst, and expect to be surprised at what lies beneath the surface. Turn on your disarming charm, and get that introspective IT woman or keep-to-himself HR guy to relax and open up. It's not always the extroverts who can drum up excitement.

07-30-2014
In the name of piquing people's interest, don't show your full hand. Water Bearers are typically "what you see is what you get", but you'll get farther today by keeping a few cards close to your vest. Give 'em a teaser of what you've got, and they'll clamor for more in no time. Patience is a virtue, Aquarius, so put it into practice. By being strategic today, you'll reap the rewards far into the future.
07-31-2014
Your magnetic mojo reads off the charts, thanks to expressive Mercury decamping to your relationship sector until August 15. Potential partners come out of the woodwork. What's more, they're willing to go the distance with you. With your Aquarian indie spirit, you can't help but feel fired up and fearful at the same time. Go forth and explore, never forgetting that relationships require continual compromise and negotiation. This Mercury spell also makes it easier to keep the lines of communication open with your existing bonds. Express your needs, especially if they veer away from the traditional.

08-01-2014
Keep it simple, sweetheart. Today, rabble-rouser Uranus squares off with creative Venus potentially slamming on the brakes when it comes to one of your supersized ideas. Take a breather to assess the situation and reconfigure your plan of action. You want to make sure that this new direction will still work to your advantage, but take care not to get too controlling. An older or more established man in your midst can assist you in mapping out a viable Plan B. Ask an influential fella in your life for some guidance.
08-02-2014
You're packing a few more truth arrows in your quiver on Saturday, thanks to thoughtful Mercury and candid Jupiter in your relationship sector. But if you're not careful, your message could morph into a destructive truth bomb. With warrior Mars currently touring your goal sector you could get a harsh wake-up call to concentrate on creating solutions—not outlining a long list of offenses. Tensions could also run high with a professional contact. Cool those jets, Water Bearer, or this could get messy. On Sunday, a quarter moon illuminates your tenth house of success, nudging you to take stock of your current career path. Accelerate your ascent by aligning with the movers and shakers in your field. At the same time, strategic self-promotion adds to that momentum. A powerful full moon in Aquarius lights up the skies on August 10, clearing the decks for accomplishments and accolades. Put your nose to the grindstone, and get your latest and greatest plan into motion before the big day.



SEE ANOTHER SIGN'S DAILY HOROSCOPE:

MORE AQUARIUS FORECASTS: