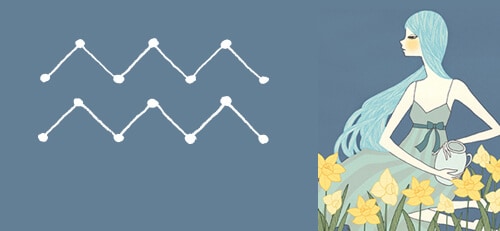 10-20-2014
No one has to tell you the importance of knowing the right people, Aquarius. Today's cosmic combo of social Venus and fearless Mars amps your power-networking finesse. Social media provides a perfect platform to get the ball rolling. Post something that will put a smile on your friends' faces. Also, it takes almost no time at all to retweet your colleague's insights or praise an acquaintance's work. We all crave and value validation, Water Bearer. By putting it out there today, you're bound to receive it back in spades when the time is right.

10-21-2014
Double shot of truth serum, coming up! Today's moon in Libra and your call-it-like-you-see-it ninth house prods you to be honest. Diplomacy has its place, Aquarius, but there's a time where you need to stand up for yourself. Try to make everyone happy, and you could end up sacrificing your vision. So not worth it. If a collaboration is bringing you nothing but stress, face facts and move on. Greener pastures await.
10-22-2014
Expand your search radius, Aquarius. Today's union of the moon and Mercury retrograde in your limitless ninth house encourages casting a wider net. As retrogrades tend to shine a light on the past, someone from way-back-when could have just the resource you're looking for. Your thirst for knowledge could uncover gems at your favorite bookstore, university library, or on Google. With today's stars, the info you've been craving could practically end up in your lap. A little bibliomancy wouldn't hurt either. Choose a book from your shelves, and open to a random page. Heed the universe's message.

10-23-2014
Up, up, and away! Your powers of manifestation are potent today, thanks to a cosmic confab in Scorpio and your tenth house of success. The life-giving Sun blasts into your ambition sector until November 22, bringing a high point for your career. The VIPs have got their eye on you, so bring your A-game over the next four weeks. Holding the same position until November 16 is romantic Venus, possibly presenting you with a love interest via work or a gung-ho group of women. And if that's not enough, a solar (new moon) eclipse in Scorpio could bring you much-deserved public recognition. Keep your radar honed for a helpful man willing to accelerate your ascent.

10-24-2014
Don't push too hard, Aquarius, or you'll drive away potential partners. Today's Scorpio moon in your ambitious tenth house could bring out your stubborn side. Sure, your vision is brilliant, but who's to say it can't be better? The least you can do is give others a chance to explain their ideas. Even if you don't use any of them, validating their opinions makes it more likely they'll try your plans on for size. Who knows? They could pleasantly surprise you.

10-25-2014
O' ye of little faith? Your inner Pollyanna has barely made an appearance over the past three weeks, thanks to Mercury transiting retrograde (backward) through your optimistic ninth house. But this Saturday, you're able to get a wide-angle view on things again when the fleet-footed messenger planet resumes forward motion. You can now put those technological and travel breakdowns behind you, too. You've got the cosmic green light to organize end-of-the year travel plans. And if you can swing it, squeeze in a mini-vacay before the holidays roll around. On Sunday, motivator Mars moves into your twelfth house of rest until December 4, calling for some serious downtime. While you normally may prefer to pile your plate high, your energy reserves won't allow for any extra projects. Instead of draining yourself dry, don't forget that you're part of a team, Aquarius. Give others the opportunity to carry more of the load for a change. This five-week Mars cycle also sanctions detoxing. Aside from eliminating highly-processed foods, also cut out emotional energy suckers, like those Debbie Downers and obligations that drain you dry. Get proactive about your health. Schedule in regular acupuncture sessions, join a regular meditation group, or even enlist the help of a therapist to rid yourself of excess angst. Ah, sweet release.



SEE ANOTHER SIGN'S DAILY HOROSCOPE:

MORE AQUARIUS FORECASTS: