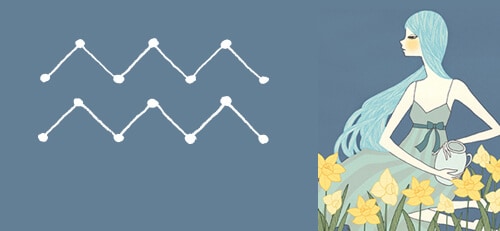 07-21-2014
Put those filters in place, Aquarius. Unpredictable Uranus, your cosmic ruler, reverses in your third house of communication until December 21. Your edgy ways often attract positive publicity, but over the next five months you're at risk of pushing the envelope a tad too far. People are liable to misinterpret your forward-thinking ideas and outre commentaries. Wait until the New Year to debut that shoot-from-the-hip blog or another innovative endeavour. Use this time to review and revise your plans before the big launch. Be extra conscious of not crossing over into offensive territory in conversations, online and off. (That includes social media updates!)
07-22-2014
The people closest to you reflect your truest self, Aquarius. The Sun reminds you of this as it moves into your seventh house of partnerships until August 22. Devote your energy to the people you adore the most in your life, and identify candidates to make an official (and strategic) alliance to. Although your sign sometimes sidesteps serious commitments, the idea of exclusivity will hold much more appeal now. If you're in a LTR with someone who appreciates your uniqueness and is equally as original, you've got yourself a keeper. Single? Opposites attract over the next month, so keep an open mind—not that we need to tell YOU that.
07-23-2014
Go big or go home! Today's supersized synergy between the moon and make-it-happen Mars cranks up your motivation levels. You're ready to take on the world, but don't pile your plate too high. This ambitious energy will wane tomorrow so if you're going to launch a mega-mission, use today to draft out an action plan. Or, throw yourself into a project you can start and finish within 24 hours. When it comes to romance, you're craving a combustible connection. Just don't resort to starting a fight to get those embers burning.
07-24-2014
Two is SO your magic number today. With the life-giving Sun and audacious Jupiter aligned in your commitment sector, potential partners come out of the woodwork. What's more, these candidates are interested in going the distance with you, too. You thrive on new adventures, Aquarius, but at the same time, these opportunities could make your indie spirit a bit nervous. Strong relationships require constant negotiating, but honest Jupiter helps you express your needs—both with new and existing connections.
07-25-2014
Up, up, and away! Today, motivator Mars blasts into Scorpio and your ambitious tenth house until September 13. You've got your sights set super-high, and you might even snag the brass ring during this Mars spell. Whatever your career goals—be it securing that corner office or earning shamanic status—believe in yourself, Water Bearer. If you haven't yet uncovered a path that resonates with you, tune into that skill or gift that brings you joy when you share it with others. It could become ticket to prosperity.
07-26-2014
Work the magic power of two, Aquarius. Saturday's new moon in your seventh house of partnerships puts your indie spirit on ice in the name of forming a dynamic duo. If you're single, don't be in a hurry to enter into an exclusive relationship. Peruse the potential prospects, and test the waters over the next few months. By time the corresponding full moon rolls around on February 4, you'll be clear on which candidate is worth diving into the deep end with. Already attached? This lunar light brings an officializing vibe to your union. Open up a discussion with your sweetie about advancing to the next level. Some Water Bearers may find themselves ring shopping, or perhaps even going into business with your boo. Sunday's stars come with a reminder that people are not pawns. You may have an effective career strategy presently in place, but it won't transfer well to your personal life. If you've been locking horns with a certain someone, the solution for sailing into smoother waters is non-defensive dialogue. Get off your high horse, and dial down the demands. Taking the time to talk about this person's resistance is what will bring back the love. Truly listen, and you may be surprised at what you discover. Compassion is key.


SEE ANOTHER SIGN'S DAILY HOROSCOPE:

MORE AQUARIUS FORECASTS: