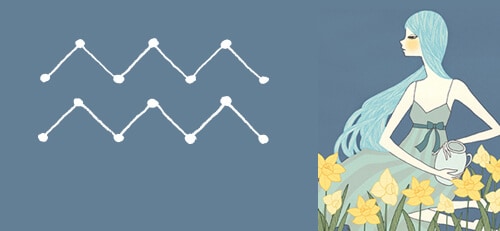 04-14-2014
Today is day one of a five-month healing journey, courtesy of transformational Pluto turning retrograde in your twelfth house of the subconscious. This potent period challenges you to look within for the answers. Instead of dumping one dead-end relationship for another, quitting your job, or filling another prescription, get to the root of the problem by uncovering your demons. Everyone has a dark side, Aquarius. Get in touch with yours, and you'll uncover where fear is preventing you from growing.
04-15-2014
Water Bearers are no strangers to wanderlust, but today's pull to faraway locales is stronger than usual. You can thank a lunar eclipse in Libra electrifying your globetrotting ninth house for this extra lure toward distant lands. (Don't be surprised if you end up reserving an exotic epic vacay in the near future.) Also, pay close attention to cross-cultural connections in your own backyard. One in particular could morph into something official before the month's end. Entrepreneurial Aquarians could be struck with a brilliant business idea. You've got the green light to launch a new endeavor.
04-16-2014
Work to live or live to work? Overtime hours are easy to clock these days, but don't neglect your top-notch friends or the object of your affections, Aquarius. Even if they haven't said a peep, there's a good chance they're feeling a little abandoned. Today's stars prod you to put them at the top of your priority list. Go out of your way to show them you really care. Single? If you're looking for a mate who can go the distance, work offers opportunities. Don't be afraid to show your coquettish side with the cutie in HR—you might be pleasantly surprised at the response.
04-17-2014
Although "the more, the merrier" is the Aquarian way, hold off opening up the invite list today. You've got a plan in the works, but it's too early to start spreading the word or requesting feedback. That said, you could benefit from guidance from someone who has been where you're standing. Reach out to a mentor for a few wise words before going public. When the moon moves into your tech zone this evening, devote a couple of hours to online research. It could produce just the answers you've been looking for. At that point, you've got the green light to shout it from the rooftops.
04-18-2014
The "lather, rinse, repeat" routine gets stale pretty fast with Aquarians, and even more so today. Today's stars give you hankering for something out of the ordinary. Explore activities and endeavors that expand your view on life. Embark on a learning adventure at a lecture series, personal development seminar, or spiritual workshop. Venture beyond the mainstream crowd and hang with the "freaks and geeks." You'll take substance over style any day.
04-19-2014
There's nothing you love more than mixing and mingling with old and new friends, Water Bearer, but it's time to recharge your batteries. This Saturday, the Sun nestles into Taurus and your domestic fourth house until May 20. Chateau Aquarius could use some TLC: organize your home office, redecorate the living room, prepare the spare room for a guest or roommate. While you could be in the mood for some "me" time, the idea of hosting THE spring soiree before the month's end is just as appealing. Mint juleps, anyone? On Sunday, the cosmos call for some personal responsibility, which includes not doing other people's heavy lifting. In the short-term, it's an easy solution. In the long run, however, said party will expect you to step in for the save, making you feel resentful. Call out people who aren't doing their fair share. Sure, they might complain, but ultimately, they'll feel better about pulling their own weight.


SEE ANOTHER SIGN'S DAILY HOROSCOPE:

MORE AQUARIUS FORECASTS: