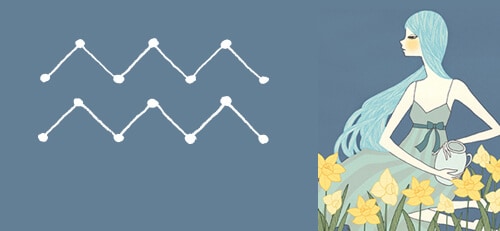 10-27-2014
Make sure you've got his back, Aquarius. Today, an important fella in your world is counting on your loyalty. He's struggling with a tough situation, and your actions will make a significant impact—it's up to you whether it's positive or negative. Step up, and show your support. Steer clear of that soapbox, and resist the urge to shine a light on alternative perspectives. What he needs is a solid ear to help him process. Give him that space (and silence) to think out loud, and the answer he's been looking for will emerge from within.
10-28-2014
Even if you feel backed against a wall, don't hit below the belt. Today's meetup of the moon and warrior Mars could make revenge feel justified. As much as you want to give this bully a taste of his own medicine, take the high road. Speak your truth without sacrificing justice and your own integrity. Follow protocol, and be extra thoughtful about what you share on social media. If you think it might fan the flames, best not to post.
10-29-2014
Suppressed feelings surface today, thanks to today's moon-Pluto meetup in your twelfth house of release. While you might have thought that you blocked them for good, those neglected emotions now demand attention. Honor what you feel: bawl your eyes out, scream into a pillow, beat up a mattress. Expressing your shadow side is part of being human—not a sign a weakness. Open the valve and let it all out, before your health starts to pay the price.
10-30-2014
It's all about you today, Aquarius, thanks to the moon hovering in your sign. You've lost track of the number of times you've gone over and above the call of duty for those around you, setting you up for resentment and bitterness. Use this lunar light to illuminate proactive solutions, like hiring a housekeeper or cutting out freebies for clients. In this way, you can actually enjoy your life instead of working yourself to exhaustion. Put yourself at the top of the priority list, and recharge your batteries. P.S. Doing so also nourishes your generous spirit.
10-31-2014
Today's moon in Aquarius brings out your comedic skills in full force. Draw on your sense of humor when creating this year's costume. There's no such thing as "too much" today, so bypass the standard ghoul and goblin options, and shine in something original and outrageous. Warning: your loyal side could derail tonight's fun. You're not the only one who can take on candy-dispensing duty, so let someone else do it this year. You're meant to be a reveller this Halloween, not the responsible one.
11-01-2014
Cash concerns could occupy your thoughts this Saturday. Stop ruminating, and say something, Aquarius. If your friend's afternoon plans are too extravagant for your budget, suggest something more affordable. Or, meet them for coffee after the live show. You might even be able to accommodate the expense, but you'd prefer to save the quid for something on your wish list. You work hard for your money; it's up to you how you spend it. Sunday's stars remind you that you're only as great as your dreams. The Law of Attraction is in full effect, so get crystal clear on what you envision for yourself. Get yourself pumped up with an energetic Spotify playlist, and then make a list of your goals. Then, imagine yourself living them right now. Pump up the manifesting mojo with a vision board, either the old-school way with magazines and a glue stick or on Pinterest. With Sunday's alignment of the confident Sun and intuitive moon, your visualizations can transform into something tangible much faster than you think.


SEE ANOTHER SIGN'S DAILY HOROSCOPE:

MORE AQUARIUS FORECASTS: