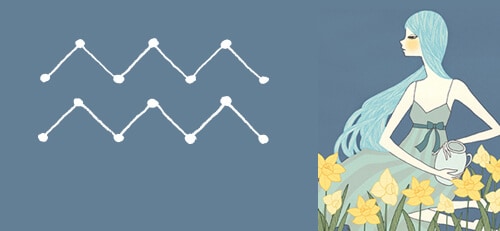 03-10-2014
A moon-Jupiter alignment in your sixth house of self-care pumps you full of motivation and mojo for clean-and-green living. With Jupiter's larger-than-life tendencies though, take care not to go overboard. If you've just started to get the hang of beginner cardio classes, don't sign yourself up for the rigorous boot camp regime just yet. Instead of eliminating all sugar from your diet, make room for small tastes of your favorite desserts so you don't feel like your depriving yourself or swap your favorite recipes with honey or agave nectar. Make moderation your mantra, and you'll still achieve the results you crave.

03-11-2014
Careful: clashes with authority figures are likely under today's stars. A dominant personality, probably a man, may get under your skin in a major way. It won't take much for this button-pusher to get you hot under the collar. Saying anything in this agitated state could launch an out-and-out war. Time out, Aquarius. Instead of going head to head, retreat to your separate corners. Don't underestimate the power of giving yourself a breather. It will allow you to cool down enough so that your next interaction will actually be respectful and productive.

03-12-2014
The stars turn up the temperature today, giving you a supersized crush when it comes to a certain someone. If you feel like your heart will beat right out of your chest when you-know-who enters your sphere, chances are this person goes weak in the knees at the sight of YOU. Carpe diem, Aquarius! Make the first move and strike up a conversation. It could be the start of something beautiful. Also, a platonic pal could throw you a curve ball by confessing to a romantic attraction. Or, you could feel tension lingering just below the surface. Bring it out into the open, and see where these high-octane vibes lead.

03-13-2014
Keep your feet firmly planted, Aquarius. Your sign adores a wide variety of fresh experiences, leaving you at risk of getting sucked into the "fear of missing out" syndrome. Ultimately, you end up spreading yourself too thin, making it a challenge to follow through on projects you've already made progress on. Today's trine between the Sun and stern Saturn prompts you to put your blinders on in the name of getting 'er done. The fulfillment you'll glean from completing an endeavor from start to finish will carry much more weight than the excitement of the latest novelty.

03-14-2014
Murphy's Law strikes again! Just when you officially swore off bad boys or hard-core partying, a moon-Neptune opposition challenges your resolve. Today's seductive energy is almost palpable, drawing in the very thing you're trying to give up. Know your boundaries and respect them: bat your lashes at that smooth-talking slickster, but keep things PG-rated. Getting sucked into an obsession is anything but sexy. Willpower, Aquarius, willpower.

03-15-2014
Saturday's stars call for closer attention to the details, not one of your sign's favorite activities. You've let a few things slide lately, but don't let any more to-dos get tossed to the side. Ideally, make them your first order of business for the day. If that's impossible, block off the next available slot in your schedule to get 'er done. Take time to create a prioritized list so nothing slips through the cracks. Also on Saturday, your intuition is spot-on. Even if a situation seems totally above board, if your inner voice says otherwise, go with your gut. Don the detective's cap, and dig up the real deal. Sunday's full moon comes with an officializing vibe. Sharing resources are the next logical step, anything from carpooling to opening a joint bank account to cohabitation. This lunar light also summons the seductress within. Your powers are more potent than you realize, Aquarius, so use them with care. Meow!


SEE ANOTHER SIGN'S DAILY HOROSCOPE:

MORE AQUARIUS FORECASTS: