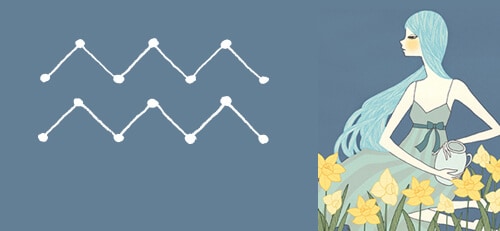 09-15-2014
Before you perch yourself up on a "no drama" pedestal today, Aquarius, take a look at your own behavior. With a quarter moon in your live-out-loud fifth house, you may have no problem pointing out other people's theatrical tendencies. But keeping people in the dark when it comes to significant events in your own life or neglecting to return their calls could really rock the boat. Also, be conscious of how you get your point across. This lunar light brings a balancing vibe to the day, so steer clear of shock value. Lose the excess build-up to your point, and speak in a matter-of-fact manner. What's important is delivering your message, sans embellishment.

09-16-2014
Less is more. Maximize the results of all the blood, sweat, and tears you've invested so far by streamlining your systems. By keeping it simple, you ensure you've covered all your bases. The cosmos also caution against "future-tripping" and projecting too far ahead. By all means, put thought into your long-range forecast, but don't neglect the here-and-now. If you can bring yourself back to the present instead of trying to grasp a distant brass ring, you might find just the thing you've been looking for in your own backyard. Get your Zen on, and you'll uncover a world of possibilities sitting right under your nose.

09-17-2014
Time-saving techniques translate to a greater bank balance. Aside from using efficiency-boosting software or devices, today's cosmos open your eyes to the arsenal of skilled people in your midst. You could clock in more OT, Aquarius, or come up with creative ways to collaborate and outsource. Sure, initially your profits might take a hit, but it takes money to make money. Once you've got everyone up to speed, you'll all start reaping the rewards.

09-18-2014
Got a secret to share? If you're not 100 percent sure that your go-to crew can keep this one locked in the vault, hone your radar for a trustworthy confidante. Identify a couple of potential prospects, and take them for a trial run. Reveal something small yet personal, and gauge their reaction. One of these candidates could turn into a new BFF. Also, don't exclude the possibility of investing in therapy to get things off your chest. There's a lot to be said for guaranteed confidentiality, Aquarius. Even if you have to fork out a few bucks, you're worth it.

09-19-2014
Depleted from the drama, Aquarius? While you've enjoyed the intense pace lately, it's also taken its toll. Today's cosmos encourage you to shift into low gear. Take an official day off from the crisis junkies in your midst, and focus on chillaxing. If you want company, just make sure they know you're in a laid-back groove. If that's not their speed, don't be afraid to head out solo to a jazz bar or an intimate live show. It won't take you long to connect with like-minded free spirits along the way.

09-20-2014
Adventure is calling your name plus one on Saturday. A meetup of the moon and intrepid Jupiter finds your daring side desiring some company. Whether it's one of your besties or a love interest, there's nothing like trying something new and exciting to strengthen your bond. If bungee jumping or ziplining doesn't float your boat, set off on an exploration together. Think: a day trip to a quaint little town, bike riding through new neighbourhoods, wandering along walking trails. Come Sunday, your yen for free-flowing playtime doesn't abate, and unfortunately, your crew is not on the same page. A three-way planetary battle (a T-square) means that going AWOL in the name adventure will not go over well. Before disappearing for the day, touch base with Team Aquarius. People are counting on you, Water Bearer, so be sure to tell them the exact day and time you'll make good on your promises. If you don't think you can fulfill an obligation, find a replacement so you're not leaving them in the lurch. If the cost of a group activity is soaring well beyond the confines of your budget, say something. You're probably not the only one feeling this way.



SEE ANOTHER SIGN'S DAILY HOROSCOPE:

MORE AQUARIUS FORECASTS: