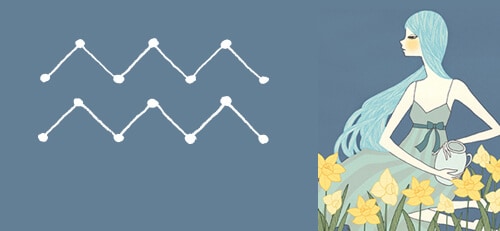 11-24-2014
Head in the clouds, much? Today's dreamy planets amp up your imagination, so feel free to nourish it. In fact, it's encouraged. So what if it's the beginning of the workweek? Use your morning break to check out a local art gallery, or meet that cutie you swapped digits with on Saturday for lunch. Sate your passions, and your efficiency levels are bound to soar.
11-25-2014
Dream job or 9-to-5 grind…or something in between? Today's merger of inquisitive Mercury and serious Saturn in your career house prods you to pause and reflect on your professional life. Do you spend most of your day weighted down with paperwork or other minor yet necessary to-do's, leaving little time for tasks you really love? Share the load, Aquarius. Invest time in training a few key people you can count on. If you're still low on the ladder, avail yourself as a volunteer to an accomplished person in your industry. Learn from the best.
11-26-2014
Breathe in, breathe out. With the emo moon and agitator Mars syncing in your shadowy twelfth house today, your anxieties threaten to get the best of you. You can stop yourself from spiraling down that black hole of worry, Aquarius. Reach out to a compassionate but pragmatic friend who can help you break down a complicated issue. Some old hurts could resurface, possibly one or two you thought were completely behind you. Be gentle with Numero Uno, and surround yourself with people who will do the same. Remember, healing is a process, not a destination.
11-27-2014
Pictionary marathons, karaoke showdowns, multiplayer video games—bring 'em on! Gregarious Mercury decamps to Sagittarius and your eleventh house of groups until December 16, handing you the social organizer's clipboard. Your enthusiasm will easily wrangle those revelers into entertaining lively activities. This three-week Mercury cycle also stokes your humanitarian nature, so seek out organizations or movements that you believe in. Help that cause raise funds by tapping into your social media network.
11-28-2014
Can't breathe? The Aquarius moon governs the skies until midafternoon, calling for some one-on-one with "me, myself, and I." Your loved ones may want to monopolize your time, but you'll only end up biting their heads off if you don't allow yourself to recharge. Let them know you'll be happy to join them later today when the moon moves into Pisces and your grounded second house. Cozy up with your crew over comfort food, and then, cue up Netflix. Your sensual side comes to the fore, too. Scoot over a little closer for some snuggling with your sweetie.
11-29-2014
Your softer side is peeking through, Aquarius. Saturday's sensitive quarter moon finds you wishing you hadn't brought the tough love hammer down so hard on that certain someone. Sure, you may have had only the best of intentions, but your straight-shooting delivery might have deflated this person's momentum. Go out of your way to express your appreciation for the time and energy they invested. It's never too late to say you're sorry. How well do you treat your temple, Water Bearer? Sunday's stars nudge you in the direction of nurturing Numero Uno. Respect the vessel that carries you through life with balanced meals, plenty of H2O, and regular workouts. Take a stroll through the organic beauty aisle, and try an all-natural sister of one or two of your more processed products. Squeeze in mini-meditation breaks throughout the day, even if you're only breathing deeply for ten counts. That shot of extra oxygen to your brain can make you more productive and less stressed out.
MORE AQUARIUS FORECASTS:

SEE ANOTHER SIGN'S DAILY HOROSCOPE: