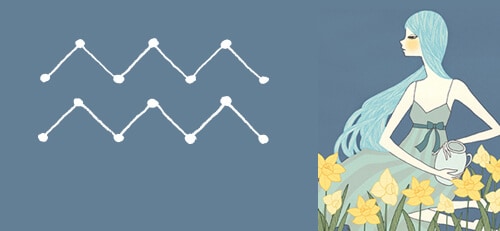 04-21-2014
Change starts from within, Aquarius. Today's faceoff between your cosmic ruler Uranus and transformational Pluto draws attention to that running monologue in your head. Single out those worries that occupy a permanent spot in your psyche. If you're unclear about what's eating at you, do some free-writing to bring it to the surface. Once you've identified the source of your angst, reach out to a mentor, confidante, or therapist. Talking it through can illuminate unconsidered courses of action. Tip: if the solutions involve a spiritual or creative component, you know you're on the right path.
04-22-2014
Dial it down a few notches, Aquarius! With the moon in your sign, you're at risk of bowling people over today. Your enthusiasm at breaking the ice with a tight-knit bunch will only lessen your chances of getting on their good side. Take a soft-footed approach and keep the focus on them. Nix any plans of trying to win 'em over with your clever wit, or by spouting off about your accomplishments. People will warm up to you when you show a sincere interest in who they really are.
04-23-2014
High stress alert on the friend front! An intense Cardinal Cross (a square formation) of four powerhouse planets—fiery Mars, volatile Uranus, shadowy Pluto and magnifying Jupiter—puts your social life through the ringer. Resentment could rear its ugly head in response to all the sacrifices you've been making. You might also feel irritated with anyone attempting to lock you into yet another obligation. Admit you can't be everything to everyone, Aquarius. Stop worrying about what others want, and let them know what YOU need. On the flipside, you might owe others a favor or three. Express your appreciation, perhaps with a thoughtful gift. Just don't get guilted into going over and above what's truly necessary.
04-24-2014
Let's hear it for the girls! As social Mercury settles into your fourth house of women until May 7, the ladies in your life take center stage. Keep your ear to the ground for opportunities to partner up with the female movers and shakers in your sphere. Besides helping you make key connections, their caring support fuels you forward. This two-week cycle is also conducive to DIY ventures. Even if hanging wallpaper or building your own bookshelf has been daunting in the past, Mercury gives you the mental clarity to execute it, start to finish.
04-25-2014
Keep putting one foot in front of the other, Aquarius. Slow and steady WILL win the race today. While you may be fed up or simply exhausted, know that the finish line is just over the next hill, so don't throw in the towel. On the work front, you could finally get the accolades you deserve—and a nice fat bonus check to go along with it. Personally, you could cross the threshold from casual compadres to BFFs, or leave the dating game and move into a monogamous bond.
04-26-2014
Harmony rules under Saturday's stars. Take full advantage of this warm-fuzzy vibe for some serious one-on-one time with your mother, sister, or another woman you're close with. The influence of compassionate Neptune and communicator Mercury also helps you raise a sticky issue with a relative or a roomie—without turning it into an out-and-out war. Instead of finger-pointing, use "I" statements to express how you feel. On Sunday, the moon and your cosmic ruler, tech-loving Uranus, merge in your social networking sector. While you don't need to post a play-by-play account of your brunch conversation on Facebook (#TMI), you and your friends will appreciate a few select shots on Instagram. Also, it's a stellar day to reach out to someone online whose work you admire. Even the simple act of sending a flattering tweet or private message could swing open the door to future collaborations. You never know unless you put it out there, Aquarius. Apply the same logic to your offline contacts. Nurture a fledgling friendship over a macchiato or margartias and bring on the synergy!


SEE ANOTHER SIGN'S DAILY HOROSCOPE:

MORE AQUARIUS FORECASTS: