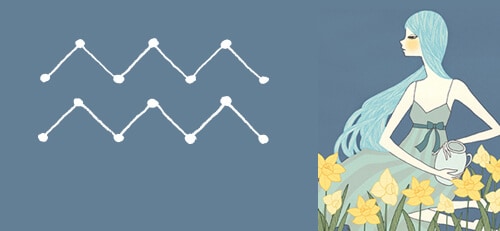 12-15-2014
Personal transformation time, Aquarius! Today's square between intense Pluto and your planetary ruler Uranus helps you connect with your inner dialogue. Reflect on the worries and fears that have been taking up a lot of brain space. If you're not sure what they are, free-writing will reveal your most prominent negative thoughts. Instead of ruminating about your revelations, reach out to a trusted advisor who's sure to have a few wise words. Once you start talking, sudden solutions will appear—perhaps even of a spiritual nature.
12-16-2014
Miserly or magnanimous? With Mercury transiting your twelfth house of transitions, you may lean towards the former. If you've been giving 'til it hurts and haven't seen a hint of reciprocation, you can pull back with a clear conscience. But otherwise, between now and January 6, let your generous nature shine through. And that doesn't only apply to the presents you put under the tree. Stop punishing that repentant person for a past indiscretion. Your forgiveness will be the best gift of all.
12-17-2014
Devising a solid strategy and working the Law of Attraction will send you into stratosphere of success today, Aquarius. Today's sweet trine between the moon in your career sector and esoteric Neptune in your money zone calls for a mapped-out plan of action. But don't be afraid to incorporate unexpected gifts from the universe. Kick your manifestation mojo into high gear, and create a crystal-clear vision of what you desire. Keep your nose to the grindstone while also remaining receptive to everything you deserve.
12-18-2014
While everyone around you is clocking out early, slap on those blinders and get 'er done. Today's intense Scorpio moon activates your ambitious tenth house, giving you all the make-it-happen mojo you need. Use the quieter environment to substantially advance an important project. You might even want to send out a company-wide email sharing the completion date—to be celebrated in the New Year. In just a few weeks, they'll be singing your praises. Perhaps it might even come with a promotion!
12-19-2014
Conflict on the workfront! Today's meetup of the emo moon and restrictive Saturn could drum up discord with a colleague or authority figure. While your beef may be completely justified, Aquarius, cautious Saturn prods you to step down. Going head-to-head over this issue could turn an important ally into a forbidding foe. As much as it pains your rebellious spirit, stick to the rules. Play the long game: focus on getting in good with this person in the name of earning more creative freedom. Besides, following procedure and protocol today will actually be to your benefit. Stifle that rebel yell.
12-20-2014
Fanciful notions fill your head on Saturday, courtesy of a Venus-Pluto meetup in your twelfth house of fantasy. You'll be inspired to loosen those limits, and let others into your world—and your heart. Just be sure that those rose-colored lunettes don't blind you to the obvious. With Pluto in the mix, your risk-taking side will be jonesing for some action. That's all well and good, Water Bearer, but don't go traipsing off with dangerous or destructive types. If you haven't done a background check, listen to your gut. It won't lead you astray. Already attached? This cosmic duo helps you dissolve unresolved conflict or brewing resentment with your sweetie. Have you been doing more than your fair share in this union? Stop expecting your partner to be a mind reader, and speak up. Remember, it takes two to tango. Rejuvenation is the name of the game on Sunday, and you don't need to escape to a Tulum yoga retreat to do it either (though it wouldn't hurt). This final month of your annual zodiac cycle is all about relaxing and releasing. A new moon is also in your twelfth house of healing, helping you let go of that which no longer serves you. Focus on scaling back superficial activities, so there's room for more meaningful interactions in your world. Keep your radar up for a healer or spiritual guide who could make this transition a smoother ride.
MORE AQUARIUS FORECASTS:

SEE ANOTHER SIGN'S DAILY HOROSCOPE: