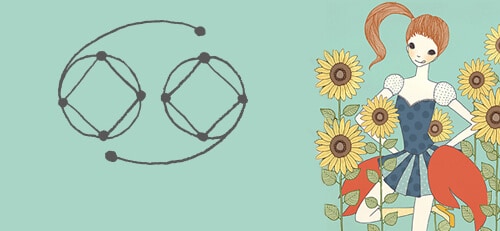 09-15-2014
Ah, sweet surrender. While your sign is never a fan of goodbyes, today's quarter moon in your twelfth house of transitions assists you in letting go of an outmoded situation, relationship, or pattern. It could be a toxic tie to someone who slams your self-esteem, a codependent dynamic, or a limiting belief about yourself. Make a conscious choice to do something different—no matter how small. Ignore you-know-who's calls, stop yourself from playing savior, and consider that your reality could be different. By pausing instead of reacting, you'll discover that the sky won't actually fall on your head.


09-16-2014
Pump up the glam factor today, Cancer. With the moon hovering in your sign, you're not your typical shell-retreating self. Turning heads is just fine by you, as is some well-deserved appreciation and accolades. When you look fabulous you can't help but feel great, so get to the salon or book a massage, STAT. This lunar light also urges you to take credit where credit's due. Ensure that your work—especially those projects you've invested a lot of time into—is clearly attributed to Numero Uno. The last thing you need is someone to pass off your brilliance as their own.

09-17-2014
Coquette without a cause? Your flirty charms are out in full force today, and the attention could be intoxicating—so much so that you neglect to think ahead. Besides being a smooth talker, your seductive side is also at the helm. Translation? People are like putty in your hands. The problem is, when you get what (or who) you want, you could feel like you ended up with a lemon. Before taking that coquettish banter to the broom closet or sealing a long-term business deal, reflect on whether you can see yourself just as interested several months down the road.

09-18-2014
Kindred spirit alert! When a like mind enters your sphere today, you may be hit with a wave of competitive energy. It's understandable considering your similarities, Cancer, but don't let it consume you. Acknowledge your insecurity, and try to let it go. Once you do, figure out ways to collaborate with this impresario. Melding your strengths can turn the two of you into a dynamic duo to be reckoned with!

09-19-2014
Your generosity is not a bottomless pit, Cancer. Helping others is in your nature, and you find it fulfilling to selflessly give of yourself. But if you keep offering up everything you have, you're only asking for burnout—and then you won't be able to care for anyone. Today's moon-Mars angle gives you the gumption to put some limits in place. If possible, devote the day to "me, myself, and I" and recharge your batteries. Or flip the script, and reach out to your loved ones for their support, guidance, and feedback. Today, it's your turn to be taken care of.

09-20-2014
Tame the urge to splurge on Saturday, Cancer. A moon-Jupiter mashup in your finance sector makes you susceptible to overspending. While an impulse buy may seem like a fab idea at the time, you're likely to regret it later. If you do succumb to a little retail therapy, make sure you have the option of returning it later. Keep the receipt! At the other end of the spectrum, this cosmic combo might also present a prosperity-boosting opportunity. Keep your ear to the ground, especially with regards to a start-up business or a contract that involves traveling. On Sunday, a tricky T-square (three-way planetary battle) could leave you running ragged on the social front. While some of your peeps may demand one-on-one time with you, there simply isn't enough of you to go around. Avoid burnout and rally your friends for a group get-together. Resist the urge to host this hangout, Cancer, even if your culinary skills are top-notch. You desperately need a breather this Sunday, so hook up with your amigos at your favorite brunch spot, meander through the artsy part of town together, or organize a leisurely afternoon hike.



SEE ANOTHER SIGN'S DAILY HOROSCOPE:

MORE CANCER FORECASTS: