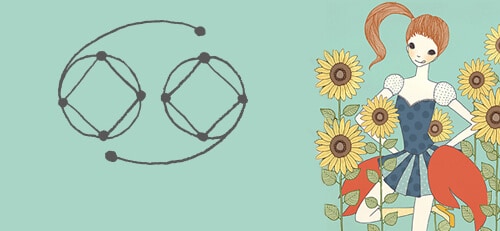 08-18-2014
Overindulgence alert! Today's annual merger of hedonistic Venus and no-holds-barred Jupiter in your luxe second house leaves you susceptible to breaking the bank for those objects of desire. It will be way too easy to overspend, so before heading out to the boutique district or logging onto your favorite shopping sites, get clear about your budgetary limits. Then, draw on your savvy nature to sniff out sales and special deals. If you must pay full price, ensure that you're investing in something that will bring you years of pleasure—instead of growing stale after just one season.
08-19-2014
Cancers can be counted on to lend a sturdy shoulder or a compassionate ear, and today is no different. Besides offering others some much-needed support, you'll also get a feel-good buzz doing it. Be it an amigo, colleague, or even someone you're just getting to know, let your trademark sensitivity come to the surface. Just be conscious of boundaries, Crab. This problem is not yours to take on personally. Remember, you want to empower, not enable.
08-20-2014
Slow and steady wins the race, Cancer. Today's moon in your sign angles receptive Neptune, putting the stars in your corner when it comes to realizing a grand goal. In the first part of the day, take concrete steps to transform your idea into something concrete. A huge gamble could backfire, but one calculated risk can put you way ahead of the game. Later this afternoon, pop the Veuve! Celebrate hump day with a night on the town. Get your glitz on, and revel in the attention. Let passion be your guide.
08-21-2014
Today's moon in Cancer gives you cosmic clearance to focus on Numero Uno—for a change of pace. You've got specific wants and needs, but don't expect others to read your mind. Don't gripe and grumble to yourself that the scales of give-and-take are off-kilter. Make it easy for everyone, and be explicit with your requests. La luna also forms harmonious angles to motivator Mars and creative Neptune, perfect for advancing a passion project. You might even make a bold move in the name of ascending the ladder. Go on, Crab, you're allowed to get a little competitive today.
08-22-2014
There's a fine line between fame and notoriety, Cancer. Today, firecracker Mars hovers in your "look at me" fifth house, making you happy to accept any and all attention. But the red-hot planet forms an uncomfortable angle with rebellious Uranus in your public image sector, potentially causing your outre actions to bite you in the backside. Don't delude yourself into thinking that your behavior won't backfire. Stray too far off the beaten path, and you could end up losing important alliances. On the romance front, be discerning where you bat those long lashes of yours. That cutie could be an amigo's ex or already have a significant other.
08-23-2014
The social scene is calling your name, Cancer. This Saturday, the Sun enters Virgo and your garrulous third house for the next month, helping you wrap up summer in mixing-and-mingling mode. Expect your calendar to fill up with intriguing characters, lively get-togethers, and overall good times. Also, your mind couldn't be any sharper now, so be sure to record your flashes of insight and original ideas. Perhaps even pen a blog or the beginnings of a book. The local scene also proves to be fulfilling. Register for a workshop, or jump in on a community project. Although you'll have no shortage of invitations this weekend, don't stray off budget or you'll pay for it later. Not helping matters is an indulgent Leo moon, amping up your craving for all things luxe. When it comes to shared expenses, involve yourself in the planning process to ensure the activity is something you can actually afford. That said, if you've been socking away savings for an investment piece, this lunar light shines its bright beams on just the thing your fall wardrobe needs to make a sexy yet sophisticated statement.


SEE ANOTHER SIGN'S DAILY HOROSCOPE:

MORE CANCER FORECASTS: