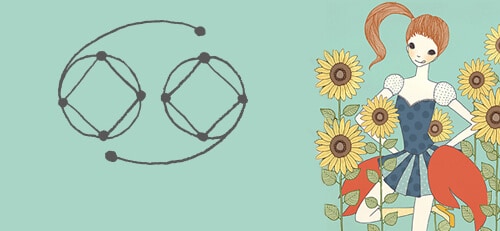 11-24-2014
The devil's in the details, Cancer. Be meticulous with your research, and take the time to discover what other people prefer. Recognizing and accommodating for diversity will put you head and shoulders above the rest. From pitching your outre ideas to polishing an upcoming presentation, you've got the cosmic green light to use those extended metaphors and fancy flourishes. Haste makes waste, so ensure you review and revise all documents and emails before sending them out into cyberspace.
11-25-2014
Have you bitten off more than you can chew, Cancer? Today's stars could find you feeling weighted down by too much responsibility. Your make-it-happen approach to life is admirable but there are only 24 hours in a day, making it impossible to have your finger in every, single pot. Bow out of obligations that really don't bring you much joy in the name of creating more space for activities that buoy your spirit. You may love certain people, but you don't need to sacrifice or suffer to prove it.
11-26-2014
Too much, too soon? Today's moon syncs with impatient Mars in your relationship sector, putting you and a certain someone in the fast lane. If a certain partnership is getting a tad too close for comfort, don't bolt for the nearest emergency exit. Reflect on whether you're operating on facts or assumptions. What are your partner's expectations? Open up a dialogue to find out. If said person is reasonable, renegotiating the terms shouldn't be an issue.
11-27-2014
Your proclivity toward having things "just so" works well under today's stars. With messenger Mercury transiting your orderly, perfectionistic sixth house for the next three weeks, you're the Thanksgiving host(ess) with the most(est). Your golden brown turkey, pumpkin pie crust, and gorgeous place settings would put Martha to shame. Before wowing the crowds with your culinary finesse, you might even manage to find time for a workout. As the sixth house also rules healthy living, it's now easier to indulge in moderation.
11-28-2014
If you're scoping out this Black Friday's super-sales, Agent Provocateur and La Perla could make the top of your hit list. For the first part of the day, the moon occupies your sensual eighth house, inspiring you to dress like the siren you feel. Ooh la la! Midafternoon, la luna shifts sectors, moving into your ninth house of wanderlust. Scour those travel blogs and sniff out specials. You could find a killer deal that will see you ringing in the New Year in an exciting and possibly exotic locale.
11-29-2014
You've really pushed outside your shell, and expressed yourself unapologetically. High five! But in your newfound shoot-from-the-hip style, did you also deflate someone's ego in the process? Saturday's quarter moon helps you rewind and be kind, Cancer. Make the first move, and extend the olive branch. Be the first to say, "I'm sorry," and you'll bring back the love. Remember: being candid is not synonymous with being destructive. Pay closer attention to people's sensitivity levels, particularly the ones overcompensating with arrogance. Sunday's planets pave the way for an adventurous journey. Postpone your to-do list till Monday, or incorporate those tasks into your travels. In between checking out an out-of-town artist's market and visiting an out-of-the-way organic farm, make stops to take care of errands. Just be sure to check your calendar so you don't leave anyone in the lurch. If you're coupled, it's okay to head out on your own. A little absence can be a potent aphrodisiac.
MORE CANCER FORECASTS:

SEE ANOTHER SIGN'S DAILY HOROSCOPE: