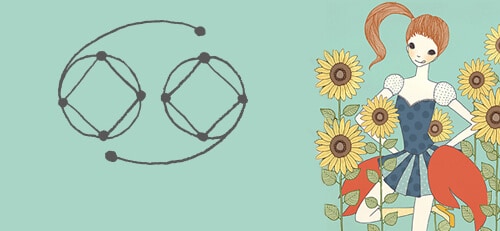 07-28-2014
Horn-locking alert! With loveplanet Venus transiting your sign, you're making great strides when it comes to self-care. But thanks to domineering Pluto in your relationship sector, someone close to you could feel threatened by your recent surge in confidence. This person may feel more secure with you being submissive. Don't lie down and take it, Cancer. You can't help but be compassionate, but be clear that you're nobody's doormat. At the other end of the spectrum, an authority figure could hold much appeal. The chase may be fun at first, but being stuck in this person's shadow will grow stale quickly.

07-29-2014
You're anxious to gets things set in stone, but not everyone feels the same. Instead of driving yourself into the ground trying to pin down a moving target, step back and simply observe. Some people's lack of backbone reveals a lot about their character. That said, could their reluctance to commit be a result of your pressure tactics? Pushing people to adhere to your timeline could slow things down even more. Check in with yourself to ensure that your passion for this project isn't adding unnecessary stress to the equation. Take a breather, and give others the opportunity to come to you.

07-30-2014
Got a big ask to make? Today's the day to do it, Cancer. The stars bless you with a silver tongue, making you especially enchanting and persuasive. While you might have 'em at hello, you still need to ensure your pitch is supported by facts and figures. Most people are drawn to visuals, so include images and graphics to get your point across. When it comes to romance, your coquettish side is out in full force. Just be discerning when sending out those love beams. That flirty prospect might seem single, but that's only because his other half isn't around. Don't make assumptions—ask outright.
07-31-2014
As mental Mercury has been moving in and out of Cancer since May, you've been full of supersized ideas. Today though, the quicksilver planet moves on to Leo and your practical second house until August 15, motivating you to work out the logistics of your grand plans. Think: pool your resources, crunch those numbers, establish doable timelines. This two-week tour also gives your earning power a shot in the arm. Luck is on your side if you're interviewing for a new job or heading up a power lunch. Go get 'em!
08-01-2014
Beautifying Venus transits through your sign, making you glow from the inside out. But the love planet also forms a tense angle to daunting Uranus, making you especially self-conscious of extra attention. When you-know-who is drawn into your orbit, resist the urge to take cover under that protective shell of yours, Cancer. You've got more than enough poise and composure to hold your own. Show interest in others or simply discuss current events. Your charm will captivate—without having to lay your soul bare. Being a bit enigmatic today amps up your allure.
08-02-2014
Your planning instincts kick into gear on Saturday, thanks to mental Mercury and expansive Jupiter aligned in your practical second house. While you want every aspect of your life to fit into easy-to-manage boxes, life just ain't that way, Cancer. Agitator Mars comes out of left field, dangling a tempting carrot a few feet from your face. This begs the question: can you indulge without going overboard? If you can be satisfied with a nibble or two, by all means, revel in the pleasure. But if you know that "just this once" will send you spiraling out of control, don't take the first bite. Ground yourself and summon your strength. A fleeting moment of "fun" isn't worth ruining the hard work you've put in so far. Willpower, Cancer, willpower. You might also find yourself needlessly worrying about your financial future. Security is of the utmost importance to you, but stop torturing yourself with fears of destitution. On Sunday, a quarter moon in your flamboyant fifth house gives you the cosmic green light to splurge on yourself. The last thing you may want to do is spend even more money, but allowing yourself to enjoy your hard-earned cash (in a small way) helps you appreciate what you DO have. Take the next week to investigate viable investment opportunities. Someone you know socially could invite you to explore a promising business venture that can help build your safety net.



SEE ANOTHER SIGN'S DAILY HOROSCOPE:

MORE CANCER FORECASTS: