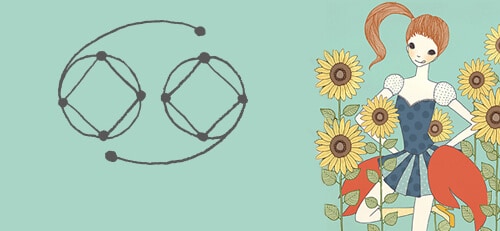 07-21-2014
Put your aspirations on pause. Unpredictable Uranus goes retrograde (backward) in your career house until December 21, sounding the call for reviewing and revamping your long-term strategy. A sudden change in your boss, client, or another authority figure could leave you in the lurch or uneasy in this person's presence. Don't turn into a doormat. Assert yourself, but just do so gently. Issues related to your dad or another father figure could also crop up over the next five months. Take care not to misdirect your angst at the other men in your life. Dial up your therapist and talk it out.
07-22-2014
Put away the party hats, Cancer. Your birthday month comes to a close today as the Sun leaves your sign and shifts into Leo, your second house of work and finances. Wishing on a candle isn't enough. Map out a plan of action for the next four weeks. Looking for a promotion? Want to be your own boss? Register for additional training; take an entrepreneurial workshop. A lot of little steps forward can put you way ahead of the game. Some belt-tightening is also in order, but that's a no-brainer for your thrifty sign. Make repurposing or upcycling your first option when filling a need.
07-23-2014
A personal conflict has got you tied up in knots, making you anxious to resolve it. As one of the most sensitive signs of the zodiac, you find it tough to set aside your emotions—especially when it comes to someone you adore. While it may be difficult to broach the issue, let the other person know you really want to bring back the love. Even if this person is a tough nut to crack, a few thoughtful touches can melt away that stubbornness. Think: fresh flowers, a handwritten card, or a batch of your famous chocolate chip cookies.
07-24-2014
Pushover? Not you today. You definitely can be a softie, but an alignment of the daring Sun and brazen Jupiter in your work and finance sector finds you digging in your heels when it comes to the trajectory you've laid out for yourself. This rare cosmic combo invites supersized moneymaking opportunities into your sphere—possibly even ones that require relocation or travel. While chances like this don't come around often, make sure you're compensated for what you're worth. Overshoot the mark to ensure you don't sell yourself short. Lady Luck sprinkles her magic fairy dust on all business interactions, so ask for what you want—no matter how big.
07-25-2014
You're coming out, Cancer, and you want the world to know. Sizzling Mars zips into your fifth house of fame until September 13, bringing out your rarely seen intrepid side. Shine bright like a diamond, and enjoy the attention that comes with it. When it comes to romance, your preference is exclusivity, but this lusty Mars spell could enlighten you to the upsides of dating. Get some dress-up dates on the calendar. The attention you'll attract will be a welcome boost to the ego. For some Crabs, babymaking may become the focus over the next seven weeks. Don't push your agenda on your boo, but be sure to express your desires.
07-26-2014
Get your claws back on terra firma, Crab. This Saturday, the Leo new moon illuminates your second house of finances, insisting you get into a more practical groove. Pull those purse strings a tad tighter, and get more serious about following a budget. Even if you've got extra greenbacks to play with, why not channel some of it into savings or earmark it for a larger expense? Your hard-earned cash doesn't need to slip through your fingers like water, Cancer. Putting a financial plan in place now could translate into a hefty nest egg by the corresponding full moon on February 4. That three-bedroom condo, European tour, or post-secondary education could be closer than you think. On Sunday, a moon-Saturn square could bring a reality check when it comes to romance. Stop fantasizing about the perfect paramour, and open your eyes to that person sitting right under your nose. Rather than wishing that the object of your affections would step up and do more (or stop doing THAT thing), speak up. That said, have you been focusing on the negative and neglecting the positive qualities your lover possesses? Amour isn't always fireworks and dozens of long-stem red roses. Tune into the little things that show s/he cares. Expressing your appreciation goes a long way, so assume an attitude of gratitude.


SEE ANOTHER SIGN'S DAILY HOROSCOPE:

MORE CANCER FORECASTS: