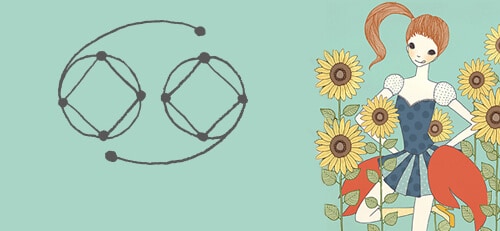 10-27-2014
When it comes to amore today, Cupid's got a clear shot—but don't put the cart before the horse. While you might have visions of walking down the aisle, don't let them blind you to the other person's limitations. If you really want to go the distance with you-know-who, by all means be clear on what you want for the future. But keep your feet planted firmly in the here-and-now. Whether you're attached or single, happiness is something you can have today. All you have to do is choose it.
10-28-2014
Plug into the power of two, Cancer. Today, the moon meets with energizer Mars in Capricorn and your seventh house of partnerships for the next two days—prime time to officialize a dynamic duo in the making. (Mars holds this position till December 4.) Be it business or pleasure, advance a relationship to the next important step. Killer contracts or co-habitation could be in the cards. Sign on the dotted line or seal it with a kiss!
10-29-2014
Dive the depths with you-know-who. Today's meetup of the emo moon and potent Pluto in your partnership sector intensifies a special relationship. If your bond is in the beginning stages, don't fight those feelings. Release your fears, and go with the flow. Allow yourself to revel in the depth AND security this union can bring. Yes, we're speaking your language, Cancer. Go for it!
10-30-2014
Too close for comfort? Today's quarter moon shines its beams on your attachments. Your sign means business when bonding to people, places, and even things. Being so intensely committed makes it difficult to unfurl those claws if need be. What's more, you could be giving away your own power without even realizing it. Reclaim what's yours, Cancer. You and you alone are responsible for your own happiness. In some cases, a bit of breathing room in a somewhat smothering relationship can bring back the balance.
10-31-2014
Considering the clowns, Mean Girls and psychos you're faced with today (no costumes required), you might reconsider tonight's plans. With the moon in your intimate eighth house, you'll be much happier one-on-one than getting lost in the crowd. Invite that special seductive soul over for some behind-closed-doors fun and games. Cue up Lady Marmalade, and slide into (and then out of) your Moulin Rouge costume. Ooh la la! If you do head out on the town, a makeout sesh in a shadowy corner is possible under today's sultry stars.
11-01-2014
Hard. To. Breathe. On Saturday, you could start your day feeling a tad claustrophobic. Don't waste time trying to pinpoint the cause of your angst. What's important is recognizing that you need some serious unstructured space to decompress from the stressors of life. Graciously bow out of obligations, and steer clear of energy vampires. If people get their noses out of joint when you bail, so be it. You might actually come across more synergistic allies when you're off feeding your spirit. That said, you might just need a "me, myself, and I" day to rejuvenate, and bring everything back into balance. On Sunday, self-expression is the order of the day. Allow the cosmos to coax you out of your shell in the name of living life out loud. Explore your passions, and share them with the world. By operating in Technicolor, you could very well attract amore into your orbit, or kick-start a stalled relationship. With the moon hovering in your international ninth house, it's a stellar time to start planning your next trip. Instead of sticking to your tried-and-true vacay spot, plan to explore terra nova during the holidays. Passport, please!


SEE ANOTHER SIGN'S DAILY HOROSCOPE:

MORE CANCER FORECASTS: