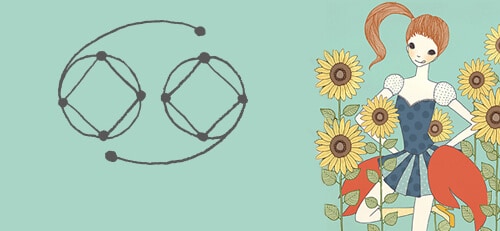 09-29-2014
Move over Martha! Beautifying Venus nestles into your domestic fourth house until October 23, motivating you to feather your nest. Showcase a couple new pieces of art, reupholster your living room set, paint one wall a vibrant color. You'll be the hostess with the mostest during this Venus phase. Invite your nearest and dearest over for an epic dinner party a la Cancer. Single? Your female friends can help you make a true love connection, so get them to play matchmaker. Also, their solid support helps ground you when taking risks in the game of amor, or using your voice with your long-term sweetie.
09-30-2014
Efficiency is the name of the game today. Today's Sagittarius moon supports you in simplifying and streamlining your world. If you're drowning in the details and letting those more important tasks fall to the wayside, it's a sign you need at least one extra pair of hands. Contract a part-time PA, hire a housekeeper, get your pup set up with a dog-walking service. Delegating to-do's may mean money out of pocket, but the peace of mind it can bring will be priceless.
10-01-2014
Get off the fence, Cancer. Today's quarter moon in your partnership sector prods you to make a firm decision when it comes to a relationship, be it for business, pleasure, or otherwise. Stop stringing this person along while you hem and haw. Trust your uncertainty, and set this soul free to explore other possibilities. While you may be sad to say goodbye, it opens up space to join forces with people with whom you truly feel a synergy. This lunar light also injects some much-needed balance into your key bonds. Reconfigure responsibilities and the scales of reciprocity, so that both of you are carrying an equal load.
10-02-2014
A passing fling or the real thing? It might be too early to tell, Cancer. Your sign naturally craves security, especially when it comes to relationships you're invested in. But when it comes to one particular bond, the cosmos encourage you to let it evolve in its own good time. Sure, it's scary to put yourself out there—especially when you don't know where this situation is headed. Allow the connection to grow without pushing an agenda. Spend more time together, and it won't be long before you get a clearer picture of how compatible you truly are.
10-03-2014
Heads up: people aren't possessions. Today's stars could churn up feelings of anxiety or jealousy when it comes to your love life. Remember: monogamous commitments don't imply ownership, Cancer. Even if your worries put you on edge, don't act on them. The best course of action? Simply stop and wait. The only way to build trust is by giving people the opportunity to come to you without any pressure or cajoling. Keep breathing, and let things evolve naturally.
10-04-2014
Old flames and the ones that got away pop to the forefront of your mind. This romantic blast from the past comes courtesy of expressive Mercury starting a retrograde tour this Saturday until October 25. Because the first week of this backspin occurs in your fifth house of love, paramours of yesteryear become a focus. Heads up: this isn't a cosmic carte blanche to get back in touch with you-know-who. If the two of you were toxic way-back-when, chances are good history will repeat itself. Stay away! However, if it was only bad timing, do a little research and see if said person is still single. Already in a relationship? Take a stroll down memory lane—literally and figuratively. Revive the romance, and revisit the locale of your first date or where you put a ring on it. Sunday's stars summon your sense of humor. Besides providing entertainment for the masses, your clever quips and witty retorts can work wonders during a difficult conversation. A moon-Neptune merger could make you reluctant to stir the pot, but don't stress, Cancer. You'll be able to clearly and compassionately address the issue, and point people toward viable solutions.


SEE ANOTHER SIGN'S DAILY HOROSCOPE:

MORE CANCER FORECASTS: