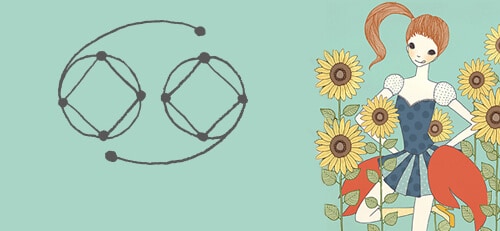 09-01-2014
It's not all doom and gloom, Cancer. You're prone to reading way too much between the lines today, and it's so not a good use of your time. Instead of wasting this day sulking because your pals made plans without you, or cyber-stalking your crush, make your own fun. Put on a killer outfit and scope out an al fresco festival or concert in the park. So what if you don't have anyone to accompany you? Heading out on your own is a perfect opportunity to meet fresh faces. Carpe diem!

09-02-2014
Stow away that tough-love hammer, Cancer. Starting today and lasting until September 27, communicator Mercury tours your nurturing fourth house, drawing out your compassionate side. Make your nearest and dearest the focus today, particularly the women in your world. Whip up some comfort food for your mom or sister, rally the girls together for some tapas and Pinot, have one of your famous marathon Google Hangouts with an old friend. If they're looking for some guidance, summon your trademark sensitivity. It's love—not shoot-from-the-hip advice—that will truly help.

09-03-2014
Mission: Impossible? No such thing, Cancer. Why burn yourself out stressing over a complicated situation when you can use that energy to work it out? Pause and take a look at the bigger picture. Then, break it down into smaller chunks. When you categorize and create mini-milestones, you'll see it's not as daunting as you originally thought. Sure, it's a massive mission, but the journey of a thousand miles starts with a single step. It wouldn't hurt to also reach out for guidance. Hire a consultant or coach to help you draft out your action plan. Ready, set, strategize!
09-04-2014
Should you stay or should you go? Today's mashup of the emo moon and intense Pluto in your seventh house of commitment could bring a relationship to an important crossroads. While your first instinct is to beeline it to the nearest emergency exist, make sure you first explain your discontent. There's a chance the other person is oblivious to your upset feelings. With the expressive Sun forming a harmonious angle to the moon and Pluto, a heart-to-heart can bring you both back onto the same page. Should you choose to change the dynamic of your union, it IS possible. Just do it with love.
09-05-2014
Coquettish Cancer in the house! Your flirtatious ways are out in full force, thanks to love planet Venus decamping to Virgo and your social sector until September 29. Bring out the witty banter and twirl that hair of yours, but be careful you're not batting your lashes at a friend of a friend's date. Single Crabs would do well with speed-dating or even Tinder hookups during this cycle. An amigo might even reveal a secret crush on you. If deep down, your feelings aren't reciprocal, don't cross that line. Already attached? The couple that plays together stays together. Explore shared activities and co-created projects.

09-06-2014
Fly-by-night fling or the real thing? This Saturday's stars make it tricky to accurately interpret people's signals, courtesy of a wishful-thinking opposition between the moon and Jupiter. While that electric chemistry with a certain someone could make you go weak in the knees, keep in mind that some people are only interested in an intense emotional connection in the here-and-now. Keep your eyes wide open, Cancer. Just because you believe that player has the potential to turn into your prince, doesn't make it so. If you're going to dip your toe into such ponds, just remember that these waters are bound to dry up. Sunday's stars come with a drama queen alert. You're a people-pleaser at heart, Crab, but when it comes to certain individuals, what you give will never be enough. If you find yourself going well beyond the call of duty for a dominating woman, slam on the brakes. You can try to reach a compromise, but if neither one of you are happy with operating from middle ground, spend the day apart. Going your separate ways this Sunday can help restore the balance.



SEE ANOTHER SIGN'S DAILY HOROSCOPE:

MORE CANCER FORECASTS: