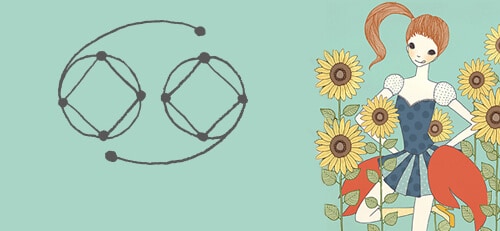 10-20-2014
Pull your head out of the sand when it comes to the nitty-gritty that needs tending, Cancer. No, delving into the drudgery isn't actually your idea of a good time, but tackling those tasks will be a massive relief. Be proactive, and draft of your list of to-do's, putting the hi-pri items at the top. It's only when you break it down into smaller chunks, and focus on one thing at a time so you can make progress. One foot in front of the other.

10-21-2014
Warm and fuzzy are your keywords for the day, Cancer—just the way your sign likes it. Today's Libra moon nestles into your domestic fourth house, and sets the scene for cozying up with your closest peeps. This morning, call one of your BFFs over tonight for home-cooked haute cuisine, or make reservations for a quiet corner table. Also, make a bit of time to have meaningful conversations with your colleagues. A framed photo or a vase of fresh flowers for your desk wouldn't hurt either.

10-22-2014
Today, nurture those tried-and-true bonds—especially those that have fallen to the wayside. With the emo moon and Mercury retrograde in your fourth house of family and close friends, reconnecting with your nearest and dearest is sure to bring on the warm-fuzzies. Those pending household repairs or errands require your attention now, too. Don't wait for that leaky faucet turn into a major plumbing project. Put those tasks at the top of your priority list. It will be such a relief to finally get them done.

10-23-2014
Hey there, headturner! With both the confident Sun and charming Venus decamping to Scorpio and your passionate fifth house, it's no wonder. The Sun remains for the next month and Venus stays until November 16, giving you plenty of time to steal the spotlight. Get yourself glammed up, and paint the town romantic red. What's more, a solar (new moon) eclipse in Scorpio speeds up things in the love and work departments, possibly bringing a new amour or public attention for your achievements. It's a fertile time—perfect for getting pregnant, or "giving birth" to an exciting project that promises success.

10-24-2014
The real romantic deal or a fly-by-night fling? Today's shadowy Scorpio moon makes it tough to tell the difference. Keep your wits about you: don't let yourself be snowed under by a sweet-talking player. You know better, Cancer, so run the necessary background checks before giving any candidates clearance to your heart. The best indication is time. Summon your willpower in the name of letting this relationship evolve on its own clock. You can't hurry love.

10-25-2014
Home sweet home? Hardly. With messenger Mercury transiting retrograde (backward) through Libra and your domestic fourth house over the past three weeks, Chateau Cancer may have been a source of frustration. Drama worthy of a daytime soap opera with relatives or a couple important women in your life has been draining to say the least. And if you've been in the process of property negotiations, this transit may have left you spinning your wheels. This Saturday, the quicksilver planet resumes direct motion again, clearing away miscommunication and delays. Make a point of extending the olive branch, and bring peace back to your inner circle and haven. On Sunday, energizing Mars blazes into Capricorn and your seventh house of relationships for the next five weeks. Be it for business or pleasure, two is so your magic number, Cancer. Opposites attract during this cycle, so keep your eye to the ground for complimentary people to partner up with. If you're already attached, Mars injects some much-needed excitement into your bond. But there's just one caveat: the red-hot planet can churn up discord, too. Stay on guard for simmering tensions, and deal with them before they morph into a full-on conflict. Single? Mars brings out your sultry side. Get yourself glammed up, and mix and mingle like there's no tomorrow. Shine bright like a Bulgari diamond, and welcome amore into your world.



SEE ANOTHER SIGN'S DAILY HOROSCOPE:

MORE CANCER FORECASTS: