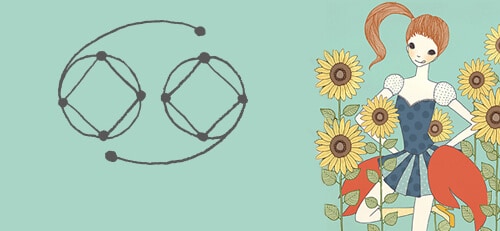 12-15-2014
Your desire for romance and success are like oil and water today, thanks to a combustible Pluto-Uranus square. Consider this a cosmic wakeup call, Cancer, especially if your drive to ascend the ladder has derailed your search for The One. You could meet someone who gives you plenty of reason to make room for amor. Coupled? If you've been sidelining your sweetie so you can clock in more work hours, the Love Boat could be headed for rocky waters. Nourish your relationship as you do your career.
12-16-2014
Commitment takes center stage over the next three weeks, Cancer. Today, expressive Mercury grooves into Capricorn and your serious relationship sector until January 6. While wearing your heart on your sleeve isn't something your sign does readily, you'll now be willing to welcome someone into your personal orbit. Don't stick to one type either. Opposites attract and sizzle during this cycle. Already attached? Co-creation is the name of game, so host the bash of 2014 together, or start drafting out your shared dreams for the New Year.
12-17-2014
Work the pleasure principle, Cancer. Today's trine between the emo moon and fantasy-driven Neptune makes it easier to connect with your deepest desires. If that little voice in your head starts whispering naysaying comments, shut it down. Open yourself up to the abundance the world has to offer. Put together a virtual vision board on Pinterest, or do it the old-school way with a stack of magazines, scissors, and a glue stick. Allow yourself to get excited about creating a life that makes room for a little bit more hedonism.
12-18-2014
Let your inner hedonist out to play, Cancer. Your prudent sign usually errs on the side of caution, but a live-out-loud fifth house moon gives you a craving for more. Don't deprive yourself! Indulge in more than one glass of eggnog with your colleagues, or pick up a round of festive cheer for your mates at happy hour. You're also entitled to splurge on those dainty gold hoop earrings that you'll wear all the time. Instead of popping holes in those partyers' balloons, jump into the fray and find out what the fuss is all about. You'll be glad you did.
12-19-2014
Today's not the day to lay it on thick, Cancer. An alignment of the moon and cautious Saturn encourages you to err on the side of modesty. Go out of your way to deliver above and beyond your promises. Just don't stand by, and wait for others to notice what you have to offer. Go on and pitch your bold ideas, but concentrate on the benefits they can glean. With a sales speech like that, you'll have them onboard in no time.
12-20-2014
Fly-by-night fling or the real thing? Saturday's Venus-Pluto alignment in your relationship sector makes it hard to tell. First impressions can be deceiving, Cancer, so make sure you do your homework before declaring your undying love. If those background checks come up clean, this cosmic combo gives you the green light to explore forging a serious relationship with you-know-who. On Sunday, the Sun decamps to Capricorn and your relationship sector for the next month. Adding even more cosmic juice to your partnerships is a Capricorn new moon. Coupled? You and your boo could turn a huge corner and strengthen your bond considerably. The only caveat? You have to muster the moxie to express your desires. From wanting more "we" time to finally taking that round-the-world trip, speak up. Single Crabs could have better luck starting Sunday. Get back into the dating game, and let your pals play matchmaker. Also, make time over the next four weeks to nurture your business partnerships and creative collaborations.
MORE CANCER FORECASTS:

SEE ANOTHER SIGN'S DAILY HOROSCOPE: