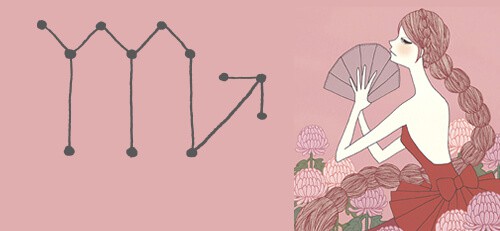 10-27-2014
You're simply oozing glam today, Scorpio, adding to your already mysterious and attractive aura. If you don't roll out of bed feeling fabulous, a little pampering will get you there in no time. Dab on your special-occasion perfume, buy fresh flowers for your desk, treat yourself to a decadent mocha latte. Sneak away on your lunch hour for a mani-pedi, or book a hot-stone massage after work. This evening, sate the culture vulture within, anything from a raved-about museum exhibit to the latest Almodovar film on Netflix.
10-28-2014
Compelling or calculating? Considering that feisty Mars decamped to Capricorn and your communication sector last Sunday (and sticks around until December 4), you need to watch your words. Sure, Mars intensifies your gift of gab, but the planet of aggression also leaves you susceptible to pressuring others or pushing your agenda a tad too hard. With the moon meeting Mars in Capricorn, passions run high. Be an active listener, especially when others have objections. Validate their concerns, and offer possible solutions. When you do, they'll be more receptive to seriously considering YOUR plans.
10-29-2014
Uh-oh. Did you sign on too soon, Scorpio? While you may have just committed to a done deal, it's totally normal to question your decision. Just don't let those doubts consume you, or you won't be able to fully appreciate the amazing experience you just chose. The grass will always be greener somewhere else. Accept it, and focus on what you've got in the here-and-now. Living in the future will keep you dissatisfied in the present. Enjoy the ride.
10-30-2014
Is your home a haven or a hotbed of stress? Today's quarter moon illuminates your domestic sector, calling for more equilibrium at Chateau Scorpio. If clutter is threatening to take over, roll up your sleeves and get into an organizing groove. Floating shelves, anyone? Besides opening up the flow of chi for your own well-being, zhushing your space also makes it welcoming for guests. If you live under the same roof as others, it might be time for a heart-to-heart about ground rules. This is especially true if your lifestyle habits are strikingly different than your roomies' standards.
10-31-2014
Today's Aquarius moon hovers in your domestic sector this Halloween, inclining you to cover candy dispensing to the trick-or-treaters this year. Alas, with the Sun in your sign, you won't be satisfied manning the door, Scorpio. This is your time to celebrate, so get yourself ghoulishly glitzed up in the name of a great time. You might even be inspired to host an impromptu soiree at Chateau Scorpio. Monster Mash in your living room sounds just about right.
11-01-2014
Time to get serious, Scorpio. Saturday's stars help you take a relationship to the next level. Get beyond small talk, and delve into deeper dialogue with others. Just watch your delivery, especially if you're mining for personal deets. Instead of collecting responses and creating a profile, take the time to validate their experiences. That said, what's really important here is your ability to take an emotional risk. You can't expect others to put themselves out there, if you're not willing to join them. Unlock the vault, and share something personal. On Sunday, a moon-Sun merger brings your creative talents out in full force. Follow the muse in your chosen form of expression: write, sing, paint, dance. Romance also takes center stage, Scorpio, so set a loving scene. Flex your culinary finesse with several sensual courses, or if you're not so inclined, reserve a candlelit table a deux.


SEE ANOTHER SIGN'S DAILY HOROSCOPE:

MORE SCORPIO FORECASTS: