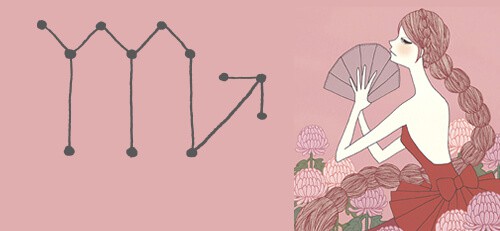 09-22-2014
Ah, sweet surrender. Today, the life-giving Sun settles into Libra and your ethereal twelfth house for the next month. Your creative juices are flowing freely and your spiritual side is awakened. This solar cycle is about going with the flow instead of forcing an agenda, Scorpio, so put your inner control freak on ice. Also, in the name of healing, turn your attention to those emotions that have been weighing you down. Aim to release them by October 23, so you can start your birthday month with a clean slate. Reach out to your closest confidantes, your trusty journal, or a therapist to guide you through the process.
09-23-2014
Pull back the veil, o' mysterious one. Today, transformational Pluto (your planetary ruler) wraps up a five-month retrograde in your communication sector, prodding you to open up. We're not saying you should start blabbing your business to anyone who will listen, but you could let a few more people into your sacred inner circle. You have at least a couple trustworthy candidates who can also be helpful allies. Wade into those vulnerable waters, and speak from the heart.
09-24-2014
Feelings, nothing more than feelings. Today's new moon in your soulful twelfth house brings out your softer side. Discard your armor and allow your emotions free reign. Your instincts border on psychic today, so don't even think of second-guessing yourself. As the twelfth house rules endings, it might be time to bid adieu to an outmoded situation. There's no need to abruptly cut ties right this instant. This lunar light launches a six-month cycle, allowing you to slowly transition into something new. As you go through this process, explore fresh opportunities to fill that space.
09-25-2014
No risk, no gain—especially on the work front today. With lucky Jupiter in your career house forming a sweet angle to changemaker Uranus, you've got spot-on instincts. Take a chance on a proposal with potential. While you may not know exactly how you'll cross the finish line and what the outcome will look like, you'll still end up ahead of the game. This unorthodox move could propel you onto a higher rung, or uncover surprise opportunities that you would have missed if you played it safe.
09-26-2014
Today, la luna lingers in Scorpio, bringing out your absolute best. Instead of looking to others for permission, take the bull by the horns and lead the pack. Calculated risk-taking is fully sanctioned by the stars, so roll the dice. Apply the same logic on the emotional front. Playing coy or waiting to be wooed won't bring the results you crave. Get this show on the road, and make the first move. Come this evening, get your crew onboard with checking out a fresh scene. You might need to cajole them a bit, but they'll be happy you did.
09-27-2014
Shine bright like the diamond you are, Scorpio! Communicator Mercury decamps to your sign until October 10, making you extra-magnetic. You've got cosmic clearance to shamelessly self-promote, so let the world (online and off) know of your special skills and accomplishments. Hello, accolades and applause! The spotlight is fixed solely on you, so if you use the stage in any way you're bound to get a standing ovation. For those shy Scorpios, push outside your comfort zone at an improv class, or try a Toastmasters group on for size. People will be like putty in your hands over the next couple weeks. Strike up conversations with strangers, and the universe could reward you in pleasantly surprising ways. Come Sunday, give your sense of humor the reins, especially in group settings. If you're getting to know a new crew, your clever wit and bon mots will put everyone at ease in no time. For others, you might have come on a little too strong lately, o'intense one. Show the playful part of your personality, and they won't feel nearly as intimidated. Sunday's stars also sanction social experimentation. Rally together your amigos from the various sectors of your life. Besides having a blast, playing superconnector could produce some interesting results.


SEE ANOTHER SIGN'S DAILY HOROSCOPE:

MORE SCORPIO FORECASTS: