A Libra season meditation can helps us tap into the balancing beautifier of the zodiac and invite peace, love and harmony—and some much needed justice—back into our lives.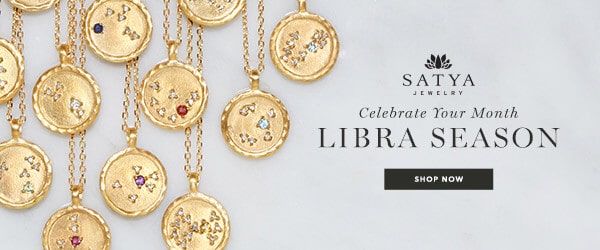 September 22, 2018 had marked the end of the Sun's four-week tenure in by-the-books Virgo, and the beginning of rosy, romantic Libra season until October 23. As we open our hearts during this harmonious phase, we can all attest that what the world really needs now is love, sweet love. Collaborate, cooperate, co-create! Such is the Libran way.
Libra season is all about getting those dynamic duos in motion. Choosing the right dance partner is key, and since Libra is the sign of the scales, our perfect pairings may come from the "complementary force" category instead of the "kindred spirit" cache. Is it time to make a peace offering? Libra's harmonious vibes can help us smooth over any rough patches in our most important relationships. It's never too late to at least TRY to make amends—and the gracious diplomacy of Libra season will make others more amenable to accepting apologies.
After a month of self-criticism and over-analysis, it's time to slow down and tap into Libra's harmonious energy. Libra is the star sign that teaches us to fight for what's right, add an artful and beautifying touch to our work and prioritize balance within ourselves, our relationships and the planet. But indulgent Libra, which is ruled by decadent Venus, can often lead to excess and even spoiling ourselves. So we invite you to sit back, relax and open your heart, with this guided mediation for Libra season.
To help you tap into the balancing energy of this star sign, we've asked our friend Terri Cole—a psychotherapist, meditation expert and awesome Aries—to give you a guided meditation for Libra season to restore inner peace and cultivate creativity.
To get started: Find a quiet, private nook or set up a sacred space in your home. Simply press play, and enter the "Zen Den" with Terri, allowing her soothing voice and words of wisdom to ground you in stillness. Be sure to check back next month for the continuation of this ongoing series for more guided meditations with Terri.
Artwork by Haley ED Houseman
Haley ED Houseman is a freelance writer, illustrator and tarot reader. She deals in the modern mystical, as well as art, fashion, and the natural world. You can keep up with her on twitter and instagram on @hedhouseman, or on her website at hedhouseman.com.
Meet Terri Cole, Astrostyle Meditation Expert
Terri Cole is a licensed psychotherapist, transformation coach, author, speaker and meditation teacher. For almost two decades, Terri has empowered celebrities, professional athletes, and individuals alike through television, radio, her popular TEDx talk (What if FEAR was just a Feeling?), workshops, and a thriving private practice to redesign limiting mental blueprints to create extraordinary lives. Terri's strategies combine practical psychology, Eastern mindfulness practices, and harnessing the power of intention to create sustainable change. Her wicked "tell it like it is" sense of humor and razor sharp insight combined with deep empathy and understanding gives her a unique ability to reach people and inspire transformation. 

FALL SALE: 50% off all 2018 Horoscope Guides!