Mighty Jupiter, the biggest planet in our solar system, heads back into Taurus on May 16, 2023—its first visit here since June 2012! Read on to discover what the yearlong Jupiter in Taurus means for the world and your zodiac sign.
Life has been anything but simple and serene since Jupiter entered passionate, combative Aries (a fire sign) back in May 2022. From global warfare to mass shootings to rapid disruptions from AI, our heads are spinning from all the intensity. So we're genuinely happy to report that a simpler, saner cycle begins on May 16, 2023, as Jupiter settles down in earth-sign Taurus. Let us say it together: Serenity now!
What are the exact dates of the Jupiter in Taurus transit?
Jupiter in Taurus transit dates: May 16, 2023 to May 25, 2024.
After that, it will spend a year in Gemini.
Jupiter in Taurus meaning
What does it mean when we say "Jupiter is in Taurus?" A little astrology 101.
As planets orbit around the Sun, they move through a part of the sky (1/12 to be exact) that is governed by a zodiac sign. For 12 months, Jupiter will amble through that Taurus slice of heavens. The Taurus constellation used to be in that part of the sky, but over time, those stars have shifted. However, Western astrology (which relies on geometry, not constellations) still attributes that ancient 30º of the sky to Taurus.
Okay, can you explain that a little more?
Why yes! Here's a metaphor. We like to think of the planets as the actors in the movie of the sky. The sign they're transiting (orbiting) through is the costume they'll wear. So for 12 months, Jupiter will be decked out in full Taurus regalia, which is sure to be tailored, draped and hand-stitched to couture-house standards. Taurus is all about class and elegance!
Jupiter's role is to get us to take risks and think bigger! It amplifies and excites us. It also guides us to be principled and philosophical…but never at the full expense of a hedonistic urge.
Here's how Jupiter "performs" when it's transiting through Taurus
What happens when Jupiter is in Taurus?
Jupiter rules over some pretty exciting stuff in our lives, which you can read more about here. And when it combines its energy with the zodiac sign Taurus, this is what we can expect for 12 months.
Risk-taking: High-stakes bets are off. Calculated risks are the only ones to take.
Expansion: Hit the brakes and check your GPS. Then advance slowly, step by step.
Enterprising spirit: Fiscally conservative Taurus will slow business growth and spending but make us smarter about money.
Learning: Sorry TikTok, those hacks won't do. Jupiter in Taurus schools us in foundational skills so we can achieve legit mastery of our craft.
Truth-seeking: Time to "call bull" on hype-driven media that controls people by churning up fear
Principles: In value-driven Taurus, Jupiter can get a little old-school and zealous. Steer clear of soapboxes and watch out for stubborn righteousness.
Travel style: In low-key, domestic Taurus, international travel may slow. Set up your home to feel like your favorite vacation spot.
TMI: Jupiter in Taurus can rev up tempers, turning people into "raging Bulls." Not a good look. Might get you canceled.
What trends will we see during the Jupiter in Taurus transit?
Continued battle for reproductive rights
Outspoken Jupiter provides a global megaphone for the movement of women's rights and reproductive freedoms. Taurus is one of the two zodiac signs (along with Libra) that is ruled by the planet—and female deity—Venus. But how might this play out in our polarized times?
Taurus also rules the throat—and Jupiter here can help people "speak truth to power." Women's health and reproductive justice will no doubt be a huge part of the conversation during the Jupiter in Taurus transit. It's worth noting that while Jupiter orbited through Taurus in 1916, Margaret Sanger opened the first U.S. birth control clinic, a forerunner of Planned Parenthood.
New moneymaking opportunities emerge
Jupiter's arrival in money-minded Taurus may provide a buffer—at least for those who play their cards right. Happy-go- lucky Jupiter is the galactic gambler: Some of the biggest fortunes were made while this planet passed through Taurus. (Talk about a new spin on a "Bull market.") Fun fact: Las Vegas was founded during a Jupiter in Taurus transit on May 5, 1905!
While most of us aren't gambling, we can still capitalize on the potential of the expansive Jupiter in Taurus transit: everyday people can grow their fortunes and increase their earnings now. The caveat is spending can creep up in equal proportion to earning. Know the difference between a calculated risk and a straight-up gamble!
Yes, the rich often get richer while Jupiter is in Taurus. But these cycles also correspond to anti-capitalist movements. People may rally around a focused demand for everyday survival: affordable housing, free education or deep cuts in medical expenses, like the hearing aids that are now available over the counter.
Building up and building green
Taurus is associated with construction, and while no-limits Jupiter is zoned here, buildings tend to get bigger and more majestic. Some of the world's tallest structures opened while Jupiter was in Taurus, like the CN Tower in Toronto.
Jupiter in earthy Taurus can also help us live in greater tune with nature. With interest rates hiked, 2023's "builds" may be less about buying new and more about making our homes greener with things like solar panels, water efficiency systems and turning front yards into permaculture gardens.
Make love, and art!
As Jupiter free-ranges through romantic, artistic Taurus, it might just spark a renaissance. If you're inspired to make art, break out the paints and easel!
Nerdy Jupiter in Taurus could also make art appreciators out of us all. Fun Jupiter in Taurus transit fact: The 1st Academy Awards were held during the 1929 transit.
You can read more about the Jupiter in Taurus transit trends in the 2023 Horoscope book by The AstroTwins.
All new daily planner format!
🛼 Your ultimate guide to 2024
🎁 Give the gift of astrology! Bundle up on 2024 Horoscope books and planners and save 70%!
Jupiter in Taurus transit horoscopes for every zodiac sign
Aries (March 21-April 19)
Good thing this isn't a weather forecast because Aries are making it rain for the next full year! After spending six uninterrupted months in your sign, expansive Jupiter moves on to Taurus from May 16, 2023, until May 25, 2024. You may miss the red planet's bonus jolt of confidence, but no need to sulk. Count your dollars instead.
Taurus rules your second house of finances and security, and Jupiter hasn't visited here since June 2011 to June 2012. The Jupiter in Taurus transit kicks off a prosperous year that could be filled with financial abundance and opportunities to increase your nest egg. You could leap into a new earnings bracket, and with that comes a heightened sense of self-worth. Now that's something to take to the bank!
Taurus (April 20-May 20)
Exciting news, Bull! For the first time in more than a decade, lucky Jupiter pays a visit to Taurus and your first house of self-worth and identity. From May 16, 2023 to May 25, 2024, the red-spotted planet bestows its gift of optimism and boosts your confidence in your ability to reinvent yourself. Just as exciting? After an emotionally raw six months of hosting Jupiter in your hazy twelfth house, you'll finally be able to close the door on something you needed to walk away from, and life won't feel like an uphill battle anymore. Get ready to make a fresh start!
Gemini (May 21-June 20)
Time to unplug and power down—and maybe recite the serenity prayer as a nightly practice. After six frenetic months in your social-butterfly eleventh house, visionary Jupiter gives its gossamer wings a rest and cocoons into Taurus and your twelfth house of closure, intuition and healing, beginning May 16, 2023. This is the culmination of a 12-year cycle, and you need to take a little break before the next one, which kicks off when Jupiter enters Gemini on May 24, 2024. Use the coming 12 months to tie up loose ends and weather a life transition. Spirituality, art and creativity are highlighted.
Cancer (June 21-July 22)
Whiplash! Your ambivalence toward group activities could transmute into a veritable passion for people starting May 16, 2023. Attribute this turnabout to the arrival of expansive Jupiter in Taurus and your eleventh house of teamwork and technology. While your middle name has never been "Joiner," your public life could hit a new high between now and May 25, 2024, as the jovial planet inspires new friendships and collaborations. Your social media influence could skyrocket, too. If you've got a plan for a digital venture, this is the year to go for it during the Jupiter in Taurus transit!
Leo (July 23-August 22)
Don't look down, Leo! Starting May 16, 2023, the only direction is UP—as in to the top of your game or maybe the top of the company ladder. Lucky Jupiter makes its annual sign change, blasting into Taurus and your tenth house of career success until May 24, 2024. Now's the time to scale your vision and expand your reach in a public way. After six months in your freewheeling ninth house, Jupiter brings the vision and drive it takes to make your dream a reality. Shift into boss mode and let the results roll in during the Jupiter in Taurus transit.
Virgo (August 23-September 22)
What a difference a day can make! You may have lost your perspective while boundless Jupiter was in Aries for the past six months, stirring the pot in your eighth house of mystery, seduction and intense feelings. But starting May 16, 2023, the jovial planet moseys on—into can-do Taurus and your buoyant ninth house of travel, adventure and higher education. Broader horizons call to you between now and May 24, 2024. Widen your mental angle and trust that the active ninth house will lend sufficient energy to pursue your dreams.
Libra (September 23-October 22)
Do the words "emotional intensity" send your balanced soul running for cover? If so, you might want to slip into your most comforting 'jammies NOW. Starting May 16, 2023, limitless Jupiter kicks off a 12-month tour of Taurus and your eighth house of deep connection, spirituality and shared resources. Through May 24, 2024, the stars will push you to get in touch with your most vulnerable feelings. On the plus side, since the eighth house rules sexuality, you can look forward to some carnal escapades of the sultriest order!
What zodiac sign is your relationship?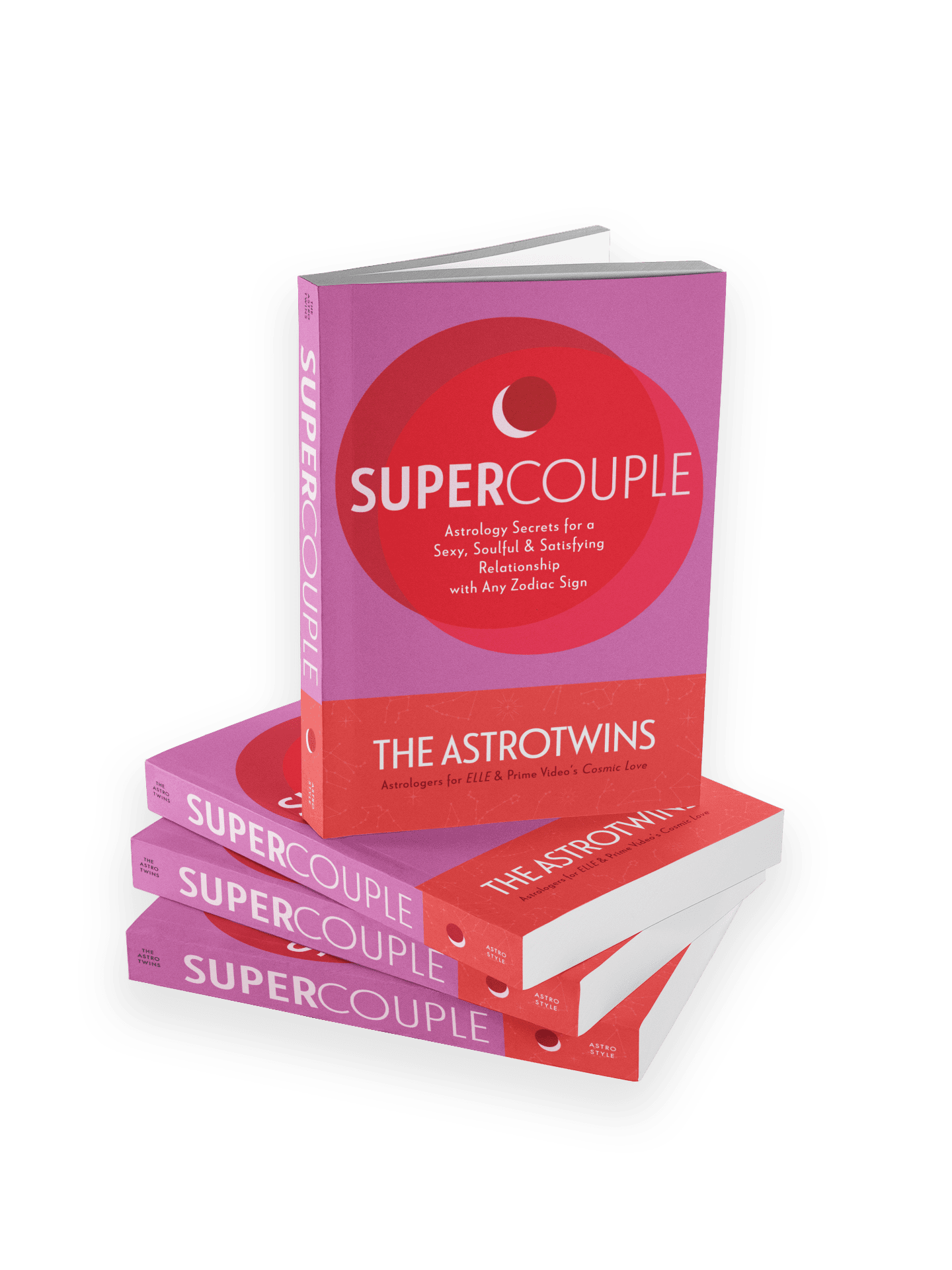 What zodiac sign is your relationship?
Learn the secrets of the composite (blended) chart in SuperCouple, a cosmic care and feeding manual for any relationship. Written by The AstroTwins, astrologers and matchmakers for Amazon Prime Video's Cosmic Love.
Scorpio (October 23-November 21)
Stay open to possibilities, Scorpio! Starting May 16, 2023, expansive Jupiter launches a 12-month pleasure cruise through Taurus and your seventh house of committed partnerships. Is there a certain relationship you're ready to formalize? Over the next year, you'll feel increasingly ready to take the plunge and hitch your wagon to one special person. Whether romantic or professional, you may find yourself bonding with someone radically different from your usual type. Embrace the new—opposites really do attract!
Sagittarius (November 22-December 21)
The past six months have been exhilarating, thanks to boundless Jupiter's tour of Aries and your fifth house of fame, romance and creative expression. Starting May 16, 2023, your red-spotted ruling planet sprawls into Taurus, activating your sixth house of wellness and organization until May 25, 2024. You've been getting clear signs that it's time to pump up the self-care (and dial back the hedonism). Being led by your passions was a blast, but now you're ready to streamline, simplify and get your body, mind, spirit, house—and finances—in order. For clues where to start, look back to June 2011 through June 2012, when Jupiter last visited Taurus.
Capricorn (December 22-January 19)
Expansive Jupiter swings into Taurus May 16, 2023, sounding a wake-up call in your fifth house of passion and creativity for the next 12 months. This is the abundance planet's first visit since June 2012—a welcome change from its temperamental tour of your fourth house and home and family obligations, the final chapter of which began in December 2022. You've gone through a lot of emotional ups and downs since then, and you've grown internally. But enough with the brooding, Cap—a lively, lusty new cycle awaits! A new romance, a pregnancy or new artistic inspiration could be on the horizon between now and May 24, 2024 during the Jupiter in Taurus transit.
Aquarius (January 20-February 18)
Time to follow your homing instincts. Starting May 16, 2023, expansive Jupiter sets up an astrological Airbnb in Taurus, your grounded fourth house. Between now and May 24, 2024, your desires around shelter may surprise you. Some Water Bearers could pull up stakes or give the digital nomad life a go. Wherever you find yourself, you may prefer quiet alone time over rollicking parties, slowing down and intensively focusing on one project at a time instead of multitasking. It's even possible that you've outgrown a few friends. No worries, Aquarius. Now you can focus on people who desire your full attention.
Pisces (February 19-March 20)
If you're selling it, Pisces, we'll take two! Starting May 16, 2023, effusive, maximizing Jupiter—your cosmic co-ruler along with dreamy Neptune—bounds into Taurus, waking up your expressive third house. Between now and May 24, 2024, you'll have a silver tongue, so make the most of this articulate cycle. Got a message to spread or a brand to promote? Work with a pro to help you polish your stump speech, then start marketing your masterful ideas. This zone also rules local goings-on, so you could find yourself taking a more active role in your community in the coming year.
What does Jupiter mean in astrology?
Wise, wild Jupiter is the galactic gambler, global nomad and eternal seeker. The fastest spinning planet in the solar system, developments happen rapidly in this planet's path. Jupiter's job is to push us out of our comfort zones and into uncharted territory—even if that means leaping before we look! The point is that we jump, as far as Jupiter's concerned. If at first we don't succeed, Jupiter wants us to try, try again.
Check out more on what Jupiter means in astrology, and how its transit in the zodiac signs affect you.
Regardless of which zodiac sign Jupiter is orbiting through at any given time, there are bound to be exciting developments. Higher learning and philosophy fall under its reign. Here's where we collectively expand and elevate to the next level of human development!
But how much is too much? Like a giant cosmic spotlight, Jupiter exposes flaws in the machinery and might even reveal a scandal. Issues of global importance are also spotlighted under Jupiter's watch and often dominate the headline news.
Jupiter in Taurus 2023 dates
Jupiter spends 12-13 months in a zodiac sign. It began 2023 in Aries, in a transit that began on December 23, 2022. From May 16 to May 25, 2024 it is in Taurus.
Expect a hurdle: the Jupiter in Taurus transit has a retrograde. Jupiter backpedals in Taurus from September 4 to December 30, 2023.
What happens when Jupiter is retrograde?
Jupiter turns retrograde annually, napping in low-power mode for four months. In 2023, the backspin takes place from September 4 to December 30, backing up through Taurus the entire time. As exciting as Jupiter's developments are, they can also be exhausting! The retrograde timeouts may come as a blessed relief, giving us a window to integrate all the rapid changes the red-spotted planet has us striving to achieve.
Let's be honest: Some of our gambling instincts do need to be tamed. While in reverse, Jupiter slows our rapid expansion before the sprawl becomes too stressful. This is a great time to go back to the drawing board to review goals, reconfigure plans, refine our efforts and make sure we are set up with all the right resources before we go back to the "build site."
How do I know when my Jupiter return is?
People born with Jupiter at 1-29 degrees Aries or Taurus 0-15 degrees will have an exact Jupiter Return this year. This happens when the red-spotted planet transits across the same sign (and degree) it was in when you were born (find your Jupiter sign using our cosmic calculator below).
These year-long phases, which happen every 12-13 years, are marked by abundance, expansion and game-changing growth! Wanderlust may strike, leading you on a peripatetic quest to another corner of the world. Crosscultural relations may give your life new dimension. Discovering your faith and doing spiritual work can inform an entrepreneurial or media venture. Follow this scholarly planet's prompting and enroll in schooling or an experiential self-development program.
No matter the direction you choose, it's time to expand!
All new daily planner format!
🛼 Your ultimate guide to 2024
🎁 Give the gift of astrology! Bundle up on 2024 Horoscope books and planners and save 70%!