The AstroTwins' Love Zodiac is the must-have guide to understanding the astrology of men and your man's horoscope. Demystify men and transform any relationship. Discover what you see in him and what he'll see in you.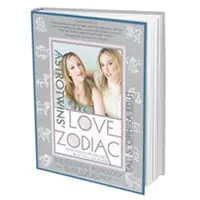 Our essential 450-page guide to the men of every zodiac sign.
The AstroTwins have been using the zodiac for over 15 years to help couples find the love affair of their dreams. A good relationship may mean adjusting to someone who often thinks, acts, and views the world in a way totally foreign to you. You can have a great relationship with a man of any zodiac sign—the key is to learn what makes him tick. Using this definitive guide to understand his personality, his preferences, and his values will help you decide whether you're in it for the long haul—or not.
Breaking down the entire astrological anatomy of all 12 signs of men, you'll quickly discover:
How he courts, flirts, and shows he's committed
How to tell if he's serious or just playing around
What turns him on… and off
How to prep for your first date, his first visit to your place, and meeting his family
What he values—in life, a woman, and a relationship
Why he'd cheat and how to tell if he's serious or just playing around
When it's over for good
Commonly misunderstood signals
Your best moves
Sign-by-sign compatibility—what really happens in every combination, including the conflicts, the benefits, the compromises, and the ways you'll both grow from being together
PRAISE FOR TALI AND OPHIRA EDUT
"The astrological go-to girls"
mediabistro.com
"Considered two of the best in the astrology biz, the AstroTwins have an amazing way of relating the stars to matters of the heart. As a thirty-something single looking to find real, healthy love – this is the book I've been waiting for!"
Eve Lavendier, astrology editor, myLifetime.com
"The thing that sets Ophira and Tali apart is an innate, intuitive nature that can't be learned or read from a chart. They absorb the messages of the planets and then personalize them in a way that is uncanny and spot-on. I never make a move without consulting them!"
Larry Flick, host, "OutQ in the Morning with Larry Flick," Sirius Satellite Radio
"Where do the stars and the heart meet? Tali and Ophira Edut are experts at helping you chart a course with someone you love. Their new book is essential reading for women."
Michelle Preli, Editor-in-Chief, Brides.com