The creators of Once In a Pink Moon bring the stars and skincare together to conjure your perfect beauty balance.
As astrologers, we believe that we're all "spiritual beings having a human experience."
And taking care of your soul's address—your body—is part of the ritual of being human.
If you're reading this right now, we don't need to tell you that astrology is the world's best decoder for basically everything.
But you might not have realized this before: Your skin has an astrological profile based on the four elements of the zodiac.
Does your skin need to be uplifted by fire? Strengthened by earth? Hydrated by water? Brightened by air?
This quiz from Once In A Pink Moon can help you figure out what products you actually need to use to give your face a proper glow-up at any age or stage. Then, come back and read about what it means here.
Take the free Pink Moon Quiz to find your skincare element! (Hint: It's different from your Sun sign)
Having just celebrated our 50th birthday, we're special fans of Pink Moon's commitment to serve all ages with their vegan, natural essences and fragrance-free cleansers and moisturizers.
The Once in a Pink Moon collection brings a new sensibility to skincare, focusing on rejuvenation, ritual and self-love instead of the tired messages about "anti-aging." Instead, these products are about uplifting your skin (and yourself!) no matter how many years you've been on the planet.
We also love that OPM is a woman-owned business: Co-founders Virgo Lin Chen and Gemini Ava Lichauco are an awesome and ambitious Mercury-ruled duo who put thought into every detail of their brand and business—and it shows.
Despite being twins, we've always had differences in our skin. Ophi, who scored as fire element skin, is prone to breakouts, while Tali (who rarely gets acne) got the air element for her result.
So, which products from the Once in a Pink Moon collection fit YOU best? Here's the breakdown by element…
Good news! For each of the four elements, Once In A Pink Moon has a cleanser, essence and moisturizer designed especially to nourish and protect your skin's barrier.
ENERGIZE your skin with the FIRE element…
The FIRE collection focuses on: Energizing & Awakening
Star ingredients: Green coffee, ginseng & hibiscus
"The fire element enlivens, awakens and has a bold energy," Pink Moon explains. "This energizing ritual is for bright and early risers and activating fiery 'inner child' energy."
Aries Cleanser:
Aries is a "take action" sign – allow this cleanser to inspire you! A silky cream-gel cleanser fueled by skin calming ingredients to balance skin and activate fiery energy. Ideal for skin that needs to chill out.
Leo Essence:
Fire up your inner confident, charismatic Leo with this energizing essence. Like a skin multivitamin, white rose hydrosol and moringa seed oil harmonizes with citrusy bergamot, spicy cardamom, and a clear quartz infusion.
Sagittarius Moisturizer:
Sagittarius loves adventure and hates staying still. Take your skin on a soothing, sensory journey with this serum-esque, awakening, and plumping moisturizer powered by green coffee oil, ginseng, hibiscus, and vitamin C.
Shop the Once in a Pink Moon fire collection
STRENGTHEN your skin with the EARTH element…
The EARTH collection focuses on: firming, strengthening & protecting
Star ingredients: Neem leaf, kaolin clay, calendula, snow mushroom
"The earth element is grounding, awe-inspiring, and is the principle of stability," says Pink Moon. "This regenerative ritual is for those who are drawn to nature or want more grounding earth in their life."
Taurus Cleanser:
Luxuriate in true Taurus style with this relaxing clay cleanser for a supple glow. Naturally colored by skin-purifying neem leaf and kaolin clay, while jojoba oil and snow mushroom extract leave skin plump and hydrated.
Virgo Essence:
Inspired by detail oriented Virgo, this essence strives for perfection. Sweet benzoin and earthy geranium will ground you, while white rose hydrosol, niacinamide, allantoin, and more get to work to nourish skin.
Capricorn Moisturizer:
Inspired by goal-oriented, Capricorn, this moisturizer works overtime to nourish skin. Plumping ceramides and peptides, soothing aloe vera and calendula, delivered in an ultra-creamy texture fit for an overnight treatment.
Shop the Once in a Pink Moon earth collection
BRIGHTEN your skin with the AIR element…
The AIR collection focuses on: Brightening, offering a lightweight skincare option
Star ingredients: Rice bran, gotu kola, licorice root
The air element shifts all the other elements and is the catalyst for change. It rules new beginnings, carefree feelings, and an open mind and heart. This dreamy, lightweight ritual feels like floating among the clouds.
AIR: Brightening, lightweight
Star ingredients: Rice bran, gotu kola, licorice root
Gemini Cleanser:
Let the blank slate of cleansing inspire your next move in imaginative, curious Gemini fashion. Break down makeup and SPF with this oil-to-milk cleanser charged with soapwort extract, rice bran, and sunflower seed oil.
Libra Essence:
Create Libra-like balance and harmony with this essence. Calm the senses with ylang ylang and peru balsam, while sodium hyaluronate and moringa seed oil bring a nourishing equilibrium to your skin.
Aquarius Moisturizer:
Electrify and brighten in the spirt of Aquarius. Licorice, rice bran, and gotu kola, delivered in a cloud-like whipped cream revitalizes complexion as olive squalane plumps and ceramides protect for a healthy, plush skin barrier.
Shop the Once in a Pink Moon air collection
HYDRATE your skin with the WATER element…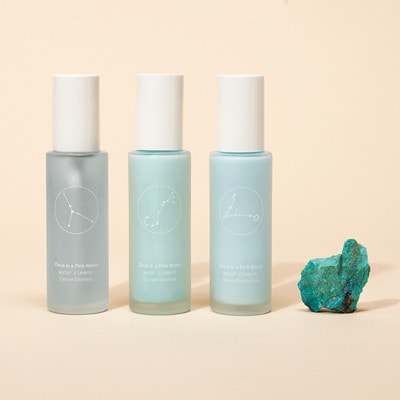 The WATER collection focuses on: Cooling, calming, ultra-hydrating
Star ingredients: Seaweed, aloe vera, Irish moss
The water element is vital to mind and spirit. It's the element of emotions, dreaming, and healing. This ultra hydrating ritual is for those seeking to add more water to their life (hydration for skin).
Cancer Cleanser:
Channel your inner Cancer as you slow down and revel in your sanctuary while cleansing. A milky, lightly foaming texture that hydrates and cools with rose water, seaweed, aloe vera, and panthenol – no stripping skin of moisture.
Scorpio Essence:
This essence will connect you to Scorpio's deep intuition and awaken your third eye. Sandalwood and blue lotus essential oils offer a true sensorial treat as moringa seed oil, allantoin, and more balance your skin.
Pisces Moisturizer:
Unlock the power of imaginative, dreamy Pisces with this superfood-fueled moisturizer. Sit back as cucumber water, Irish moss, marshmallow root, seaweed, pro-vitamin B5, vitamin B3, and ceramides keep your skin barrier thriving.
Shop the Once in a Pink Moon water collection
🎁 SHOP ONCE IN A PINK MOON + GET A GIFT WITH YOUR PURCHASE!
Use the code ASTROTWINS at checkout to get a free rose quartz gua sha tool when you purchase at least at least two items from the collection.