Oh, money: many of us crave it and fear it with equal fervor. Even the minimalists and freegans among us can't get by without it. But in this era of "Buy more stuff!" and presidential greed, it's easy to lose power with the cash we work so hard to earn. Money management and investment strategies aren't subjects taught in school. But they should be! Instead, the lexicon of the market remains a language spoken mainly on trading floors or among those born into upper class families. That wasn't us and we often felt at a disadvantage due to our humbler upbringing.
But let us assure you, the language of money is NOT hard to learn. And being financially empowered allows us to do more good in the world while enjoying greater comfort in life. No shame in that game!
Pin A few years ago, we began working with an amazing financial teacher (and fellow Sagittarius) Barbara Stanny. Her books, seminars, retreats, and free Money Mondays calls transformed us from paycheck-to-paycheck overspenders to savvy money managers with growing portfolios and the freedom to splurge on spring dresses and organic groceries without dipping into our nest eggs. Like most multi-lingual Sagittarians, she is an excellent translator, making the language of abundance simple to understand, even for those of us who never grew up speaking it fluently.
Here's what we really love about Barbara Stanny. Beyond teaching the 101s of saving and investing, she approaches money from a spiritual perspective. To attract money, we must have a powerful relationship to money—and that means removing the fear of what might happen if we actually have it! In this podcast interview, Barbara shares some of her key tips:
Why women in particular fear having money, power and success
How to move from surviving to thriving so you can create financial miracles in your life
What it means to have Sacred Success and all about Barbara's upcoming Sacred Success Retreat!
If you're ready to utterly upgrade your relationship to money—and embrace the abundance that is available to ALL of us—we invite you to explore all the rich offerings on barbarastanny.com.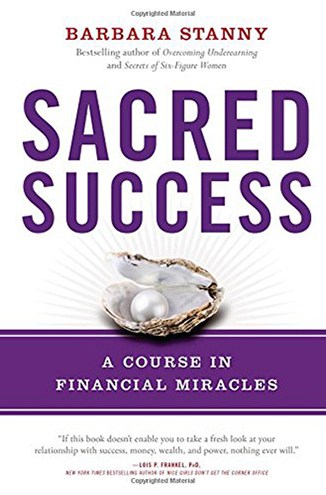 Or, how about immersing yourself in the process of creating abundance? From May 18-24, Barbara will hold her final Sacred Success retreat for an intimate group of 20 women. Find out all the details and registration info here. As we can attest from participating in her live courses, you will leave with life-changing insights, spot-on wisdom and an utter ease with understanding financial terminology. Sadly, this is the last time she'll be leading it, don't ignore the call if you hear it!
There's more about all of this in the podcast, so tune in and enjoy.