When Aries and Capricorn come together for love or any kind of relationship, it's complementary but also demanding. These larger-than-life personas both strive for success and achievement, which can become draining. An Aries-Capricorn relationship is destined for power couple status, but only if you can compromise in your collaborations.


Aries and Capricorn: Your compatibility clicks and clashes
Where you click:
Warm, fuzzy…and a little bit draining. Capricorn is responsible, protective, and loyal—a safe harbor for Aries, who craves structure and certainty from a partner. Electrifying, impulsive Aries lights Capricorn's fire, bringing out the repressed wild side of the buttoned-up Goat. As the zodiac's "father sign," Capricorn often plays a dutiful role in the relationship. Collaborating on a business venture can be both fulfilling and romantic, as your innate talents dovetail beautifully. With your larger-than-life public personas, you make an attractive and enviable power couple that people love to watch.
Where you clash:
Aries is the zodiac's baby, and can revert to spoiled brat mode under Capricorn's endless generosity. Aries will need to step up a bit in this relationship, otherwise Capricorn can get burned out and resentful. Capricorn will need to regulate Aries demands and say no from time to time.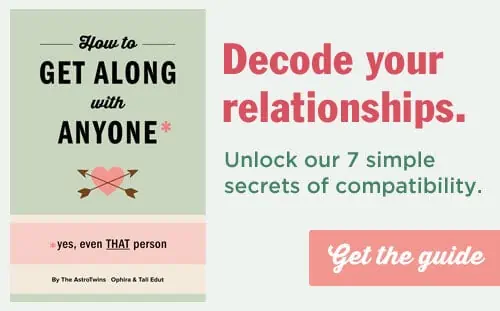 Aries is fire and Capricorn is earth

Handle with care! This astrology love match of wildly different elements can thrive as long as you play to your strengths. Grounded earth signs seek stability and want to put down roots. By contrast, adventurous fire signs long to explore, grow and spread into new terrain. A battle can erupt as one of you strives for freedom while the other craves consistency. The fire sign will feel caged in by the white picket fence fantasy, while the earth sign can never relax with constant change and surprises. But if you learn to appreciate your differences, then you can offer what the other one is missing.
A battle can erupt as one of you strives for freedom while the other craves consistency.
There are four elements in astrology: fire, earth, air and water. Each one plays an important role in the greater whole of humankind. A love match with someone from of a different astrological element can be challenging, but also a beautiful opportunity to evolve. After all, differences push you both to grow and step outside of your own experience.
The worldly fire sign will have a predictable home base to return to, lovingly tended to by the earth sign partner. In exchange, the earth sign will avoid getting stuck in a stagnant rut because the fire sign will encourage growth and adaptation. Earth signs are sensual and practical, and impulsive fire signs can benefit from their grounded approach. In this relationship, the fire sign can learn to slow down and savor the moment, rather than rushing off to the next big thing. And the fire sign can help the earth sign take more chances in life. Think in terms of nature: dirt can smother a fire, and fire can scorch the earth. But in order to build a fire and maximize its creative powers, there must be a steady ground beneath the flames.

Aries and Capricorn are both cardinal signs
In astrology, the "qualities" or "triplicities" reveal the role you play in a relationship or collaboration. Are you a starter, a doer or a finisher? Do you like to take charge and have a plan, or do you prefer to go with the flow? In astrology, you are both from the "cardinal" quality or triplicity.
Cardinal signs are both leadership-driven, headstrong and like to be first. In this love match, you will always need to work on compromise. Otherwise, you can butt heads and fiercely dig in your heels, driving a wedge into your relationship. When you respect each other's leadership abilities and strength, however, you can be a fascinating power couple who can take on the world or build an empire together. Birthdays, holidays and other occasions are NOT to be missed in a cardinal sign coupling. These are major life events that merit a grand celebration with an epic gift to match. Your signs can be sophisticated and status-seeking—you love dressing up and turning heads as a dashing duo (and yes, even inspiring envy among your friends). Impressing each other is part of your courtship ritual in a cardinal sign love match. Take turns plotting new experiences, surprising each other with reservations or vacations that you've carefully curated. To minimize fighting, one of you should take charge at a time. Or, create a shared project where you play to your differing strengths, each of you shining in your own rights, but never competing.


Aries is yang and Capricorn is yin

In astrology, every sign has a "polarity": you're either yin (feminine) or yang (masculine). In your sign match, Capricorn is a receptive yin sign and Aries is an assertive yang sign. When you play to your strengths, you balance each other out, each on contributing a different but complementary skill set. When things are off, you can become polarized. The yin sign can be too passive (or passive-aggressive) and sacrificing, while the yang sign may act domineering, aggressive and selfish. To rebalance, the yin sign needs to work on being more open, direct and confident, while the yang sign should cultivate more patience, tolerance and sensitivity.

Aries and Capricorn are square (three signs apart)
In astrology love matches, we also measure compatibility by the aspect, or distance, between the two signs. Your signs are square, or three signs apart. Mommy and daddy issues, anyone? The square aspect is a harsh, 90-degree angle between two signs that creates a push-pull dynamic. It's the relationship that helps you work through issues with a difficult parent, usually by reactivating old, painful wounds. There can be power struggles and clashing agendas. Don't expect to kick back and put your feet up in this match. The dynamic tension will keep you active and keyed up. Of course, that could be exactly what you want. The opportunity of the "square" aspect is to teach you how to compromise with an equally strong-willed partner. When you strike that delicate balance, you can make an undeniable "power couple"—a true force to be reckoned with.
MORE LOVE HOROSCOPES: