On June 21, the Summer solstice marks the beginning of Cancer season. As the Sun takes a dip in this sensitive water sign, it brings out everyone's softer, nurturing side.
Summer solstice is the longest day of light in the northern hemisphere. The Solstice is on Wednesday, June 21, when Cancer season starts and the Sun illuminates our most treasured bonds, from beloved relatives to friends who have earned chosen family status. So set up the backyard loungers, prep the grill and sangria pitcher. Homey and heartfelt Cancer season is ideal for cozy gatherings! Enjoy four weeks of nesting and guesting with your chosen family.
Jump to
The most important thing you can do during Cancer season!
As much as Cancer season is about being with loved ones, be careful not to fill up every inch of whitespace on your calendar! Tender emotions could surface during the four weeks of the Sun in this water sign. You might prefer to process in solitude—then, turn those feelings into cathartic works of art.
Creativity reaches peak levels during this zodiac season and this deep-feeling water sign helps you pull inspiration from intimate experiences. Creative bursts could give birth to transcendent works of art. Set up an inspiring "studio" and be a vessel for the muse. Try not to overdo social stimulation. If you're not feeling the vibe of a gathering, trust your intuition and retreat into crab shell, stat!
Cancer season and your love life
Cupid spins a sweet, old-fashioned love song for the next four weeks as the Cancer Sun casts a cheerful spell over our lives. A warm heart is the ultimate accessory—and aphrodisiac—during this annual solar cycle. Don't be afraid to let your softer side show.
As a water sign, Cancer inspires us to be fluid. If you've been messing with players, you could flow right into a cuddle puddle with the "nice" type between now and July 22. (Bonus if their embrace makes you feel right at home.) Or maybe it's time to test out some role-playing to work through those mommy and daddy issues? We'll let you take it from here.
It's equally important to create a safe container for processing emotions, so they don't spill over into casual dating or muddy boundaries in a situationship. This "container" could be a pod of close friends who can talk you down from a tree when you start trying to turn a f***buddy into your forever love. Or a private place to retreat to when you're feeling off-center. Make room for all the feels now. Just don't confuse them with facts!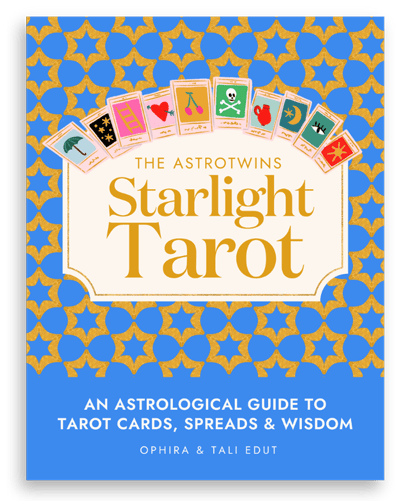 An Astrological Guide to
Tarot Cards, Spreads & Wisdom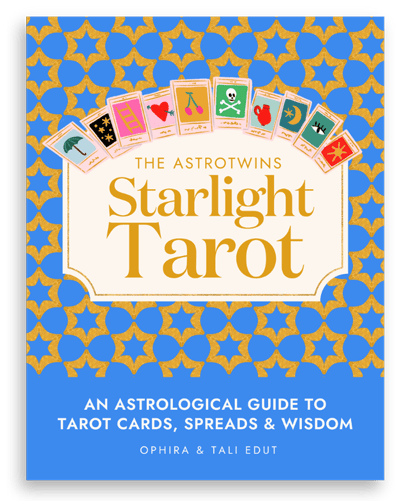 The AstroTwins bring your Tarot journey to life with Tarot spreads, history and empowering guidance.
Get the starlight Tarot
9 Ideas to try during Cancer season
1. Expand your empathy. Feelings are subject to change without notice during the next four weeks. And don't write off fluctuations as "moods." This heart-centered sign helps us expand empathy. Ask open-ended questions such as, "What's that like for you?" or "How do you feel about that?" Be curious and listen to the answers. Don't have access to those conversations yet? Gain greater understanding in a book like Brené Brown's Dare To Lead.
2. Sharpen your EI. Hone your emotional intelligence with personal growth books, workshops, mediations and more. Have you heard the saying: "e-motion stands for energy in motion." If that's true, then why are so many of us still stuck or anxious? Most likely, we aren't getting to the root cause of our pain—which is the hard, but necessary, work. Of course, trauma can be generational. If you're stuck in an ancestral pattern, it's a great time to begin working with a trauma-informed therapist.
3. Your home and family are the stars. The Cancer-ruled fourth house sits at the very bottom of the zodiac wheel, representing your foundation. Connect with your origins, whether you do a DNA testing kit, heal a generations-old chain of pain or honor your ancestry by documenting family traditions on video.
4. Make home a little sweeter. Use this season to enjoy your abode, since Cancer rules the home. Some ideas you could try: create a little reading or meditation nook, build a Little Free Library bookstand in your front yard or freshen up a space with some new squishy pillows or an area rug. Need help making your space like a haven? Our Home Decor Horoscopes have tips for your zodiac sign.
5. Flex your epicurean muscles. Nourish yourself by connecting to the food you put in your body. Connect to your heritage or get a taste of other cultures. Pick up a cookbook like Lazarus Lynch's Son of A Southern Chef. A "love letter" to his father's culinary artistry has Cancer season written all over it. (Pass the Brown Stew Chicken and Lemon Pound Cake, please.) Or binge-watch multiple seasons of "No Reservations" on Netflix as a tribute to late Cancerian food and wine connoisseur Anthony Bourdain.
6. Indulge mindfully. Self-soothing Cancer can awaken an urge to emotionally eat, since food is one of the most widely accepted forms of comfort. During these four weeks, slow down and indulge mindfully. Take part in preparing a meal instead of throwing down ready-made meals while you zone out at your desk. Up your Crab caché by inviting friends over for intimate dinner parties. Put on our playlist for Cancer season, pour some fine wine and prep a meal together as you laugh, talk and bond.
7. Make way for the astrological Alpha female! Cancer rules the zodiac's fourth house of home, family and women. So this month, girls indeed run the world! If it was up to us, as astrologers, International Women's Day (in March) would coincide with the Cancer new moon.
Nonetheless, let us hereby declare this zodiac season a time to celebrate and appreciate the maternal figures and inspiring women in our lives. What we could all do: Take a stand for gender equality—certainly a topic of extreme importance as reproductive rights hang in the balance. Speak up, voice your opinions and don't end sentences with a question mark unless you're sending a text to a friend.
8. Go global with your girl power. Did you know that 1 in 3 girls in developing countries are married before age 18? Not only are they left uneducated and economically disempowered, complications during pregnancy are the leading cause of death for teens, globally.
Women make up the majority of the world's poorest citizens, too. Yet, educating women is proven to be one of THE keys to ending poverty and forwarding world peace. A small micro-loan from an organization like Kiva—which you could totally donate to if inspired—can help a woman start a business in a developing nation. Or see if one of these other orgs from this list of Great Charities for Women and Girls speaks to you.
9. Make a date with your muse. All human beings are creative. Your ability to tap into that force depends on how willing you are to quiet your inner control freak and allow the muse to track you down. Self-protectiveness is a Cancerean trait, but we all need to connect to that vulnerable underbelly of the sensitive Crab during this time.
Cancer is one of the zodiac's most yin, receptive signs. During this solar cycle try to loosen up, soften, widen your embrace, and roll out the energetic welcome mat. To connect with the creative force within, quiet "inner chatter" long enough to let divine inspiration flow through.
Your Cancer Season 2023 horoscope
Below are horoscopes for the four weeks of Cancer season, for every zodiac sign. You can read for your Sun sign or your rising sign (ascendant). Visit our Cosmic Calculator section if you want to calculate your Rising sign or discover more about your personal astrology.
Every 30 days or so, the Sun visits a new zodiac sign. During this "season" everyone feels the prevailing energy, no matter what Sun sign you were born under. Cancer season begins Wednesday, June 21, 2023, and ends Saturday, July 22, 2023 (when Leo season begins!)
Aries (March 21-April 19)
Wrap up a few of those extraneous projects and get ready to power down—or at least slow down to a gentle, flowing pace. On June 21, the Sun exits your hyperactive third house and fluffs up the pillows in domestic Cancer and your fourth house of sanctuary and sentimentality until July 22. Whether or not this is something you've been looking forward to, you can make good use of any downtime if you prioritize personal projects above work obligations and put your inner circle ahead of random interactions. Pay attention to the relationship between food and mood. You may want to make a few dietary tweaks.
Taurus (April 20-May 20)
Set an intention to keep your schedule open and adaptable over the coming four weeks, Taurus. With the Sun streaming into Cancer and your social third house for its annual visit, you may find yourself at the center of a buzzing hive of activity. Parties, concerts, even spontaneous out-of-town trips may fill your calendar between now and July 22. You don't have to abandon your sacred routines or even do anything super strenuous. But you might be pleasantly surprised by how much mix-it-up energy you have under this solar power surge!
Gemini (May 21-June 20)
Make one final wish, Gemini! On June 21, the curtains close on your birthday season, but here's some good news. Between now and July 22, you can direct all that innovative energy toward a profitable project as the Sun sails through Cancer and your financial zone. If you've been a little too casual about your spending, this month-long transit could be a wake-up call you can't hit "snooze" on. You could secure a raise, land a new job or find a profitable sideline that doesn't eat into your precious social time. If you're in decent fiscal shape, how can you add more creativity to the daily grind?
Cancer (June 21-July 22)
Celebrations! Cancer season begins June 21 as the life-giving Sun blasts into your sign. Between now and July 22, you have a cosmic hall pass to put your desires first. This being the summer solstice, it's one of the best days—and nights—of the year for setting new intentions. What do you want to release in the coming 12 months, and what do you want to call in? Really feel each of these goals as you write them down. Then come up with a list of action steps you can take to begin to manifest them!
Leo (July 23-August 22)
June 21 begins your annual month of slowing down as your galactic guardian, the luminous Sun, slips into Cancer and your twelfth house of release and transition. Lighten your obligations and leave more time for processing any recent intense experiences—and the complicated emotional responses they may have triggered. It's tempting to just race on to the next big adventure, but you won't glean the lessons if you don't stop long enough to integrate them. Treat the coming four weeks as an extended retreat, and indulge desires that don't always get honored.
Virgo (August 23-September 22)
Virgo unbound! On June 21, the Sun exits your hard-working career zone and sets sail for far more enticing ports of call as it enters Cancer and your innovative, eclectic eleventh house. From now until July 22, you have cosmic permission to jump ship from any cruise liner that feels stupefying or stultifying. Test the waters and see what you could create when you don't feel limited by rules or judged by unqualified people. Unleash your inner visionary and seek out your fellow unicorns!
Libra (September 23-October 22)
Don't worry about revealing your ambitious side, Libra. After all, your sign is one of the four cardinal, or goal-oriented ones, and whether you realize it or not, people look up to you and follow your lead. On June 21, when the radiant Sun flashes into Cancer and your tenth house of professional success until July 22, you won't be able to play small or hide your light. This is a wonderful opportunity to put your ideas out to the world and see what resonates with people.
Scorpio (October 23-November 21)
Up and at 'em! On June 21, the life-giving Sun blazes into Cancer and your adventurous ninth house until July 22. If you've been holed up in a private bubble or immersed in some larger-than-life emotional drama, you may decide to simply walk away from all that and explore the wider world. Have you got vacation time you can cash in? If you work for yourself and can transport your "office" anywhere that has an Internet connection (or not!), get creative. Don't overthink it, Scorpio! Even a long weekend will recharge your spirits.
Sagittarius (November 22-December 21)
Don't be surprised if you crave more intimate interactions starting June 21. With the Sun heading into Cancer and firing up your eighth house of intimacy for the next four weeks, you can deepen a special relationship or attract someone with lasting potential. This is a time for sharing secrets and forging soul-deep connections. Strong desires get sparked by this transit, so be a little un-Archer-like and take things more to heart. Make a habit of checking in and asking, "How does this make me feel?"
Capricorn (December 22-January 19)
Ready to turn a solo mission into a two-person act? On June 21, the Sun darts into Cancer and your seventh house of partnerships, giving dynamic duos priority seating. This is also the summer solstice, a powerful day for setting new intentions, particularly ones that have to do with relationships or any sort of partnered venture.
Get together with your favorite manifestation buddy to deeply reflect on what you want to accomplish by the end of the year. Write out lists or make vision boards (or both!). It's easy to lapse into autopilot, but if you're going to realize some of those lofty Capricorn dreams, you need to make sure you're headed in the right direction, with supportive allies by your side.
Aquarius (January 20-February 18)
Salud! Your fitness and self-care regimen become priority number one for the next four weeks as the life-giving Sun grapevines into Cancer and your sixth house of wellness until July 22. It's not enough to avoid the "bad" stuff, Water Bearer! Optimal health is about choosing the foods, supplements and exercises that will give you the most energy, clarity and peace of mind. On June 21, as the summer solstice hits, set some midyear intentions for improving your own vitality, focusing on small, doable actions that you can keep up for a lifetime!
Pisces (February 19-March 20)
The red carpet is calling, Pisces, and you can't leave this message unread! On June 21, the incandescent Sun sashays into Cancer and your fifth house of amour, glamour and celebrity until July 22, drawing all eyes, and quite possibly the spotlight, to you. This isn't your usual jam, but when your 15 minutes of fame come a-knocking, you'd best oblige. If it's too much pressure to have it be all about you, what message or good cause could you promote when you've got the mic? Think fast, because this could happen any minute!
Want more cosmic guidance while the Sun is in Cancer?
When the Sun enters Cancer, we're just past the halfway point in June. It's the perfect time to make sure you're in sync with your cosmic opportunities! Revisit your June monthly horoscope to take stock of what's happened and align yourself to take advantage of the month's remaining cosmic windows! Revisit your monthly horoscope here.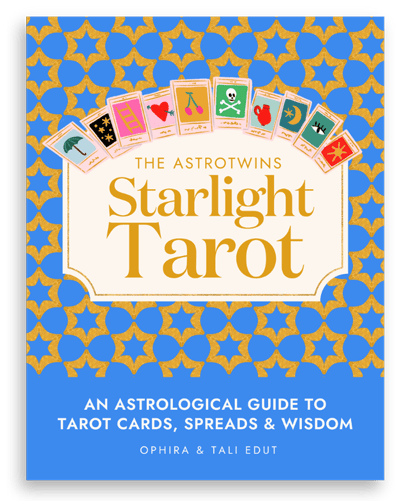 An Astrological Guide to
Tarot Cards, Spreads & Wisdom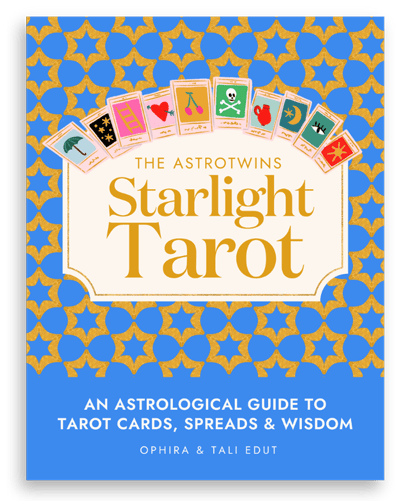 The AstroTwins bring your Tarot journey to life with Tarot spreads, history and empowering guidance.
Get the starlight Tarot