There's a Starman waiting in the sky. Today Planet Earth lost a legend as Capricorn David Bowie transitioned to the great beyond. And what a day to make an exit: 1-10, an eleven of sorts…a number charged with mysticism and lightworker magic. We have long been fierce fans of Bowie's interstellar artistry and unparalleled originality. To honor the Space Oddity himself, here's a retrospective of Bowie's greatest moments, based on his astrological chart…and a planetary playlist too. Bon voyage, Ziggy Stardust, you left behind so many gifts!
Capricorn Sun: Thin White Duke Bowie

Pin
Few can rock a suit and tie quite like the hyper-ambitious Capricorn man. While the Sun sign doesn't explain everything, it reveals our core nature and the fuel we burn. Powered by Capricorn solar cells, the eccentric Bowie had a traditional, family-oriented side with two lasting marriages to Angela Bowie and Leo supermodel Iman. And, we're betting, a serious work ethic to match his talent, to which he no doubt owed his meteoric rise to success. PS: Legend has it Capricorns age in reverse. Bowie beat the odds and remained an unflappable rock icon through the decades.
Aquarius Rising: Ziggy Stardust Bowie

Pin
How we present ourselves to the world—and what captivates our interest—is determined by the rising sign or ascendant. Bowie's otherworldly Aquarius rising may be the trigger that propelled him to invent his most famous incarnation, the alien Ziggy Stardust. Futurist Aquarius is the sign that governs space travel and science fiction, themes that repeated in Bowie's music and stagewear. In his own words, "I always had a repulsive need to be something more than a human."

Leo Moon: Aladin Sane Bowie

Pin
Our emotional drive and desire is encoded in the moon sign. With a moon in flamboyant, fame-whoring Leo, David Bowie was destined to rip up the stage. And while his modest Capricorn Sun may have tempered his ego, through Aladin Sane (AKA A Lad Insane), Bowie was able to act out his id through this shamelessly hedonistic rock god persona.

Mars In Capricorn: Major Tom Bowie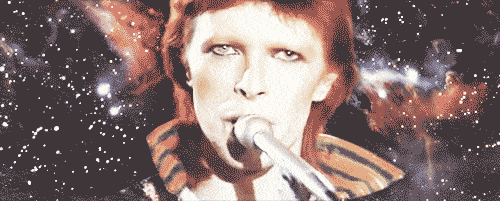 Pin
Along with his Sun, Bowie was born with masculine Mars in Capricorn, giving him an air of take-charge gravitas. Enter Major Tom, the authority of the astronaut Bowie phase.
North Node in Gemini: Labyrinth Bowie

Pin
The North Node is the "destiny point" in the chart; an energy that brings us personal fulfillment. With Bowie's North Node in gender-bending Gemini it's no surprise androgyny and alter egos were embroidered into his artistic exploration. As he once quipped, "I've re-invented my image so many times that I'm in denial that I was originally an overweight Korean woman.
Jupiter in Scorpio: Angel Of Death Bowie

Pin
Fetishwear? Dark themes? Oozing sexuality? With expansive Jupiter in Scorpio, the rocker could STILL look manly—and make us swoon—in liquid latex and thigh-high boots.
Spotify These Songs: The Definitive David Bowie Planetary Playlist


Space Oddity
Starman
Life On Mars
Ziggy Stardust
Blackstar
Lady Stardust
Moonage Daydream
The Prettiest Star
Look Up Here, I'm In Heaven
David Bowie's Natal Chart
(Do your own chart for free here)
Pin