The following is excerpted from The AstroTwins' Leo 2024 Daily Horoscope Planner.
Leo 2024 horoscope overview: Rise up!
From the boardroom to the bedroom, Leo, it's all about who you know in 2024. All year long, planets push you to pair up, team up and collaborate for the win!
Life is anything but a spectator sport, thanks to adventurous Jupiter's journey through Taurus and your tenth house of public prestige and leadership. With the red-spotted planet soaring alongside changemaker Uranus in Taurus until May 25, you'll be recognized for your unique gifts. Bask in the glory, but don't stand still. Your leadership is wanted now! That special blend of passion, power and playfulness is a heady brew that has the power to wake people up and get them into action.
Top 5 themes for Leo in 2024
Will 2024 be good for Leo? The following is a short highlight of each theme for Leo, explored in the 300-plus pages of The AstroTwins' Leo 2024 Daily Horoscope Planner!
1. Smash through the (glass) ceiling
Whether it's made of glass or covered with energy-efficient solar panels, the ceiling can't hold you in 2024, Leo! For the first half of the year, limitless Jupiter teams up with innovative Uranus in Taurus. Together, they ride the express elevator to the top of your chart, AKA your tenth house of career, public prestige and achievement. Get ready to ascend to new heights in your career!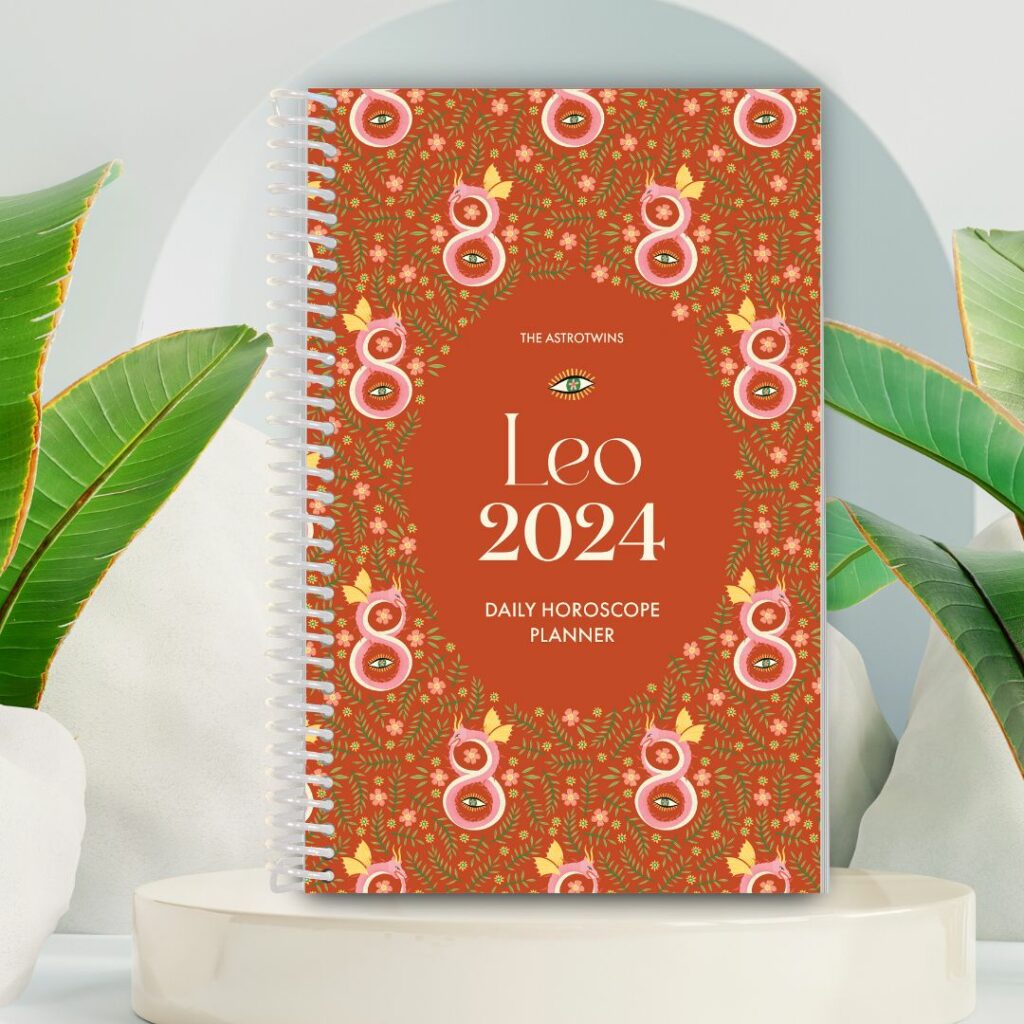 2. Assemble your soul squad
Do you play well with others, Leo? Here's hoping, because starting May 25, the Lion Squad is about to add some new recruits. Break out the metaphoric finger paints, Play-Doh and Barbie Dreamhouse. For the first time since mid-2013, expansive Jupiter sails into Gemini, setting up shop in your eleventh house of community, collaboration and innovation until June 9, 2025. The fun begins in 3, 2, 1…
Not only is your popularity set to soar, Leo, but people around the world will clamor for your attention. Thanks to Jupiter's far-flung influence, you'll have fans and friends in every port before the year is through. And if that global family is already in place? Get back in touch with your long-lost peeps in the second half of 2024. Travel plans fall into place quickly, whether you're taking a series of trips or organizing one epic reunion.
3. Get into bed with the right people
Who you get into bed with matters mightily this year, Leo. From your erotic escapades to your adventures in the business world, once you're involved with people, it won't be easy to disengage. The reason for this? All year long, no-joke Saturn teams up with "master of illusions" Neptune in Pisces and your eighth house of sex, permanent partnerships and joint financial investments.
4. Tune up the health of your relationships
Existing relationships get a health check as plumb-the-depths Pluto weaves back and forth between Capricorn and Aquarius, the rulers of your sixth house of wellness and your seventh house of partnerships, respectively. Get real about relationship imbalances, Leo! If you've slipped into martyr mode, your time playing Best Supporting Castmate is officially up.
5. Find a global platform for your message
Hear ye, hear ye! If you have something wise, witty and important to say (and when don't you, Leo?), the cosmos hands you a golden megaphone…and a matching mic to drop. All year long, the lunar North Node in Aries and South Node in Libra are positioned across your communication axis, powering your words with extra punch. And with three of 2024's four eclipses also landing in Aries and Libra, there's no telling what might come out of your mouth. Since we're fairly certain you don't want to get canceled, think of this as an invitation to refine and define your communications.
Leo 2024 horoscope for love
Neptune spends the entire year in bed with Saturn, rolling around in Pisces and your tantric, transformational eighth house. These planets are essentially opposite in their influence. Neptune rules illusions; Saturn rules reality. Neptune dissolves boundaries; Saturn's boundaries are made of steel. Neptune is an escape artist; Saturn is all about adulting.
Romantic range is required in 2024! So is a responsible attitude. In the year ahead, you will learn the true meaning of commitment as you support a partner at a level that perhaps you never have in the past. Show up for your person and if you're single, put the focus on attracting someone who is a natural team player.
Leo 2024 lucky dates for love: January 3, February 22, November 20
Leo 2024 horoscope for money & career
Your two-part formula for success in 2024? Mix one scoop of inspiration with a large dose of innovation and shake vigorously! Yes, Leo, you may officially become a "disruptor" in your industry, thanks to an ultra-rare union of enterprising Jupiter and eccentric Uranus in your tenth house of career success.
These two planets have been moving closer and closer to each other since Jupiter joined Uranus in Taurus on May 16, 2023. While this may have brought swift and sudden shifts in your professional life, we'd be willing to bet you kick off 2024 feeling like a badass thought leader and a cutting-edge risk taker!
Leo 2024 lucky dates for money: January 20, May 18, September 17
Planets in Leo in 2024
The following planets visit Leo in 2024, with a brief excerpt about what it means from The AstroTwins' Leo 2024 Daily Horoscope Planner!
Sun in Leo
July 22 to August 22, 2024
It's birthday season for you, so step out and shine! Seek novelty and take extra initiative during this radiant monthlong phase.
Leo new moon
August 4, 2024
Bonus New Year! Set your intentions for the next six months and get into action.
Leo full moon
January 25, 2024
Ready, set, manifest! Your work of the past six months bears fruit and it's time to harvest the rewards.
Mercury in Leo
July 2-15, 2024
August 14 to September 9, 2024
Retrograde August 14-28, 2024
Crown yourself monarch of the social butterflies when popularity-boosting Mercury visits your sign once a year. Circulate and get social—but don't make promises you can't keep, especially while Mercury is retrograde in Leo from August 14-28.
Venus in Leo
July 11 to August 4, 2024
You've got the romantic It Factor when the galactic glamazon charges up your powers of seduction. Willpower is weak in the face of beauty and luxury. Watch your spending!
Mars in Leo
November 3, 2024 to January 6, 2025
Retrograde December 6, 2024 to January 6, 2025
Motivation is high when energetic Mars visits your sign. But check your combative streak and try not to come on too strong, especially while Mars is retrograde in Leo from December 6 to January 6, 2025.
Your Leo 2024 horoscope planner includes more detail
Learn more about what's in this article with the The AstroTwins' Leo 2024 Daily Horoscope Planner!
The Leo planner is a special, private astro journal that's all your own. It includes:
• Your sign's annual forecast and all the important dates in one easy-to-navigate book
• Monthly horoscope for your sign
• Calendar pages for the entire year with room to jot down notes and plan events by the planets
• Daily moon cycles and planetary transits for the whole year
• Forecasts and hotspots organized by month
• New and full moon crystals and ritual ideas
All new daily planner format!
🛼 Your ultimate guide to 2024
🎁 Give the gift of astrology! Bundle up on 2024 Horoscope books and planners and save 70%!