Oh baby, it's cold outside—and we're not just talking about the frosty air. The final quarter of 2016 brought some chilling changes to the political climate. It was enough to make us long for an escape to Cascadia, a proposed independent region in the Pacific Northwest dedicated to environmentalism, civil liberties, and thriving local economies.
Photographed by Gia Goodrich | Styling by Scarlet Chamberlin
To honor the forward-thinking spirit of this movement, we traveled to progressive PDX, Oregon for a little revolutionary respite. There, we tapped Portland's top personal stylist, Scarlet Chamberlin (Scorpio)—who we've now dubbed our official AstroStylist—to help outfit us for these changing times. To capture the essence of Cascadia, award-winning fashion and portrait photographer, Gia Goodrich (Sagittarius) got behind the lens. We were honored to work with Gia, whose series like Love Wins and Embodied provide a poignant window into the LGBTQ community. She also features real life models in her work—an ethos AstroStyle solidly stands behind.
Each December, sporty Sagittarius shares the skies with crisp Capricorn—a bohemian rhapsody and an earthy elegance rolled into one. To follow are our sartorial interpretations for the season.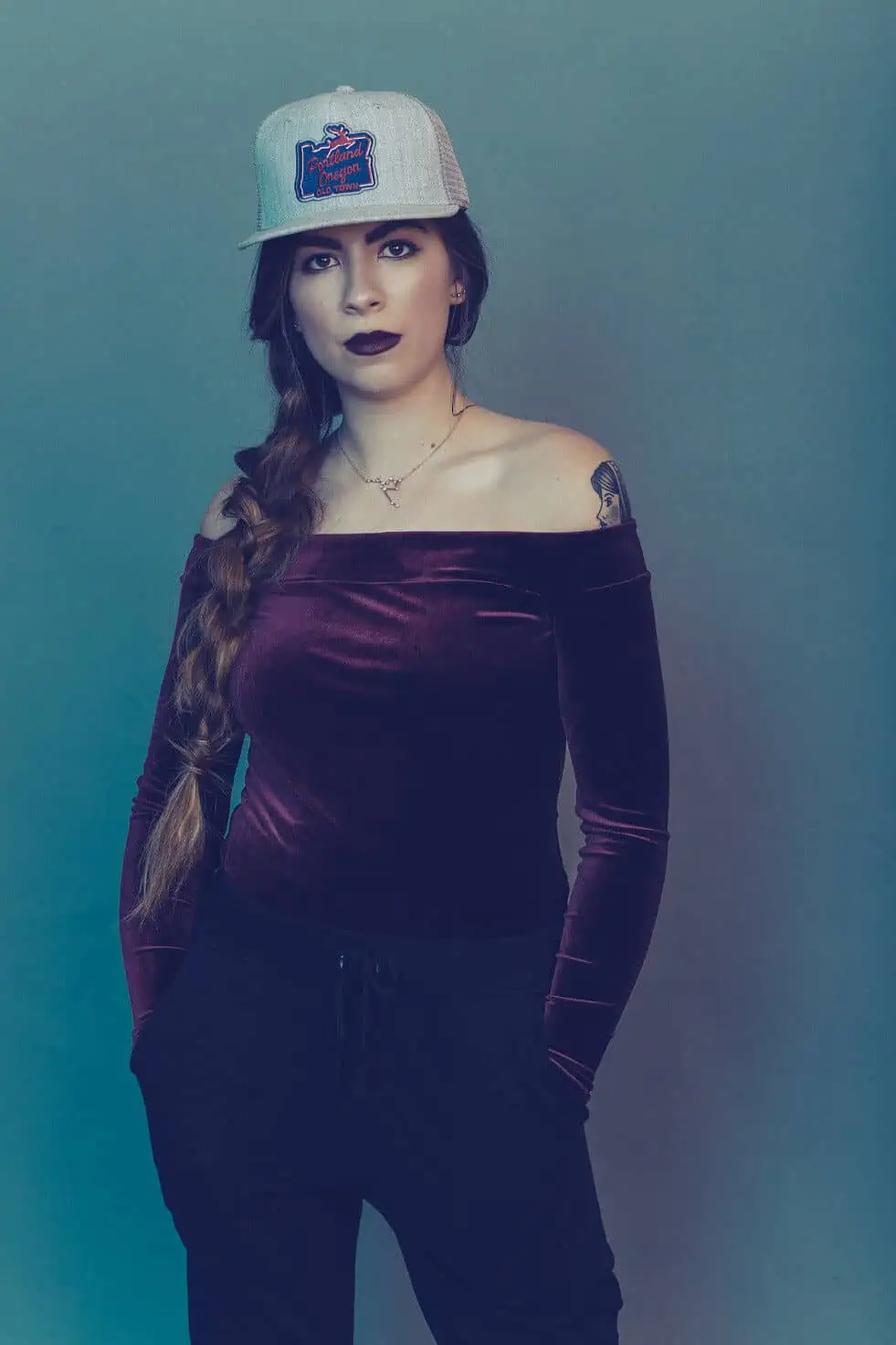 PinScarlet Says: Velvet is life this holiday season—to wit: this gorgeous Bailey 44 off-the-shoulder top. Dress it up with a taffeta skirt by Ted Baker, chic and sturdy tights by Heist, sparkling jewels and heels for a festive occasion. Dress it down with Imogene + Willie's high-waisted black denim, ankle boots, and J.Crew's iconic cocoon-shaped overcoat for happy hour. Or, as seen here, why not wear yours with the slouchy jogger pant by The Odells…what? Leave 'em guessing: Is she headed to barre class or off to the club? Styled with an Old Town Portland trucker hat from Frock, a rose gold Sagittarius pendant necklace from Dualitas, and Born ballet flats . Similar pant style at Athleta in petite/tall/plus.
Pin
Scarlet Says: With temperatures plunging (and not just in Cascadia), consider your outerwear—it's what gets seen first in these chilly months. Invest in something both cozy and fashionable. Running to the Cascadia co-op in sub-freezing temps or meeting friends in the powder for a political powwow? This army green winter parka by Sanctuary has got you covered. It has an inner lining like those fuzzy baby blankets we want in adult size—like wearing a secret Snuggie! The fur is detachable which means it can go double duty: wear it as a collar to spice up last season's wool blazer gathering dust in your closet. And you can contour your figure by cinching in the drawstring waist for a flattering look no matter how many layers you've got on underneath. Styled with a tailored embroidered plaid shirt by Driftwood, a Ted Talk Dirty To Me t-shirt (yeah, baby!), Lightning Necklace from Upper Metal Class, and leather earrings designed by Oropopo available at Amenity.
In Cascadia, you never know where the day may take you. You've got plans, lists, and routines, but adventure is always in the air. Fussiness is forbidden, however. In this casual climate, clothes must meet at the intersection of comfort and style. A day in Cascadia could include a rainy run to the coffeeshop, a record release party at the independent radio station, a random visit to a friend's beekeeping outpost…you never do know. But one thing's for sure. In this DIY corner of the country, it's self-authorized actions—and an activist spirit—that set the tone for style. 
PinScarlet Says: Bored by your basic blues? Me too! I need denim with a little something-something going on. Whiskering, washes and worn-in effects aren't always executed well, drawing attention to areas we would rather downplay, like the tops of our thighs (eek!). The embroidered detail down the side of these jeans is both elongating and unique, making Driftwood's "novelty denim" a winner in my book. The skinny—without squeezing—pant silhouette tucks effortlessly into the short boot of our dreams. Styled with a contemporary pearl choker by Grayling, a crystal quartz pendulum necklace from Pound Jewelry, a versatile cream chiffon blouse by Bailey 44 , a crossbody bag and Olukai's mixed leather short boots from Amenity.
Pin
Scarlet Says: I can't get enough of this grommet bomber jacket by Velvet. The bomber, a classic men's shape (think Steve McQueen, who was born under the uber-masculine sign of Aries), has become a sought-after piece for fashionable layering. Edgy grommets over a black satiny sheen add a twist to this historically casual shape. Throw this piece on over your zodiac-inspired LBD by Ecote for an unexpected date-night look or style it with sporty sneaks from M.Gemi for a casual afternoon shopping with friends. 
Here we imagine our Cascadia adventuresse on a mission: protest-marching for miles or tromping through puddles in her water-resistant Sorels without hesitation. Styled with mixed metal hoops from Amenity, an African print Wakefield dickie from LeCou (yes, we're bringing dickies back!), KBLA's sexiest sweatshirt ever, an emerald green geometric handbag from Amenity, and Prairie Underground denim.
PinScarlet Says: A fabulous leather jacket is at the top of my short list of wardrobe essentials I believe every woman should own. Finding one you love at an affordable price typically requires a bit of a search. So when I came across this pocketbook-friendly Astars Savannah vegan leather jacket that looks like the real deal, I was sold. It has a soft cotton lining that keeps it cozy (bonus!) and the two-tone effect adds some interest to an otherwise basic outfit (contrary to popular belief, grey and brown DO go together, trust me!). Cuffs are rolled up and used here as an alternative to a blazer for a professional or urban setting. We styled the jacket with a navy turtleneck dress by Prairie Underground, one-of-a-kind gold constellation earrings from OKO, an original Demimonde necklace, vintage turquoise bracelets from Ancliffe, and super cute Ethem black ankle boots that are made for dresses!
 
Pin
Pin
Scarlet Says: A silk tunic dress (this one by Biya) works for every season. Make a statement by layering it over a fitted cashmere tee and leggings during the winter, then transition it into resort season with bare legs, gladiator sandals from Steve Madden and oversized sunnies by Selima! To create composition, this tonal blue pattern flows seamlessly into denim on the bottom for a lengthening effect. The boxy silhouette in silk drapes fluidly, moving with the body, contouring her shape instead of hiding her figure. You can handwash silk at home too, so don't treat it as too precious to wear out—especially if you're visiting rainy Cascadia! And if your silk is high quality, it won't wrinkle much at all. This hip ensemble includes a wool fedora by Tart Collections, chain pearl necklace from Amenity, my favorite Muubaa leather jacket, denim girdle leggings by Prairie Underground, water resistant knee high boots by Sorel, and rings by Upper Metal Class.
Pin
Scarlet Says: This is a woman with intention. No fear; just vision. Her Alice + Olivia leopard-print coat lends some attitude to any outfit. Equally cool with a t-shirt and jeans (OMG, this LOVER t-shirt by Mother!), we love how the brass tones in this animal print coordinate with her Demimonde Uiri earrings and the vintage safety-pin belt, pulling her look together. The double-layered knit pencil skirt by Ancliffe in a beautiful merlot complements her dark berry lip. A modest black sleeveless mock turtleneck by Bailey 44 adds a classy—and classic—feel.

Shop Cascadia Style with these Special Savings (Thanks Scarlet!)
Through 1/15/17, Use code "SCARLET" to get 10% off at checkout on signature boots at Amenity, luxe-casual basics at Shop Adorn, THE new layering basics at LeCou, and second-skin jewels at Upper Metal Class. Get $25 off fashionable shoes at M.Gemi too by using code "scarlet001"!  
About Our Team
Pin
Scarlet Chamberlin is an award-winning stylist and jewelry designer. Since opening her personal styling studio in 2010, she has championed her clients to step onto their stages, looking and feeling their absolute best! She has overhauled over 350 closets, styling men and women for the red carpet and beyond. She gives her clients the peace of mind of knowing that for any event they have the perfect outfit so they can focus on wowing the crowd, not fretting about what to wear. Through her business, she makes an impact on the lives of individuals, independent designers, and boutiques by supporting quality over quantity and teaching the value of an interchangeable wardrobe.
Her work has been seen on individuals featured in: Vanity Fair, People Magazine, TED.com, Golden Globes, Academy Awards, Eisner Awards
scarletchamberlin.com | @scarletchamberlin | @scarletchamberlinstylingco
PinGia Goodrich is an award-winning fashion photographer and conceptual artist. Since receiving her MFA in 2011, her work has celebrated and challenged complex notions of identity. Her current project, Love Wins has won international acclaim as the largest on-going archive of LGBTQ love stories. In 2014 she started VEV studios, empowering women to love their physicality by creating powerful images that reflect their unique beauty. "She's the next Annie Leibovitz," says Sue Dixon of The Portland Opera. Gia's work has been featured in: CNN, Tech Insider, Huffington Post, Out Magazine, the New York Times
@gia.goodrich | giagoodrich.com | lovewinsportraits.com | vevstudiosportland.com
Makeup and Hair:
Kylie Sallee @kyliesallee
Models:
Savanna Hupe and Melissa Gonzales