Pick your jaw up off the ground! On May 5, the Scorpio full moon lunar eclipse reveals secrets, scandals and spiritual revelations. Here's how to prepare.
Feel like howling at the moon this Cinco de Mayo? Proceed with caution because you never know what slumbering forces you might awaken. The year's only full moon in mysterious, alchemical Scorpio will be a game-changing lunar eclipse. Control is an illusion when it arrives on Friday, May 5, 2023 (at 1:34 PM Eastern).
What's the Scorpio full moon lunar eclipse all about?
Eclipses are shaking up the Taurus-Scorpio axis from November 19, 2021 through October 28, 2023. For the past 18 months, they've basically been destabilizing areas of life that are ruled by these two zodiac signs. Some astrologers call Taurus and Scorpio the money signs. They're also the body signs, ruling sensuality and sexuality, respectively. We've seen seismic shifts with the labor force, financial markets, our body sovereignty, reproductive rights, wealthy billionaires wielding their power…
On a personal note, this eclipse series has shifted relationships
Taurus rules touch, TLC and tradition. Scorpio is the sign of sex, secrecy and soulful intimacy. Sounds pretty scintillating…if only eclipses weren't so famous for stirring the pot. As we've emerged from the isolation and separation of the pandemic, there's chaos and clumsiness to our interactions, pushing us to redefine relationships as we know them.
Taurus-on-Taurus duo Megan Fox and Machine Gun Kelly are the poster children for the "achingly beautiful" symphony and agony relationships have endured during this eclipse era. From their steamy, scroll-stopping Instagram tributes ("My heart is yours 🔪♥️🔪") to an epic proposal to a sudden decision to go "on break," their romantic roller coaster ride pretty much says it all.
If you review your life since November 2021, you may notice some highs and lows corresponding with the Taurus-Scorpio eclipses. Here are all the dates for this series:
November 19, 2021: Taurus lunar (full moon) eclipse
April 30, 2022: Taurus partial solar (new moon) eclipse
May 16, 2022: Scorpio total lunar (full moon) eclipse
Octover 25, 2022: Scorpio partial solar (new moon) eclipse
November 8, 2022: Taurus total lunar (full moon) eclipse
May 5, 2023: Scorpio penumbral lunar (full moon) eclipse
October 28, 2023: Taurus Partial lunar (full moon) eclipse
What zodiac sign is your relationship?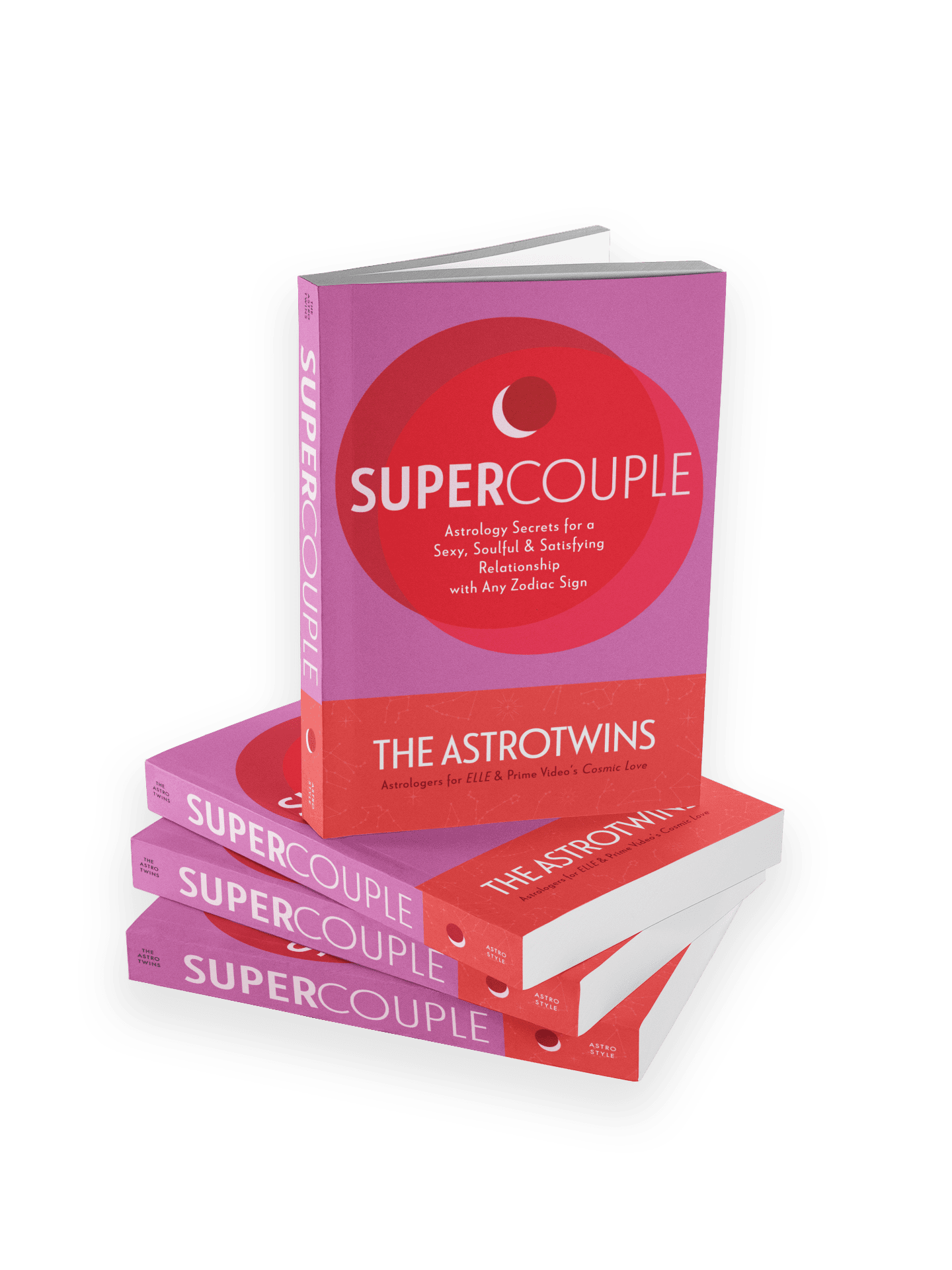 What zodiac sign is your relationship?
Learn the secrets of the composite (blended) chart in SuperCouple, a cosmic care and feeding manual for any relationship. Written by The AstroTwins, astrologers and matchmakers for Amazon Prime Video's Cosmic Love.
So, uh, what's gonna happen during this May 5 eclipse?
During a lunar eclipse, you can expect the unexpected. These "moon moments" are famous for dredging up buried feelings, ones you've probably ignored for way too long. As a result, situations that seemed certain could pivot abruptly.
Eclipses are harbingers of change, pushing us to let go, ready or not. And in Scorpio, the sign of "phoenix rising from the ashes" transformation, that release could really burn. Keep the tissues—and your tarot deck—handy! Check out our tarot section for ideas!
Because it's opposing shock-jock Uranus, this eclipse could bring some bonus surprises. From power mergers to scandals to sudden transitions, all sorts of secrets will be exposed.
What the Scorpio full moon lunar eclipse means for all of us
If it's time to go separate ways, that will also become clear. This lunar leveler could hasten a departure, and in furtive Scorpio, slipping off discretely may be an optimal exit strategy
For best results: be an open channel for creative and spiritual downloads. These could send you racing to your "studio" to make music, art or love! Scorpio is the sultriest sign, after all.
Investment opportunities may appear unexpectedly, or someone may offer to finance your work.
Globally, we can expect more scandals to be revealed about furtive and manipulative leaders.
Reproductive rights, ruled by Scorpio, have been gone through the wringer since this eclipse series began in November 2021. Sexuality has also been under fire as restrictive and discriminatory laws are lobbed at the LGBTQ community in the U.S. For better or for worse, we anticipate curveballs over the month that follows the eclipse.
An extra note of caution for the Scorpio full moon lunar eclipse
Since eclipses bring an X factor, harness Scorpio's investigative powers and thoroughly research anyone you're getting into bed with, literally or figuratively. Existing partnerships may reach a make-it-or-break-it point within a month of the May 5 Scorpio full moon lunar eclipse. (If you plan to move forward, be sure you have a rock-solid commitment.)
If anything in your life is "eclipsed away," we don't blame you if you feel scared, heartbroken or upset. But consider that this situation may not actually be worth holding on to—no matter how sentimental you feel about it. When one thing removes itself from your path, it makes space for something new to come into your life. And with Scorpio at the helm, your next chapter could be more sexy and spiritual than anything you've experienced in the past.
One more note: During the next few weeks, leave no fine print unread (hey, remember we're also in a Mercury retrograde until May 14!)
What does the Scorpio full moon lunar eclipse mean for me? Horoscopes by zodiac sign.
In this Article
Aries (March 21-April 19) Scorpio full moon lunar eclipse horoscope
A simmering connection could reach its boiling point on May 5 as the Scorpio full moon lunar eclipse rocks your intimate eighth house. Although your libido will be in overdrive, those intensified feels might not be directed at the most obvious, or even the wisest, target. Check in with your heart (and other parts), Aries. But if you're unsure of your desires, wait for the dust to settle before you do anything radical. The next two weeks could reveal what your next move should be, whether it's coupling, uncoupling, or something far afield from your usual way of "doing" relationships.
Taurus (April 20-May 20) Scorpio full moon lunar eclipse horoscope
Table for two! The May 5 Scorpio full moon lunar eclipse could churn up a host of unexpected events around relationships. Over the coming two to four weeks, you might reach a turning point with an important bond. Whether you're partnering in business or romance, this could very well be your cue to commit in a more official way. Have the courage to initiate a dialogue about the big step you envision. If you're truly aligned, you can expect a fruitful, heartfelt exchange.
Gemini (May 21-June 20) Scorpio full moon lunar eclipse horoscope
The wellness wagon beckons, Gemini! If you've slipped into unhealthy habits lately, May 5's Scorpio full moon lunar eclipse in your salubrious sixth house could bring a wake-up call to treat your body like the temple it is. Don't beat yourself up over getting hooked on the insanely delicious pastries at the bakery that opened up on your street. Beyond turning that daily indulgence into a weekly treat, where could you open up more flow in your life? See what happens if you bail on draining non-obligatory activities and set firmer boundaries around personal time. Moves like these could set off a ripple effect of self-care.
Cancer (June 21-July 22) Scorpio full moon lunar eclipse horoscope
Dodging Cupid's arrows is futile May 5 as the Scorpio full moon lunar eclipse rocks your fifth house of passion, romance and creativity. Over the coming two to four weeks, Crabs in the market for a mate could meet a surprising prospect with LTR potential, or maybe you'll finally invest your heart in the hunt. But if a love affair has hit turbulence, stop playing ostrich. Deal with the situation before it blows up unceremoniously. Bonus: Since this house also rules creativity, an artistic passion project could come to fruition under this influence.
Leo (July 23-August 22) Scorpio full moon lunar eclipse horoscope
The Scorpio full moon lunar eclipse is beaming into your domestic fourth house. All may not be quiet in the Leo lair. Out of nowhere, what once looked chic may not seem shabby. Some Lions may literally get the urge to change your home address. Pay attention to these urges, but don't act upon them impulsively in the heat of an emotional storm. While a change may indeed be necessary, anything irrevocable needs to be thought through. If you feel like you're headed for a meltdown, take a step back from the world and carve out some quiet alone time to center yourself.
Virgo (August 23-September 22) Scorpio full moon lunar eclipse horoscope
Take your seat at the negotiating table. May 5's Scorpio full moon lunar eclipse not only wakes you up to imbalanced dynamics but also illuminates previously hidden partnership potential. Over the course of the next two to four weeks (the "manifesting period" of this eclipse), get existing bonds back onto an even keel while simultaneously exploring future collabs. These lunar beams can also blast your message into the zeitgeist—a dream come true for Virgos involved in blogging or producing media. Your knowledge can lift others up, so share it generously!
Libra (September 23-October 22) Scorpio full moon lunar eclipse horoscope
Cha-ching! May 5's Scorpio full moon blesses your finance zone. If you've had your shoulder to the wheel these last six months an income boost could be just around the corner. But since the full moon is also a game-changing lunar eclipse, a money manifestation could come seemingly out of left field. Believing that you deserve abundance is the first step, but you also need to clarify the amount of compensation that your talents and efforts merit. If you're not fully utilizing your innate gifts, tap into that treasure trove to help increase your pay rate.
Scorpio (October 23-November 21) Scorpio full moon lunar eclipse horoscope
What's the next step in your personal evolution? If you've stuck in an impossible rut, May 5's Scorpio full lunar eclipse could literally get your wheels back in motion. If an opportunity comes to light, what you DON'T want to do is spin those wheels. Carpe diem because this offer won't be around forever, especially since this is the final eclipse to land in your sign this decade. Don't fight change, Scorpio; align yourself with it, and your life will begin to unfold in a whole new direction. Even if you feel adrift for a time, you'll make your way back onto terra firma.
Sagittarius (November 22-December 21) Scorpio full moon lunar eclipse horoscope
When did you start believing the myth that you had to do it all by yourself? Support may come from "on high" May 5, as the Scorpio full moon beams into your twelfth house of mentors and spiritual guides. Since this one's a plot-twisting lunar eclipse, a helping hand may reach out from a truly unexpected place. (Just do your due diligence to make sure there isn't a hidden agenda brewing.)
For the next two weeks, see what happens if you surrender to the universe's wisdom every time you catch yourself trying to force ill-fitting pieces into place. When you release the need to be in the driver's seat, the divine order of the universe starts to work its magic. Miracles: incoming!
Capricorn (December 22-January 19) Scorpio full moon lunar eclipse horoscope
A collaboration could reach a climatic point today, as the Scorpio full moon lunar eclipse rocks your innovative, team-spirited eleventh house. If you've been steadily teaming up to hit a benchmark, the fruits of your combined efforts could finally get some well-deserved recognition—and even transform people's perspectives on a hot-button topic. This lunation puts an emphasis on thinking outside the box, which may also illuminate places where you're feeling boxed in by groupthink or limited resources. This could be your cue to break free. Just try to exit as gracefully as you can.
Aquarius (January 20-February 18) Scorpio full moon lunar eclipse horoscope
That knocking sound you hear? Oh, that's just opportunity, Aquarius! And on May 5, you have no choice BUT to answer as a Scorpio full moon lunar eclipse turbo-charges your tenth house of success and outsize ambition. Tap into these motivating moonbeams to set new goals. Take one daring action (or more) that can jump-start your ascent. Dress for the part you want to play, even if you're not fully there yet. If that means a shopping trip to update your professional wardrobe, consider it an investment in your own future.
Pisces (February 19-March 20) Scorpio full moon lunar eclipse horoscope
Lady Luck puts some extra wind in your sails on May 5, Pisces. The reason? A rare and expansive Scorpio full moon lunar eclipse powers up your visionary ninth house. What have you been dreaming about? Step off the sidelines and see what's possible when you search beyond your safety zone. An entrepreneurial venture or media project could get off the ground in a huge way or you may decide to dive into a new course of study. Reach out to friends in far-flung places and start talking about a visit. A long-distance connection that's been simmering could heat up over the coming two weeks, so make your move!
All new daily planner format!
🛼 Your ultimate guide to 2024
🎁 Give the gift of astrology! Bundle up on 2024 Horoscope books and planners and save 70%!