Set your tempo to "slow living" this April 21. The year's first full Mercury retrograde unspools in sensual, sensible Taurus until May 14. Here are 10 analog activities to try during the Spring Mercury retrograde—no passwords required!
There's no shortage of advice about what NOT to do during Mercury retrograde but what about what you can do?
In honor of Mercury retrograde's tradition of turning everything inside-out and upside-down, we decided to do the very same thing with our tips. That means we're not going to proselytize about blocking exes or keeping open containers away from computer equipment or leaving early for the airport. (Though we recommend all of the above during the spring Mercury retrograde.)
Instead, we imagined ideas to help you get creative and have fun during an otherwise difficult astrological time. Don't worry, this isn't a to-do list. It's actually a "can-do" list…you know, if you feel like it.
You might notice a whole lotta analog ideas on this list. There's a reason for this! The Spring Mercury retrograde takes place in tactile, old-school Taurus. There couldn't be a better excuse to embrace slowwww living. Trade burnout culture norms for mindful, deliberate activities.
Take note! Mercury is retrograde from Friday, April 21, to Sunday, May 14 (that's Mother's Day in the U.S.!) Then, delete every superfluous activity you possibly can from your calendar and make time for these activities instead.
Not sure what Mercury retrograde actually means? Get the 101s of this signal-scrambling, three-week transit right here.
1. Paint a still life or some (not-actually-for-Easter) eggs
Remember back in grade school when painting was practically a daily activity? (So relaxing!) Beauty and the arts happen to be Taurus' domain. So while Mercury spins back through this sign, why not reprise that chapter in your life? Summon the spirit of the many artists born under this sign, including surrealist Salvador Dali and street artist David Choe. Or just swirl some paint on paper for the sheer joy of it. Missed the chance to dip-dye those Easter eggs? Try your hand at Ukrainian egg painting, pysanky, and enjoy your creations well past Mercury's retrograde.
2. Stitch it on a pillow, then rest on it
If you don't feel artsy, get crafty instead. Make something functional and you'll get a bonus gold star from the zodiac's pragmatic Bull. During the Spring Mercury retrograde in Taurus, think: comfy-cozy. A blanket would be perfect project, or a pillow that you'll rest your weary head on after navigating the challenges of another day of scrambled signals and communication breakdowns. (And truth be told, we never met a Taurus who didn't love a nap!) Etsy is full of simple, downloadable templates and kits for cross-stitch projects. We love the sassy, edgy ones best!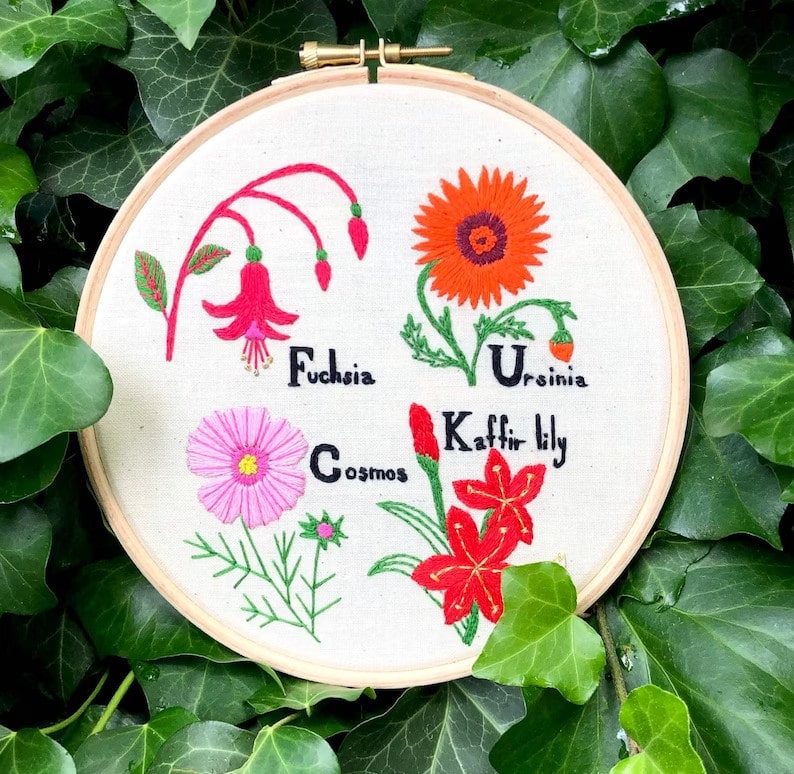 3. Literally plant some seeds
With Mercury plowing back through earth sign Taurus, you may catch a raging case of green thumb. 'Tis the season to dig your hands into the earth—or a back of indoor potting soil. If you don't have time or space for a full-on raised bed of kale, start a windowsill herb garden for your kitchen creations. Besides, most recipes call for a single sprig of thyme or a few basil leaves, not the enormous bunch you have to buy at the grocery store.
Check your local library for a seed exchange. These programs give free seed packets from local gardeners who in exchange promise to donate at the end of the growing season.
4. Explore the great outdoors (even for just a few minutes!)
Since Taurus is an earth sign, during the Spring Mercury retrograde, pull yourself away from your desk and get out in nature. Challenge yourself to take a short walk outside every day. Plan a longer hike on a weekend. Check AllTrails for the short, scenic ones that connect you to nature without making you feel like you need to look like you stepped out of a Patagonia ad. In fact, Mercury in luxury-loving Taurus is a time to not plunk down cash on something extravagant that may not be worth its value to you long-term.
5. Play with a point-and-shoot camera
While you're out wandering around, why not capture the wonders of spring in a photographic composition? With all due respect to the wonders of 4K phone cams, old school cameras are enjoying a comeback in popularity. The New York Times earlier this year proclaimed: The Hottest Gen Z Gadget Is a 20-Year-Old Digital Camera. So how about that point-and-shoot (or nicer) model you have tucked into its protective case since… who knows what year? Taurus is a sign that loves tradition and what screams it more than this trend to try during the Spring Mercury retrograde?
6. Hang a gallery wall of personal photos
Okay, here's an excuse to look at your phone during the Spring Mercury retrograde. Scroll through your eons of photos and save your faves a folder. And by "faves" we mean your happiest moments with friends, family, pets, your love or just you doing you. After you've collected a bunch, whittle down to your top 10 to send off for printing in a range of sizes (read on).
Taurus energy is sentimental—but it ain't sloppy. So forget about that cluttered mantel of frames that keep tipping over. We love the look of a gallery wall, which is an artful grouping of photos. Generally, the images are a few different sizes. Sometimes they have the same colored frame, but not always. We love this how-to guide from Domino, which even shows how to add pop by painting the wall itself.
7. Send postcards to your friends. Write a love letter.
On the subject of friends, Mercury retrograde is famous for making people from your past reappear. This is an excellent time to reconnect with long-lost friends and to give cherished pals top priority. Of course, people are busy. So if you can't make that coffee date happen, lean into Taurus' old-fashioned virtues and write a sweet note on the back of a postcard. (Bonus if you pick a postcard that holds special meaning to you both.) Romance is Taurus' raison d'etre. If you have someone special in your crosshairs, put pen to pretty stationery.
While you're composing the note, evoke a mood by burning incense or a scented candle. If you're feeling the luxe indulgence of Taurus, we recommend the "Breakfast Leipzig" candle from D.S. & Durga that smells of strong coffee, buttery almond pastries, pipe tobacco.
8. Spin some vinyl
Another way to do a digital detox during the Spring Mercury retrograde in Taurus is to take in your tunes old-school and spin some vinyl records. If you don't have a record player, maybe you invest in one during this Mercury retrograde. Cute vintage-inspired players won't set you back as far as your memories might listening to an old song that has audible spits and pops you won't hear on music streaming services. Music is one of the true time-machines we have, where (and when) will you take a trip to?
9. Dig for obscure (but unforgettable) music
The Spring Mercury retrograde invites you to dig around in the metaphoric crates for sonic inspiration. Or maybe the literal ones. If you can find a shop in your area that sells vinyl (thrift shops usually do!), beeline to the dollar bins and see what obscure gems you can dig up.
Before there was Justin Bieber, there was Franz Liszt. The 19th-Century virtuoso pianist (and October 22 Libra-Scorpio cusp) was the rockstar of his time. According to this reporting from NPR, "Women would literally attack him: tear bits of his clothing, fight over broken piano strings and locks of his shoulder-length hair."
Before Beyoncé or Elvis shimmied across the stage, Sister Rosetta Tharpe (another cusper, March 20, Pisces-Aries) shredded on the electric guitar starting in the 1930s. She was a queer, Black woman from Arkansas who deserves just credit as the true inventor of rock n' roll.
Try our playlist for Taurus season on Spotify, especially since the Spring Mercury retrograde coincides with Taurus season!
10. Take voice lessons
Every zodiac sign rules a different part of the body and the throat is Taurus' domain. While you're singing along to those freshly discovered ditties, wouldn't it be nice to know how to stay on pitch, project your voice? Turns out proper breathing (which is associated with Mercury) is the key to strengthening your vocal cords. Even if you never plan on belting out a song beyond your car or the shower, you might be surprised by how much richer your speaking voice becomes with daily warmups and exercises.
Want to learn even more about Mercury retrograde?
If you're new to astrology or just want a refresher on the finer details, read on!
Remind me, what's a Mercury retrograde?
Check out our full guide to Mercury retrograde with our article:
Mercury Retrograde: How to Survive A Three-Week Communication Crisis
What are the dates for Mercury retrograde in 2023?
The year began with Mercury in retrograde. The ball dropped on New Year's celebrations with Mercury backpedaling through Capricorn (that might explain some things, huh?)
The next Mercury retrograde is August 23 to September 15, 2023 in Virgo.
The year will end with a Mercury retrograde. This one begins on December 13 in Capricorn and wraps January 1 (happy new year, 2024!) in Sagittarius.
You can read more about the year's Mercury retrogrades here: All the 2023 Mercury Retrogrades: Plan Ahead to Ride Out the Storms
Was I born during Mercury retrograde?
If you were born during Mercury retrograde, you may have to overcome some issues around shyness, clear communication, and absorbing information. Your "inner editor" is always on high alert, questioning, "Should I have said that?" Through dedicated work, you can become a consummate writer or speaker—because you've paid the dues. Use our Cosmic Calculator below to see if you were born during a Mercury retrograde.
Learn about your Mercury sign!
Say what? When you need to get your point across or figure out the best way to get stuff done, look to your Mercury sign. The ruler of communication can smooth out tough interactions, help you focus and clarify your most important ideas.
The zodiac sign Mercury was traveling through when you were born is your Mercury sign. Knowing your Mercury sign—and other people's—can help you express your thoughts in the most digestible way possible. It's not only WHAT you say but HOW you say it. It can also help you create a work process where you can focus, get in the zone and create! Use our Cosmic Calculator below to learn about your Mercury sign.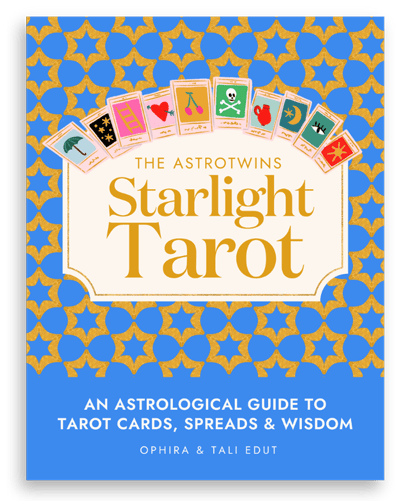 An Astrological Guide to
Tarot Cards, Spreads & Wisdom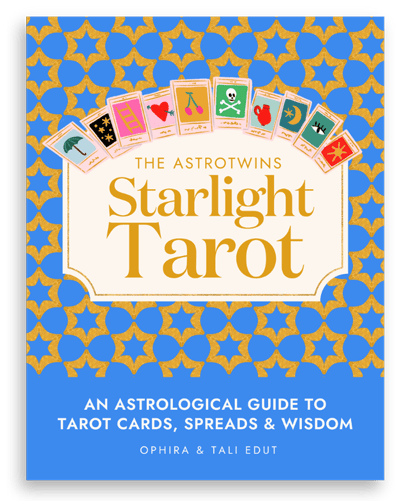 The AstroTwins bring your Tarot journey to life with Tarot spreads, history and empowering guidance.
Get the starlight Tarot