As optimistic Jupiter slips into its annual retrograde on September 4, you can't rely on good fortune alone to get you to your goals. As the red-spotted planet backs up through methodical Taurus until December 30, luck is where preparation meets opportunity. Here's how to navigate the Jupiter retrograde in Taurus.
Jump to
Keep your eyes on the prize and the process. On Monday, September 4 optimistic Jupiter slips into its annual, four-month retrograde, which lasts until December 30.
Sorry, you can't rely on luck right now
Jupiter is the planet of good fortune and normally points us to places where we can leap first and find the net on our way off the cliff. But not for the rest of the year! While Jupiter's retrograde, you can't rely on pure luck and a positive attitude to produce miraculous results. Strap on the helmet and read the directions before racing off toward the shiny new adventure.
This is especially important in 2023, since Jupiter is turning retrograde in methodical Taurus. Tighten up any slack in the reins if you're in charge of a project. Zoom in on the details before they slip through the cracks!
Here's what you can rely on
While hopeful Jupiter likes to see the best in everyone, vet folks carefully for the rest of the year. It's almost too easy to fall in love with people's potential and ignore their legit accomplishments. Get clear on the criteria you need for your elite squad: integrity, reliability and commitment—a few of Jupiter in Taurus' favorite things.
A level of messiness always comes along with growth. But instead of just figuring things out along the way, use the rest of 2023 to set up savvy systems, lifehacks and smarter org charts. Create project plans and budgets. And make sure timelines allow a healthy work-life balance. That's the "boring stuff" that Taurus is in charge of, but don't pooh-pooh it. You're creating a comfortable and solid foundation for success!
Jupiter spends 12-13 months in a zodiac sign and has an annual retrograde. Jupiter's tour of Taurus began on May 16, 2023, in a transit that extends to May 25, 2024.
Jupiter retrograde in Taurus begins September 4 and ends December 30, 2023.
Your horoscope for the Jupiter retrograde in Taurus
Here's what you can do when Jupiter naps in low-power mode for four months, from September 4 to December 30, 2023. Read for your Sun sign or your rising sign (ascendant). Don't know your rising sign? Calculate it here by entering your birthdate details.
Aries (March 21-April 19)
Keep that wallet on lockdown, Aries. Jupiter, the galactic gambler, turns retrograde in your finance zone on September 4 until December 30, cautioning against risk. Rework your budget and look for clever ways to not only save your pennies but earn higher interest on them as well. Instead of being the sole owner of a shareable item, think about teaming up with friends or neighbors on the purchase.
Moderation is key, so don't tighten your belt so much during Jupiter retrograde in Taurus that you slingshot into a rebellious spending spree. Someone you worked with in the past could have a job offer for you or become a prosperous client over the coming four months. You might even get to travel for work—something that sounds fun but could get draining. Plan wisely or insist on having some of the meetings via conference call.
Taurus (April 20-May 20)
Get ready for a blessed downshift. With boundary-pushing Jupiter in Taurus since May 16, you've been on a rapid growth trajectory. But as you stretch and expand, it's important to pause along the way and assess your progress. Jupiter turns retrograde on September 4, for four months, slowing your acceleration so you can ensure that you're traveling in the right direction.
Jupiter retrograde in Taurus is the time to develop your grandest visions behind the scenes—and make sure you haven't thrown the baby out with the bathwater. When Jupiter resumes forward motion on December 30, you can pull back the curtain and wow the world with your talents!
Gemini (May 21-June 20)
Raise your hand if you're ready for a sabbatical. Nomadic Jupiter turns retrograde on September 4 in your twelfth house of healing, until December 30. Visions of thatched tropical beach huts, yoga retreats or maybe just a lo-o-o-ong nap will dance through your head.
Give yourself the break you deserve during Jupiter retrograde in Taurus, even if that simply involves peeling a few items off your overbooked schedule so you have room to breathe and relax at home. This four-month phase is perfect for exploring your spiritual interests or plumbing the depths of your subconscious mind, perhaps with the help of a shaman or hypnotherapist. Self-knowledge is the key to freedom, after all.
Cancer (June 21-July 22)
Rest those butterfly wings, Cancer. Outgoing Jupiter makes its annual retrograde beginning September 3, slowing down your social mojo until December 30. Your popularity has been climbing toward the sky ever since Jupiter moved into Taurus and your social networking house May 16. But as the radius of your inner circle expanded, did your dear old friends get short-changed of quality time?
Pull back from life-of-the-party mode and reconnect to your rock-steady squad during the Jupiter retrograde in Taurus. If you feel spread thin, experiment with different social groupings. Maybe your friends from disparate areas of your life COULD all get along. Collaborative projects would benefit from a slower timeline, too. What's the rush, anyway?
Leo (July 23-August 22)
Streamline those goals, Leo! Rapid-fire Jupiter turns retrograde in your career house from September 4 to December 30, helping you find a saner pace for your workflow. If you've bitten off more than you can chew, don't quit. Jupiter retrograde in Taurus is a prime opportunity to learn how to delegate. Confront your trust issues by letting go, remembering that you can always train people in your methods and oversee their work along the way. An old boss or colleague could step forward with an opportunity or help you unlock an important door now.
Virgo (August 23-September 22)
Start sorting! You've got a whole lot of irons in the fire, Virgo—especially since daring Jupiter moved into your ninth house of travel and expansion on May 16. As exciting as this growth spurt has been, your energy may be flagging. Jupiter slips into a sleepy, four-month retrograde on September 4, providing a much-needed opportunity to assess and re-prioritize.
With only 24 hours in the day, what projects are really worth giving your energy to? If you're not ready to scale back, scale OUT: Find new recruits who can shoulder some of the work. Even if this cuts into the profits, you'll have a bigger pie from which to slice when the Jupiter retrograde in Taurus ends on December 30.
Libra (September 23-October 22)
Relationships don't just happen, Libra; they require care and feeding. As optimistic Jupiter turns retrograde in your eighth house of intimacy and permabonding until December 30, now marks the time to reevaluate the bond between you and your S.O.
Do you still get butterflies on a date night? This Jupiter retrograde in Taurus cycle helps you slow it down and bring back a little va-va-voom. Do you share finances with anyone? Write out a crystal clear for who pays for what and how you'll divvy up any profits. This may be a touchy subject, yes, but having this reference could save your relationship in the long haul.
Scorpio (October 23-November 21)
We don't have to tell you, Scorpio, that it takes two to tango. While not every relationship is precisely 50/50, you shouldn't be the one putting in all the work, every time. Boundary-pushing Jupiter turns retrograde in your relationship house from September 4 to December 30, giving you clarity on the status of your partnerships.
This includes all of your closest bonds, whether it be a romantic partner, friend or colleague. You'll have to meet somewhere in the middle, but a compromise should NOT feel like a sacrifice. Single? Romance could heat up with someone you met while traveling—perhaps a spicy hookup from this past summer's festivals or the adorable shopkeeper who helped you pick out the perfect summer book.
Sagittarius (November 22-December 21)
Since May 16, your vitality has been in the hands of your ruler, generous Jupiter. Hopefully that has brought you outstanding health and energy levels. Work has been nonstop and people may be approaching you left and right for collaborations. But proceed with caution, Sagittarius: it's easy to say "yes" to everything, but you are only one Centaur.
Jupiter takes a snooze, turning retrograde in Taurus, from September 4 to December 30. Time to slow it down a little and make sure you're getting adequate rest and nourishing food between all those cardio classes and conference calls. To avoid stress, don't book your calendar to max capacity during the Jupiter retrograde in Taurus. That said, you can devote time to projects that bring you a sense of purpose.
Capricorn (December 22-January 19)
Intermission time! Auspicious Jupiter turns retrograde in your fifth house of fame from September 4 to December 30, giving you a chance to slip backstage. Ever since Jupiter landed here May 16, you've been uncharacteristically flamboyant.
For the next four months during the Jupiter retrograde in Taurus, you can squeeze in a little more solo Sea Goat time. Focus on what makes your heart sing—and don't feel compelled to share it with anyone. Your star won't fade, Capricorn, it will only beam BRIGHTER. If you can't seem to escape the spotlight, team up with a coach to help improve your technique. Before you know it, you'll be ready for the big debut.
Aquarius (January 20-February 18)
There's no place like home—even if it happens to be a home away from home. Worldly Jupiter turns retrograde in Taurus and your fourth house of domestic affairs on September 4. Between now and December 30, spend more time with your family. A parent or female relative may need extra support before the year ends.
If you develop a case of cabin fever during the Jupiter retrograde in Taurus, rent an apartment-style Airbnb and try living like a resident in another city for a week or three. The Aquarius lair could turn into a creation station, too! Set up the music studio or writing nook where you can tuck away and let your imagination run wild. This cycle can bring emotional epiphanies galore, especially when you're relaxing in the safety of your sanctuary.
Pisces (February 19-March 20)
Open mouth, insert ankle boot? As truth-bearer Jupiter—your sign's co-ruler—pivots retrograde in Taurus and your third house of communication, you'll need to be more mindful of what you say, type or text. With the candid planet in reverse from September 4 to December 30, it may be wise to keep more thoughts to yourself.
Better yet, how about using those thoughts as cathartic inspiration for an E.P., a (semi) fictional short story or another creative work? Life imitates art, but your nemesis doesn't need to know that she inspired that edgy graphic novel you penned. Since retrogrades rule the past, get back in touch with old friends from across the globe while Jupiter is retrograde in Taurus. You could reunite at a fall festival or arrange an apartment swap over the coming four months.
Is Jupiter retrograde unlucky?
No, not at all! But it is a time where luck alone cannot be relied upon.
Expansive Jupiter is here to broaden our horizons and help us grow. The largest planet in our solar system, Jupiter has a lusty appetite to match. Because of its primarily positive qualities, it's considered one of the "great benefics" along with seductive Venus.
But as we know, it's possible to have "too much of a good thing." When Jupiter turns retrograde for four months each year, it illuminates excess. Hedonism can create problematic issues with health, finances and relationships. During Jupiter's annual backspin, we're cautioned to dial back risk-taking and play it safer than we normally would.
Jupiter can also explain what type of risk-taker you are; decoding the ways in which you roll the dice and take a leap of faith—and shine bright like the diamond you are. Calculate your Jupiter sign below and learn what yours means here.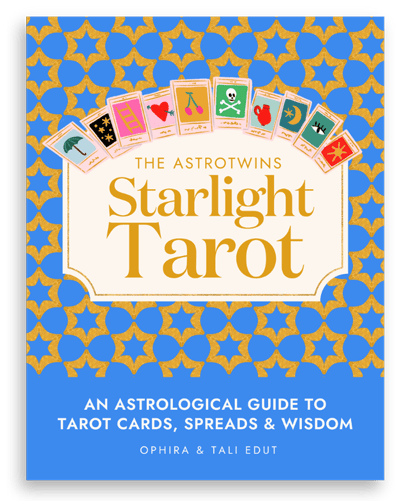 An Astrological Guide to
Tarot Cards, Spreads & Wisdom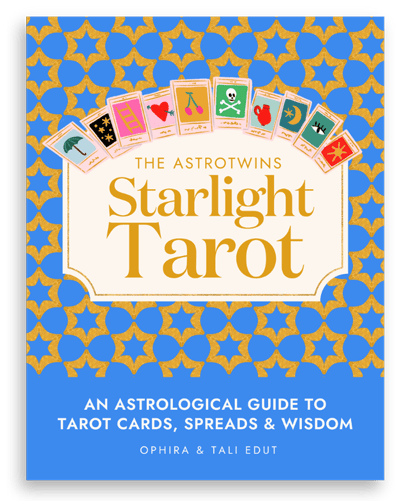 The AstroTwins bring your Tarot journey to life with Tarot spreads, history and empowering guidance.
Get the starlight Tarot